Shrill can't be the end of fat representation on TV
Not since 'My Mad Fat Diary' has a show captured the fat experience so well.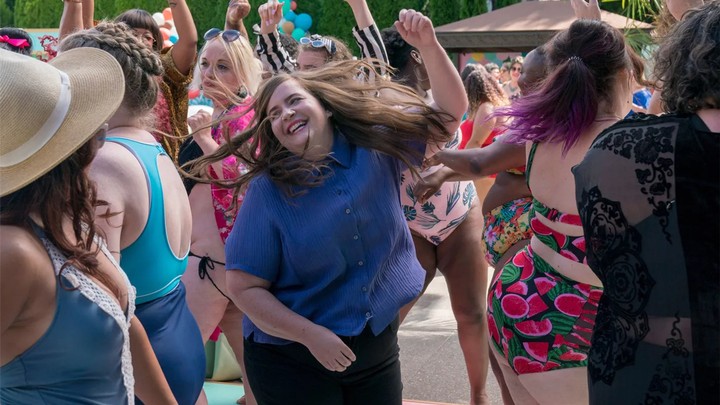 The third and final series of Shrill is hitting streaming services today and, for me and many other fellow fatties, there is a sense of mourning in the air. Based on a memoir of the same name by writer Lindy West, we follow Annie, a journalist, played by SNL's brilliant Aidy Bryant, who finds self-acceptance in changing her life but not her body. Not since My Mad Fat Diary, and seldom before, has the fat experience been shown on screen so realistically for a mainstream audience.
That is not to say that there have been no fat characters in the years between My Mad Fat Diary ending in 2015, and the 2019 debut of Shrill. Debby Ryan in Insatiable springs to mind, as well as Barbie Ferreira in Euphoria — but neither of these programs has a main focus on the highs and lows of living as a fat person.
Insatiable in particular -- a Netflix show that ran for two seasons and ended in 2019, the same year Shrill debuted -- was an almost entirely negative representation of fat people, with a plot that revolved around Debby's character Patty Bladell losing weight and becoming "hot", thus able to exact revenge on her bullies. To make matters worse, Debby donned a fat suit when playing the previously plus size Patty in flashback scenes, a decision that has been critiqued as fatphobic in and of itself.
Euphoria, in its defence, did a markedly better job at plus-size representation in Barbie's character Kat Hernandez, who goes on a journey of sexual and body empowerment throughout the show's first season. After being fat-shamed and traumatised due to a sex tape leak, Kat finds confidence and self-acceptance through a secret career as a cam girl dominatrix. Her story is nuanced and engaging, exactly what we need more of on screen for fat characters, and the same kind of multilayered characterisation we see in the characters of Shrill.
That said, it's still not perfect. Unlike Shrill, Euphoria's Kat is the only plus-size lead in the show (and portrayed by a literal model). Although her story is intriguing, Euphoria still leaves its fat audience longing for more diverse fat representation on screen. Even Barbie herself acknowledges this. Speaking about the lack of fat girl representation, she told Glamour in 2019, "there needs to be a reflection in people of color who are bigger and trans women who are bigger." She continues, "I'm this white girl. My body is proportioned in whatever way society thinks is redeemable. I'm not the end-all of all representation."
Katie Greenall, who created and stars in her own stage show Fatty Fat Fat applauds Shrill for its authenticity "of capturing moments of fat joy". Many critics, Katie amongst them, point to the now iconic fat pool party scene in season one, where protagonist Annie goes from insecure to unashamed, dancing with other women at the party and properly letting go for the first time. In another similar scene in the show's second season, the audience is taken to a queer club, where we can observe the glitter and joy of diverse, queer bodies dancing in various states of undress. There's also Fran, Annie's brilliant best friend, portrayed by British comedian Lolly Adefope. "Fran is sarcastic, messy and queer, all whilst living in a fat body that isn't directly referenced," Katie says.
For Grace Barber-Plentie, a film programmer for BFI London and creator of the Fat in Film Instagram account that documents on-screen fat characters, the show shines in its multi-faceted representation of fatness. "Although Shrill can sometimes tend to feel like 'Fatness And Body Positivity For Beginners', it feels revelatory to a lot of people (probably, I'd argue, to non-fat people) who haven't considered the way that fatness coincides with life," she says. "I do think that the show's got stronger as it goes on and actually the times that it's best at fat representation is when we see Annie going about her everyday life, rather than the moments that feel like they're explicitly 'About Fatness' and trying to teach the audience something."
Of course, it's impossible for Shrill, in its short three-season run, to be a faultless representation for fat people on screen. While it succeeds in many ways, as Grace points out, it isn't realistic to expect one show to tick all the boxes for an entire community of plus-size people. The best outcome for the end of the show, then, is not for just one fat TV show or character to follow in its footsteps, but a multitude. For as many different intersecting identities that fatness encompasses, through race, through sexuality, through gender, through class and through a mix of these factors and so many others too, so should there be representation for plus size people to not only see their stories on screen but be given the opportunity to tell their stories in these spaces usually reserved for thinness.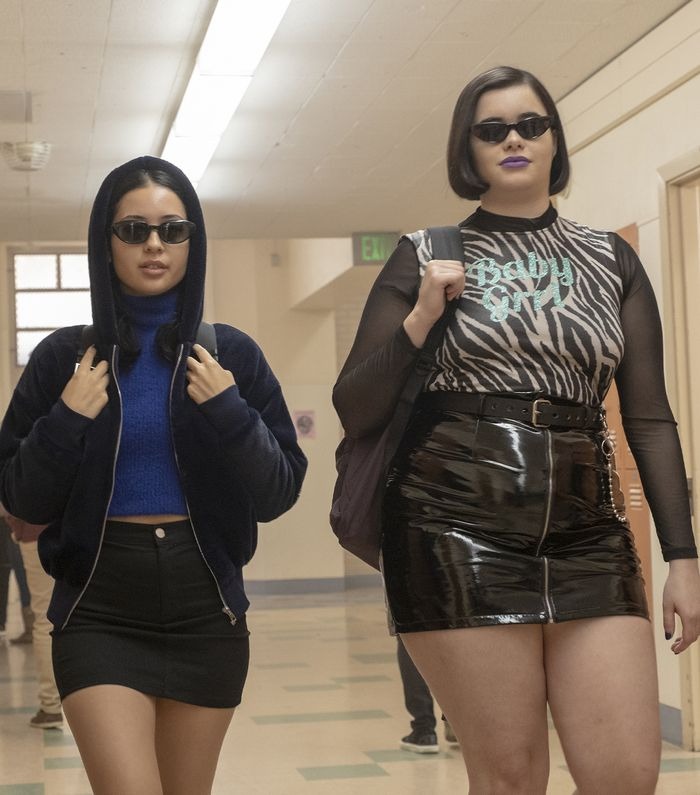 After all, fat characters may be treated as minorities on screen, but the reality is that we make up the majority of the population: The average women's clothing size in the UK is a size 18, and 64.2 per cent of UK adults are overweight or obese. The fact is that fat representation on screen is not just paramount to supporting a discriminated group in our society, but in representing the body type that so many people have.
"I hope Shrill will become part of a legacy of comedies that explored womanhood in the 21st century, rather than be a landmark -- the first and only sitcom about a fat woman," Grace says. "It's sad that we are still [celebrating] landmark television and 'the first fat whatever'. I just want there to be so much fat representation everywhere, especially in films and TV that aren't just about fatness or are having conversations about fatness in a real and nuanced way."
While the show might be coming to an end, there is no end to the multitude of stories fat people and fat characters have left to tell. To echo Grace's words: "I can only hope that the future looks more fat."
Tagged: