Photo by Ke.Mazur/WireImage, by Frank Trapper/Corbis via Getty Images and by Lawrence Schwartzwald/Sygma via Getty Images
7 of Gwyneth Paltrow's most iconic outfits
In the 90s, the actress and Goop founder mastered high fashion minimalism in Calvin Klein, Prada and Tom Ford's Gucci.
Photo by Ke.Mazur/WireImage, by Frank Trapper/Corbis via Getty Images and by Lawrence Schwartzwald/Sygma via Getty Images
To put it simply, there is no one quite like Gwyneth Paltrow. Before launching wellness brand Goop in 2011, Gwyn came up as one of 90s Hollywood's premiere actresses, starring in some of the decade's most memorable films (The Talented Mr. Ripley, Shakespeare in Love, Se7en) and earning many an accolade along the way. Since her 90s heyday, the idiosyncratic actress has garnered a reputation as the high priestess of 2010s wellness, making headlines for promoting practices like vaginal steaming, the use of coffee enemas and jade eggs, and energy-balancing stickers. Beyond being the name behind some of the 21st century's most meme-able heds (remember when one of her vagina-scented candles reportedly exploded?) and quotable quips ("I use organic products, but I get lasers. It's what makes life interesting, finding the balance between cigarettes and tofu.") the actress is also the face behind some of the era's best red carpet looks. With her predilection for 90s minimalist silhouettes (namely, the slip dress) and devotion to designers like Tom Ford, Calvin Klein and Miuccia Prada, Goop became one of the decade's most stylish women. And her sartorial influence still reverberates today, her Gucci suits, Donna Karan sets and Converse regularly making their way to timelines and moodboards across the web. Here, we celebrate Gwyn's eternal style legacy — and utter singularity — through a selection of some of her most iconic outfits of the 90s.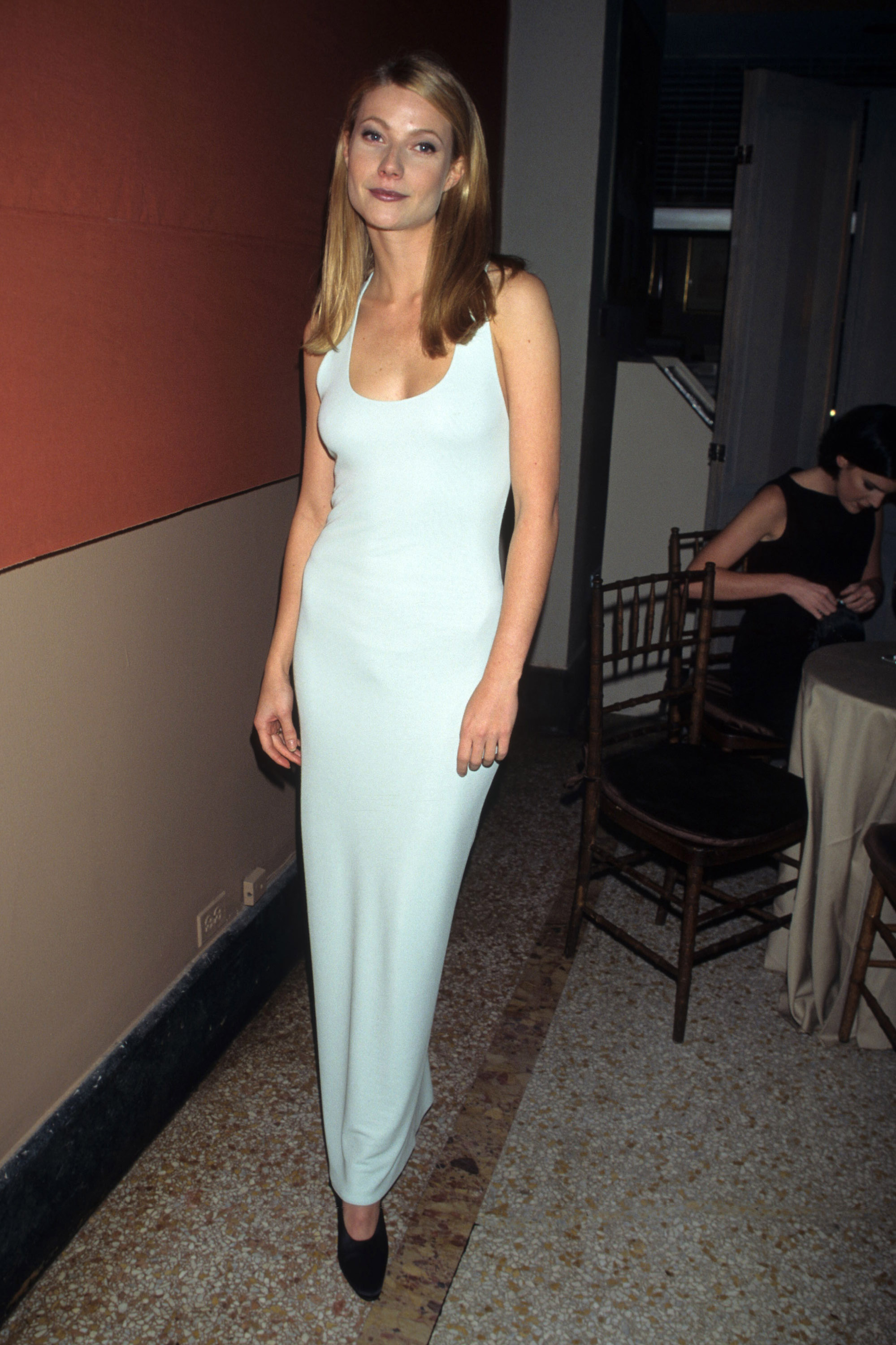 At the Met Gala, 1995
Back in the 90s, the Met Gala wasn't the all-out fashion bonanza as we know it today (red carpet theatrics, costume-esque outfits, et al). So, to match the 1995 Met Gala's much more pared-back mood, Gwyneth wore a simple, ice blue slip dress designed by none other than 90s king of minimalism, Calvin Klein. Gwyn's relationship with the American sportswear designer is well-documented: the actress wore the label's signature slip dresses, slinky evening gowns, and even a satin overcoat on the red carpets of the Academy Awards and myriad film premieres throughout the decade. It was this string of early-career Calvin Klein looks that both established Gwyn's minimalist red carpet style and cemented the actress as a Hollywood fashion plate.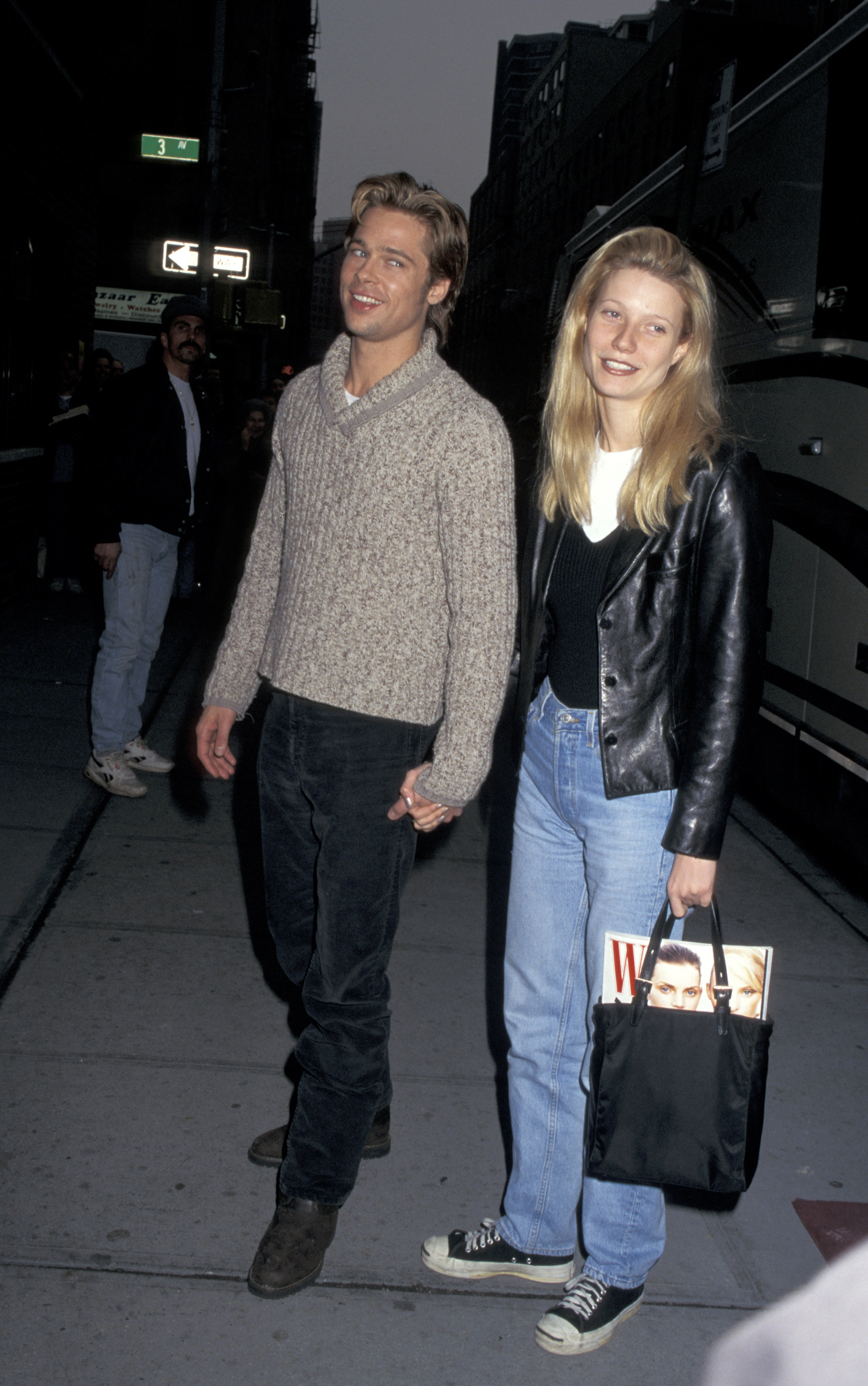 On the set of The Devil's Own with Brad Pitt, 1996
Oh, Gwyn and Brad! One of the 90s most iconic celebrity couples, the duo met in 1994 on the set of David Fincher thriller Se7en and got engaged two years later. During their four year relationship, the high-profile pair were often photographed on the red carpet (or papped in the streets of NYC) wearing twinning fits and hairstyles. Here, the couple go ultra-casual during a visit to the set of Brad's 1996 film The Devil's Own. As with her red carpet attire, Gwyn's off-duty looks often featured staple silhouettes with a high fashion twist. And this is the perfect example: the timeless jeans-and-a-tee combo, paired with a Calvin Klein leather jacket, Jack Purcell Converse sneakers and a Prada nylon tote.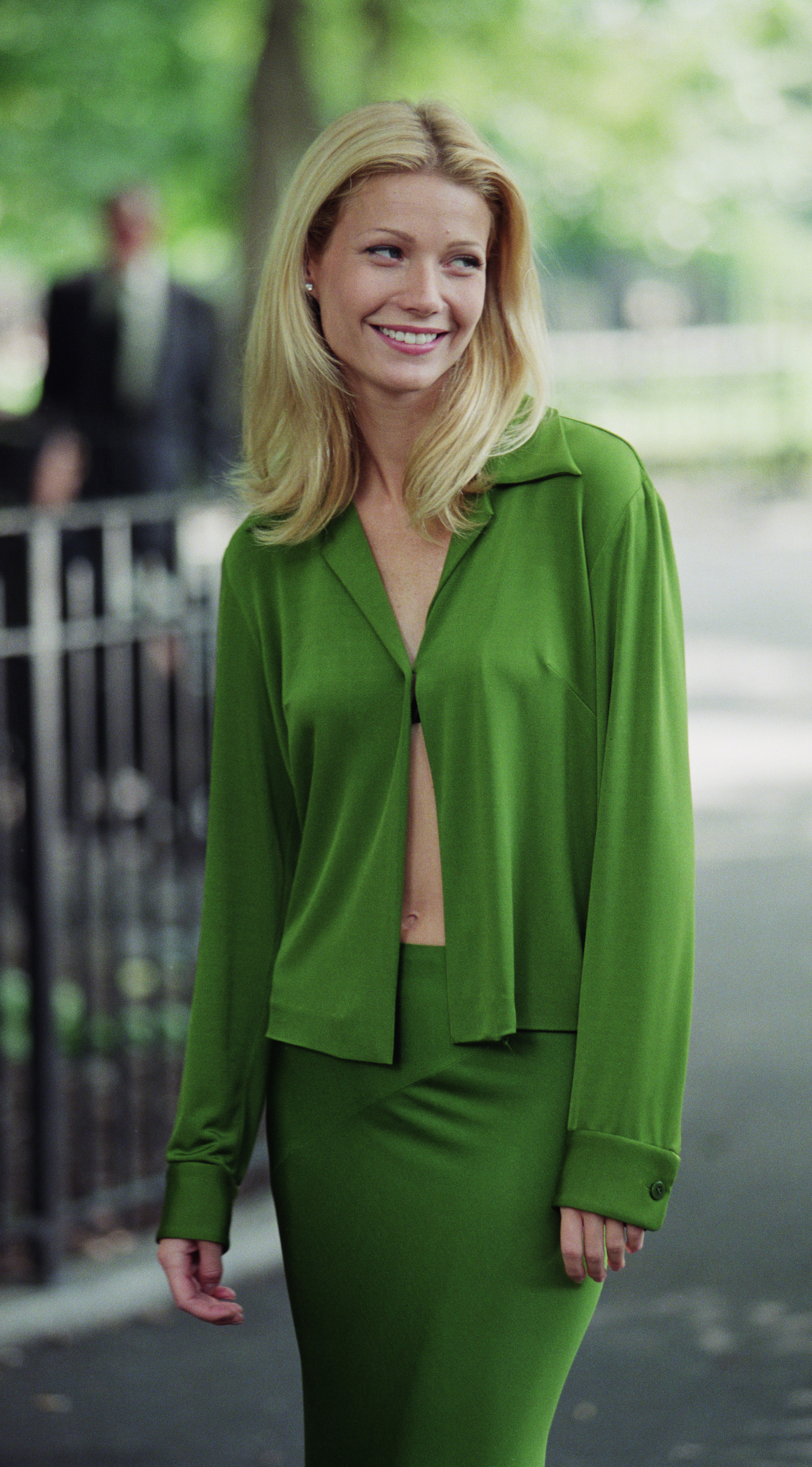 On the set of Great Expectations, 1996
For a time in the late 90s, Hollywood was obsessed with creating contemporary adaptations of the literary canon. Think Baz Luhrman, who brought Romeo & Juliet to 90s Venice Beach. Or beloved teen romcom 10 Things I Hate About You, which set The Taming of the Shrew in a Seattle high school. Alfonso Cuarón also dipped his toe in the much-beloved genre with his adaptation of Charles Dickens' Great Expectations, set in New York City and starring Gwyneth Paltrow, alongside 90s heartthrob Ethan Hawke. In addition to its metropolitan setting, it's the film's costumes — Gwyneth's wardrobe outfitted entirely by Donna Karan — that brings the Dickens classic squarely into the turn-of-the-millennium. Throughout the film, Gwyn, playing Estella, wears myriad effortlessly elegant ensembles — all in shades of green — by the New York designer. However, the film's most famous look — and one of Gwyn's most famous costumes — is an emerald jersey set, worn during a particularly sexy scene involving a Central Park water fountain. Since the 90s, the look has become an Instagram moodboard standard, inspiring a new generation of movie-goers and timeline-scrollers, alike.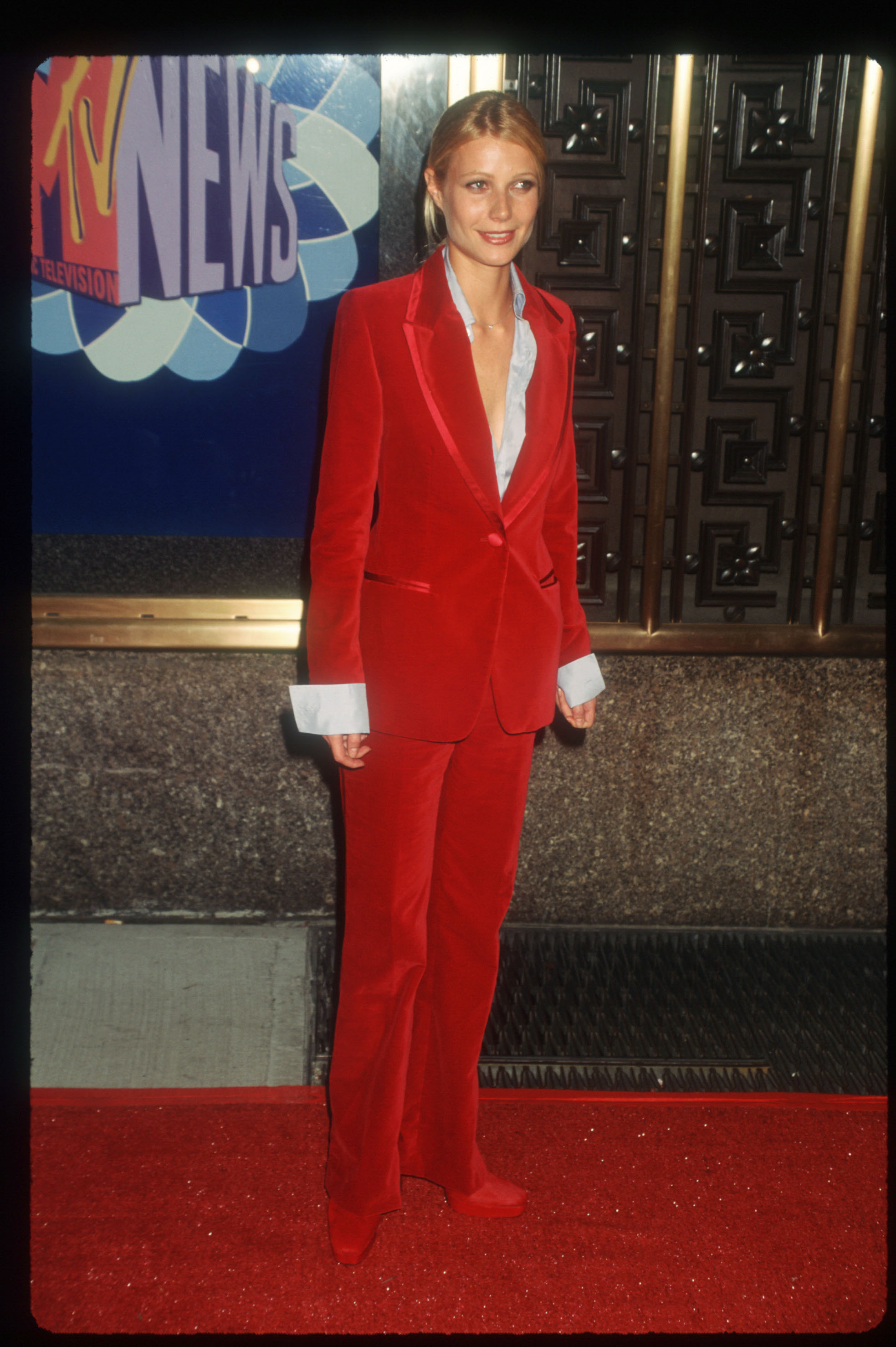 At the MTV VMAs, 1996
Year after year, the MTV Video Music Awards are the venue for stars to make a sartorial splash in their most fun and eccentric looks. At the 1996 VMAs, the usually subdued Gwyn (think all-black and neutrals in staple silhouettes) opted for an opulent outfit from Tom Ford's iconic turn at Gucci. The 70s-leaning ensemble, pulled from the Italian label's AW96 collection, consisted of a blue French-cuffed shirt, firetruck-red velvet tuxedo and matching platform boots. In an interview with Vogue, Gwyn claimed that wearing the plush outfit was one of her favourite style moments ever.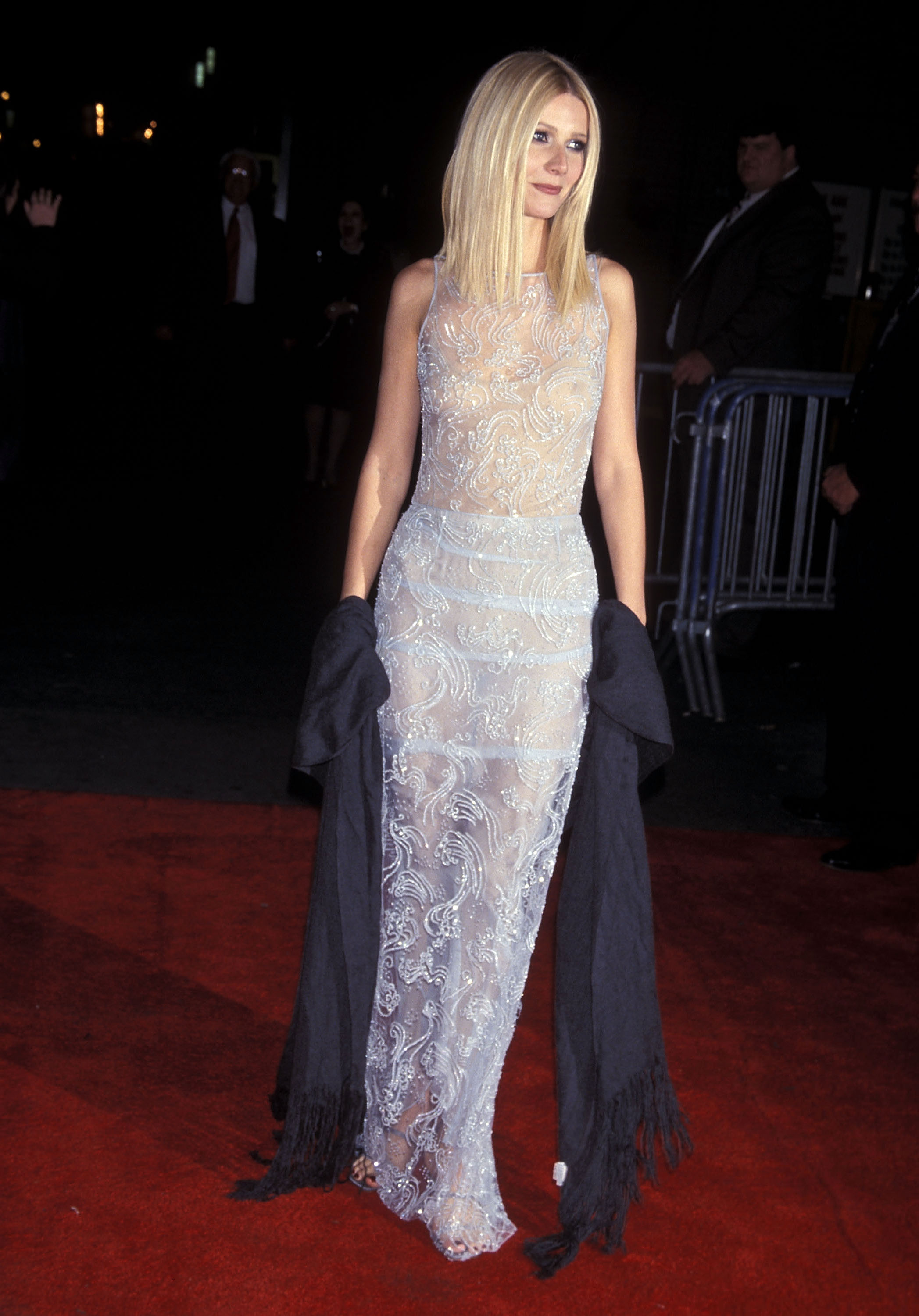 At the premiere of Shakespeare in Love, 1998
Just as she's known for her classic style, Gwyn's also known for taking a risk or two on the red carpet. In 2010, the actress went commando in a Pucci gown with an incredible lace-up side slit. Two years later, she went pantless to the Met gala, choosing to wear only the top portion of the Prada skirt-set she was loaned for the event. Here, to the premiere of Shakespeare in Love in 1998, Gwyn wears her first of many naked dresses: a sheer and intricately beaded number by Italian designer Giorgio Armani.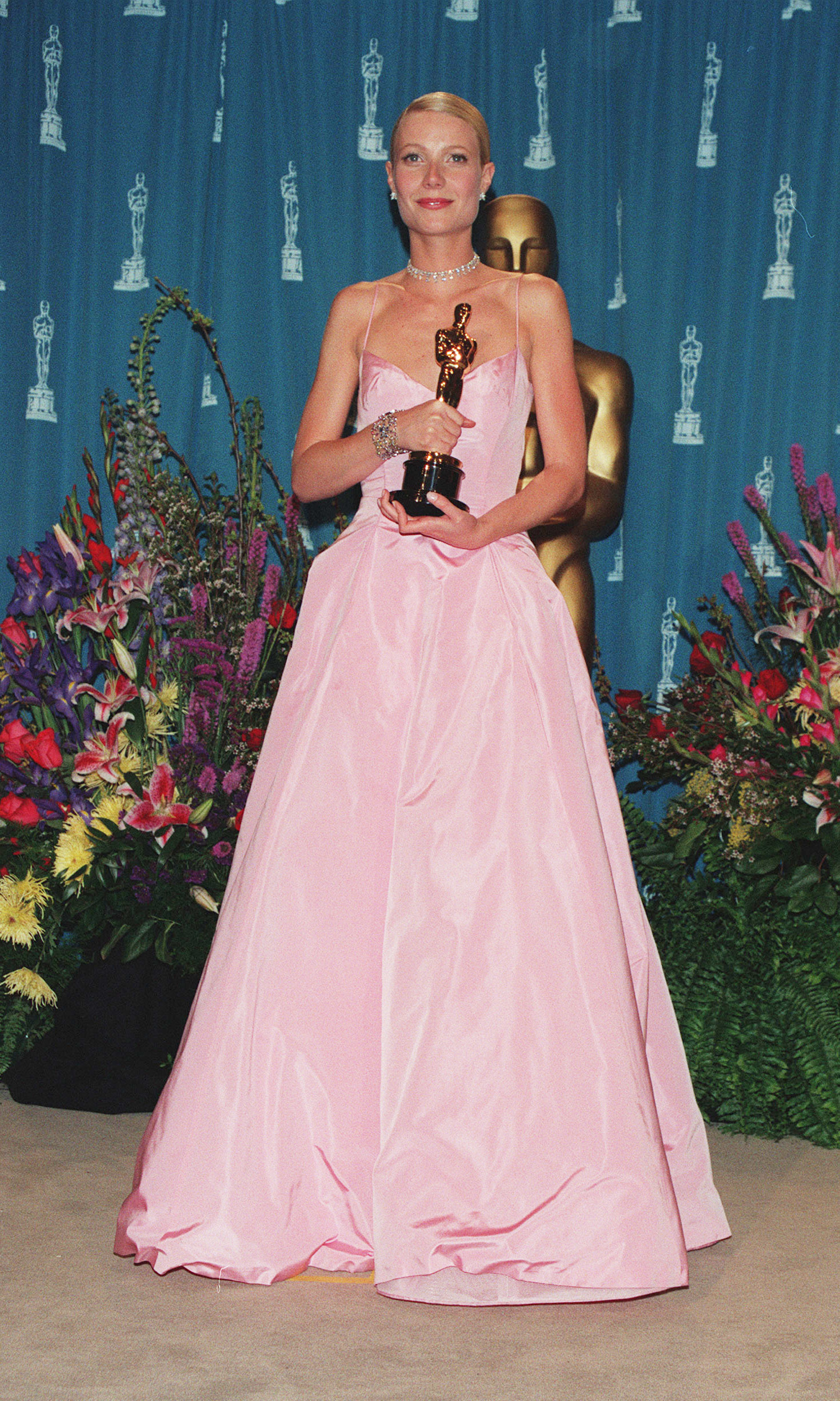 At the Academy Awards, 1999
Following the 1999 Academy Awards, Gwyn made headlines not only for her career-defining Best Actress win but for her choice of Oscars red carpet attire. The look in question was a pink taffeta Ralph Lauren ballgown, custom-made for the actress based on a skirt from the designer's seasonal lookbook. At the time, the look was divisive: lauded for its Old Hollywood glam, but derided for its bubblegum hue. In hindsight, however, the look has consistently ranked as one of the best Oscars dresses of all time. Among the dresses' many accolades — including a nod from TIME Magazine — is its own Wikipedia entry.
In The Royal Tenenbaums, 2001
Wes Anderson is responsible for some of cinema's most iconic — and eccentric — costumes. His — and Gwyn's — most memorable costume, however, will always belong to The Royal Tenenbaums' Margot Tenenbaum. Created by costume designer Karen Patch, the enigmatic Tenenbaum daughter's signature outfit (you know the one!) includes an IZOD polo dress, leather loafers, drugstore barrettes, kohl eyeliner, bob haircut, an Hermès Birkin and that Fendi fur coat. Since it first appeared on the big screen in 2001, Margot's look, along with those of her brothers (Chas in his perennial tracksuit and Richie in his tennis garb), has gone on to inspire fashion designers and Halloween-goers year after year. An utterly singular look for an equally idiosyncratic actress and cultural icon.