Photos courtesy of Collina Strada
Collina Strada ushers in NYFW with a whimsical tribute to Y2K skater girls
The New York label kicks off the first IRL fashion week in over a year with a collection that centers community, the environment and pure joy.
|
09 September 2021, 7:49am
Photos courtesy of Collina Strada
For SS22, after over a year ⁠— and two seasons worth of digital shows ⁠— New York Fashion Week is back, live and in person. First on the week's stacked calendar: the ever-effervescent Collina Strada. "No pressure!" laughs the designer Hillary Taymour, taking a break from fittings in the label's Chinatown studio a week before the show. Who else better to inaugurate the season — to plant fashion week firmly back into the realm of the real — than the New York label known for its boundless optimism and whimsical runway outings. "The emphasis this season is reconnecting to the idea that it's people in a physical space," says co-creative director Charlie Engman. "So, we're gonna pull stunts: we've got our lizard, we might have a cartwheel or two. We're going to put on a show and have fun."
This season, the label returns to the runway with a refreshed sense of purpose and a renewed vision, all gained during the ups and downs of the pandemic. "This is a huge level-up show for us," Hillary says. "Compared to before the pandemic, it's a whole new level of achievement for the brand." Throughout the past year, the label's been quietly refining its look, streamlining its processes and doubling down on its sustainability practices. And it's all culminated in an effusively confident SS22 collection.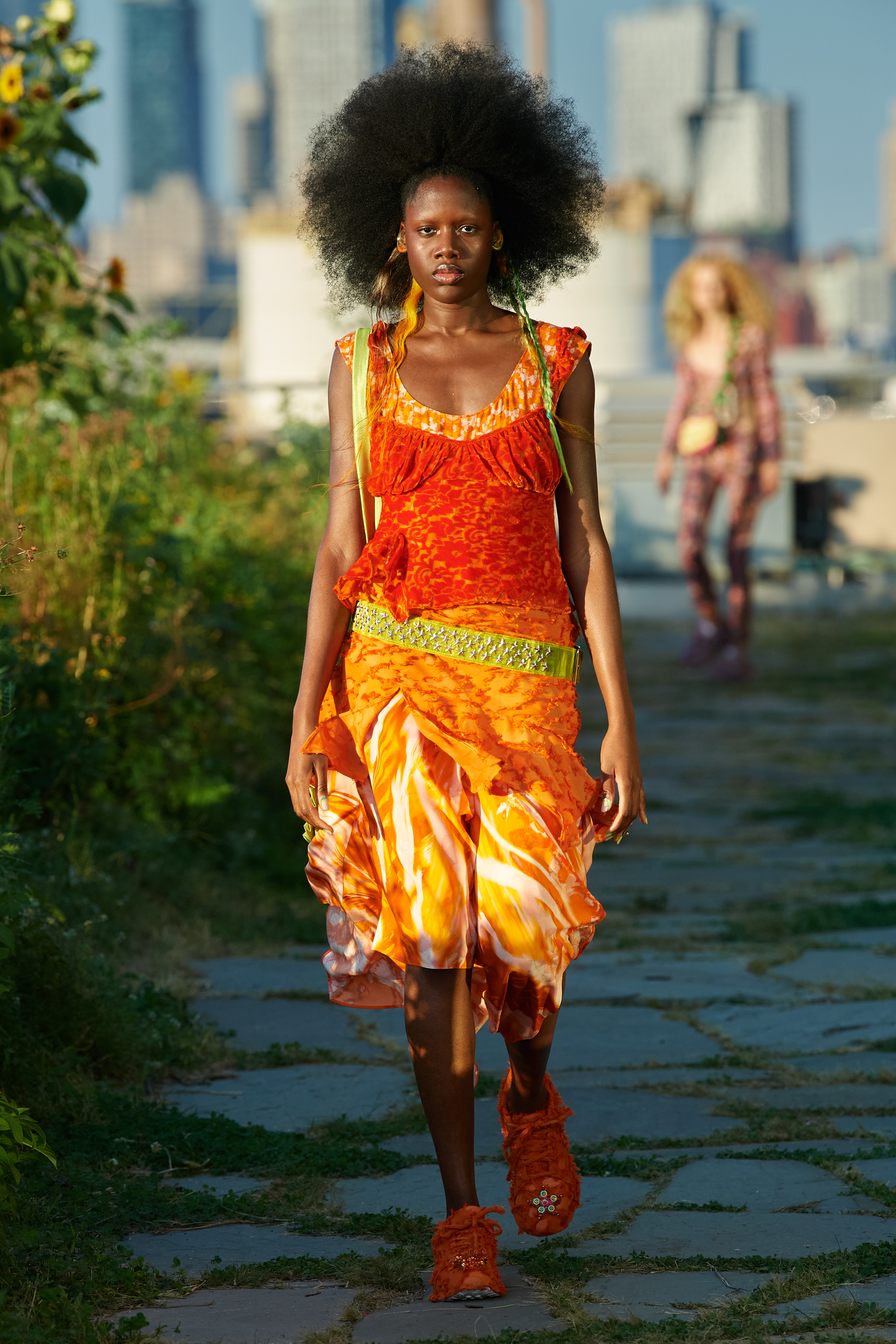 The look this season draws from the very heart of Collina Strada: Hillary herself, and the label's tight-knit community. "I wanted it to be very much my friends," says Hillary, pointing towards a first look board full of familiar faces. The season's layered silhouette — ruffled dresses and XXL cargo pants, meant to be paired — evoke the stylings of 00s skater girls. Or that of their modern counterparts: as Hillary notes, Eva, one of Collina's studio assistants and models, recently broke her arm skateboarding. In one of their fittings' snaps, she's wearing a sling alongside a pair of the season's baggy Levi's. Sculptural gowns and sleek catsuits — all made from salvaged, deadstock and vintage fabrics — embody what Hillary described as a "level-up": Collina Strada's new, elevated look.
Ahead of their SS22 show, i-D sat down with the label's co-creatives, Hillary and Charlie, to speak about how they're preparing for the first IRL NYFW in years.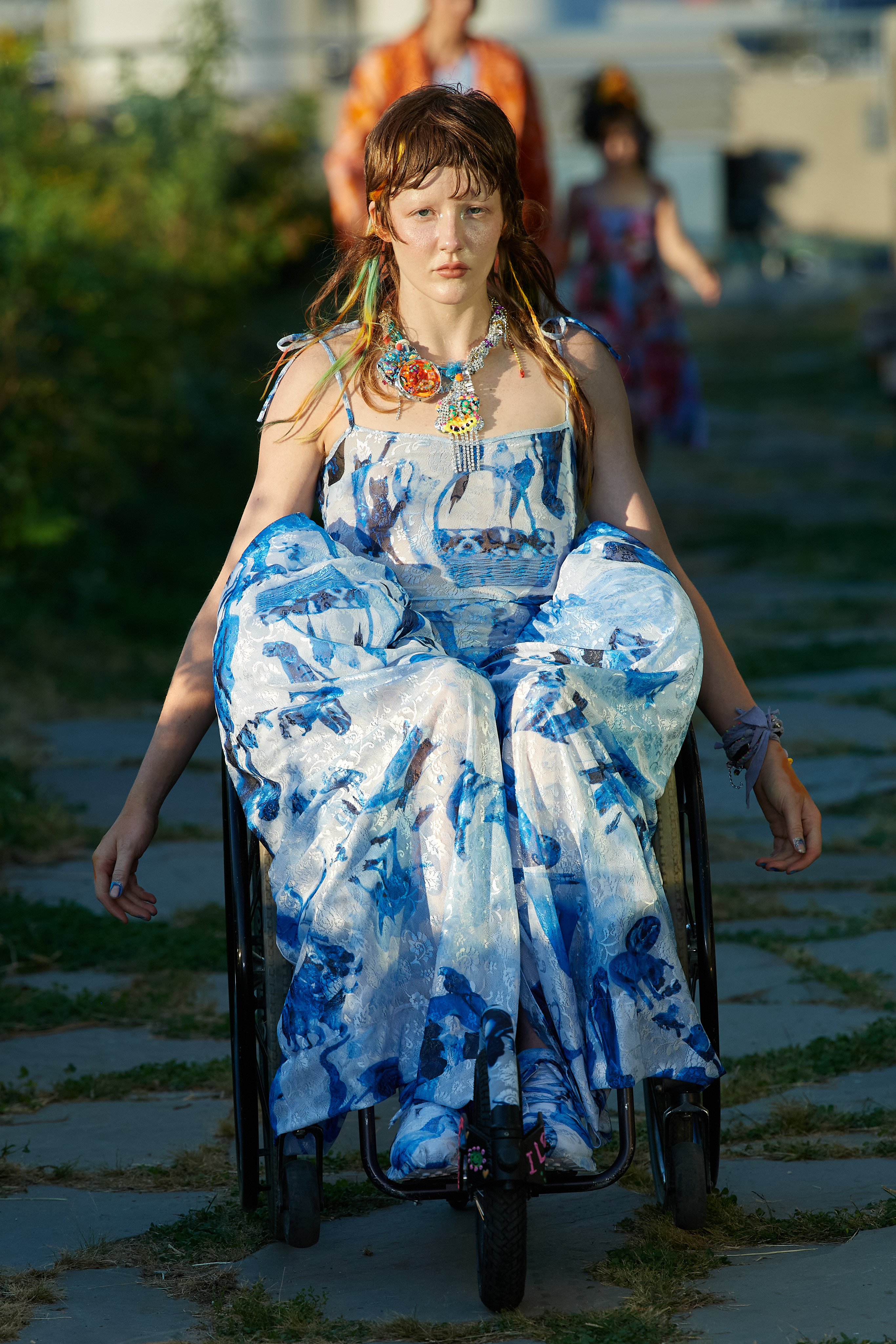 **Hi Hillary and Charlie! You're in the midst of preparing for your SS22 show. What are you up to today?
**Hillary: We're in my old studio space, right now. We're doing first looks and we've been styling every night.
Charlie: Today we're doing more fittings. We're still making things up until the last minute. I'm going to be coloring some pants with fabric markers later.
H: We have to decorate Eva's sling for the show. It just says "Get well soon," right now, so that's a high priority, actually.
**You're kicking off the first live NYFW in over a year. How does it feel being the first show on the calendar this season?
**H: I'm fine with it. I think that we're the best brand to start the mood of positivity.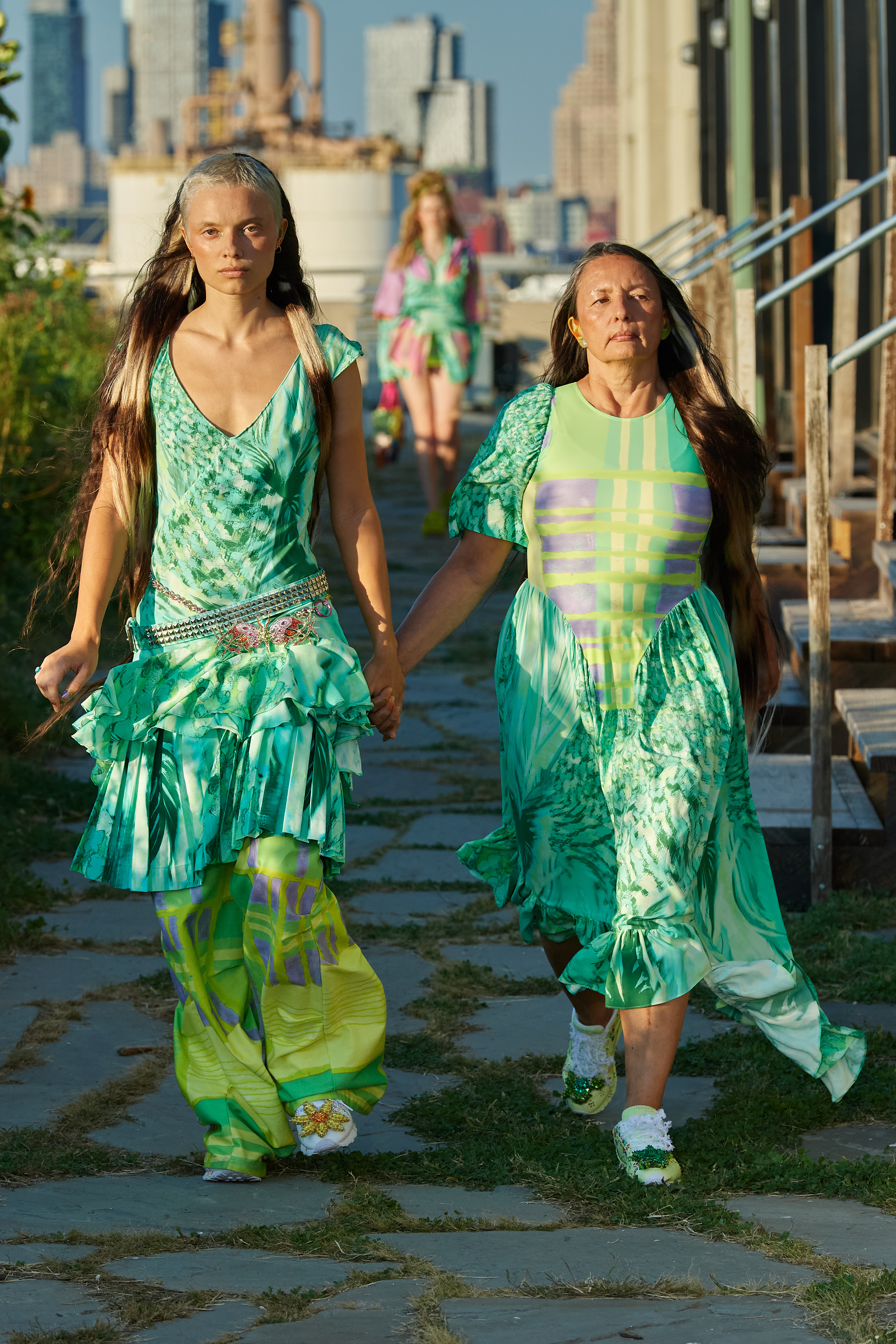 What's the energy been like within the Collina Strada family in the lead-up to this season's show?H: It doesn't feel a lot different. It feels like true family style. We're all here in the studio until midnight and we carpool home together. Like, Charlie's mom drove everyone home in a clown car filled with eight people last night because of the storm. We all make lunch — there's lunchtime and dinner time in the studio. It just feels like home.
C: We put so much emphasis on the idea of community and that's how everything gets done. The people who are in our shows are also the people who work with us or have some sort of personal connection with us.
H: If you look at our boards this season, Eva works in the studio and she's one of our models. Sara Hiromi is one of our models and she's been beading in the studio every night until midnight. And she's my best friend. Angel made all the music for the show again. I really want to keep it in the family.
C: The show is centered around that ethos as well. A lot of the people we cast this season are actually family members of each other. We have moms walking with their children. We have siblings walking together.
H: My niece is in it. My partner's in it with their sibling. Either you're part of the Collina crew or you're someone who's connected to us. Or I just think you're iconic.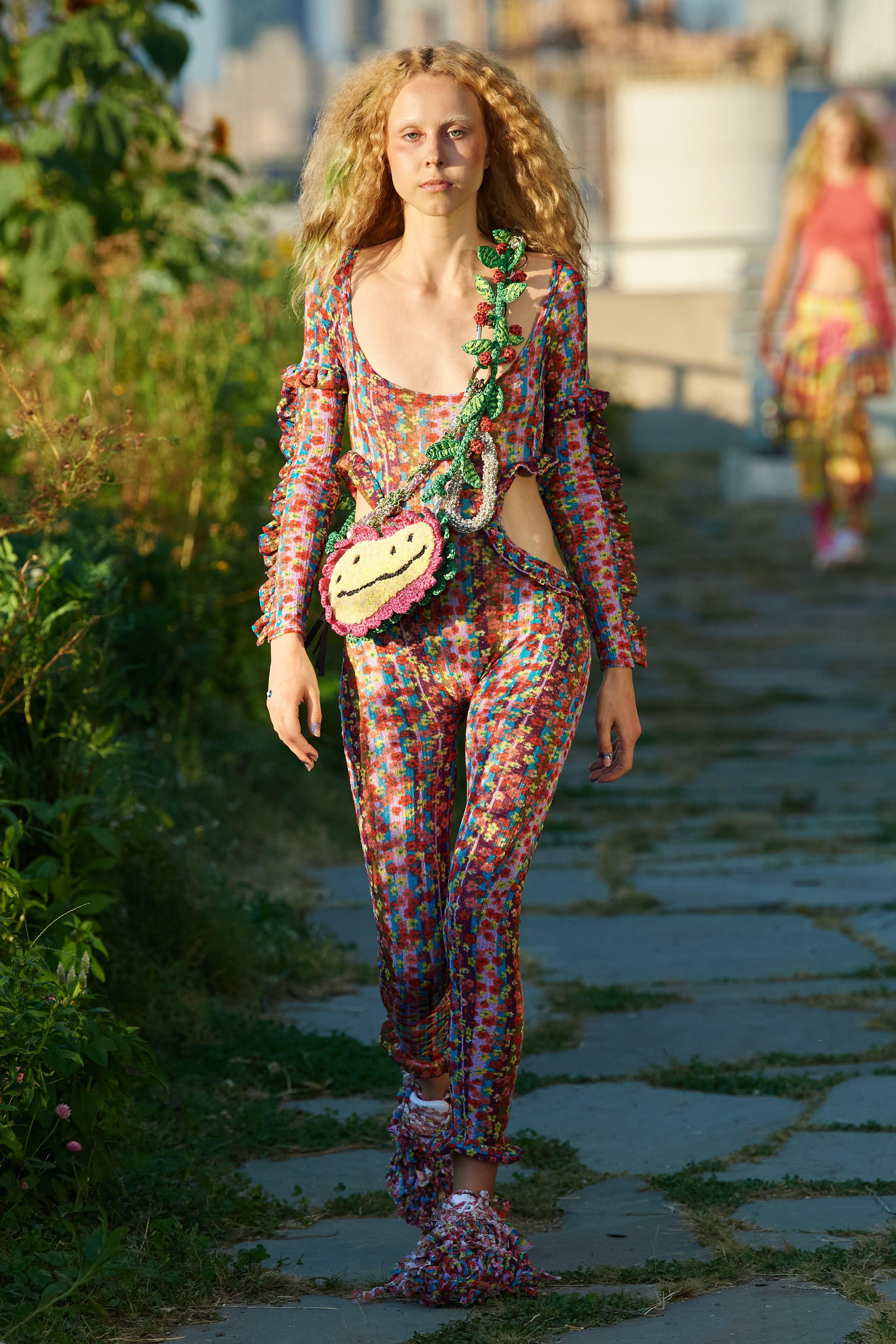 **You're staging your first live runway show in over a year. How are you returning to that process after the year-long, pandemic-induced break?
**H: I feel like this season we have our shit together more than ever.
C: For all its tragedies, I think the pandemic provided clarity about what our central values, interests and abilities are, and how we can use them to the best of our ability. It allowed us to streamline and clear away a lot of the things that weren't very necessary or helpful. This show's been smoother than the last live show we had. We're all excited to be working this way again. And we're excited to be able to connect with the audience in a real, visceral way.
H: And this season I'm more confident with the looks. We started really early with the concept of it. I have a much clearer vision of who the girl is, where they're going and what they're wearing.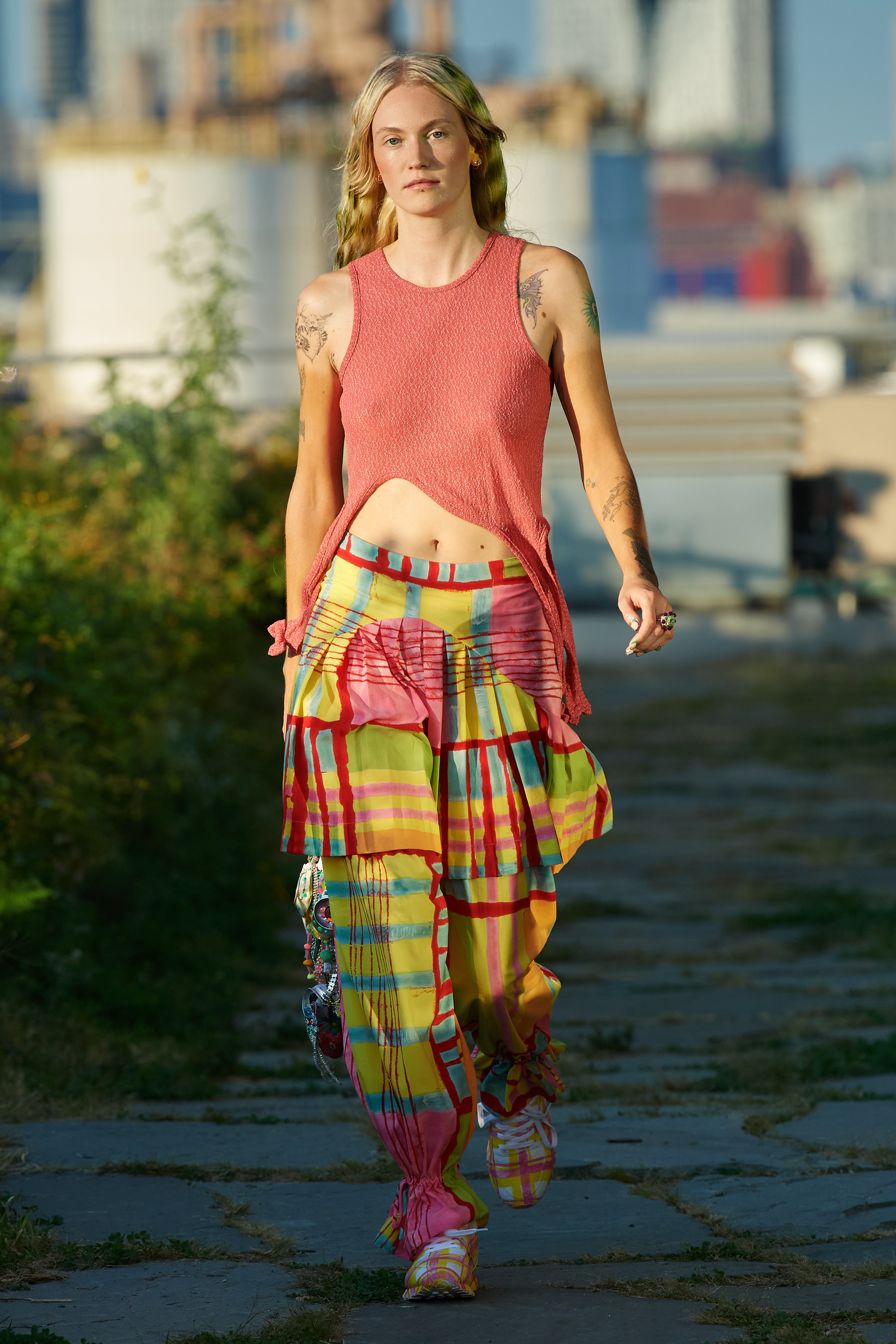 **So, what is the vision behind the collection this season?
**H: It's very skater girl. The girl who's wearing her princess dress, but also her skater boyfriend's baggy pants. And very TikTok, Y2K girl.
C: We were also leaning into the chaotic experience we've all been having. It's like you're throwing on every item in your closet but making it synergistic.
H: I'm very, very protective over this collection because I feel like we're going a little bit of a different Collina route. It's a little bit more elevated, a little bit more chaotic. It's how I've been dressing. It's truly me.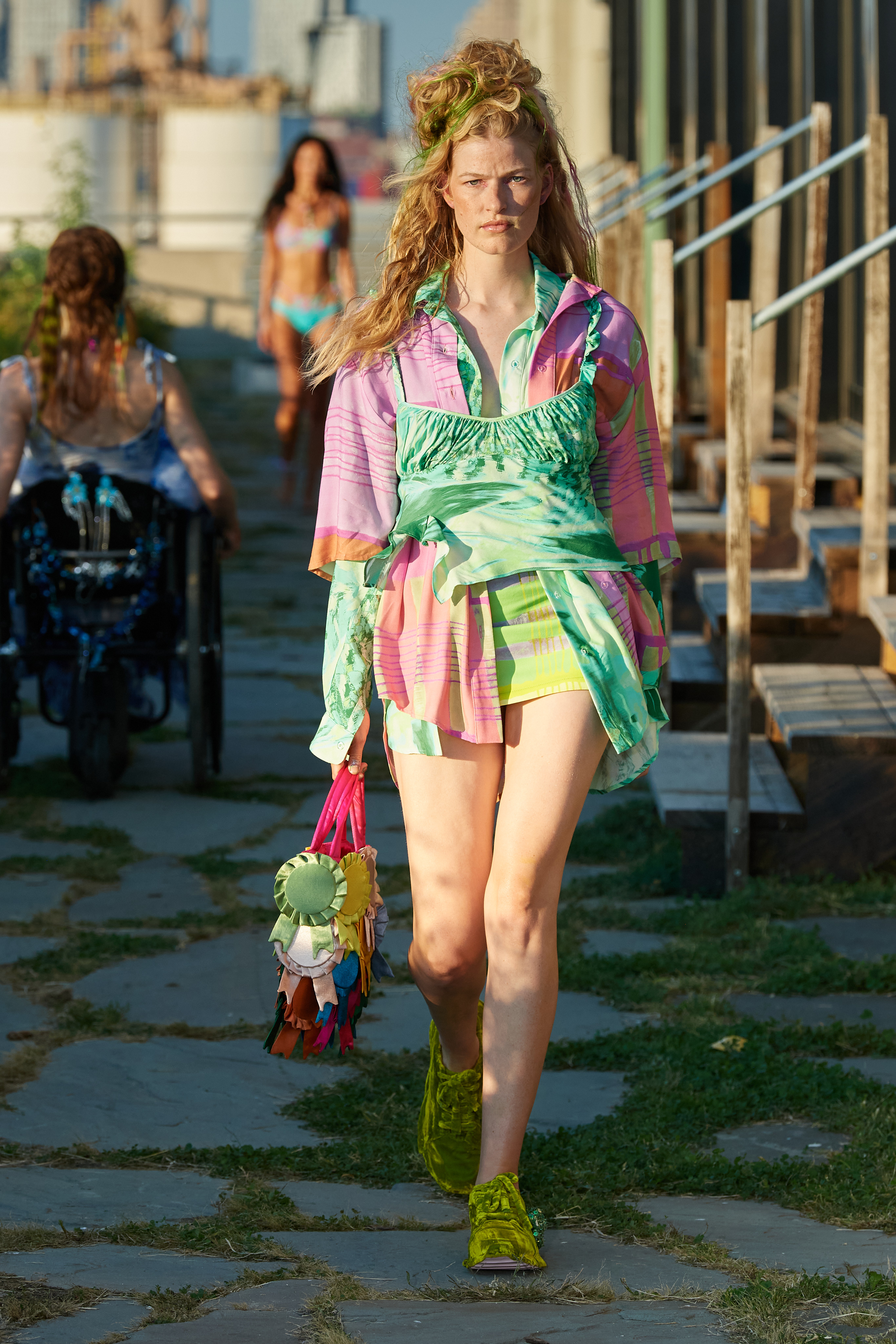 **You're known for your unconventional runway shows. What kind of atmosphere are you creating with your show this season?
**C: We want to remind everyone that we're actual physical bodies in physical space with physical proximity to each other. And that it's a privilege to be able to go to a fashion show. So we're going to have models really engage with the audience. It feels necessary to not pretend that you've just moved from your phone to your seat, but that there's a reason to be physically present.
H: Fashion shows for me are about the adrenaline and the excitement of what's going to happen next. There's a whole different energy when you're physically present and I want to reflect that — that you couldn't just have seen it on your phone.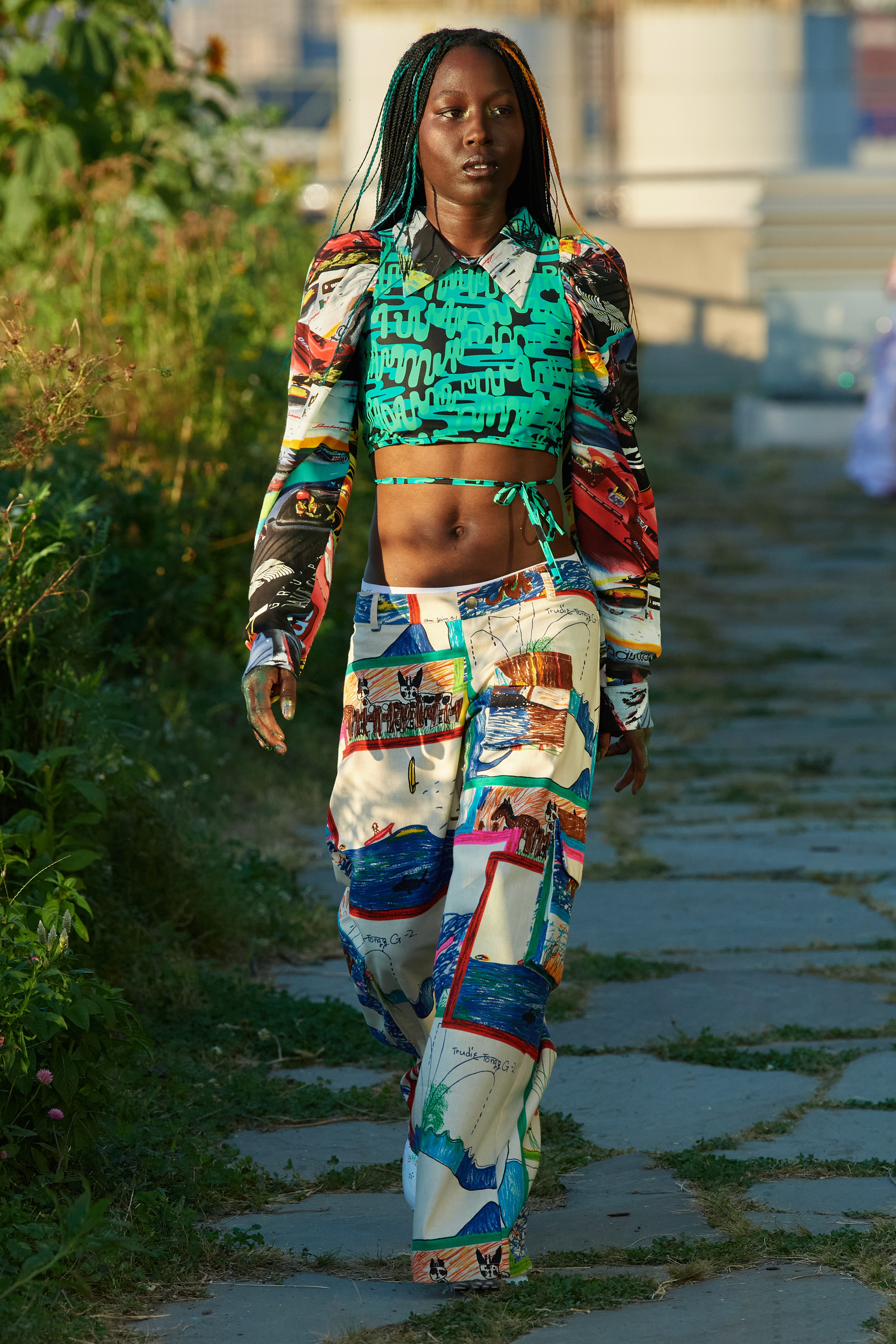 **You're holding your show at a rooftop farm in Brooklyn. Why did you choose this venue?
**C: We're New York City people, at this point, and we have to deal with that urban environment. For us, it's important to remind people that even when you feel really alienated from the agricultural process, you're not as alienated as you might think you are. The whole energy and political ethos of having a farm in the middle of the city was important to us.
H: Also it's just shocking that they were able to build this space. It's such a huge achievement and it's beautiful. I really wanted people to realize what's possible: that this is a possibility for all rooftops, essentially. Let's start to think outside the box as to how this can be explored as a new green space.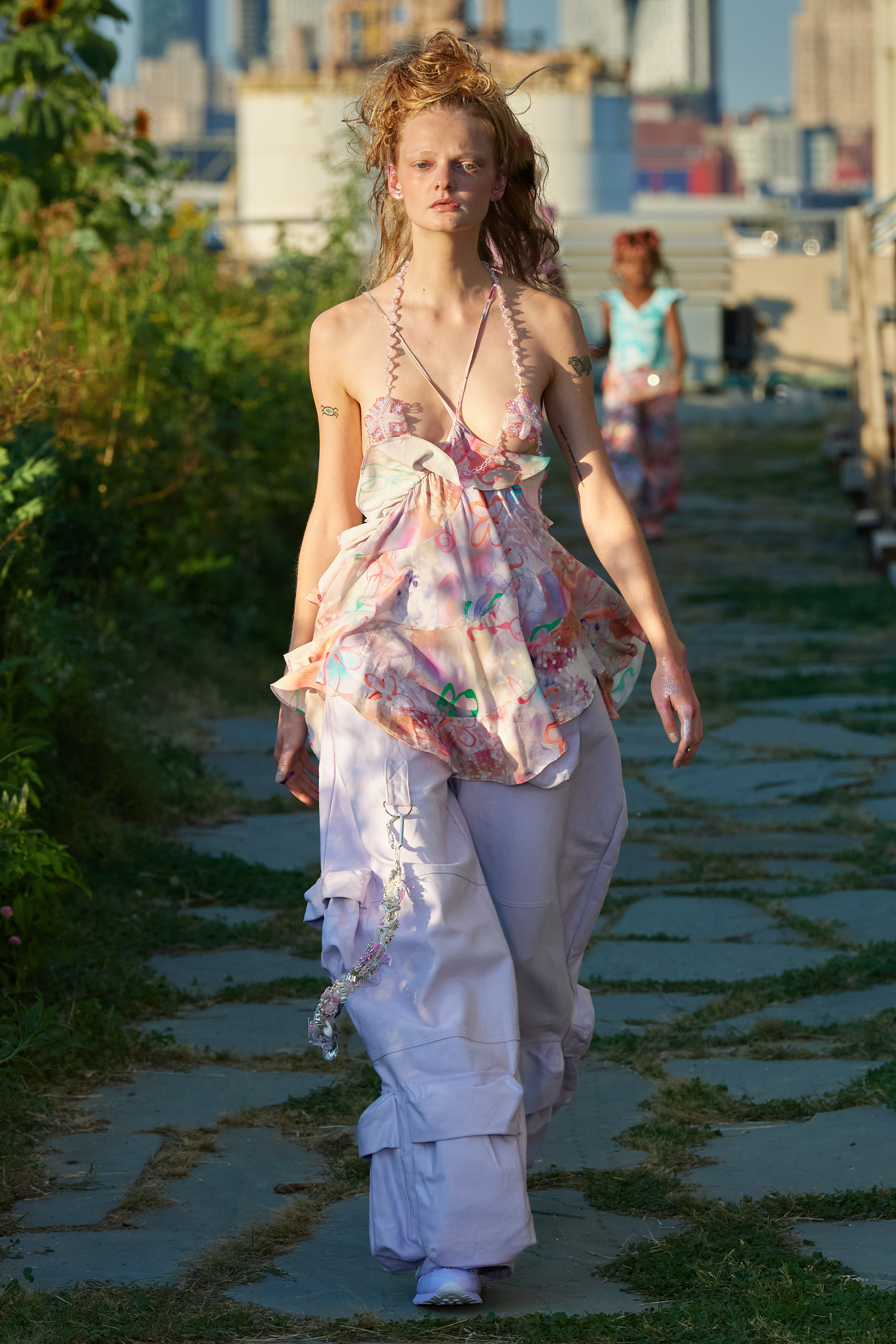 **You describe sustainability as a journey. How does this collection represent the next step in that journey?
**H: I really wanted to use old things. Everything in this collection has a story of how it came here. I think that's super important. For instance, the orange fabric we used this season was from a bad run of clothes we couldn't ship out during the pandemic, so we redyed it and recut it into different pieces. All the chains are made from trash that was in my studio: rhinestones and beads from old collections or birthday presents people got me that we've woven into new, beautiful things. The pinata pony bags — for our horse girl moment — are made out of deadstock Prada raffia. Even the shoes were repurposed from a season ago. I feel very confident in the ethos of the brand and where it's gotten to. And I'm so grateful that we've been able to make amazing things out of stuff that would just be sitting in a factory, otherwise. I feel really lucky this season.
**Which piece from the collection is most meaningful to you?
**H: Sasha Frolova and I have a longstanding muse relationship and friendship that's really special. I'm turning her into a flower basket because she's my little gift. It's going to be a really special moment because she gets to walk with her grandma. Sasha and her are so happy that she's going to have that moment with her forever.