Watch the trailer for Netflix's new documentary about Naomi Osaka
Executive produced by LeBron James, the three-part deep dive into the rising tennis superstar drops next week.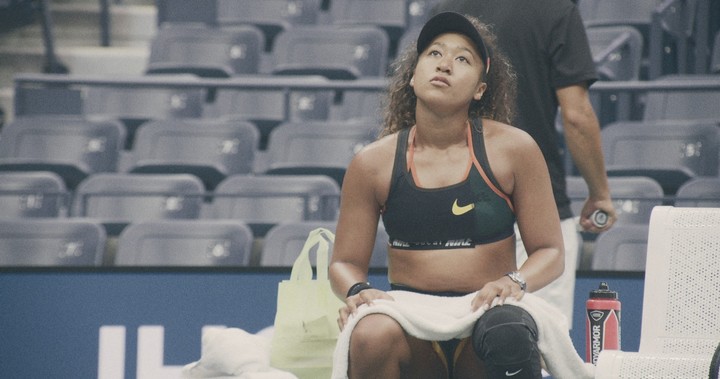 If you're an unapologetic Wimbledon stan but you're missing the talent of Naomi Osaka, the tennis wunderkid who wisely chose to sit the tournament out to focus on her mental heath, then the trailer for Netflix's eponymous documentary about the star will do just the trick.

A first proper look at the show, which is expected to drop on the streaming platform 16 July, has just been released, offering viewers a look into the life of the young Grand Slam champ. Naomi Osaka, directed by Oscar nominee Garrett Bradley — perhaps best known for her work on the crime miniseries When They See Us — and executive produced by LeBron James, the three-part docuseries will follow Naomi's stratospheric rise to top level tennis, and give an insight into her struggles with anxiety and depression during that same period.

"The series is about Naomi's journey, within a snapshot of her life, but it's also about life's purpose, about personal worth, about the courage that it takes to allow one's personal values to inform their work and vice versa," the director said in a statement. "More than anything, I'd hope people can feel the power of empathy and to feel encouraged to take chances in life, perhaps especially in moments where the stakes can feel impossibly high."

"With unprecedented access, we follow Osaka during a historic two years in which she works on her game but also begins to find her voice," a synopsis for the show reads. "Whether she's defending her grand slam titles — while wearing masks in defence of Black lives — mourning the unexpected loss of mentor Kobe Bryant, or finding her independence, the challenges Naomi faces on a personal level begin to align with those in the public sphere."


Across three episodes, viewers also get an empathetic insight into how hectic the training and travel schedule is for the 23-year-old, as she flies across the world both to compete and to connect with her joint Haitian and Japanese heritage. "Viewers will witness Naomi's unapologetic honesty and vulnerability as she navigates her multifaceted identity as a young athlete and leader on the rise," the show notes go on to say.

Despite taking time off from competing, Naomi herself has welcomed the cameras into her life with great enthusiasm, taking the opportunity to use her platform to educate and enlighten anyone who is quick to criticise sports stars without fully understanding the pressure they're under to perform. "I feel like the platform that I have right now is something that I used to take for granted, and for me I feel like I should be using it for something. I believe, instead of following, you have to make your own path," Naomi said in a statement ahead of the show's release.

When she initially announced her withdrawal from Wimbledon and her refusal to engage with the press earlier this year, the tennis star was met with both support and inevitable trolling and criticism, which opened up an important conversation about access and privacy for athletes and competitors. And with fellow tennis rising star Emma Raducanu forced to retire from a match at Wimbledon this week amidst the same criticism, there's never been a better time for Netflix's Naomi Osaka to carry that conversation on further.

Check out the full trailer ahead of its premiere on 16 July here.