alien weaponry aren't your average teenage thrash metal band
About to blow up all over your ears, Alien Weaponry are a thrash metal band with a difference: they sing in Maori. After winning several songwriting contests in their native New Zealand, we meet the trio.
|
11 September 2017, 10:55am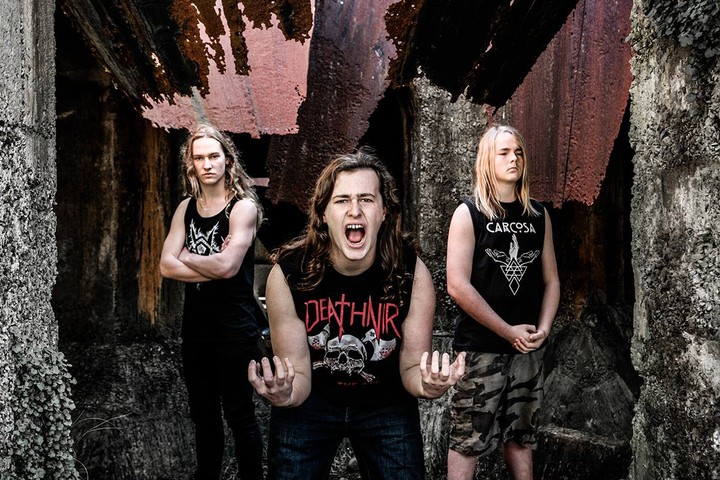 Photography Lisa Crandall
There's a tiny town called Waipu in the northern part of New Zealand that you might pass through on the way to other places. The town -- population 1490 -- is famous for its glow worm caves and nudist beach. Kids there surf, smoke weed, help out on the farm and maybe attend the local Circus School to fine tune your performance skills at the community hall for a bit of variety.
But it's not all nihilistic ennui, spliffs and board shorts: it's also the home of teenage thrash metal band Alien Weaponry, fronted by fair-skinned flaxen-haired school-boys with massive hair and sleeveless black T-shirts. Alien Weaponry's songs explore New Zealand history from a Maori perspective and are written and performed in New Zealand's native language te reo Maori -- and for a metal band, that's a first.
They are stories of rage, historical revenge and scathing social commentary, and the conflation of the thrash metal form with te reo Maori lyrics goes straight for the political, historical and racial jugular. The combination arguably has a kind of precedence -- the same energy and menace of the haka, once seen in traditional Maori tribal warfare performance and now mostly before international rugby matches, has echoes in thrash metal -- both being brutal, angry vehicles for complex emotions of great loss and courage. Alien Weaponry's English language tracks are more of a biting social critique, calling out teachers, students and the media for the glorification and destruction of the lives of television and sports stars. Word.
Lead singer and guitarist Lewis de Jong (15), and his brother Henry (17), drummer for the band, are of Ngati Pikiao and Ngati Raukawa tribal descent and attended a full immersion Maori language school until they were seven. Lewis wrote his first song when he was two, although he admits that those early numbers "weren't quite as good as our current songs." They formed Alien Weaponry when they were eight and ten years old and were later joined by Ethan Tremblath after meeting at primary school. The early signs were good; Ethan (now 15) not only played the ukulele but he also shared Lewis's circus school unicycle aspirations. "After one circus lesson my mum couldn't pick me up and so I came over with a bunch of other kids to Lewis and Henry's house and we were jamming and I was the only one who could reach the end of the bass guitar." And so he was in -- Alien Weaponry was unleashed into the world.
In 2016, Alien Weaponry won both New Zealand's big school band contests: Smokefree's Pacifica Beats (2014's winner -- Lorde) and Rockquest, and have toured nationally, won funding for their first album (produced by SHIHAD rocker Tom Larkin), and are still topping the Spotify NZ Viral 50 music charts after two weeks for their single Ru Ana te Whenua which tells the story of a battle in 1864 where an ancestor lost his life. They have been singled out by Metal Hammer magazine as one of the Top Ten NZ heavy metal bands and are currently up against zeitgeist export Lorde for her tracks Green Light and Liability in an APRA (Australasian Performing Rights Association) top 20 songs award for their single Urutaa, which recounts the story of early Maori-European contact which resulted in an outbreak of sickness, leading to a revenge massacre. Alien Weaponry don't really do 'light'. We caught up with the boys after a vocal lesson to ask them a little about their fans, their hair, and babies named Alien Weaponry.
Have you always been into metal? Who are your inspirations?
Henry: Our dad constantly played us Metallica, and was always playing the guitar -- I guess that was our introduction. Our style has changed and shifted but it's always been metal, we haven't been switching genres but we have delved into different metal sub-genres, like old skool thrash metal to groove, and core.
Lewis: I wanted to be like Stevie Ray Vaughn when I was a little kid, and David Gilmour from Pink Floyd.
Ethan: When I first joined, I had never really heard of metal -- it was a bit of a shock, but I listened and liked it and learned to like it even more. So, yeah, I've been into it ever since I met these guys.
How important is it that you sing in te reo Maori?
Lewis: We feel we can really help spread Maori as a worldwide language, not just a New Zealand language. In New Zealand it isn't very popular, you don't really hear people speaking Maori. Even some of the Maori kids, you know, they aren't at all connected with their culture, and I feel like we can try to make a change in that regard. The Maori culture is a really cool culture, and we shouldn't lose that. You have the right to be in touch with what is your own.
What do you think connects people to your music?
Ethan: There are a lot of really good metal bands out there, but for me, it's the Maori aspect. It's the thing that is really unique.
Lewis: There are lots of metal bands that are really good and really tight, but they sound a lot like the next one. We are trying to do something different. To break through, you need an element of difference -- it's not enough just to be 'good' because it has been done before.
"There are some metal bands that sing kind of misogynistic stories about ex-girlfriends or whatever but for us, we are singing about things that move us, inspire us, make us feel angry or proud."
How do you decide what to write about?
Henry: We try to write about things that are very relevant to us. There are some metal bands that sing kind of misogynistic stories about ex-girlfriends or whatever but for us, we are singing about things that move us, inspire us, make us feel angry or proud.
Lewis: We might write about something that has happened to us at school, stuff about our history, unjust actions by the government. People are like 'Oh, let's stay away from controversial topics'.
Henry: A lot of people are scared to offend or scared that one person might think their opinion isn't ok.

Is there a Plan B?
Lewis: This is something I like to live by -- I have heard from a lot of creative people who haven't had a Plan B because it gets in the way of Plan A. I think I live by a less extreme version of a do or die, and if it doesn't work I will figure something out.

Is big hair essential to a modern thrash metal band?
Lewis: It helps but it is a pain in the arse. If you are thinking about getting long hair, well, I don't want to deter you, but you have to be really committed to it. Otherwise you will just cut it off. Basically three quarters of your shower time is just dealing with the hair and it goes into the plug hole.
Henry: Yeah, we have a big problem with that in our house because everyone in the family has at least shoulder length hair. We go through a lot of conditioner.
Who are your fans?
Ethan: Mostly big hairy men, the stereotypical metal guys. We get bogan metal heads saying 'Man you guys are awesome, give us a hug, bro'.
Lewis: There will be the odd super-drunk 30-year-old lady who tries to buy us shots and we are like "NO! You'll get arrested because we are underage."
Lewis: At the Rockfest show, a girl made an Alien Weaponry badge and she wanted a photo with us but her friend had to talk for her because she was so nervous.
Ethan: After one show, a guy ran up to us with a picture of a couple who had named their baby after us. That was pretty weird.