eckhaus latta spring/summer 18: a clean slate
The downtown duo took over a sun-lit industrial space in Bushwick, bringing along Kelela, Coco Gordon Moore, Moses Sumney, and some terrifically tailored looks.
|
10 September 2017, 1:26pm
Fashion people often gripe about being "dragged out to Bushwick." (As if the constellation of art galleries adjacent to 11th Avenue is easier to reach.) Yesterday afternoon, Eckhaus Latta shut these steadfast Manhattanites up, at long last.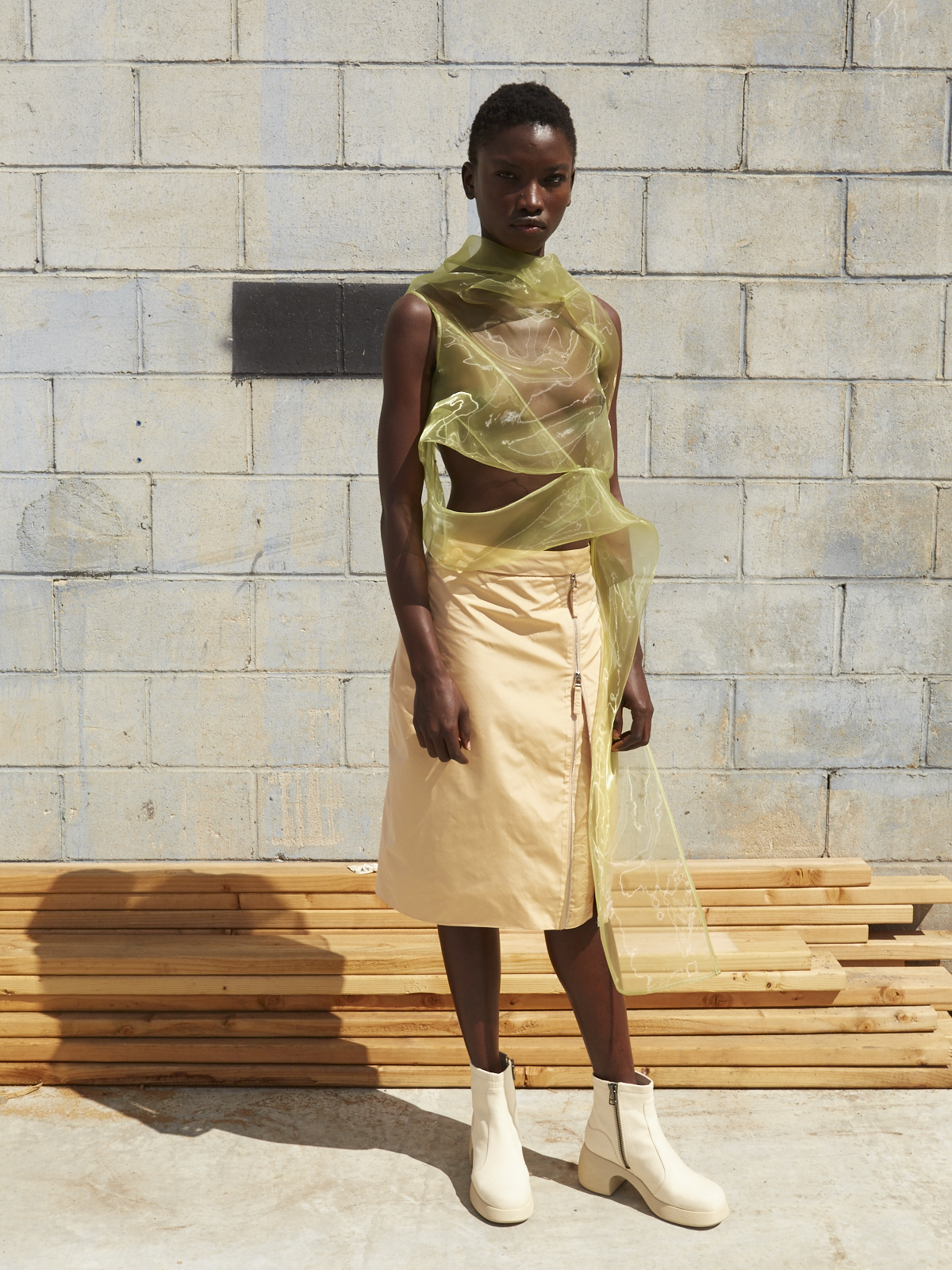 The downtown duo sometimes shows collections near its Chinatown studio. Recent runways have been staged at a deserted department store in Midtown, a furniture showroom in Chelsea, and at MoMA PS1. But Mike Eckhaus and Zoe Latta have long had their eyes on 99 Scott, a newly opened event space not far from beloved pizza spot Roberta's.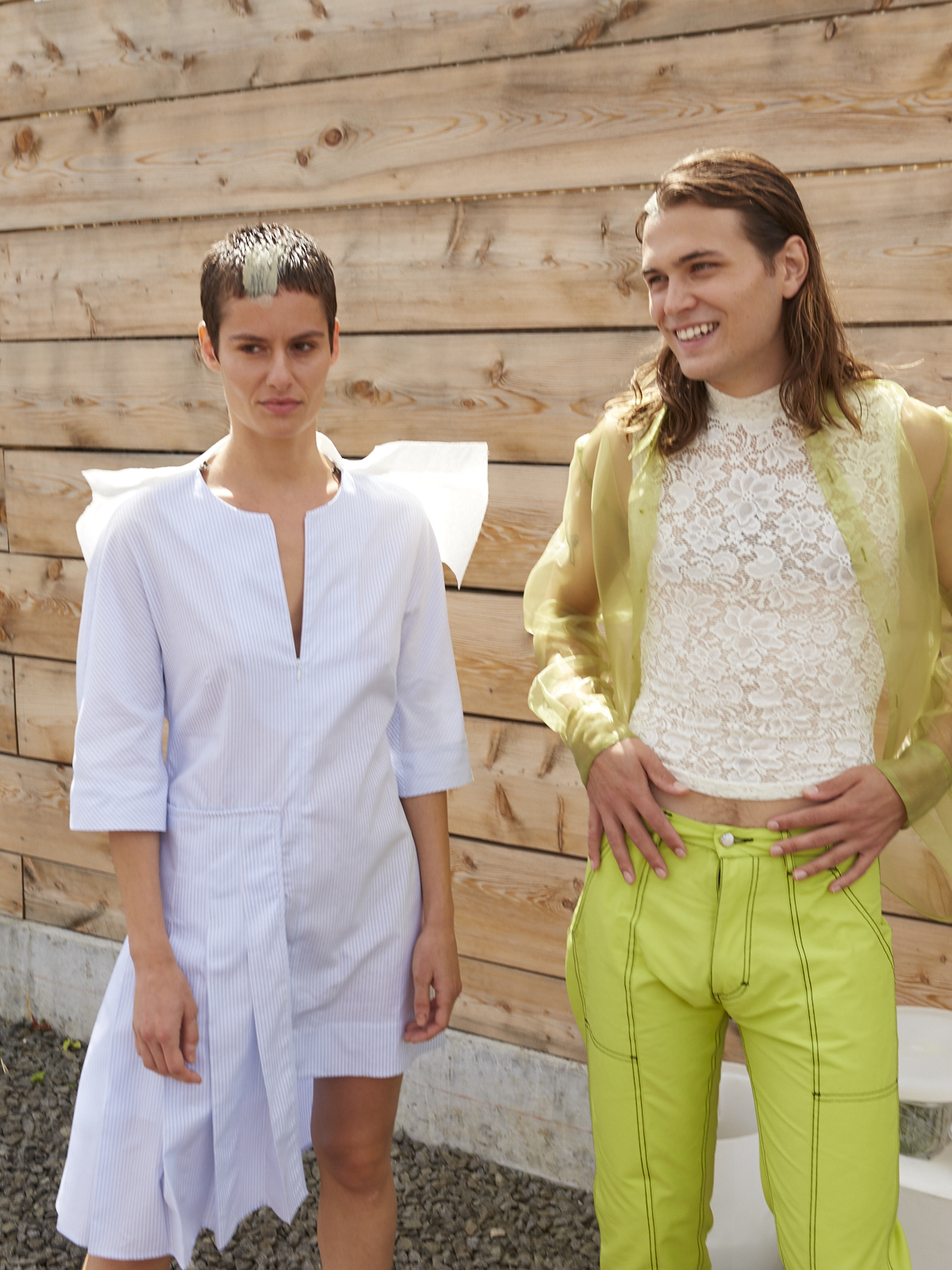 On the outside, 99 Scott doesn't look terribly different from its industrial neighbors — cement mixing garages, truck repair shops, and storage warehouses. Inside, walls of windows flood the concrete space with natural light, and lend it a certain warmth. "A friend that we've known since college owns Honey's, the bar on the corner," Mike Eckhaus explained, soaking up the afternoon sun in 99 Scott's backyard. "We've planned on showing here since it was being built."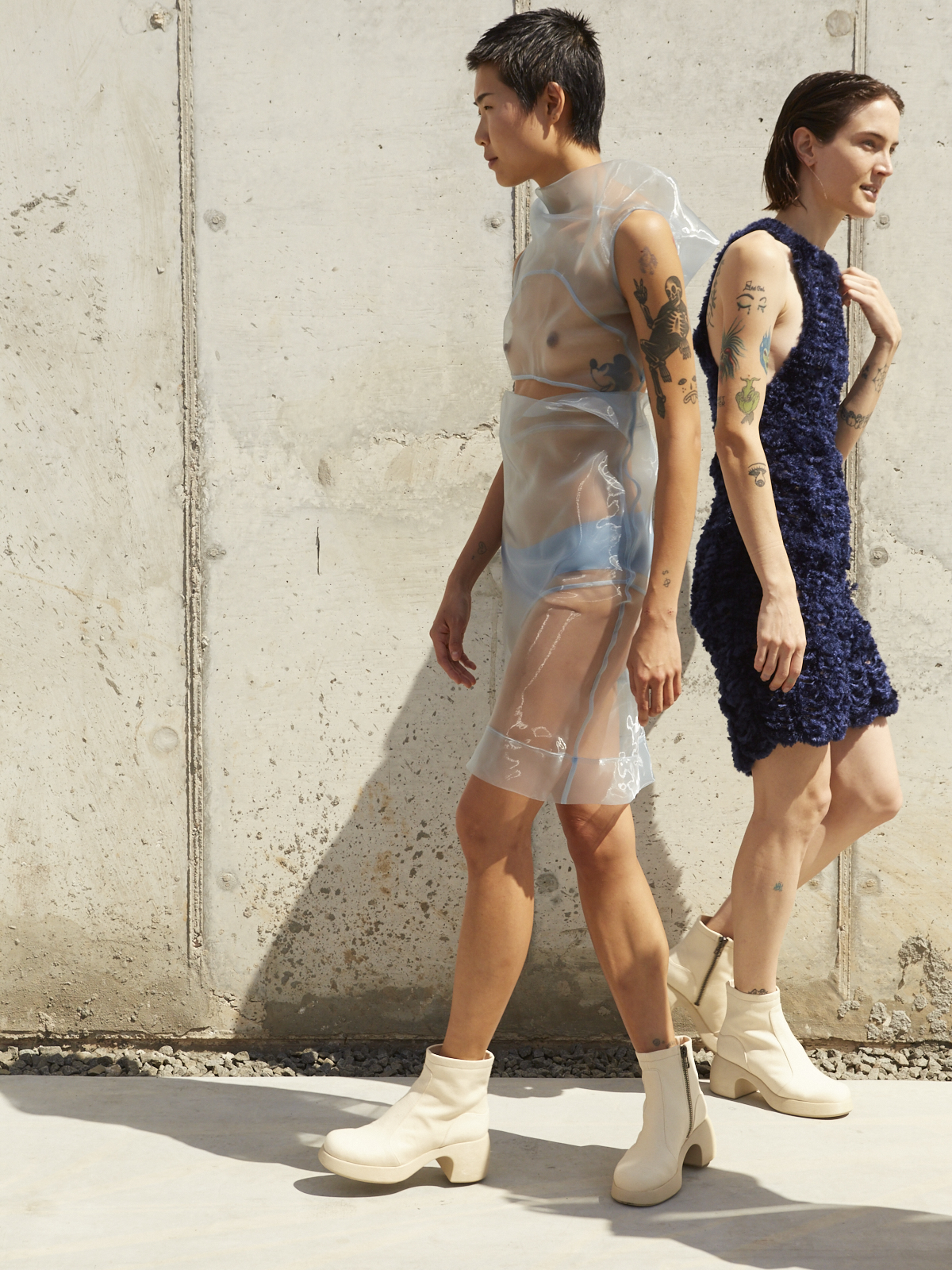 Last season's setting — the aforementioned retail tomb on 34th — "felt very loaded in its own way, and had its own metaphors," said Zoe Latta. The pair played with these signifiers well. They translated the language of "Everything Must Go!" into a post-election meditation on forced adaptability. Here, "it felt like a totally clean slate," said Latta. "That was exciting for us." Eckhaus agreed. "The venue being a bit more pulled back allowed the clothing to really push forward," he reasoned.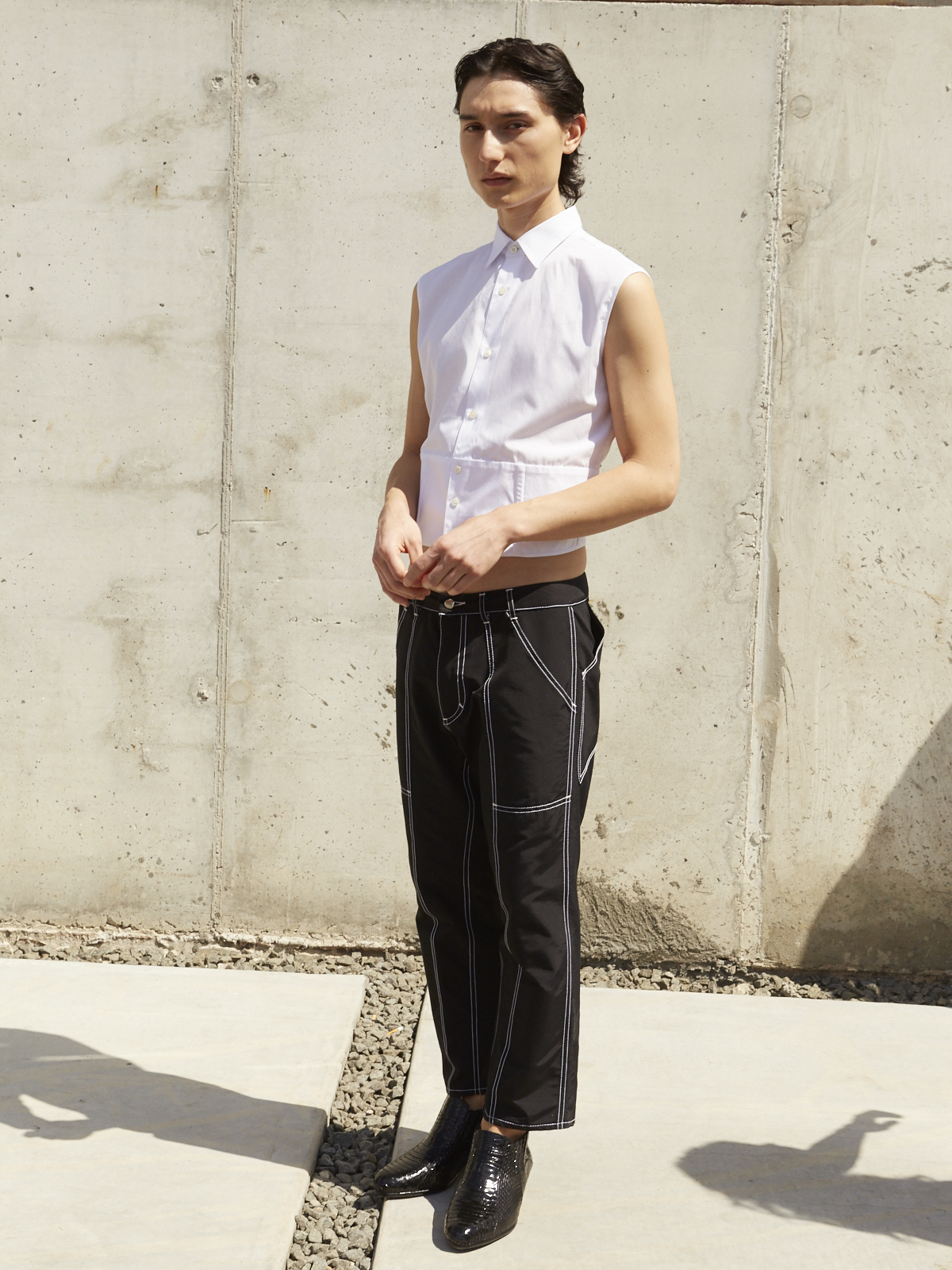 That momentum began with the very first look: a sharply tailored two-button blazer with slivers of white shirting peeking out past its cropped sleeves. Structured silhouettes like this one gave way to the lighter lace and ethereal, sheer pieces that closed the show. Along the way: low-slung trousers, polka-dot denim, feather fringe, and the knits we've come to crave. But as Latta reminded us, it's never really about cohesion.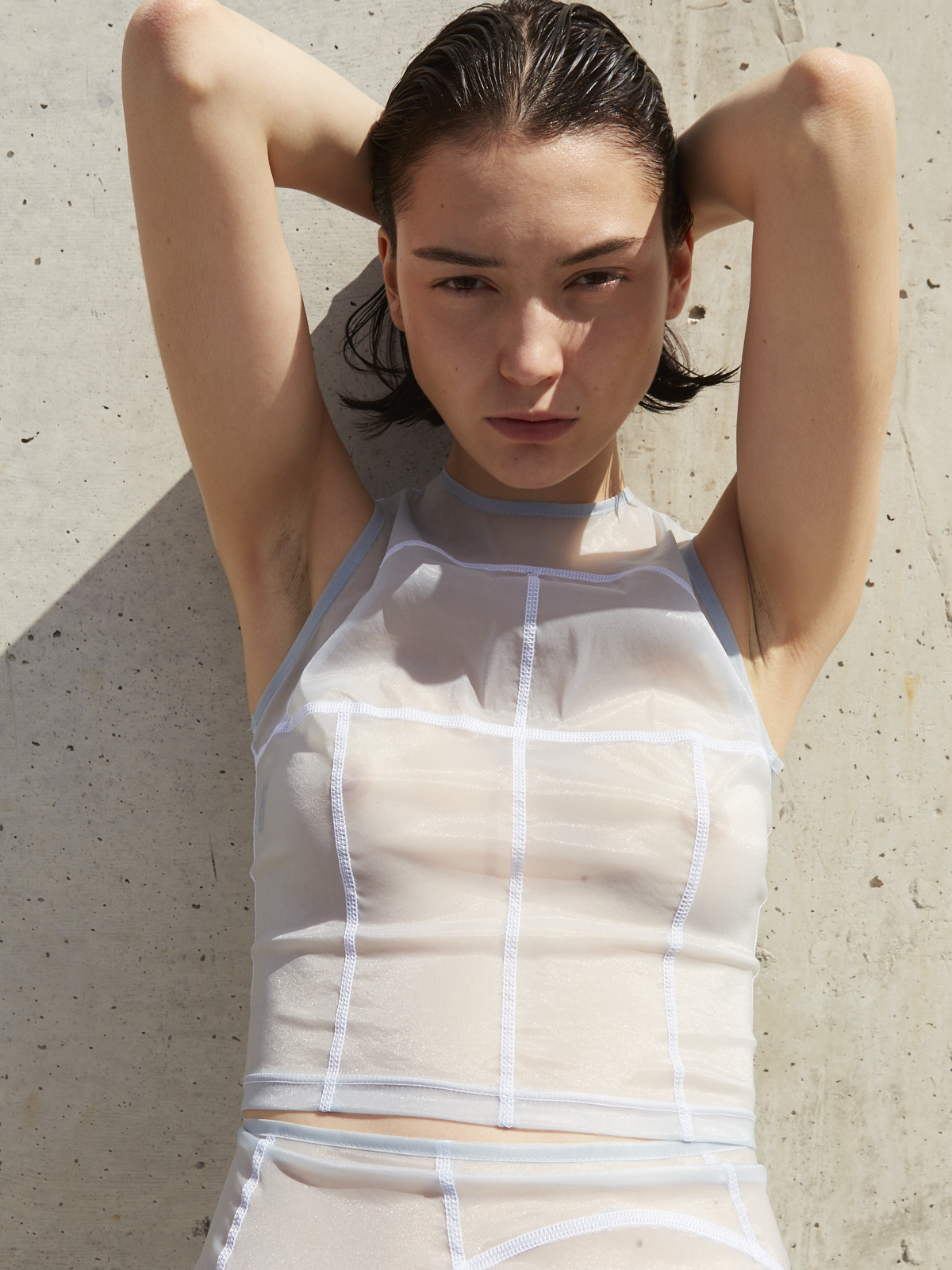 "We often ask ourselves, 'What do we want to explore, what do we want to expand on?' That first look was really about us wanting to focus on more tailoring elements, suiting, dresses. They're things that we've done before, but that we want to do better." "A bit slicker, harder perhaps," Eckhaus added. "We're excited about what Eckhaus Latta can be, and how to turn more familiar fashion tropes into a language that can be ours."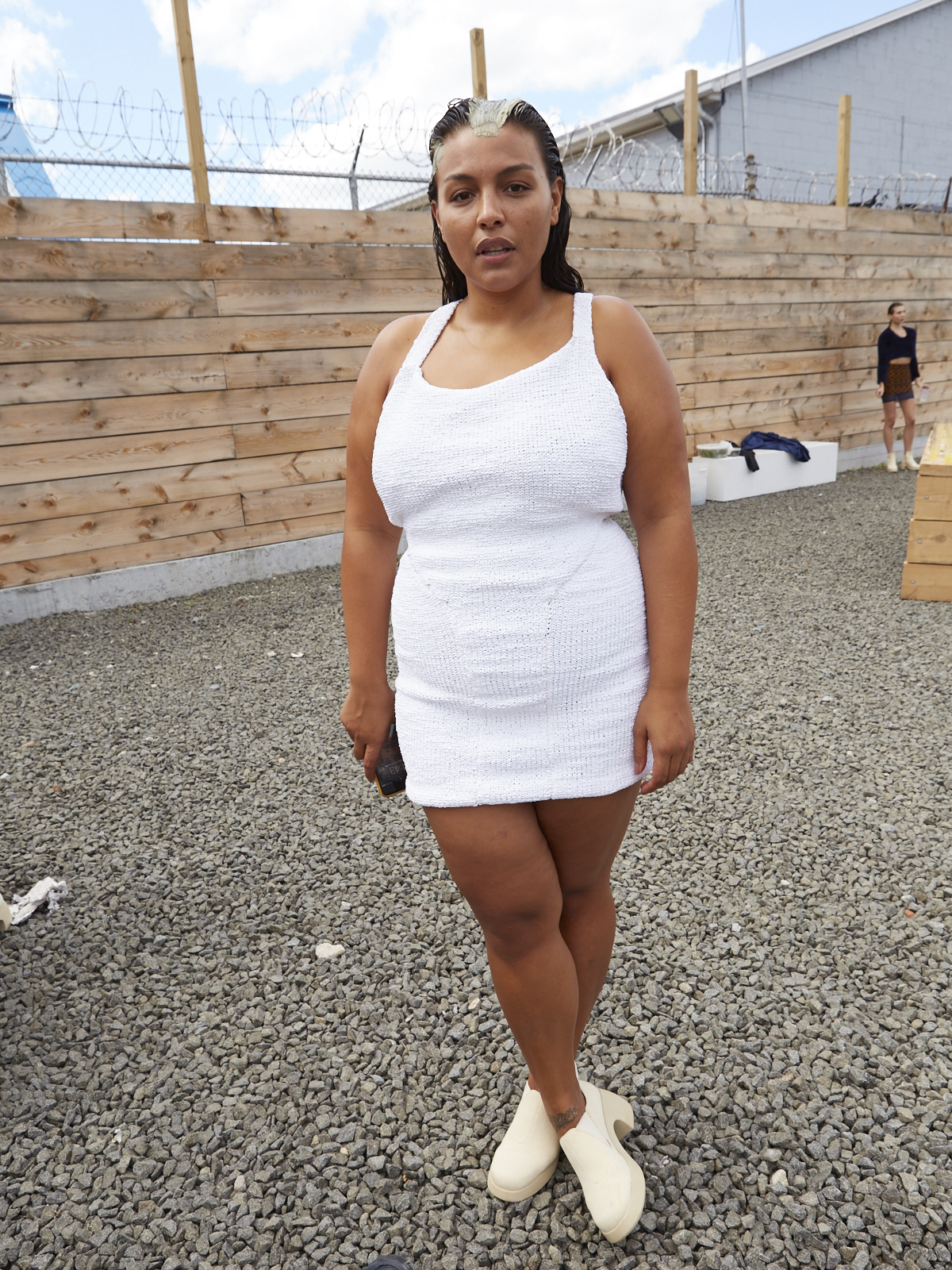 "Abstracting the familiar," as Latta put it, wasn't simply the task of the clothing. Moses Sumney — the musician soon to release his debut full-length, Aromanticism — provided the show's live score. Sumney has won praise for the ways he manipulates his piercing falsetto, crafting vulnerable electro-soul melodies with little more than a loop pedal. Today, he reinterpreted songs by The Cocteau Twins and Lauryn Hill. "We've never had pop songs, or even familiar songs, in a show," said Eckhaus. "We were really interested to work with Moses and see how his voice could capture these things and recontextualize them."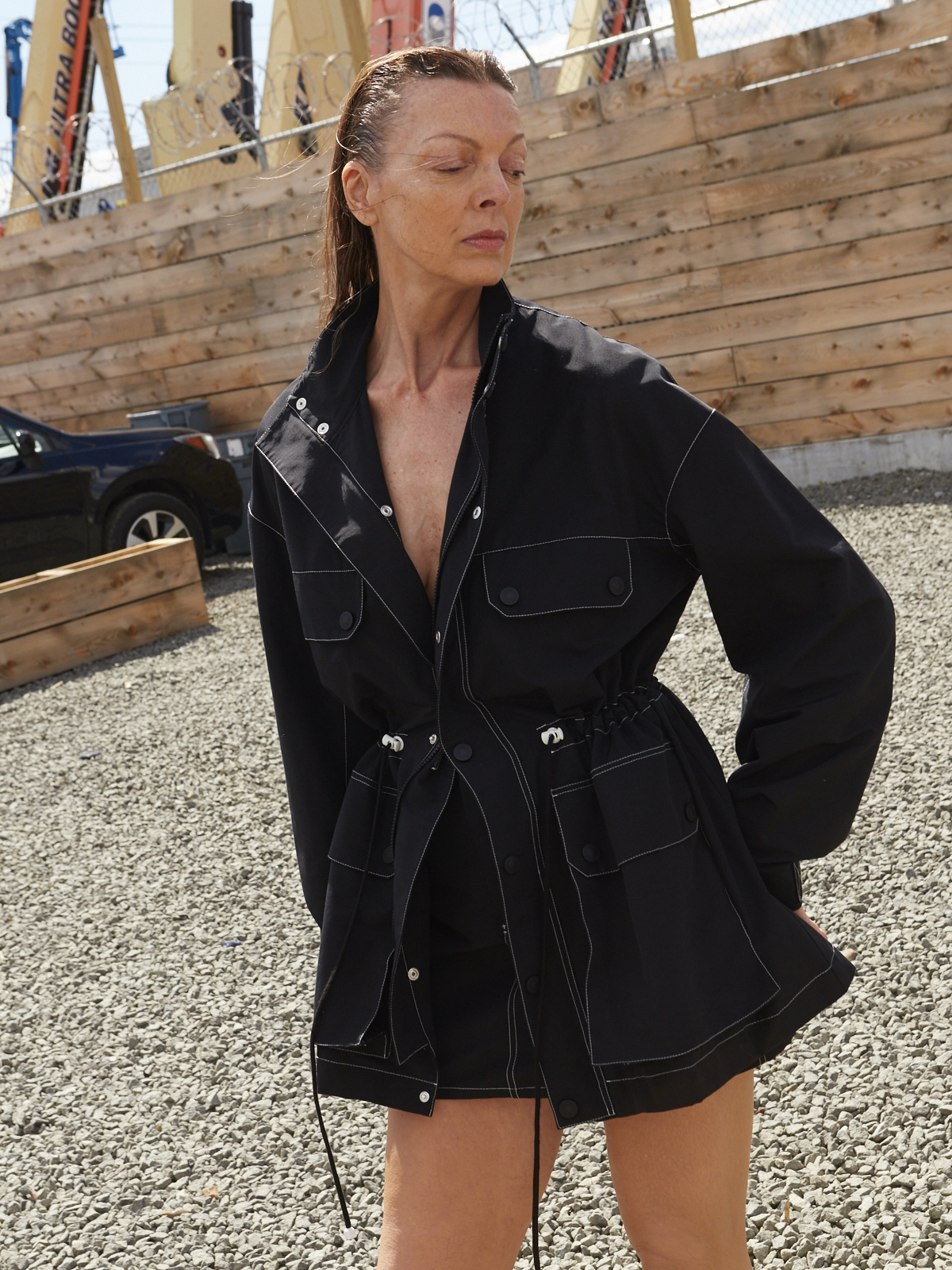 Sumney built to a positively stunning version of Donna Summer's canonical "I Feel Love." The disco queen packed her vocals with desire and pathos; she transformed dancefloors into moments of ecclesiastical bliss. Watching an expanded roster of Eckhaus friends (this season saw runway turns from Kelela, Coco Gordon Moore, Alex Olson, Paloma Elsesser, and a very pregnant Maia Ruth Lee) stride confidently to Sumney's interpretation of Summer was just as spine-tingling.
And ultimately, Donna described the collection best: "It's so good, it's so good, it's so good, it's so good, it's so good."