eckhaus latta's playfully ambitious spring/summer 19
Mike Eckhaus and Zoe Latta's Brooklyn warehouse space hosted drum-playing toddlers, Whoopi Goldberg, and museum-worthy looks that spoke to the brand's DNA.
|
09 September 2018, 2:45pm
Photography Nick Delieto
Music is intrinsic to any Eckhaus Latta show. Typically Mike Eckhaus and Zoe Latta fill a Brooklyn warehouse space with mellifluous soundscapes, composed by the likes of Colin Self and Moses Sumney. For the duo's Whitney retail exhibition they consulted studies about optimal browsing music before landing on a mix including mellowed Aphex Twin. Mike and Zoe went in a decidedly hands-off direction for Saturday's spring/summer 19 show — soundtracked by the dulcet tones of screaming toddlers banging on plastic drums. "It was an idea we had for a while," Zoe said of the Young People Orchestra, as the band was called in the show notes. "We had no idea what it was going to sound like, which was actually really freeing. The models were prepared to walk even if all the babies stopped drumming."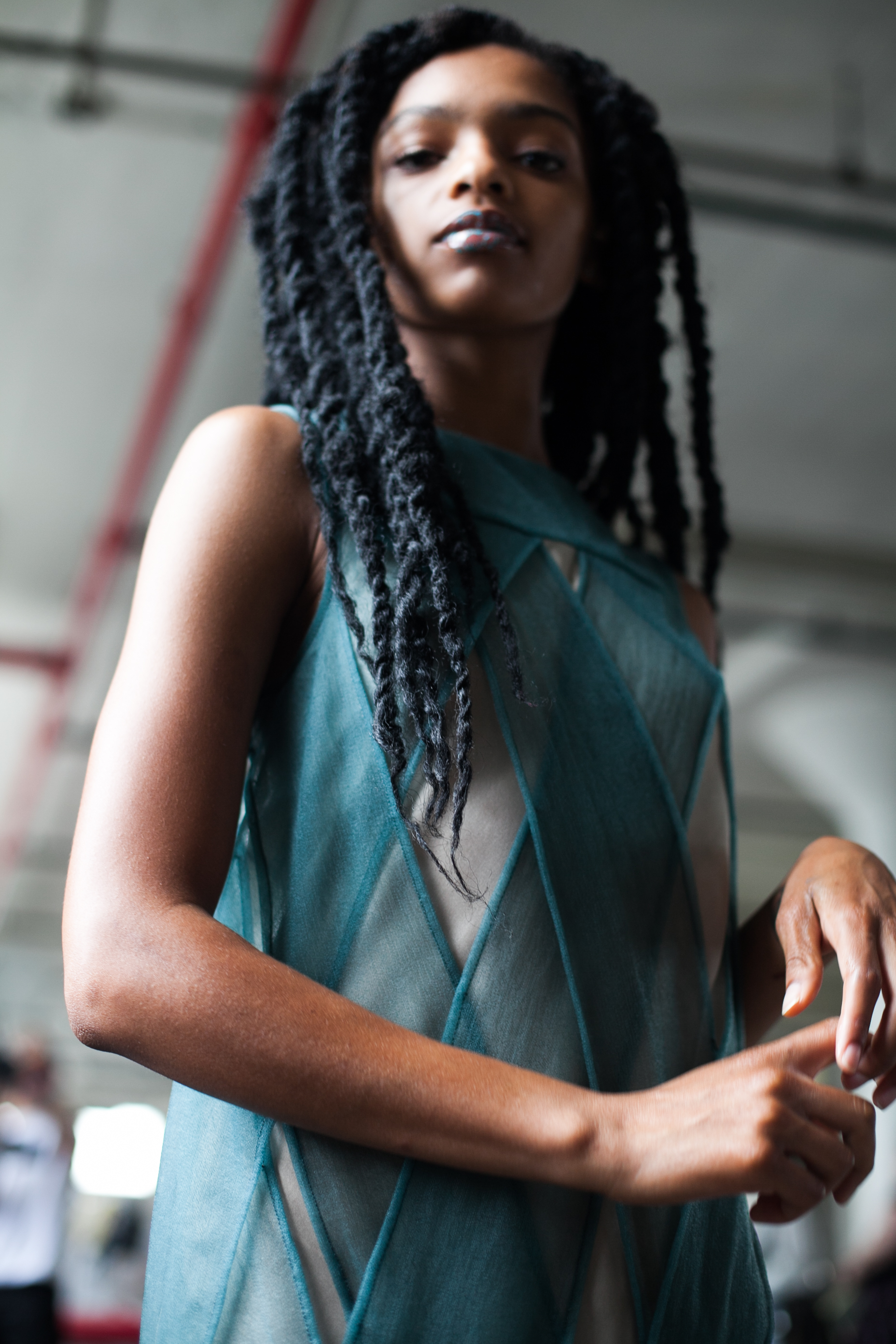 Clothing-wise, this might have been Eckhaus Latta's most impressive feat yet. It was certainly the largest — also including pieces from pre-fall. Coming off the back of their painstakingly detailed Whitney show, Mike and Zoe were eager to give some love to Eckhaus Latta's denim and jersey DNA. They did do that — Eckhaus Latta's classic EL jean came in soft golden yellow and even cow print, while Paloma Elsesser wore a baggier jean and matching denim jacket in sun-faded tie-dye. There were skinny grey knit pants streaked with a gorgeous mineral blue, and scalloped knit singlet tops. But the careful handiwork celebrated in the Whitney show also trickled into this one. Look closer, and that trouser/tee knit set was actually papier-mâché — or at least paper yarn the duo had painting themselves. Many of the jeans had beads running down the outer seams, while a few elaborate "vests" were basically just beadwork and negative space. Skin is as important to Eckhaus as clothes, but in a way that suggests freedom and comfort rather than sex.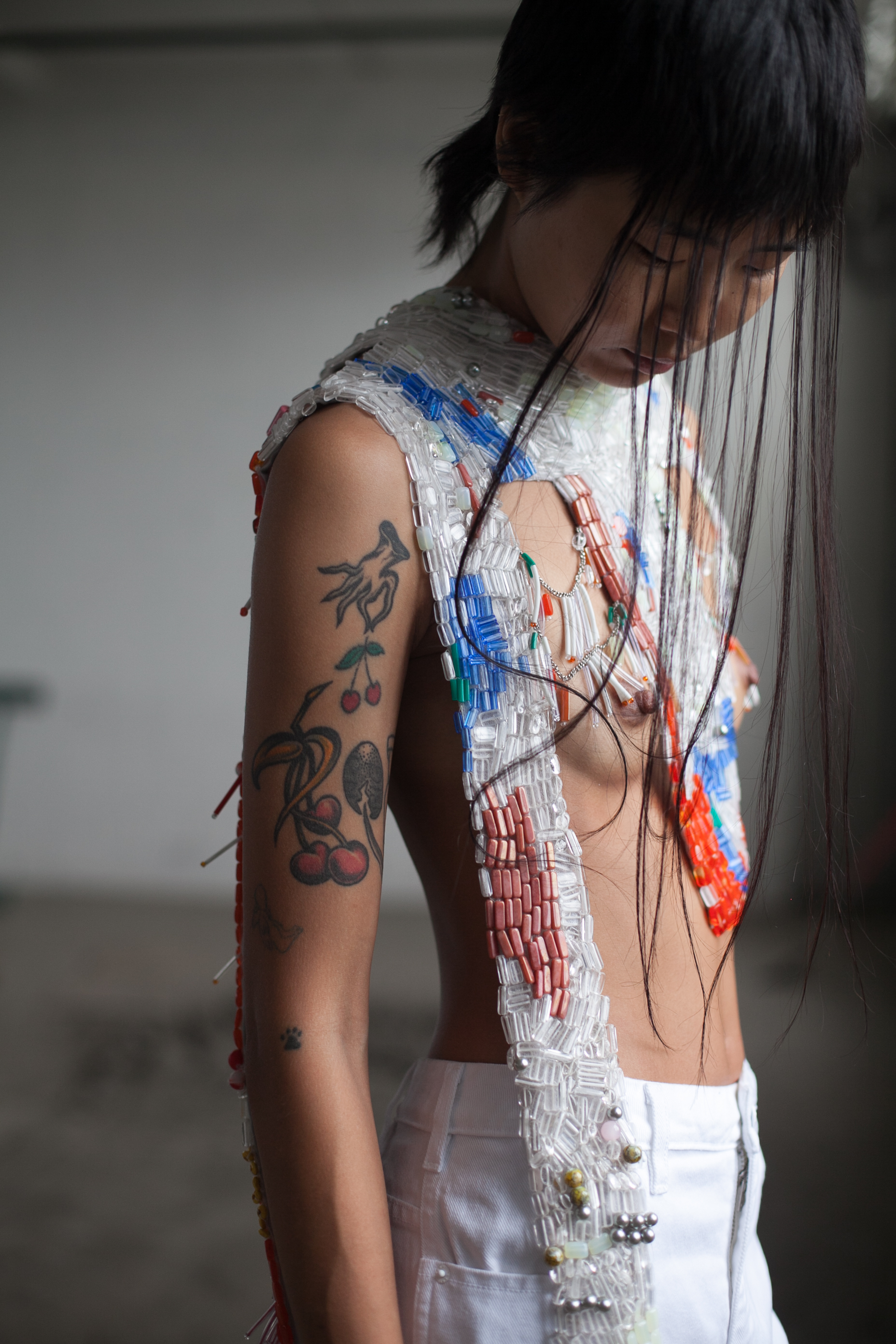 "There used to be a lot of that [handiwork] within our collections, and for the past few seasons, that has kind of shifted," Zoe explained." Lately, her and Mike had started dialing back the detail to focus on tailoring, improving the quality of the garments, and finding better fabrics. "The Whitney collection, we had two years to develop, and it really gave us the opportunity to create one-of-a-kind pieces again," she continued, saying that the commercial success of Eckhaus Latta's denim has also been freeing creatively. "After that there was a relief that we were capable and able and excited to do both." Eckhaus Latta has never been about just one thing, Mike reminded us. The brand deals in ideas, which customers can interpret how they want. (Take those translucent organza pieces and nipple-baring spider web knits: Mike and Zoe don't expect people to wear them like that in public, but they're also thrilled when they are worn with that same uninhibited attitude.) Those customers range from the bucket-smashing toddlers to the downtown art crowd to Whoopi Goldberg — who excitedly approached Mike and Zoe after the show to express her love for their deep-pocketed denim.