A guide to Harry Styles' fashion evolution
With 'Harry's House' on loop, look back at your fave's style – from Jack Wills hoodies and Topman chinos, to Gucci gowns and glam pop looks.
Ever since he first burst onto the X Factor stage in 2010 -- a secondary school student and part-time baker with the boyish good looks of a pre-made popstar -- everybody has found Harry Styles to be disarmingly charming. He was that old, outdated trope brought to life: teenagers either wanted to be him, or be with him, or both. But so much has changed since those sweet wholesome drop-crotch chino days. Harry, like the rest of his 1D peers, has grown up, and with it so has his sense of style.
Swapping out Jack Wills gilets for Gucci garms that throw the internet into a meltdown faster than you can say "popstar hugging a pig", his fashion sense can now best be described as 'New Romantic Alessandro Michele genderfluid modern rockstar'. It mustn't go unmentioned that this is in large part down to one of fashion's most sought after stylists: the brilliant Harry Lambert. It's because of their creative union that Styles dropped Camden Market shearling jackets and Chelsea boots for custom one-pieces from CSM designers, pearl necklaces and boas on the red carpet.
As he releases his third solo studio album Harry's House, here's a deep dive into his impeccable style evolution. It's what we deserve.
On the streets of London, 2010
Remember in the early 2010s, when the purple hoodie was the menswear item du jour of all your high school classmates? They've not quite reached such heady levels of style success since, but back then, the biggest male popstars of our generation were causing a mini fashion-revolution. Stateside, Justin Bieber was rocking that amethyst American Apparel number for what felt like a whole damn press tour, while our Harry popped out to Sainsbury's wearing the Brit equivalent: a logo-emblazoned Jack Wills one. Pair it with low-slung jeans and this look epitomises 2010.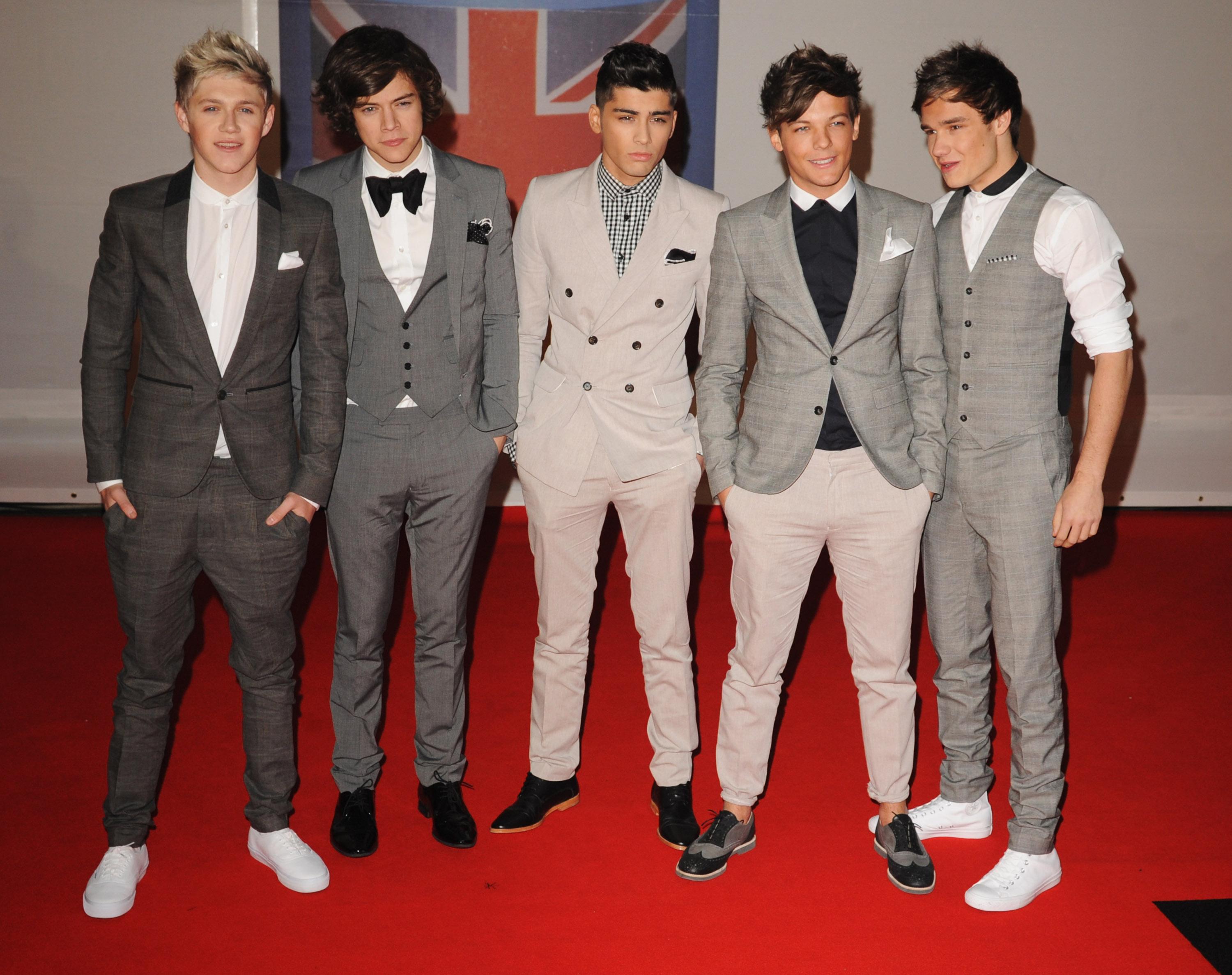 At the Brit Awards, 2012
Two years have passed. One Direction, much to our dismay, didn't win The X Factor. But Harry and his bandmates got the last laugh by sauntering off and signing a lucrative record deal anyway. Unlike the vast majority of reality TV grads, 1D made it big -- like stratospherically big -- and so of course they had stylists making strong fashion calls for them by album two.
Before the charcoal grey suit became the go-to look for teenagers at weddings they didn't want to be at, Harry rocked up to The Brit Awards in 2012 wearing a three-piece one and pulling it off flawlessly. He looked dangerously dapper, but it's the droopy black bow-tie, almost reminiscent of a pussy bow, that caught our eye. It's like a little nod to the looks that'll inform his style in future.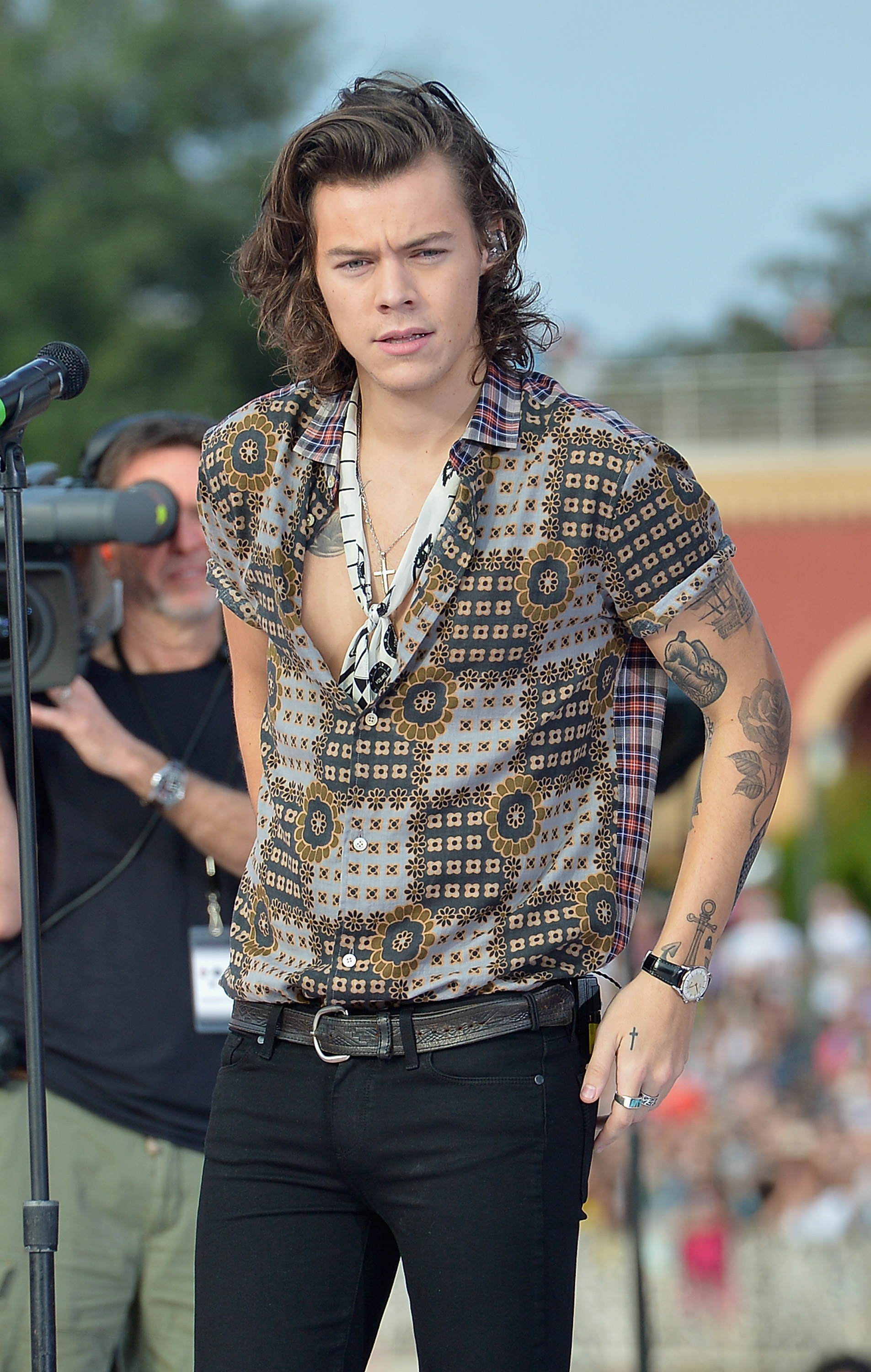 Performing on the NBC Today Show, 2014
By the time 2014 came around, Harry's popstar facade was starting to crack. The fashion press noticed that the now-20-year-old was gaining a Jagger-esque reputation; his fashion decisions starting to reflect a rockstar butterfly emerging from its chrysalis. His tattooed skin was now a little more on show, peering out from beneath unbuttoned paisley shirts. The high street looks of 1D's early days were headed into a more luxe territory with Calvin Klein garms. His hair was getting longer, slicked back and kept in place by patterned scarves. The jeans were skinnier than they had ever been before and the heels of his suede boots ever-growing.
Filming 'Dunkirk', 2016
For every generation there's a specific history-defining moment we can all collectively remember. For Gen Z, that moment was when Zayn Malik announced he was leaving 1D — personally, I was in a Costa crying into an iced latte. Less than a year later, at the start of 2016, One Direction went on an indefinite hiatus, and the rumours of what each member would do next were talking points for pop culture fanatics for the months that followed. But Styles took time to slip out of the spotlight, avoiding red carpet gigs for a bit and as a result, we only really saw glimmers of this limbo stage in paparazzi photos of Harry pottering about London, New York and LA. Though his hair was at its longest here, it wasn't for long: mere months after this shot, Harry was cast in Christopher Nolan's Dunkirk, and chopped his luscious curls all short at the director's request.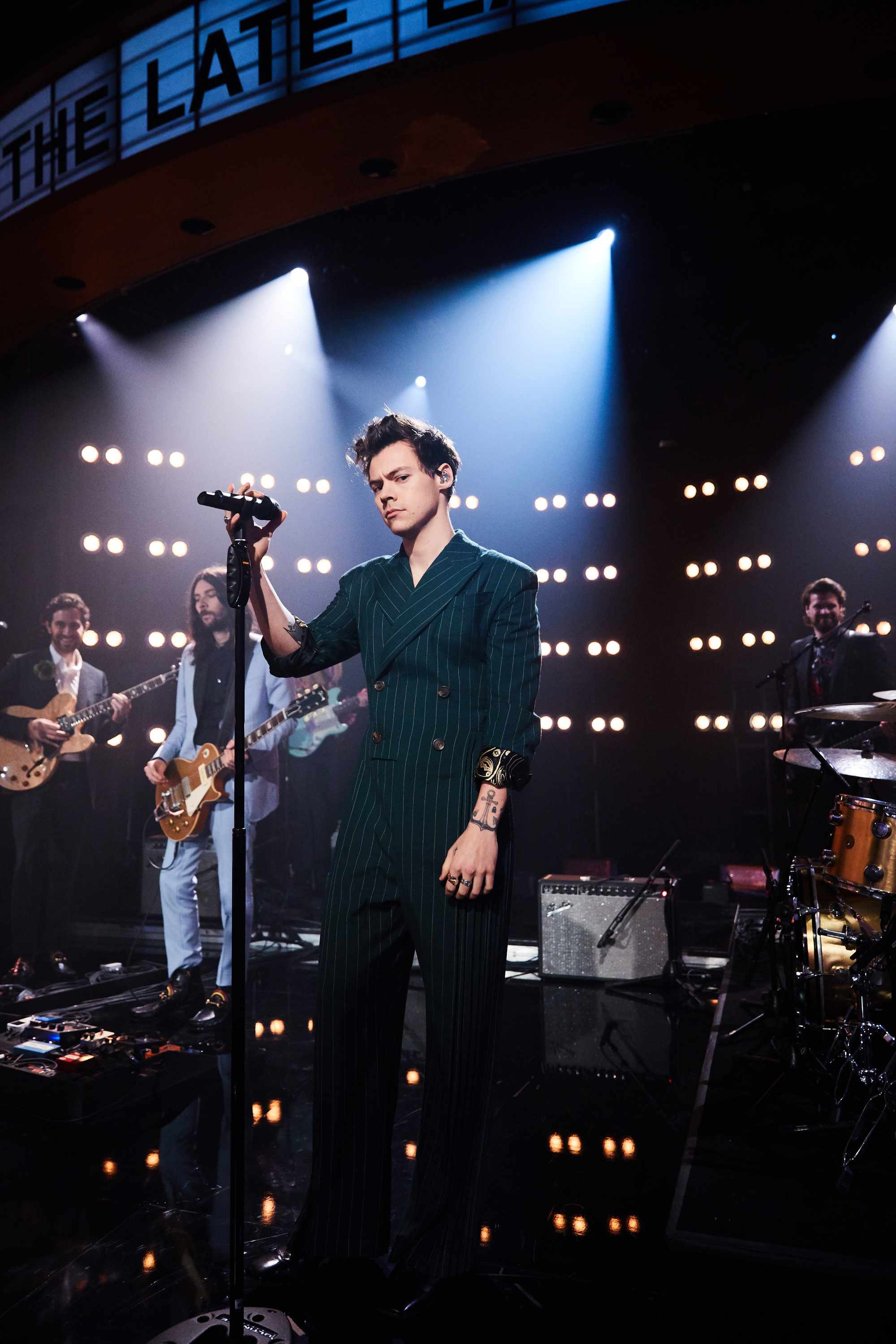 On The Late Late Show, 2017
After nearly 18 months of musical silence, Harry returned in the spring of 2017 with a switched-up sound. Marked by his single Sign of the Times, it came with a series of looks -- selected for him by Harry Lambert -- that would reposition pop's gentle bad boy as a new kind of star: a compassionate one with a flamboyant, sexy and Bowie-worthy dress sense. As the promo tour rolled out, the boy who once felt most comfortable in hoodies rocked up to The Late Late Show in the US wearing a padded pinstripe jumpsuit by Charles Jeffrey Loverboy. With its double-breasted top half and billowing trouser legs, it felt like a wild, semi-androgynous change of scene. Little did we know it would lead us into one of the most delicious tour wardrobes of the year.
On Harry Styles: Live On Tour, 2018
Harry Lambert's appreciation of punkish and youthful designers (paired with a soon-to-be-announced link-up with Gucci) meant that Styles rocked up to each city of his tour in a custom tailored suit. Even though his style -- both physically and sonically -- had changed, Harry still harboured the power to propel anyone he's associated with into the spotlight. Case in point: the LA-born Central Saint Martins graduate Harris Reed. When Lambert reached out to him earlier in the year to create a look for Styles' show in Amsterdam, Reed, still just 21 years old and having never completed a custom look for a client before, crafted a bespoke outfit that's rightfully earned a place in the Styles fashion history. Since then, Harris has gone on to work for Gucci, create his own label and dress the supermodel Iman for the Met Gala. The look he created for Harry, comprised of a three-tiered ruffled blouse and ostentatious flares, proved that the singer was now willing to step into grandiose territory with his outfits as the next gen New Romantic.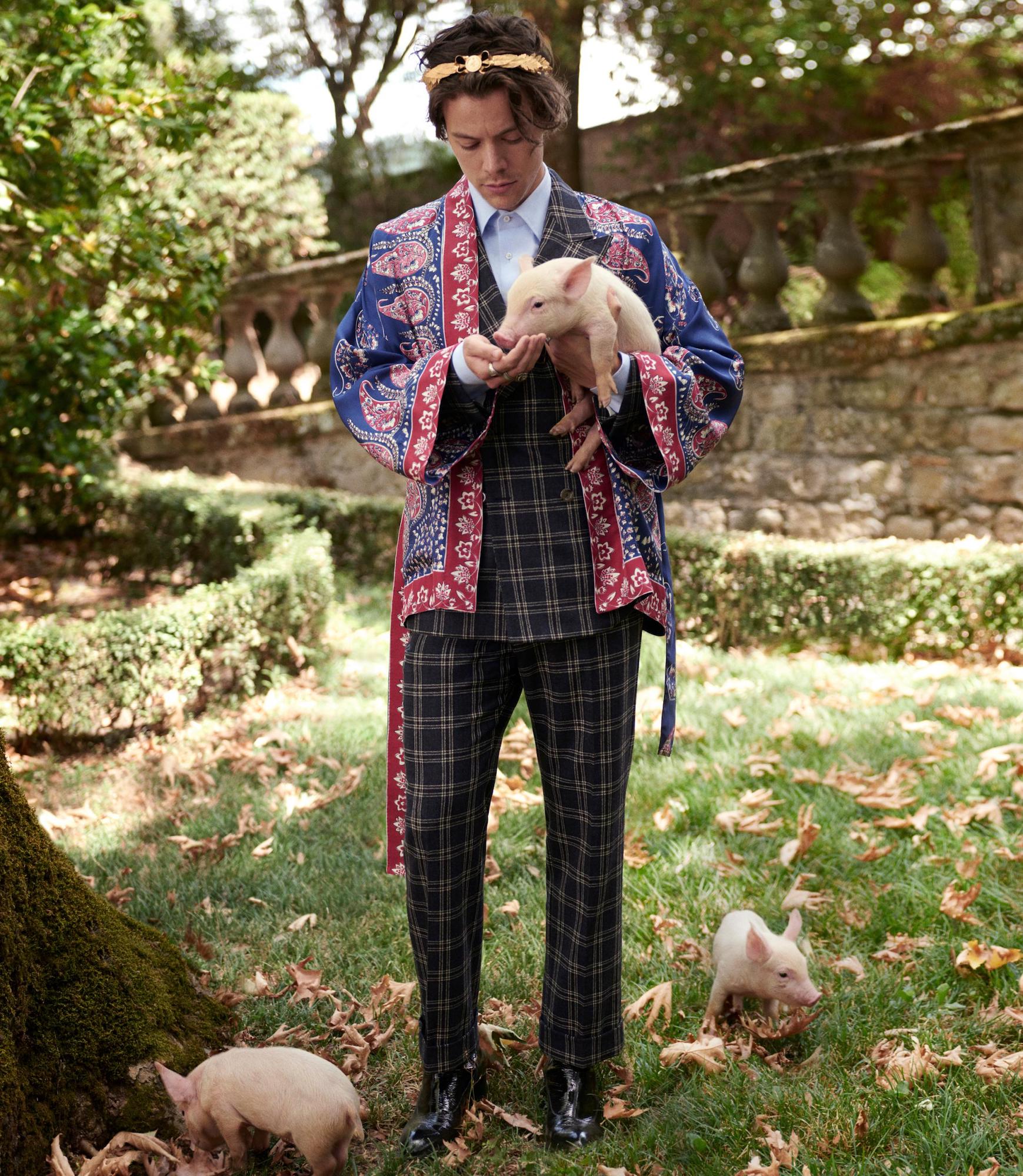 For a Gucci campaign, 2018
Is that a chicken?! In 2018, we learned that the once Topman-clad Harry would become the new face of Gucci Cruise's tailoring line. Gucci took Harry to a quintessential English chip shop for the first campaign, before sprucing things up for the second. Set in Villa Lante, a historic hotspot just outside Rome, the shots saw Harry accessorise with adorable baby farm animals and an array of enchanting tailored pieces. The extreme lapels, clashing checks and embellished broach pieces we've come to associate with Gucci's wunderkind Alessandro Michele now look like everyday items in Harry's burgeoning wardrobe. But there is one piece that stands out, and it's simple: a gold crown of thorns, resting upon his head like the certified prince of popstar fashion. Jesus could never.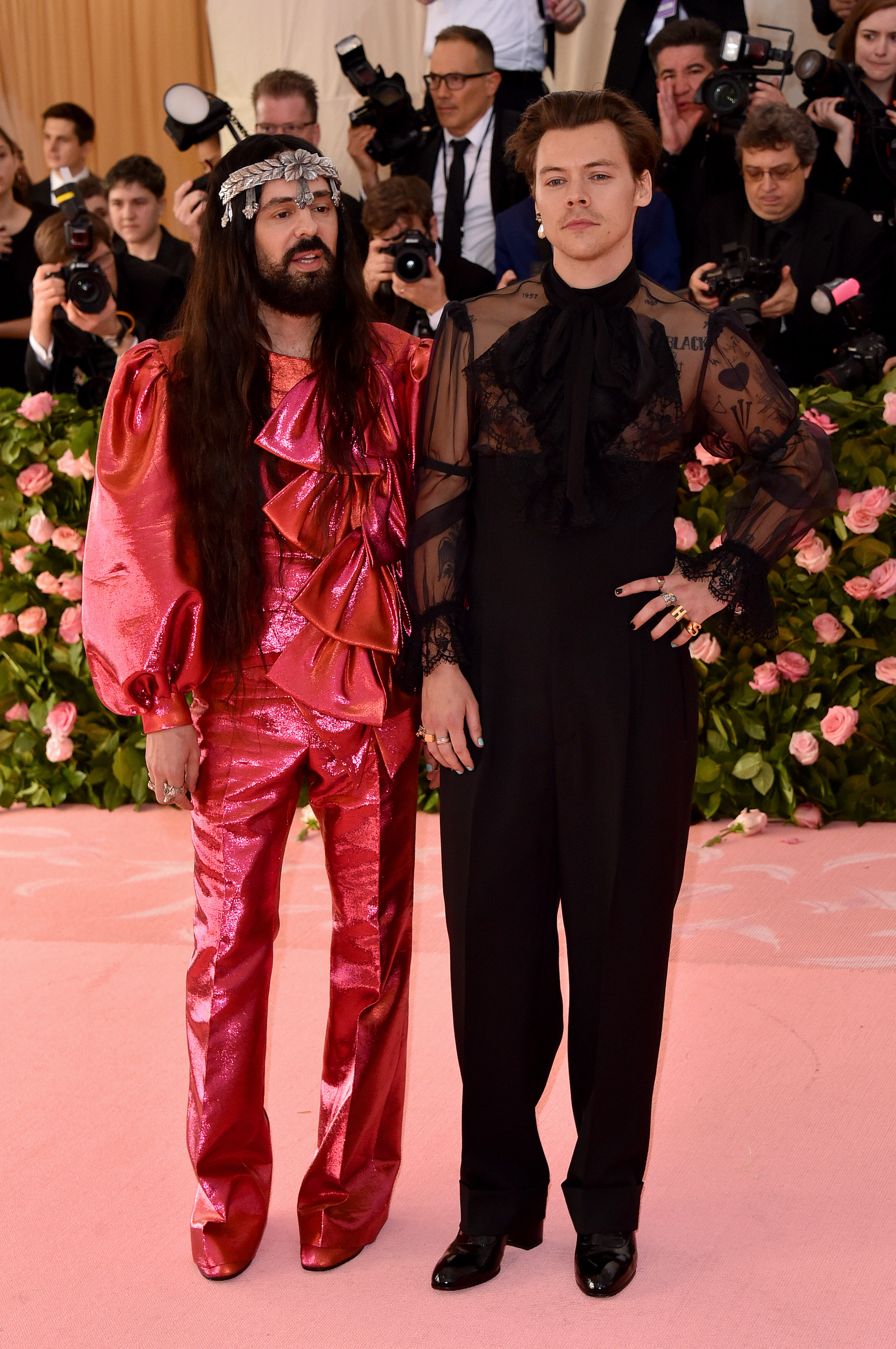 At the Met Gala, 2019
Our king's first Met Gala <3. Given his recent spate of androgynous style moments, it was rather fitting for our king to not only attend fashion's biggest event annually, this year themed on Camp, but to also be a cohost alongside Lady Gaga. Turning up to the carpeted Met stairs with metallic pink-clad bestie Alessandro Michelle, Harry wore a sexy all-black ensemble with ultra-high-waisted trousers that came up to just below his top two nipples, whilst a sheer ruffle shirt exposed all the tattoos adorning his body. Shoutout to the little pearl drop earring, a nod to the jewellery that would later become synonymous with his style.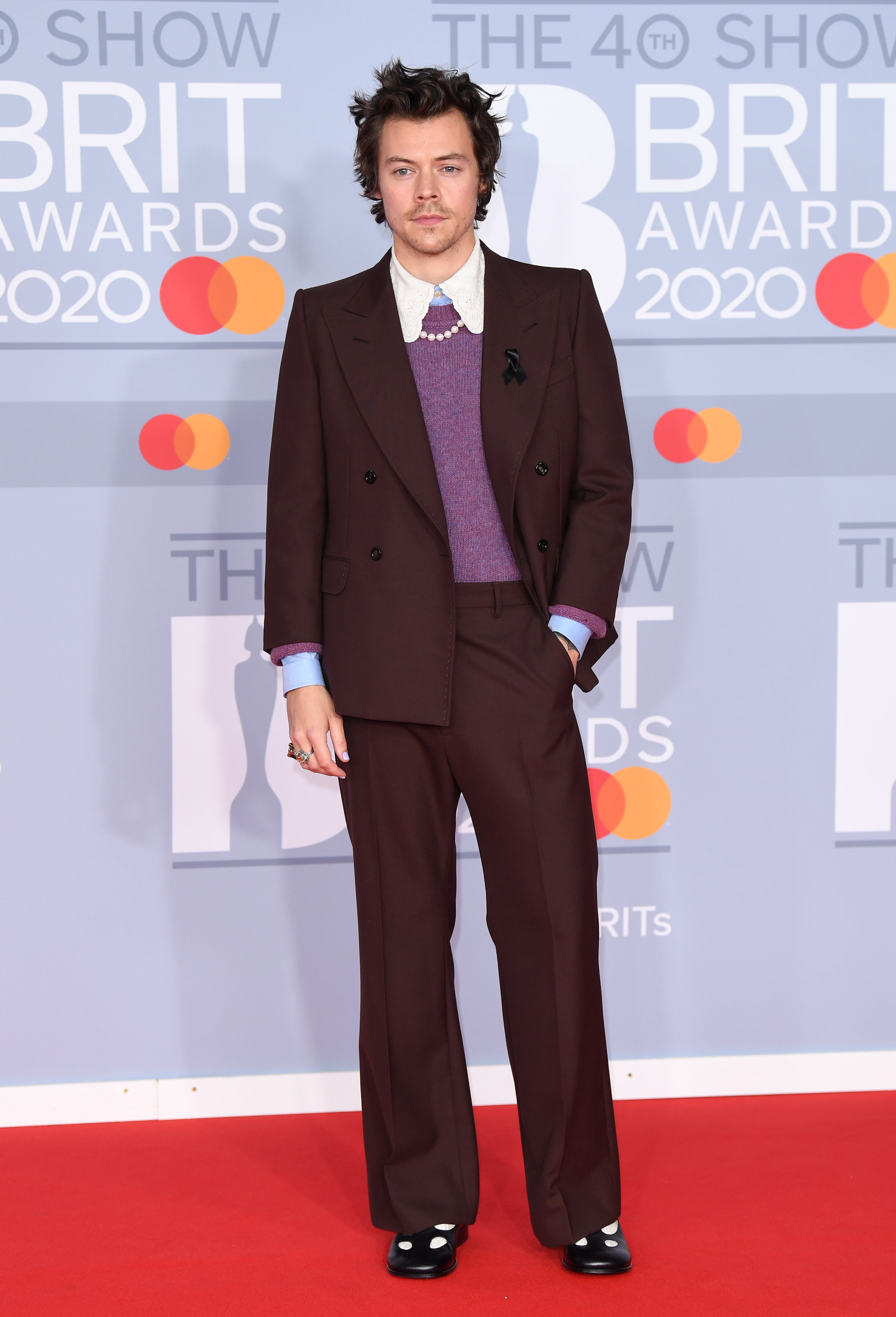 At the Brit Awards, 2020
At the end of 2019, Harry Styles released his sophomore solo album, Fine Line, and the world was never the same again. The record propelled him to superstardom with hits like "Adore You", "Watermelon Sugar" and "Golden". Along with it came a new style that was a bit more 70s preppy than before — much of his wardrobe courtesy of another young designer, Westminster graduate Steven Stokey Daley — but still with Harry's androgynous twist. Think: oversized lacy collars, Gucci suits, Mary Jane shoes, grandma-esque jewellery and knit vests. It was clear at this point, as both queer and straight men across the world ran to get faux pearls to adorn their own necks, that Harry was at the vanguard of style.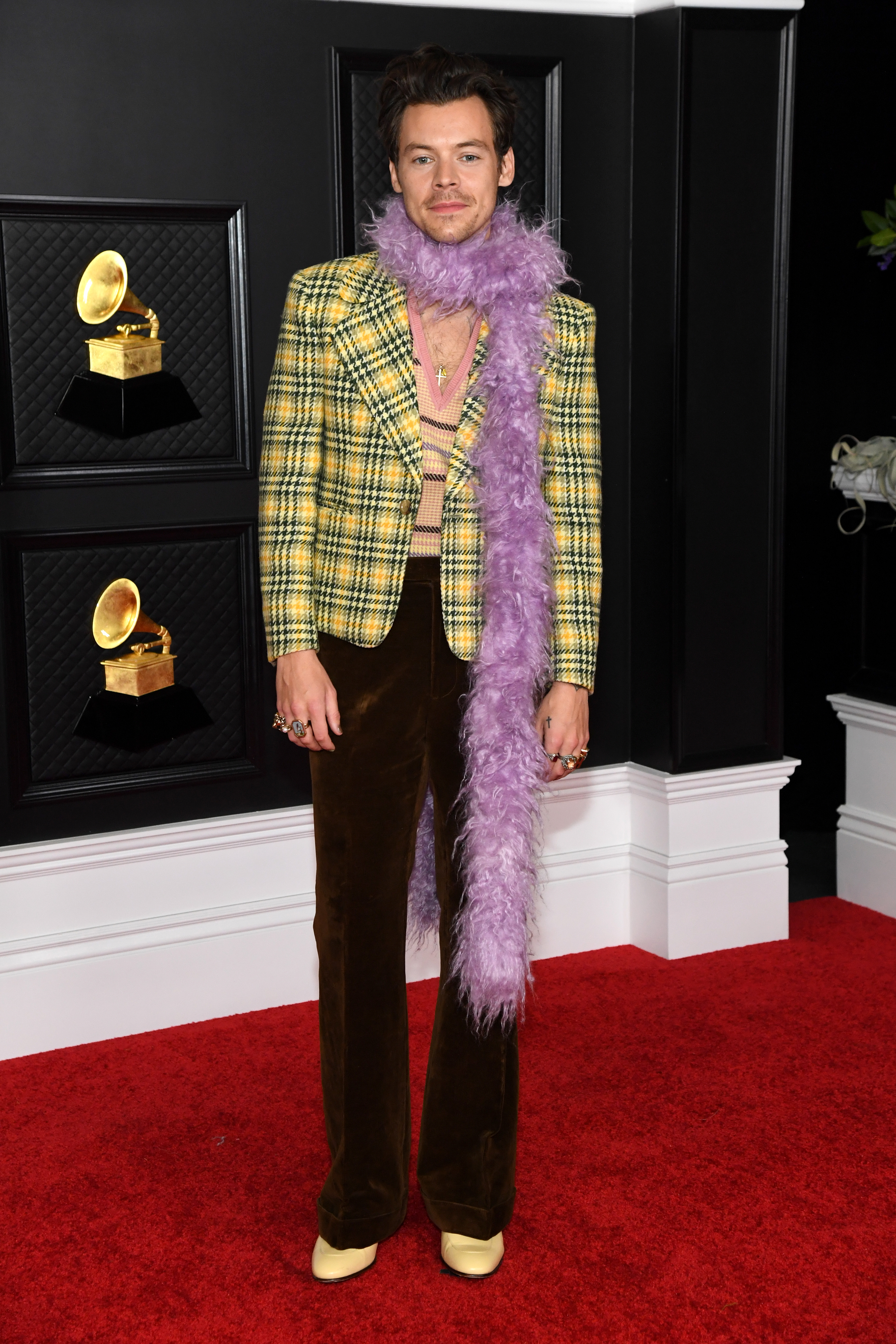 At the Grammy Awards, 2021
The Grammy Awards 2021 will always be remembered for Harry's boas. The singer — who was nominated for three awards including Best Pop Vocal Album for Fine Line — arrived in vibrant 70s style, wearing pastel tones off-set with a purple boa draped around his neck. Later, he changed into a leather two-piece suit with a lime green boa to sing "Watermelon Sugar", which he also took the award for Best Pop Solo Performance for; before pivoting to a black boa with a camel blazer and patterned trousers as he enjoyed the rest of the ceremony. The feathery accessories were of course Gucci and were a stark reminder that, together, Harry Styles and Harry Lambert have the power to continually surprise us through fashion. Name a more iconic duo, we'll wait.
Performing at Harryween, 2021
"I must say, I feel fabulous," Harry told the crowd at Madison Square Garden on night one of Harryween, dressed as Dorothy from The Wizard of Oz. "Do you feel fabulous? Good! Now we're going to sing a sad song." The custom Gucci look — consisting of a short, frilly fairytale of a frock with a matching bow in his hair, red tights and ruby slippers — was not the first time the star had broken the internet by wearing a dress. Just a year prior, he'd made history as the first man to have a solo Vogue cover, wearing a baby blue Gucci gown. And while of course male popstars have dabbled in dresses and played with gender through fashion before, there's no doubt that Harry's daring looks have led to conversations about the direction of menswear.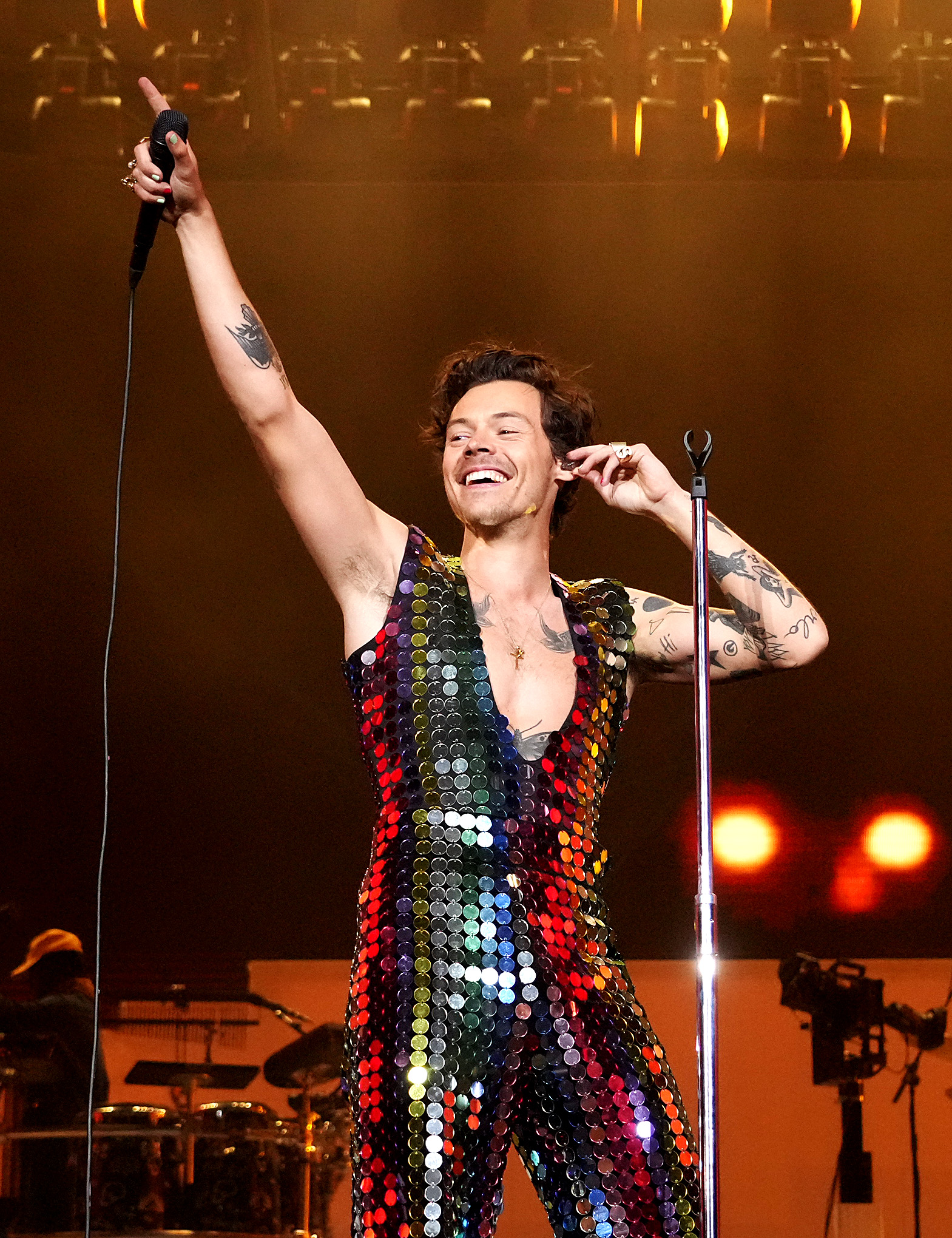 Headlining Coachella, 2022
From a humdrum childhood in a quaint Cheshire town, to this. In 2022, Harry made his debut on the famed Coachella stage with a headline slot — an occasion he celebrated in a shimmering disco-ready Gucci-made jumpsuit. Releasing his third album not a month later, it seems as though jumpsuits might be the look for Harry's new era, given he also sports a red one by Arturo Obegero in the music video for "As It Was", as well as a custom JW Anderson number on The Today Show. As he continues to do press and performances around Harry's House, perhaps we'll be treated to more yet jumpsuits, but tbh, who knows what to expect from the world's best dressed male popstar.
Follow i-D on Instagram and TikTok for more obsessing over Harry Styles and his fashion.