Photography Mitchell Sams
telfar remakes americana in his own image
On a rain-soaked helipad on Sunday, Telfar Clemens served up genius 70s denim and surprisingly patriotic logos.
|
10 September 2018, 4:47pm
Photography Mitchell Sams
It said Blade Lounge East on invite, but there were no sleek leather sofas or swanky cocktails at Telfar's spring/summer 19 show yesterday. The scene must have been something to behold for anyone sitting upstairs waiting for a chopper: hundreds of rain-soaked guests pressed up against a chain-link fence trying to not to get stabbed in the eye with rogue umbrellas. Rather than simply pissing everyone off, the rain seemed simply to weed out those who didn't want to be there, and the crowd was surprisingly jovial — guests sharing umbrellas, lighters, and wet cans of Red Bull. Telfar has been upending the concept of a fashion show for over 10 years now, and this one was no different. As the rain hammered down, it was joined by thunderous drumming courtesy of Onyx Collective's Austin Williamson, and a ferocious dance and vocal performance by FAKA. Telfar also worked with the South African duo on his red-hot Serpentine Gallery spectacular last month.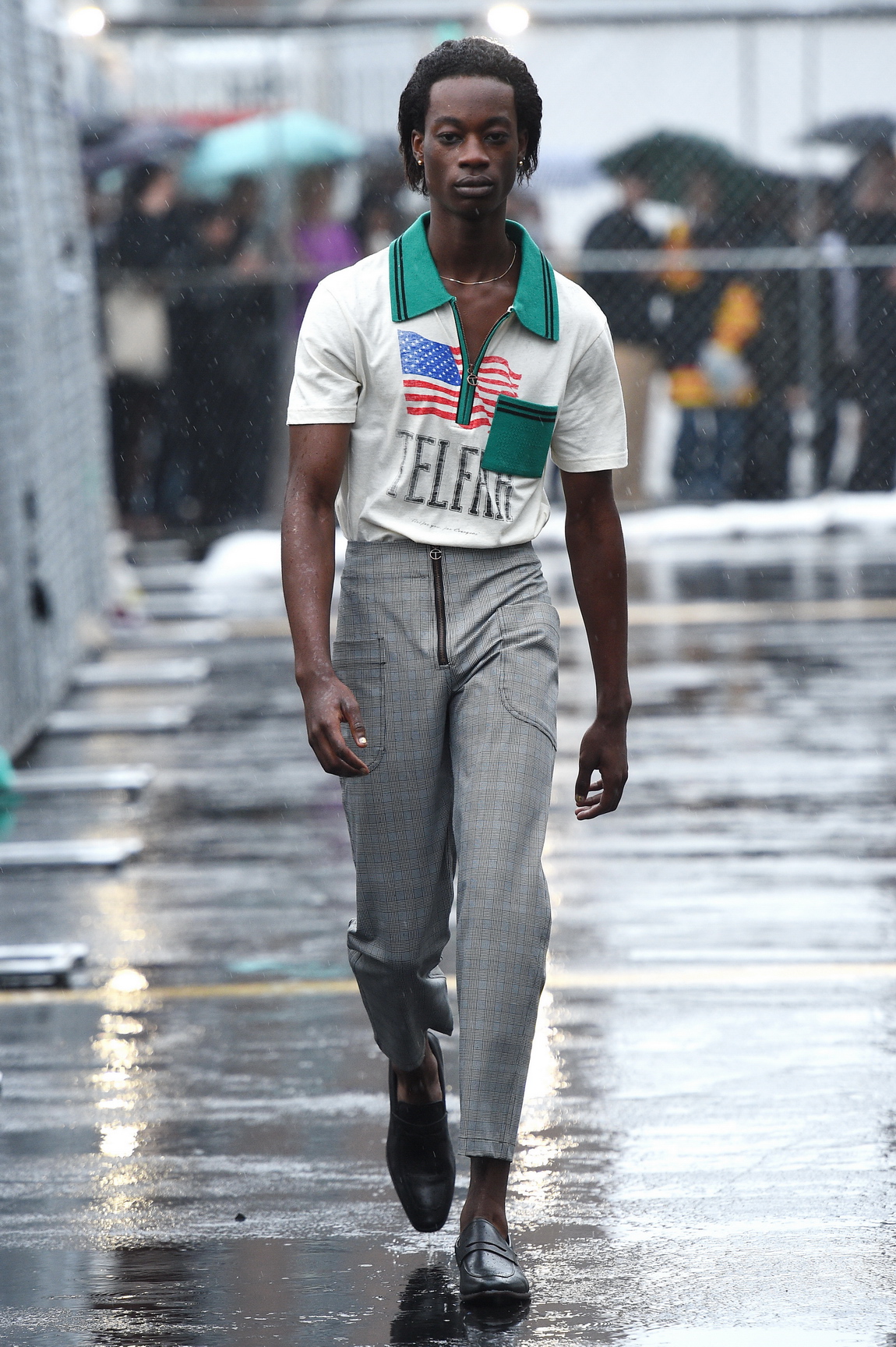 In the same vein as last season's musical variety show with Dev Hynes and Kelela, this one also hosted a full lineup of Telfar's musician friends. FAKA were joined by Brooklyn R&B Romeo Ian Isiah, who sang for Telfar last season and has also worked with Hood by Air, and the transcendent soul of Moses Sumney, who has also performed for Eckhaus Latta. The rest of the vocal collage included Butch Dawson, Hirakish, Oyinda, and Selah Marley. As they performed in the middle of a helipad, models started to walk around the perimeter. Rising actress Indya Moore — who appears in Ryan Murphy's series Pose — stole the show by voguing along a section of fencing in a dark denim hybrid of pants, jorts, and chaps.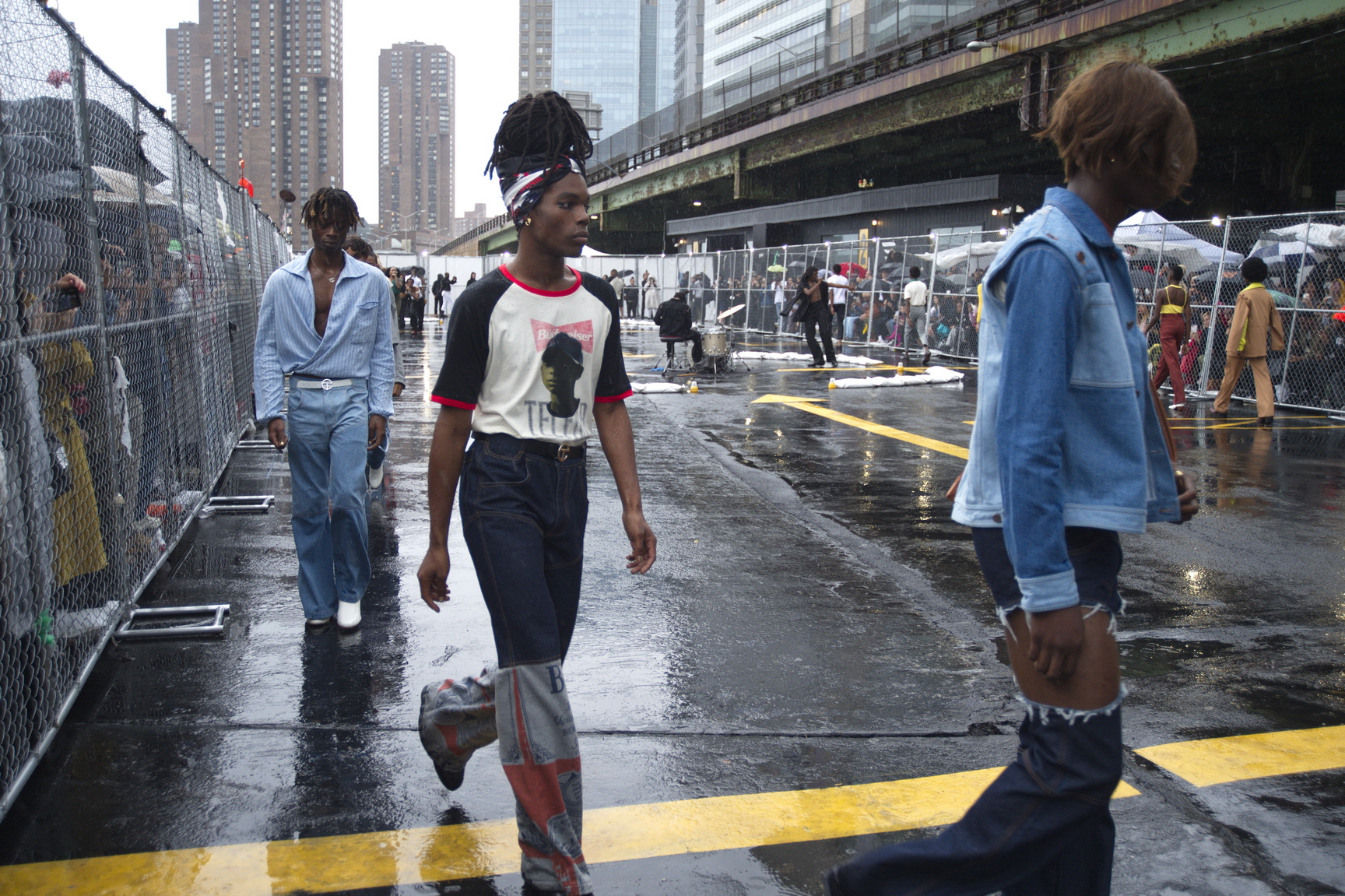 Other genderless denim looks came in 70s silhouettes — flared and high-waisted — which were patchworked and fused to Budweiser briefs to emulate sagging. The American beer brand's logo also appeared on casual dress shirts in what Telfar called an "immigrant palette," and on silky scarves tied to the handles of Telfar's beloved Shopping Bags. Shrunken zip-up polos and more T-shirts were boldly emblazoned with other emblems of American patriotism, including bald eagles and the stars and stripes. The collection was titled "NUTBUSH TENNESSEE," after an unincorporated rural town established by slave labor, and "dedicated to America: nice landscape, good arable land, and plenty of shelter to go around," the designer stated. It all felt very defiant in the context of a quote from Black Panther activist Fred Hampton that had appeared on the invite — and even more so under the threatening sky.