this new film about the kkk and black america just wowed critics at cannes
Spike Lee's BLACKkKLANSMAN is the kind of political protest movie America needs right now.
For the past 71 years, the Cannes Film Festival has always been a place for loud and proud political protests. Just this week, we've seen the festival's big-shot male directors sign a pledge to have a 50/50 split for women filmmakers to occupy half the line-up by 2020 – a big switch up from the 3 women who are presenting their films in competition this year, compared to 18 men.

Since the French Riviera seems so far detached from American politics, few people expected to see a fully scathing portrayal of Trump's presidency at the festival. But that's exactly what we got with the latest film from Spike Lee, which premiered to rave reviews at Cannes earlier this week. Praised for its singular sense of humour and kitsch 70s aesthetic, BLACKkKLANSMAN seemed to rocket to the top of every critic's recommendation list overnight.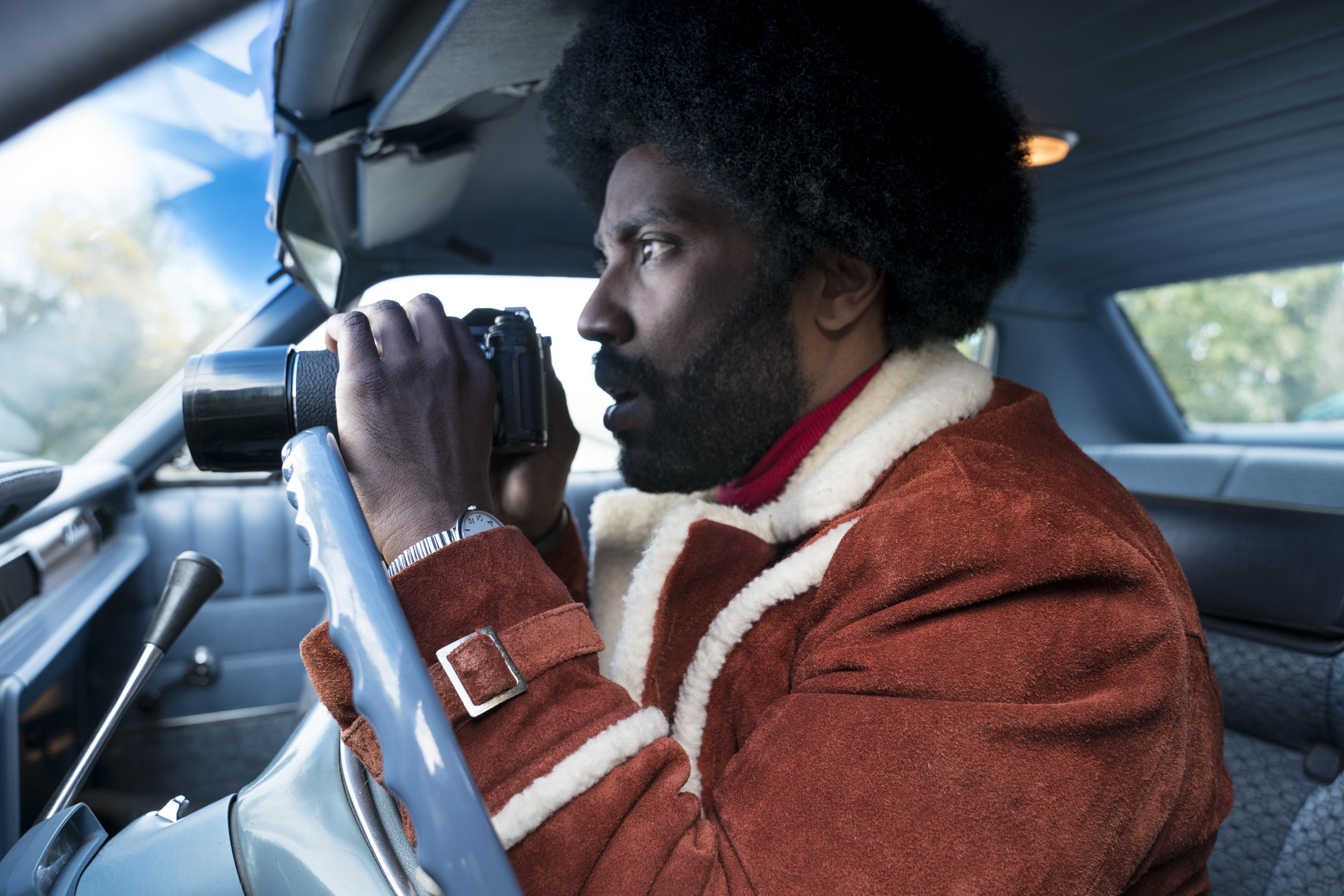 Based on a true story and produced by Get Out's brilliant director Jordan Peele, BLACKkKLANSMAN is set in 70s Colorado Springs, a time where the rise of the Black Panthers, racial profiling by the police, and the Ku Klux Klan are rife across the county. Ron Stallworth -- played by 'son of Denzel' John David Washington -- is a man who's just wound up becoming the first black police officer in town. Relegated to boring admin jobs, he proves he can be trusted with the meatier tasks by volunteering to go undercover, wearing a wire to a speech by a former Black Panther leader organised by a headstrong activist called Patricia, played by Laura Harrier. The result of trying to infiltrate that inner circle is fairly unfruitful; after all, the Black Panthers' call to arms was designed to invigour the new generation of black youth to stage an uprising that was more vital than violent.
It's only when he decides to pick up the phone to the local Ku Klux Klan, pretending to be a white nationalist interested in signing up, that he finds his calling. With the help of his co-worker Flip, played by Girls graduate Adam Driver, they do everything they can to dupe some fairly idiotic klansmen into exposing their violent streak, taking them down from the inside.
Critics at the festival were bowled over by it, calling it a key contender for a big prize come the festival's closing ceremony on Sunday. But what exactly made it so special? Filmmaking techniques aside, BLACKkKLANSMAN works best when it's showing us how little has changed over the past half decade when it comes to race rights in the USA. Talk of the world going backwards under the unsettling guidance of Trump isn't something that's gone unnoticed by Spike Lee, who's one of America's most respected and proudly political directors, period. It would be unlikely for him to make a film about white nationalism that makes it feel like it's merely part of our past.
Instead, he uses his satirical, blaxploitation-era comedy to take serious stabs at what's going on in the world today. There's a spattering of unsubtle references to modern America, with the Klan's characters often bookending phone calls with cries of 'America First!', and a conversation with David Duke, the Klan's leader at the time, during which he brags about the idea of a white nationalist sitting in the Oval Office one day. Spike's comedy is dangerous, but never veers too far from the truth, and it makes for a fascinating portrait of black America that's eerily timeless.
Just in case a few didn't get the message, BLACKkKLANSMAN signs off with a bold montage of footage from Charlottesville protests in 2017, footage of Trump claiming there were bad people "on both sides", and a poignant 'Rest in Power' tribute to Heather D. Heyer, who died after being struck down by a self-proclaimed Nazi sympathiser in a vehicle attack on a counter-protest march. Spike reached out to Heather's mother to ask for her blessing to use the harrowing footage in the film.
"[BLACKkKLANSMAN], to me, is a wake-up call," he told the audience at a press conference after the movie's rousing premiere, in a powerful five-minute monologue."I know in my heart -- I don't care what the critics say -- [that] we are on the right side of history with this film."
BLACKkKLANSMAN premiered at the 71st Cannes Film Festival, and opens in UK cinemas on 24th August.