i-D is releasing a line of 90s-inspired archive tees
The ultimate #TBT. On your back.
|
04 September 2018, 10:41am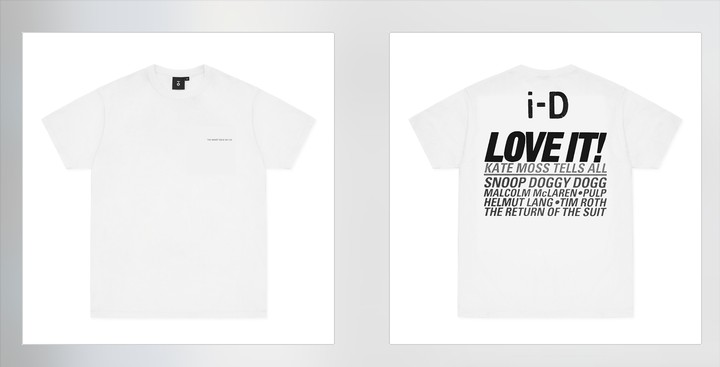 Image via i-D Coverline Tee collection.
For our latest drop, we're throwing it back to the classics. Fresh from collaborating with Stüssy, and releasing our inaugural capsule collection earlier this year, i-D are releasing a brand new T-shirt range inspired by iconic cover lines from the 1990s. Comprised of six designs, released across September, the first drop is set to land later this week.
Each T-shirt celebrates an archive i-D issue, with the September run paying homage to The Smart Issue and The Festival Issue, both from 1993, alongside The Positive Issue and The Talent Issue, from 1992 and 1994 respectively. The strictly limited edition collection -- with only 50 shirts of each design available -- will feature an issue title on the front, and cover lines on the reverse.
The first T-shirt, dropping this Friday, comes from December 1993's The Smart Issue, and showcases a host of veritable 90s superstars. A celebration of the best talent of the era, the cover features a young Kate Moss, shot by frequent collaborator Corinne Day, while the issue itself highlighted some of the biggest names of the 90s -- Helmut Lang, Pulp, Malcolm McLaren, Tim Roth, and Snoop Doggy Dogg.
"Since 1980, i-D has never stopped pushing boundaries and promoting new talent, making friends and making waves," says i-D Creative Director Graham Rounthwaite. "The i-D Coverline Tees series dips back into time to revisit some of those great cover moments along the way. Bring it back!"
Get the first i-D Coverline Tee design here this Friday.
This article originally appeared on i-D UK.