'true blood' was low-key one of the most important tv shows of the last decade
It may have been a camp show about vampires and the South, with more sex than sense, but 'True Blood' kickstarted a generation of prestige TV that shows no sign of abating just quite yet.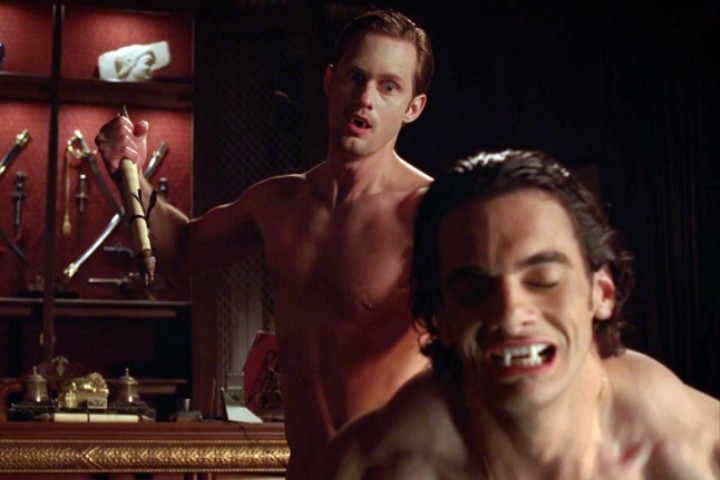 In the first five minutes of HBO's True Blood, a vampire threatens to "fuck" and then "eat" a drunk couple in a gas station store. It set the scene for what would be seven seasons worth of pure craziness, sex, blood (lust) and more vampires, werewolves, faeries and shapeshifters than TV had ever seen.
Premiering in 2008 and from creator Alan Ball (the brains behind Six Feet Under and the film American Beauty), True Blood was based on popular dark romance series, The Sookie Stackhouse Novels, by Charlaine Harris. Whether serendipitously or not, True Blood arrived when vampires were hot property. Twilight, Edward, Bella, and Jacob had reached One Direction-levels of fandom, both teens and adults (I'm sorry) frothing over sparkly vampires who were essentially an elaborate analogy for no sex before marriage. By comparison, the inhabitants of the fictional Louisiana town of Bon Temps, where True Blood was set, were sexually rabid, with both the humans and the supernatural gearing up for a bloodsucking.
More than just an antidote to the anodyne vampires of Twilight, though, True Blood was the prototype for a new species of television. While HBO had always been a destination for quality TV shows like Sex and the City and The Sopranos, True Blood was the first time since Twin Peaks that a genre show — i.e. anything that diverts from realism — had been given the same treatment. But it also provided something else: True Blood was a show that abandoned conservatism in favour of representation, discussions about race, sexual fluidity and a giant allegory about what it means to be a marginalised in society.
The concept for the show was fairly simple: after the development of a synthetic blood substitute, "Tru Blood", vampires have "come out of the coffin" and revealed themselves to the world. It begins during the relative infancy of the Vampire Rights Amendment, a proposed amendment to the United States Constitution that would give vampires the same rights as humans. Vampires, unlike humans, have superhuman strength, are often very attractive (HIYA Eric!) and are good at the sex. In fact, they are so good at the sex that humans want a piece. These individuals, known as "fang bangers", would allow themselves to be bitten during intercourse, that is if they survived the encounter. Then there's "V", the blood of a vampire that provides humans with a high akin to ecstasy, but which also acts as a healing agent.
Less exciting, perhaps, was the cross-species love story between telepathic waitress Sookie, played by Anna Paquin, and vampire Bill Compton, played by Stephen Moyer. While it was their romance that provided the entry point and empathy for the plight of the vampires in the show, many of whom skulked in dingy sex clubs and flouted the new legislation that prohibited feeding on humans, it was also the most conservative part of the show. Their relationship, especially toward the end, relied on heteronormative ideals, and in a way it kept the show grounded as the secondary characters flexed their sexual muscles.
Most prominent in this respect was Jason (Ryan Kwanten), Sookie's brother and the town slut. Jason's trajectory on the show saw him go from womaniser to addict of V-juice. He then became a cop, a member of an anti-vampire cult and finally ended up married. During this time, though, he explored his sexual desires, whether intentionally or not. Through his intake of V-juice, he hallucinated a same-sex hook up with Eric Northman (Alexander Skarsgård) in a very steamy soft-core moment of actualised fan-fiction. Eric, too, forwent sexual categorisation, dabbling with both men and women in the show, and Tara (Rutina Wesley), Sookie's BFF-turned-vampire, also had a same-sex encounter.
It was Lafayette (played by the late Nelsan Ellis), though, who provided the show's most thoughtful and impactful expression of queerness. A cook in a dive bar, he was the most human character; sharp, charismatic, wise and brilliantly witty, he also provided pathos among the wild plot lines. He was a queer person of colour living his truth with the femme representation that television had desperately been missing (and is, now, once again). His two-season relationship with Jesús, another queer POC, was genuine and exciting, although disappointingly fell into the kill-your-gays trope at the end of season four.
In fact, it was the show's two main characters of colour, Lafayette and Tara, who were the sparkiest and most compelling. There's a fabulous scene in the first episode where Tara, fed up with Southern politeness, flips racial micro-aggressions in white people's faces. Tara, however, was also the show's punching bag. Not only did she have a storyline involving an alcoholic and abusive mother, but she got brainwashed by the Maenad Maryann (an immortal female follower of Dionysus who turns Bon Temps into one giant orgy), kidnapped by a psychotic vampire, almost killed saving a white girl and then turned into a vampire herself. Lafayette also suffered from stereotypes; his character became too reliant on "sassy" comebacks, and his drug dealing side-hustle wasn't perfect.
That was True Blood's problem, and why it never entered the pantheon of prestige TV: it could never follow through. Promising representation and actualized queer POC characters were kneaded and squeezed with trauma and stereotypes until they dried out. Similarly, the show's main allegory about the integration of marginalized individuals crumbled all too quickly. Instead of remaining savvy about its "coming out the coffin/closet" comparisons, it also painted marginalized groups (i.e. vampires) with a tainted brush. Like perceptions of LGBTQ people, vampires were seen to be seedy, sex-crazed, and amoral, and on screen they certainly lived up to their reputation — as Louis Peitzman wrote for Buzzfeed, "What True Blood still can't explain is why the rights of supernatural creatures, particularly vampires, matter."
"True Blood's problem was that it could never follow through. Promising representation and actualised queer POC characters were kneaded and squeezed with trauma and stereotypes until they dried out. "
Expanding the show's mythology to include other "supes" like faeries, werewolves and shapeshifters didn't enhance anything, either. Instead, these additions diluted the lure and danger that vampires posed, complicating an already myopic attitude to plot. Most extreme, however, was its failure to upkeep the fundamental rule of television: keep audiences engaged. Following a stellar third season, the show forgot that it was supposed to be fun. All of the above created so many convolutions that True Blood neglected its identity, and what began as pulpy entertainment with big budgets, a great cast, and sexy vampires, descended into unwatchable drivel. It even had one of the worst series finales in recent memory — oh the shame.
A decade after True Blood premiered and the landscape of TV has mutated so much that every network, streaming service and social media platform is developing franchises and high-class drama with A-list actors. HBO's biggest show is Game of Thrones, while Amazon is spending a whopping $1 billion on expanding the Lord of the Rings universe for TV. Basically, genre television is not only big business, but it holds critical and cultural clout.
So, it's not a reach to say that without True Blood, television studios' current preoccupation with commercially viable and critically successful genre shows would still be in its infancy. Likewise, True Blood's acting pedigree (it introduced the wider world to Skarsgård and Hollywood hunk Joe Manganiello), its deep exploration of the American South and the nifty use of cinematography made it the greatest genre show since Buffy the Vampire Slayer. And while, culturally, it might not have infiltrated society in the way that Buffy did, its blood is in every pedigree TV show going. The coffin may be closed, but 10 years later and True Blood hasn't ever really taken a stake to the heart.
This article originally appeared on i-D UK.