nick monaco's 'heroin disco' is a distorted dance track about the opioid crisis
The DJ and producer turns his attention to America's overdose epidemic — throwing a surreal dance party where everything's not what it seems.
|
14 November 2018, 4:03pm
'Disco' invokes more than just a genre of music — it's an emblem of freedom, of acceptance, and of empowerment. Disco represents a safe space in which anyone is welcome to indulge and be themselves. But Heroin Disco? It's uncomfortable, which is exactly what Nick Monaco wanted people to feel upon hearing the name of his third album. The producer and singer is known for being an outspoken LGBTQ advocate, and for his commitment to honoring dance music's roots in queer communities of color. He previously released a lipstick called Freak Flag, the proceeds of which went to the Jim Collins Foundation to fund gender-confirmation surgeries, and wearing red lipstick during shows has become his signature. "I use the lipstick as a vehicle to sort of blur those gender boundaries and to bring awareness to the origins of dance music in my own way," he explains. But Nick's newest record, Heroin Disco, which dropped in October, raises awareness about a very different topic: America's opioid crisis and culture of overdose.
"We're so obsessed with image and vanity and getting more followers and being our own gods — it's a culture of excess," Nick explains to i-D. "We're seeing more and more with people that we really hold highly in our culture and consider demi-gods, people like Mac Miller and Anthony Bourdain, that it doesn't produce happiness, it produces disparity and ultimately even overdose and suicide," he continues. "I think there's a proportional relationship to overdose and our use of social media — it doesn't seem like a coincidence that we have the biggest heroin epidemic ever right now." Two weeks before recording the album, the cousin of Nick's co-producer and co-writer Emmett Kai overdosed on heroin, so the epidemic is also a personal one.
Today, i-D is premiering the music video for the album's title track, "Heroin Disco," which is a dark expression of the idea that even if things seem okay on the surface, they can be very wrong at the core. Referencing well-known pop culture figures and featuring an easily digestible storyline, the video's meaning is clear and simple — a deep analysis isn't need to get its message. "I like pop as a vessel for conversation because when you encapsulate things in a pop way, you're able to talk to people with images and symbols that they know, which means there's already a line in," explains Nick. "But for the "Heroin Disco" video, I wanted to distort and taint these images that we know so well. These characters might be familiar, but they're also flawed and disturbed."
Directed by Kirsten Coleman, Pete Paduano, and Nick himself, the video features two internal storylines, which both address overdose culture through radically different lenses. A Kardashian-like woman poses in a convertible car, alongside which a James Dean-esque Nick (wearing black sunglasses and a leather coat) stands. She snaps selfies of her perfectly made up face and, at first, seems to live that glamorous life of a reality television star. Seconds later, the video cuts to the woman crying, with black mascara tears streaming down her face, liquidy manifestations of her inner sadness.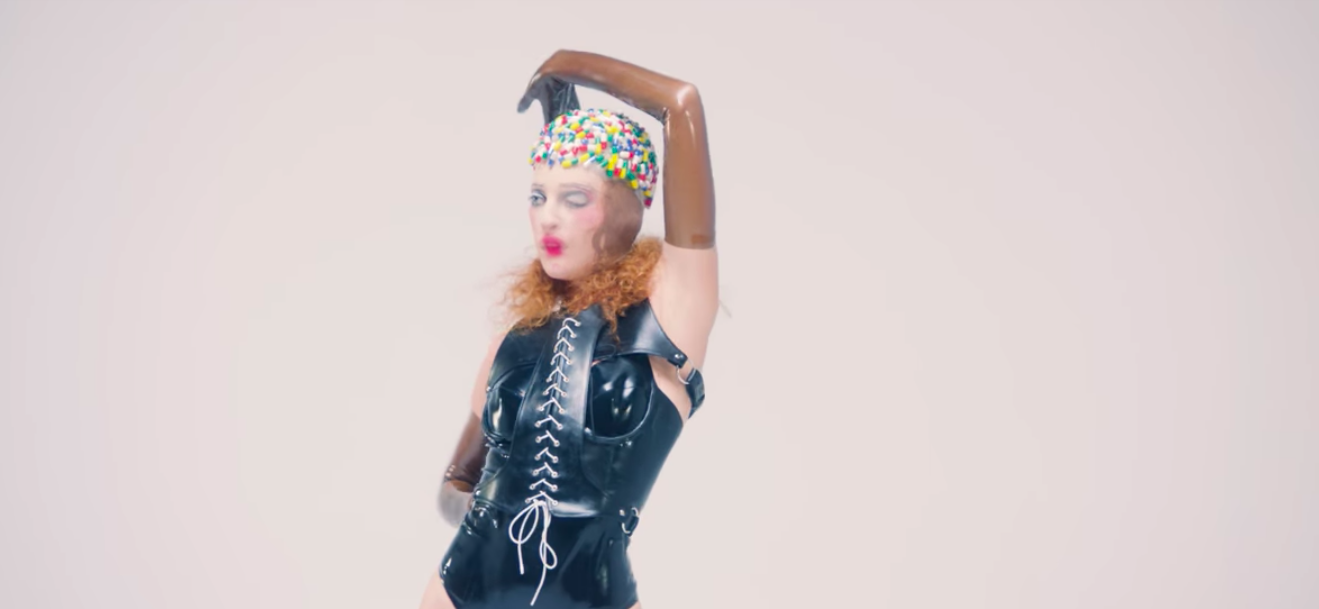 Nick makes another appearance in the video, this time wearing a wedding dress. He starts off looking virtuous and pure until another shot of him bloodied and laying on the ground with a syringe in his hand cuts in. "I wanted there to be a sense of this loss of innocence," he explains. Throughout the video, clips of uniform-clad cheerleaders dancing with pom-poms are peppered in, except rather than the shiny NFL-ready faces you typically see on TV, theirs are grossly warped by nude stocking masks. The lyrics — "Pillow fights in hotel rooms / Amatuer pornography / That sounds like the life to me," and "On and on and on / Party 'til the drugs are gone" — heighten the ironically chilling tone. "It's meant to make you feel this sense of paradox and discomfort," says Nick. "Like distorted familiarity."
Heroin Disco (the album) comes on the heels of Nick's freshman and sophomore records: 2014's Mating Call and 2016's Half Naked. Along with having an emphasis on songwriting, it's unique in that it's his first release under Unisex Records, the label he co-founded with Emmett earlier this year. "Unisex was really born out of a need and urge to have full control over the way that I present my music," explains Nick, who, along with his partner, is looking forward to signing other like-minded artists. "We wanted to create a place that's boundless in genre, in gender, in whatever. Just a very free space."