these 6 telenovelas were the epitome of 2000s fashion
From wet-look hair to customized school uniforms, telenovelas dictated youth fashion trends in 90s and 2000s Mexico.
|
06 November 2018, 5:11pm
'Clase 406'
This article already appeared on i-D Mexico.
In the 90s and early 2000s, youth fashion in Mexico was mostly influenced by national television, and then by magazines. This was especially true of telenovelas (soap operas) that were broadcast between 4pm and 7pm — when Mexican teenagers eagerly consumed these stories of love, sex, drugs, betrayal, sudden fortunes, monumental failures, and the drama of young people's day-to-day lives in Mexico City. Telenovelas influenced the way we thought about everything from social class to "ideal love," introduced us to Spanish pop music, and, of course, compelled us to replicate the fashion of our favorite heroines. We explore six Mexican soap operas and the impression they left upon us.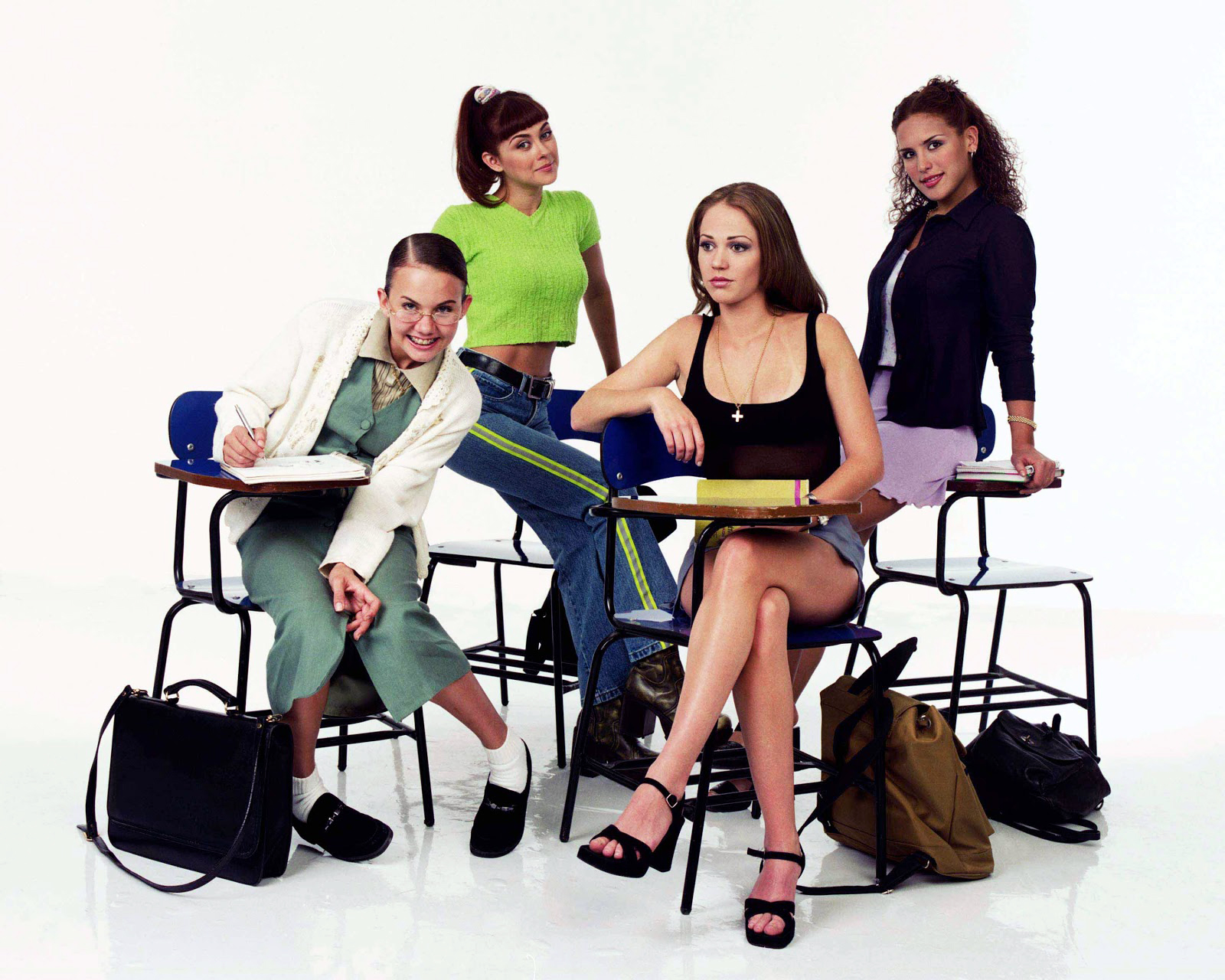 Soñadoras (Dreamers), 1998, Emilio Larrosa, Rocío Taboada, and Braulio Pedraza
Soñadoras is, perhaps, the best-remembered piece of Mexican pop culture from the late 90s. The protagonists were four teenage "friends" with narcissistic, depressive, and psychopathic disorders. There was the "the prettiest but mean one," "the ugly one that inevitably ended up beautiful," "the chubby one with self-esteem issues but who always had good vibes," and "the witch that everyone wanted to be with," Sometimes funny, sometimes inspiring, Soñadoras introduced us to many key 90s trends in Mexico, and gave us a new millennium soundtrack with songs from Sentidos Opuestos.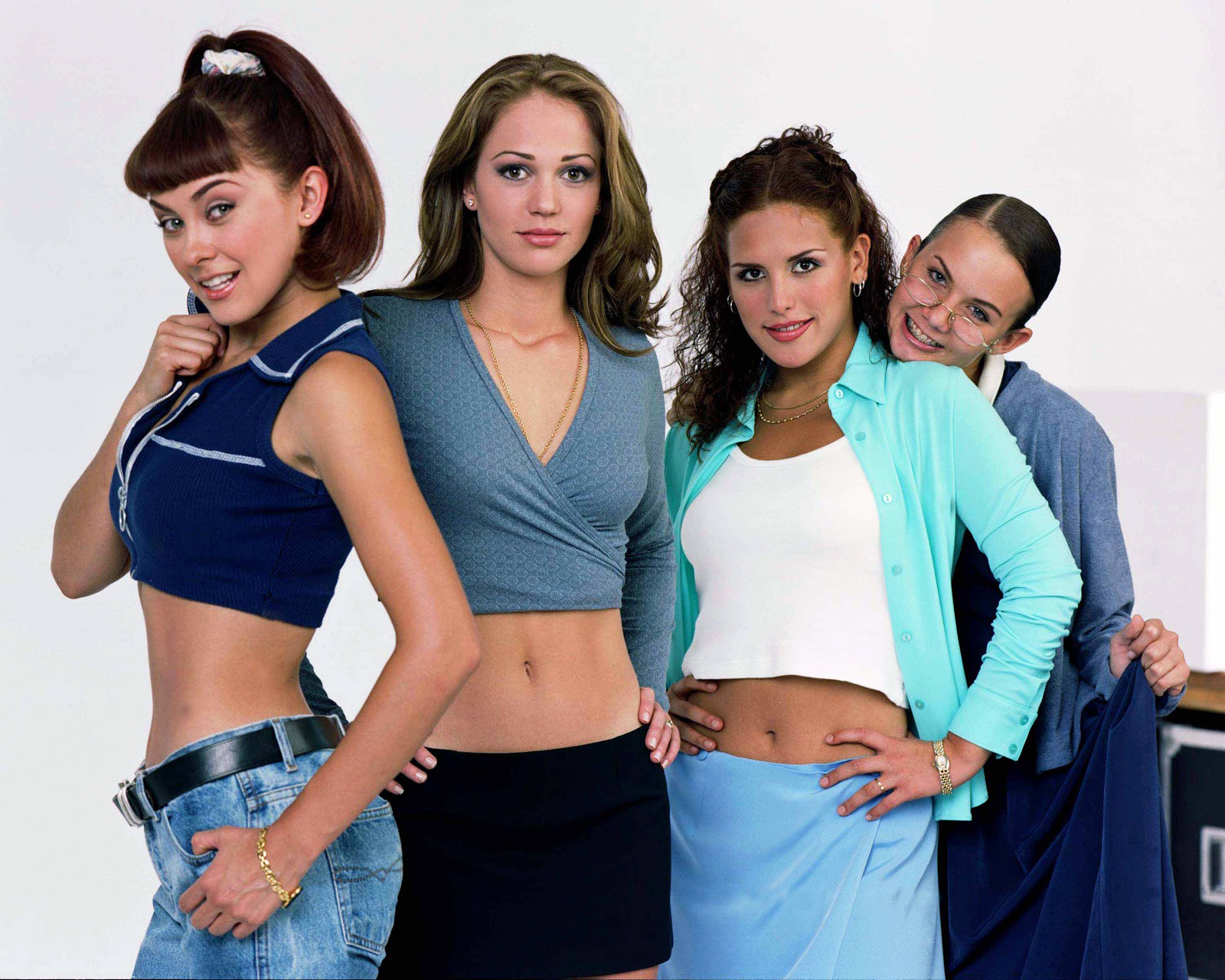 Particularly outstanding were the hairstyles heavy on accessories like clips, colored headbands, scrunchies, and butterfly grips that glowed in the dark. Soñadoras taught us that the more accessories, the better, so we rushed to buy them at our local markets. While American teens dreamed of having hair like Jennifer Aniston's in Friends, girls in Mexico — most of whom didn't have cable — longed for Aracely Arambula's deep red locks and Laisha Wilkins's side parting.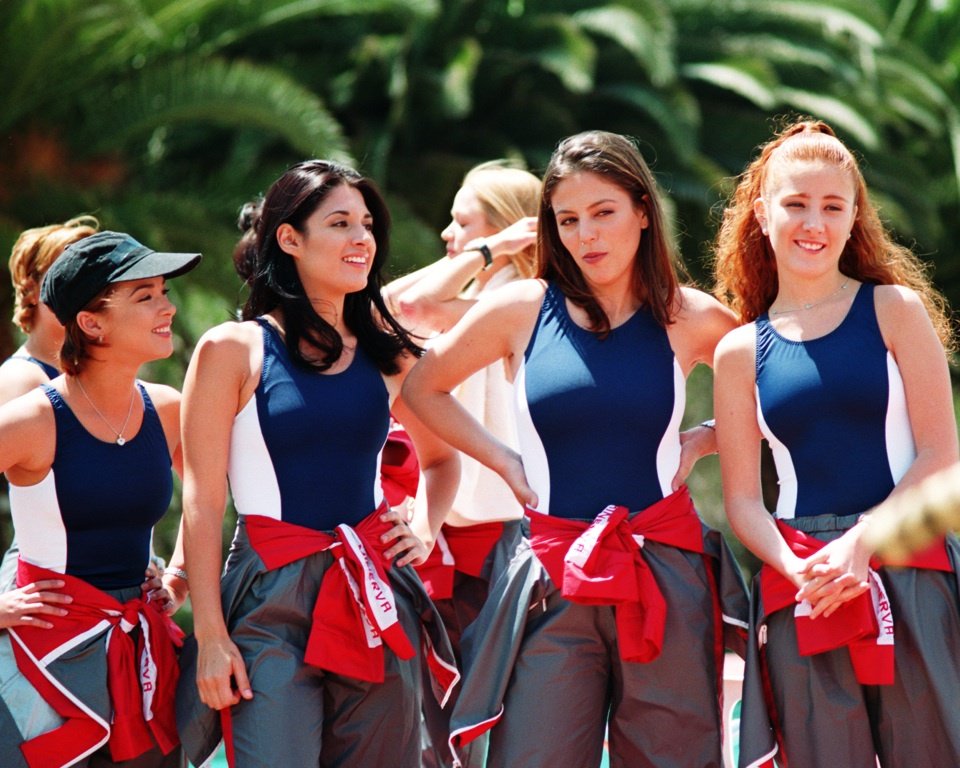 Locura de Amor (Madness of Love), 2000, Roberto Gómez Fernández
This show started the tradition of high school as the site and central unit of all life's drama. The famous and fictitious Minerva School and its uniform quickly filled the streets of downtown Mexico City, where you could see little red sweaters with the white ribbon on the sleeves that boasted the name of the school.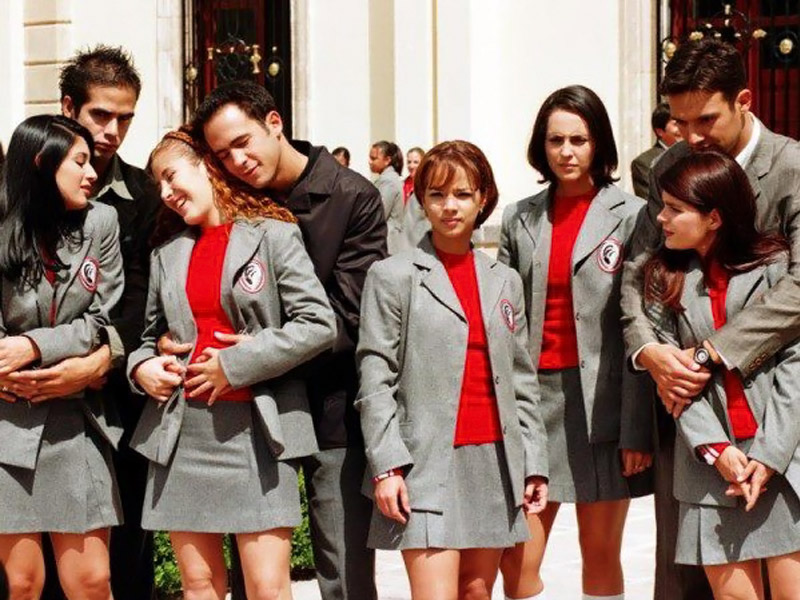 You could even buy the complete school uniform — red sweater, blazer, gray mini skirt, and white socks — and it was perfectly normal to wear it on a casual day out to the cinema. This wealthy school taught us how you could alter your uniform to make it have a 'personality of its own': the skirt folded over to hitch it up a bit, t-shirts made into crop tops, and strategic jewelry, worn with nude makeup and very short hair.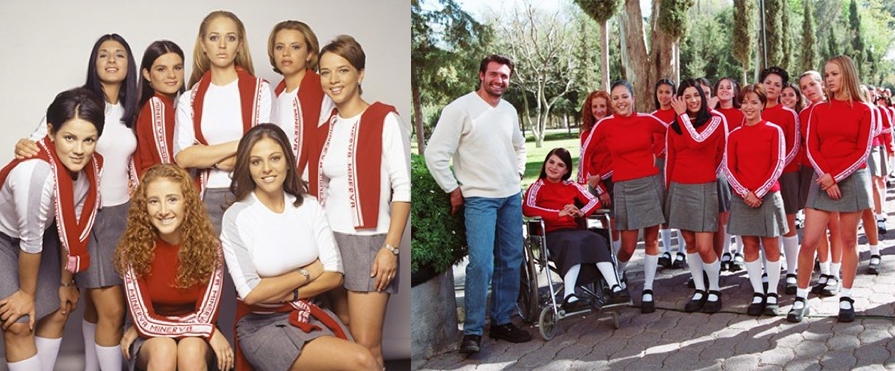 The most popular hairstyle — a middle parting with your hair stuck to your head and the back puffed up — was thanks to Adamari Lopez, one of the show's protagonists. Laisha Wilkins taught us how to be a school rebel by wearing cosmic lip gloss, bleaching your hair, and wearing a very, very short skirt. And let's not forget to mention Locura de Amor's successful theme, belonging to another pillar of Mexican pop culture at the beginning of the millennium: OV7.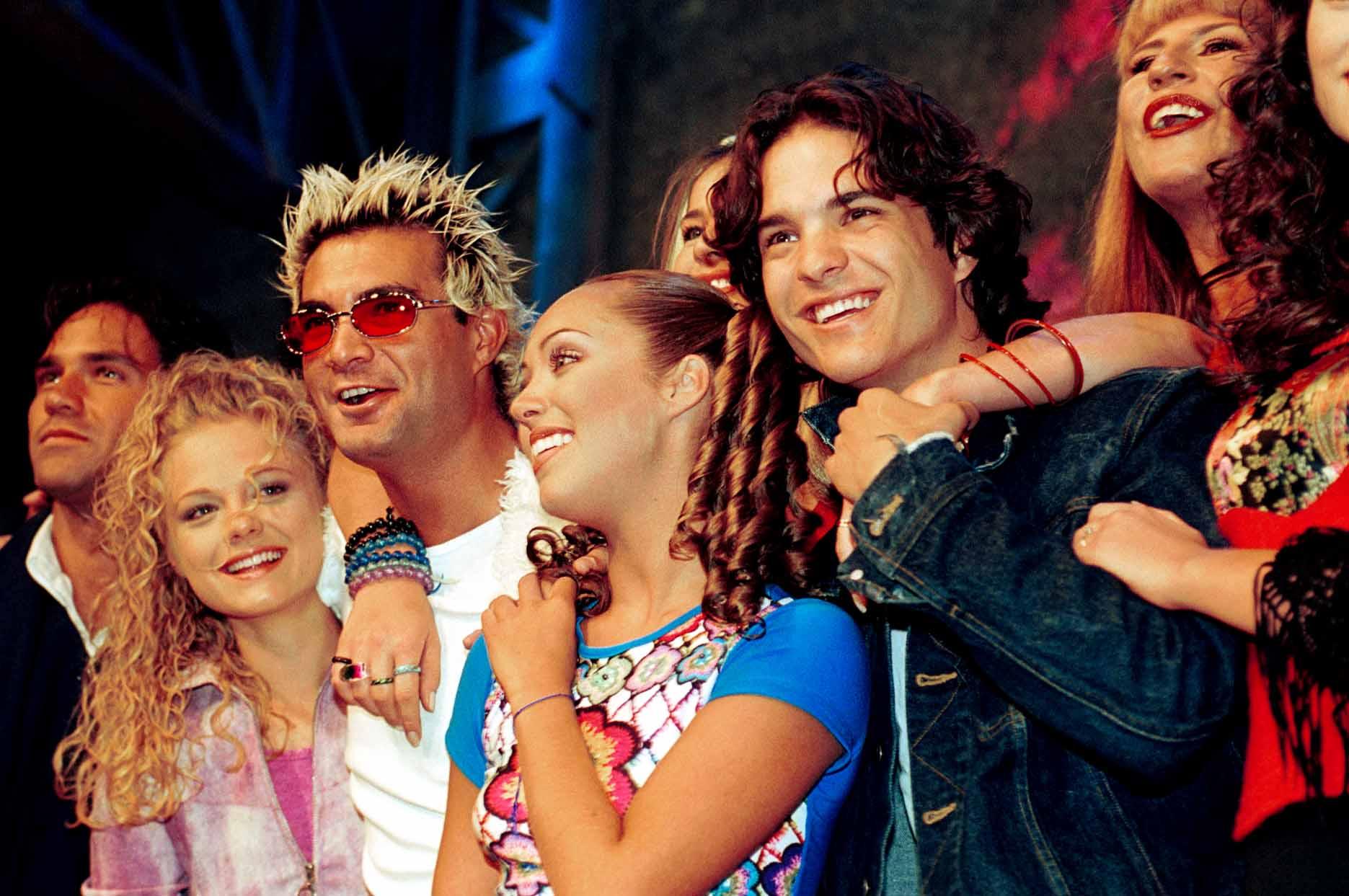 Primer amor, A Mil por Hora (First love, a Thousand per Hour), 2000, Pedro Damián
At the peak of Mexican pop group success, soloist Lynda made her TV debut with the soundtrack of this soap opera. In aesthetic terms, Lynda's style was more American, consisting of straight-pressed hair, cut-off sports shirts, and tight hipster jeans straight from Britney Spears' heyday.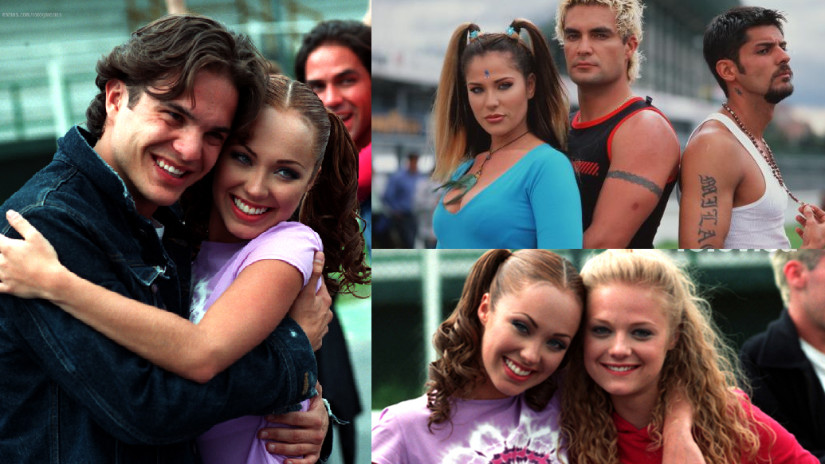 A Mil por Hora, also starring the tender Anahí and her signature double-ponytail hairstyle hair, was one of the most influential shows in terms of Mexican fashion. It also featured more masculine that which were a mix between cholo and white trash, a vibe that went relatively unnoticed in other programs.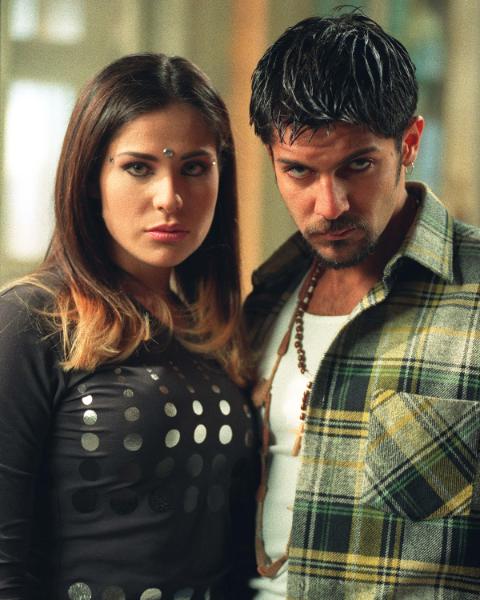 The fashion highlights of this soap: flared hipster jeans, rainbow canvas belts, blouses with paisley motifs, shiny belly piercings, tie dye, feather necklaces, and jewelry with colored stones — all of which were all worn by Arleth Terán in the series, making direct reference to Gwen Stefani at that time. Last but not least, how could we forget the graduation dresses worn by Ana Layevska, Anahí, Arleth, and the other protagonists — a charming Latina spin on The Virgin Suicides by Sofia Coppola.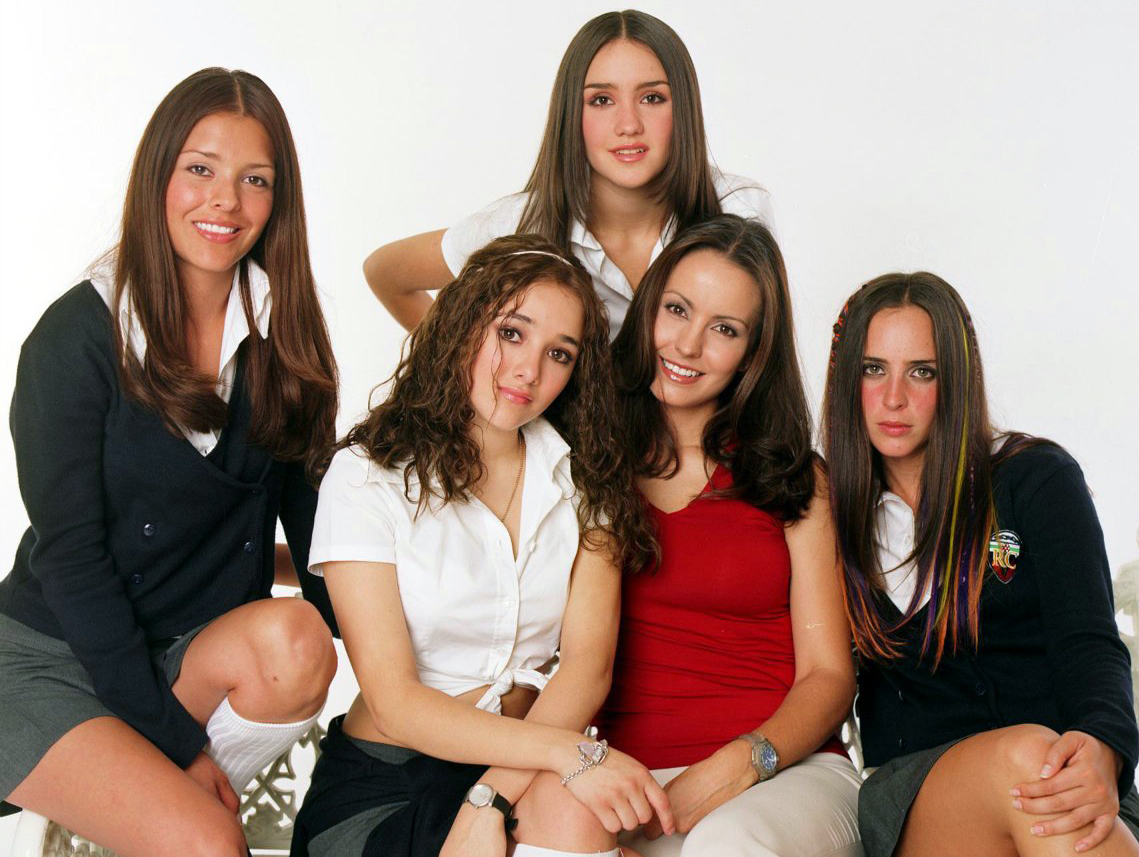 Clase 406, (Class 406), 2002, Pedro Damián
The legendary Rosario Castellanos High School was the setting for Clase 406, one of the most important shows in this list. It explored the middle and lower classes of the youth of the 2000s. Clase 406 was a remake of Francisco el Matemático (Francisco the Mathematician), a Colombian soap from 1999, and starred Sherlyn, Dulce María, and Iran Castillo. Working out which girl you most identified with was almost obligatory.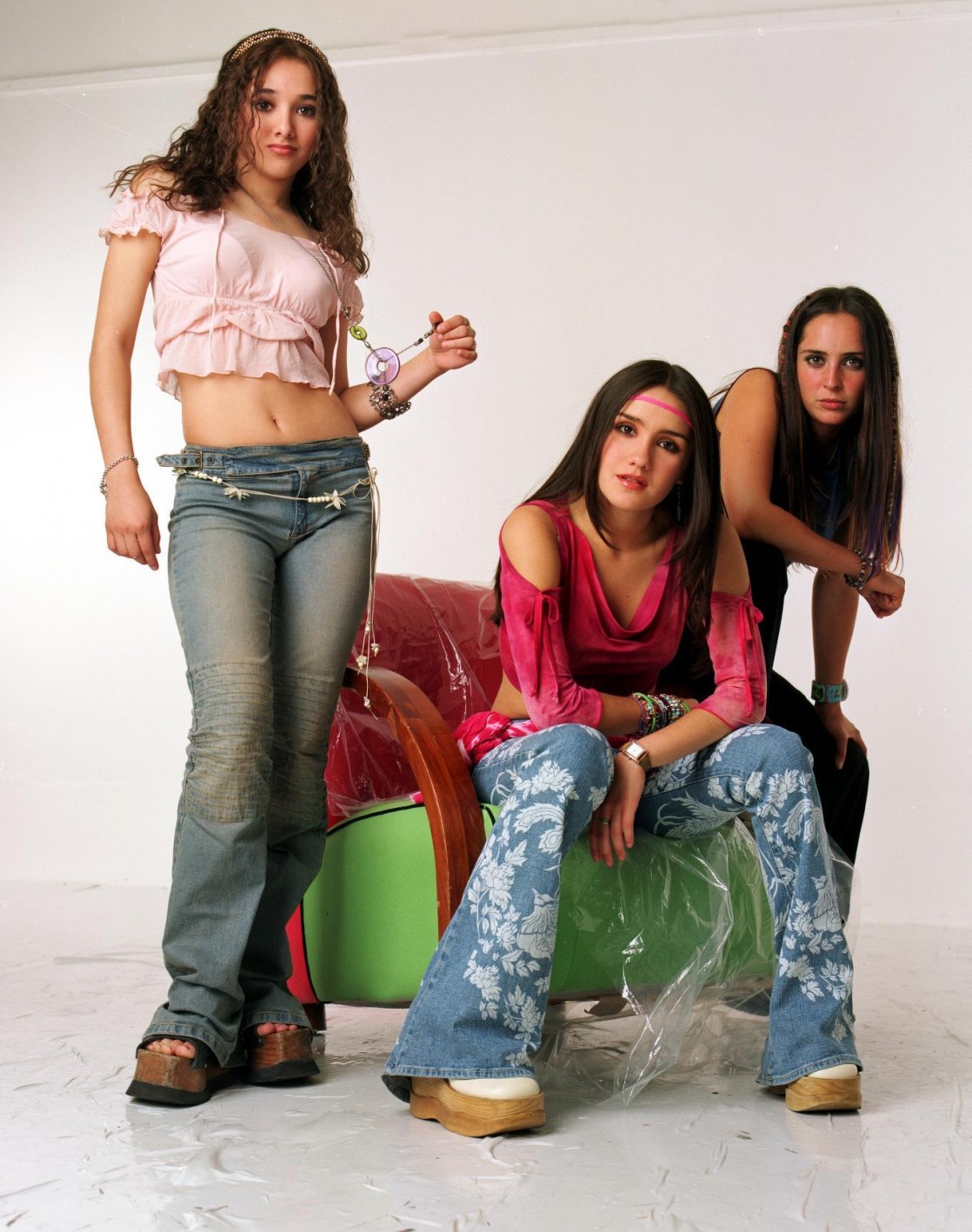 This was also the beginning of Natalia Lafourcade's musical career and her image as an alt-pop artist. She was an icon for girls who didn't follow the crowd, and who wanted to get away from the "Barbie Doll" look.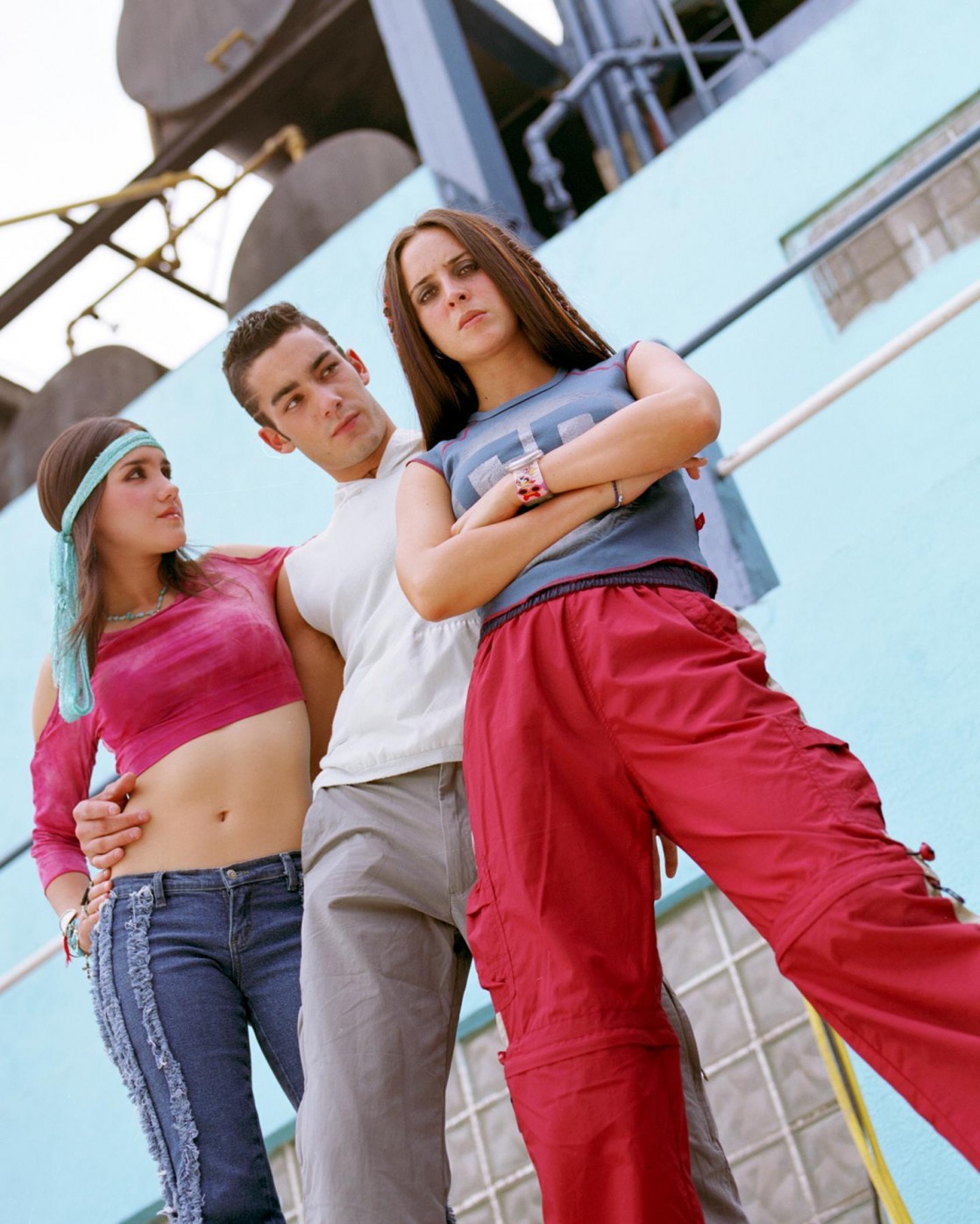 Cargo pants were all the rage, in all their garish colors. Iran Castillo popularized false extensions in her role as Magdalena, while Dulce María as Marce helped fuel the craze for shell necklaces, stud bracelets, and tie dye scarves — worn, naturally, tied around the hips.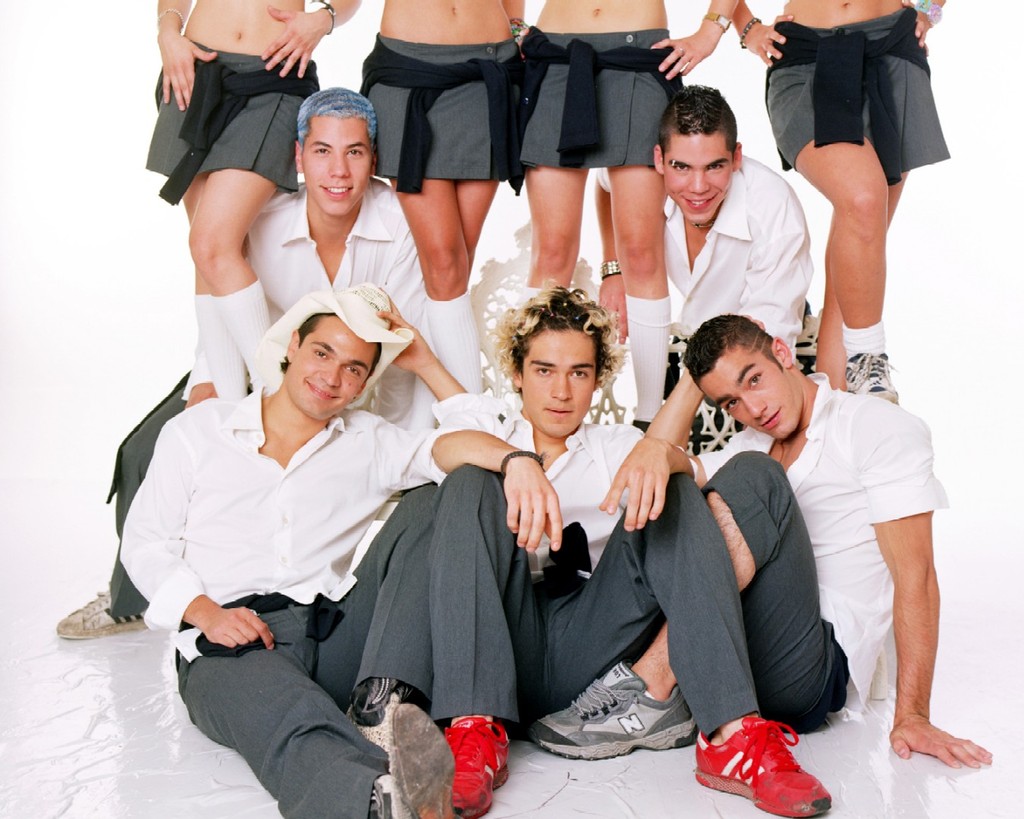 For men, ties and loose shirts were a big vibe, as was Poncho Herrera's iconic bleached hair in his role of Juancho. The lines that Aarón Díaz had shaved into the sides of his head were supremely popular, along with the extra-wide trousers worn by Christian Chavez's character Fercho, and his D.I.Y. "I'm not your Boyfriend" slogan T-shirt.
Amigas y Rivales, (Friends and Enemies), 2001, Emilio Larrosa
Gabriel Soto, the blond stud of Mexico, was pretty ugly in this telenovela. Emilio Larrosa decided to follow a similar concept to Soñadoras, subbing those characters for Ludwika Paleta, Angélica Vale, Michelle Vieth, and Adamari López — four girls from different social classes and with the same psychological problems.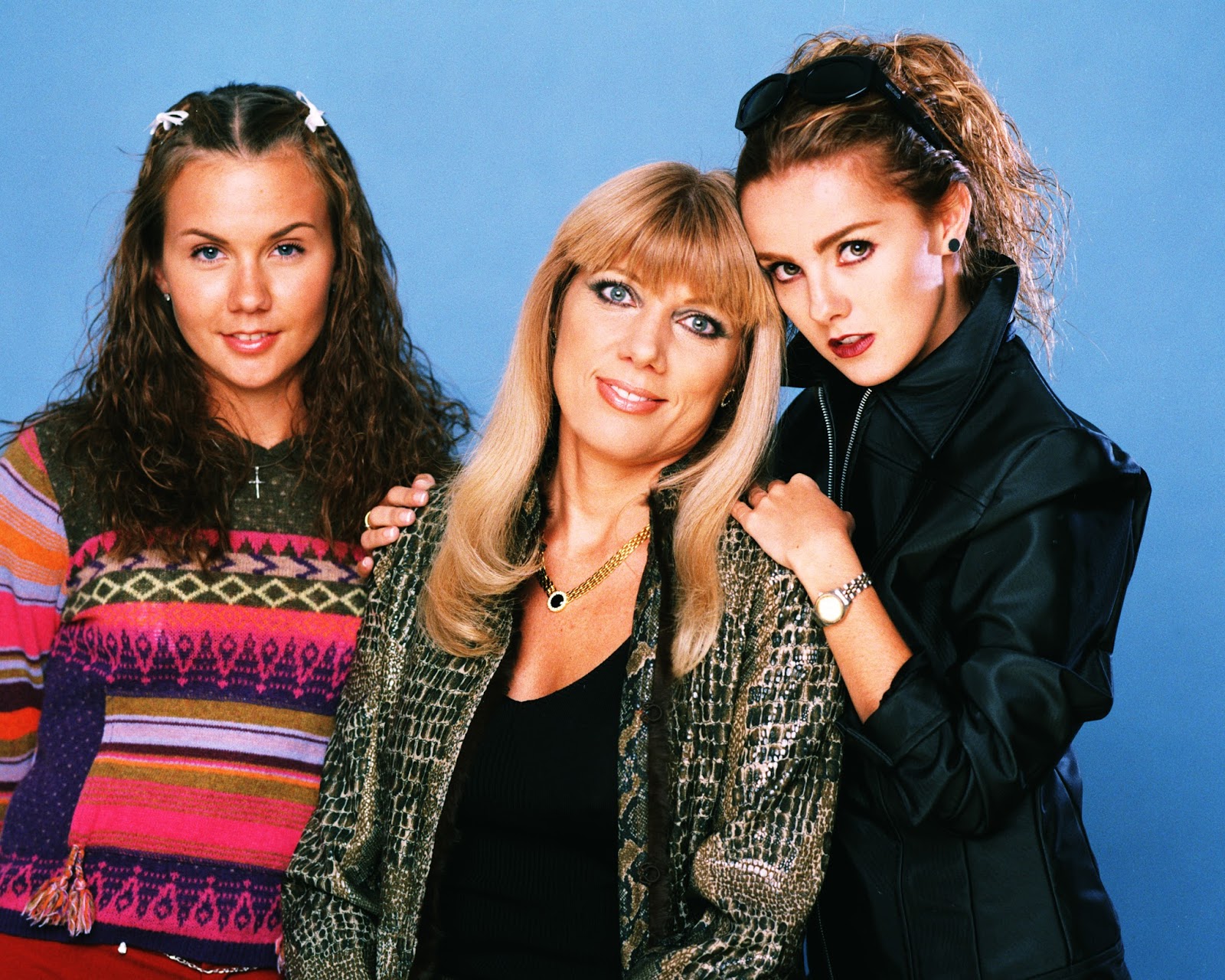 In this version, all the character' personalities were reflected in what they wore. The wet look became an indispensable part of our day-to-day lives thanks to Amigas y Rivales.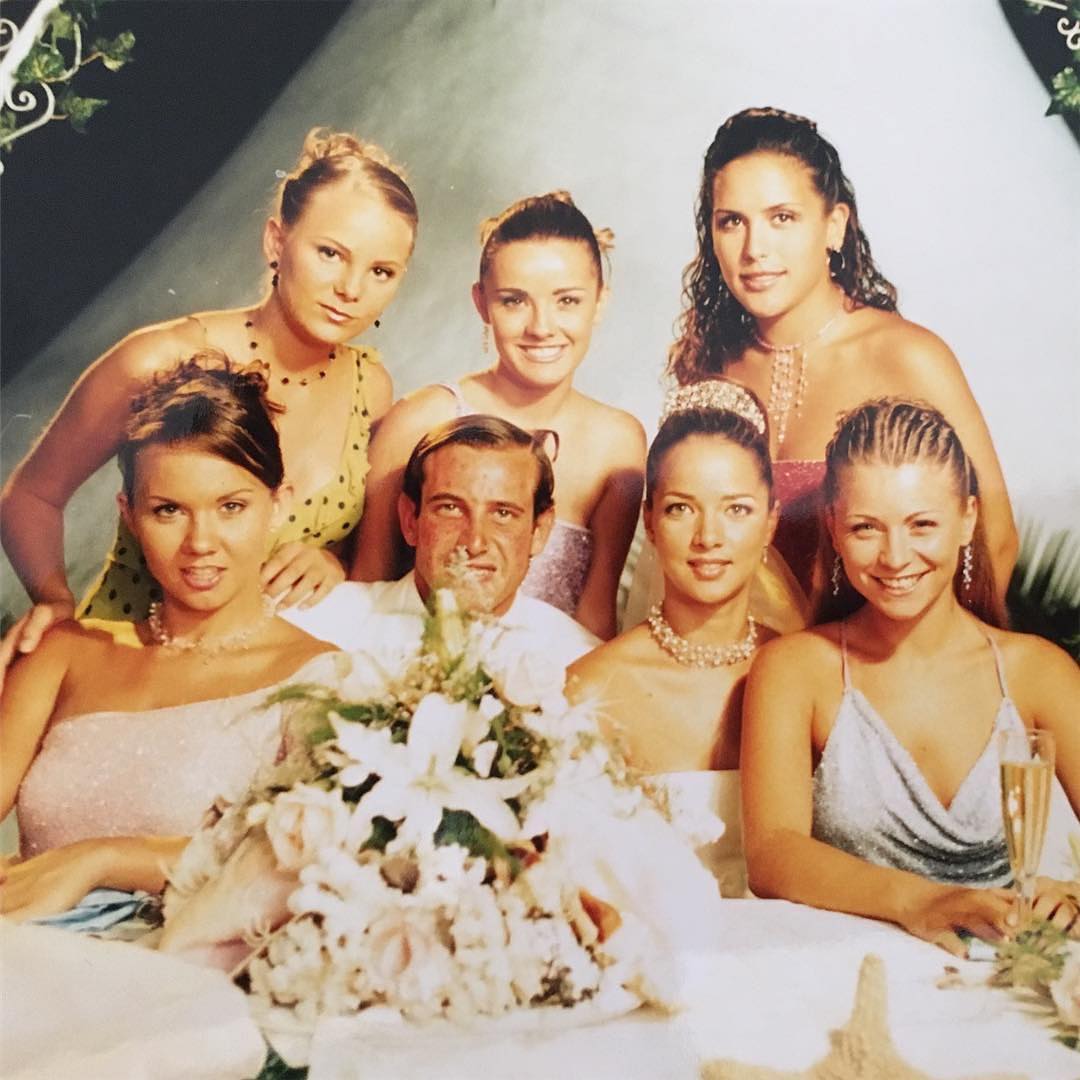 The styling in this one was much more casual — with clothes that we could find in any store or market. The look was heavy on newer trends like baggy jeans, sweatshirts, lingerie dresses, those infamous cardigan-and-mini skirt twin sets, and kitten heels like the Steve Madden Stecy that Alicia Silverstone made popular in Clueless.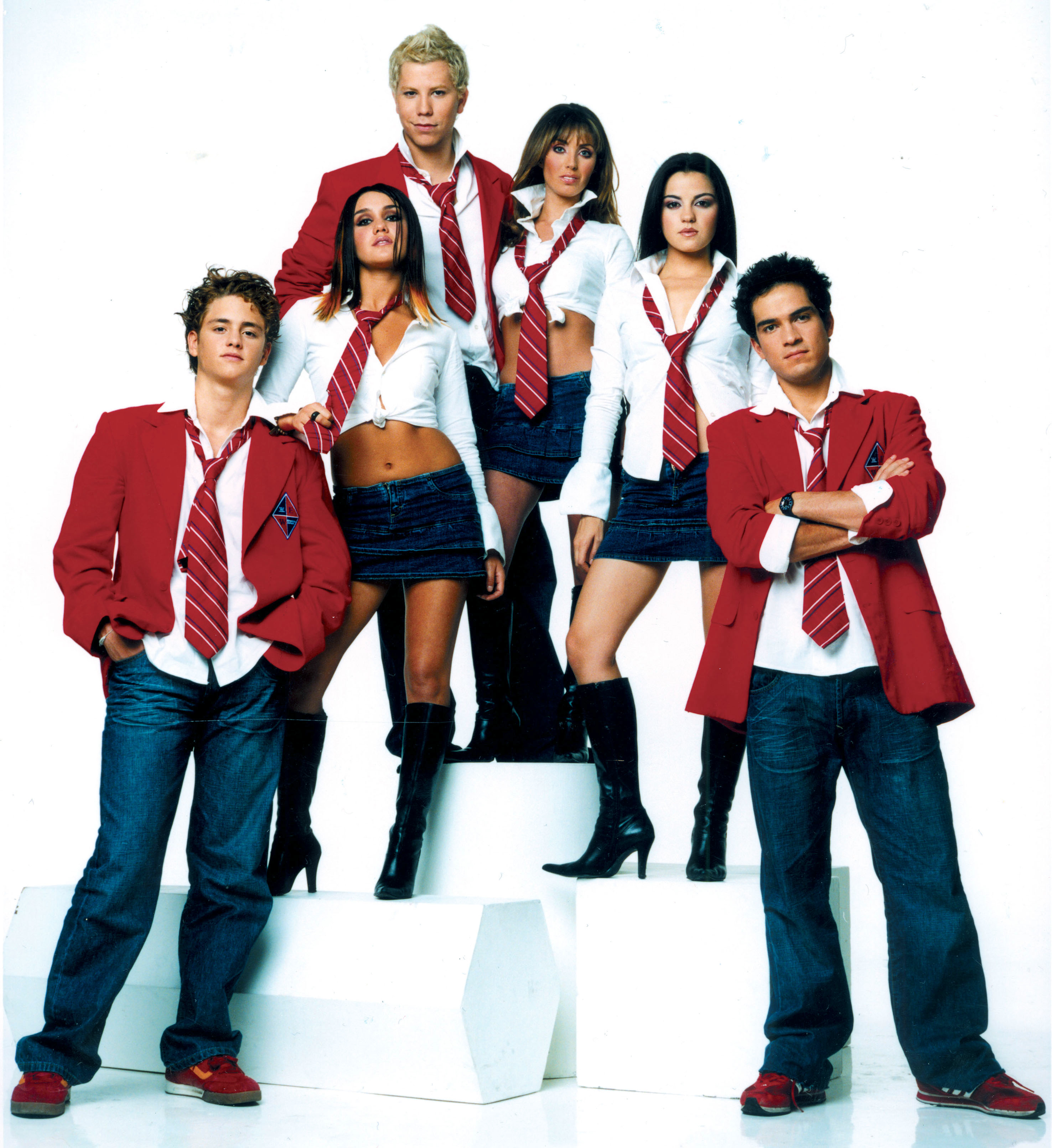 Rebelde, (Rebel), 2004, Cris Morena and Patricia Maldonado
In this successful 2004 soap, Mia Colucci — played by Anahí — fit the stereotype of a "Barbie Doll." She had an exaggerated accent, vocabulary full of Anglicisms, and an a basically unattainable body — plus long blond hair like that of Regina George in Mean Girls. Colucci favored preppy pastels, hipster trousers, bell-bottoms, and towering platform boots.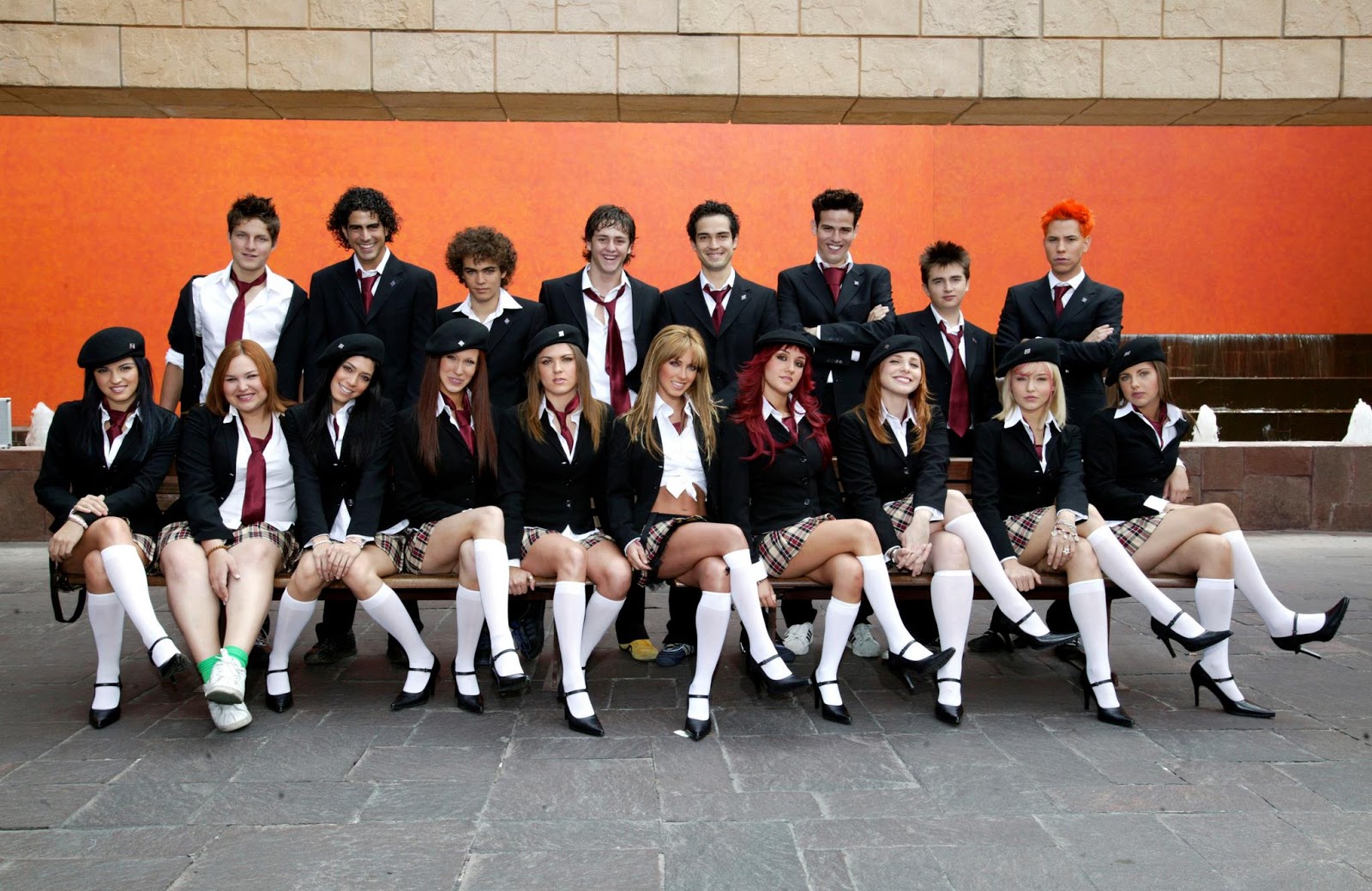 Elite Way School, where everything in the telenovela happened, was an aspirational circle for only a lucky few. It was under this premise that every character developed, with the students ultimately deciding to put their music skills into practice — by forming the RBD band. Mia Vico (Angelique Boyer) and Celina (Estefana Villarreal) wore forehead stars, pink layered hair, and XL plastic collars.