Dries Van Noten spring/summer 18. Photography Victor VIRGILE/Gamma-Rapho via Getty Images.
the pseudoscience of crystals has entered the beauty world and it is stunning
Rose quartz and amethyst are now being crushed into cosmetics for positive vibes.
Dries Van Noten spring/summer 18. Photography Victor VIRGILE/Gamma-Rapho via Getty Images.
Ever since Spencer Pratt pressed a quartz against his forehead in a 2010 episode of The Hills, crystals have been elevated from souvenir shop impulse buy to accessory de rigueur coveted by celebrities, social media influencers, and pretty much everyone you know. Magazines are filled with celebrities touting these metaphysical stones and their alleged healing benefits. In a 2014 interview with Cosmopolitan, Katy Perry credited rose quartz on her inability to stay single for very long. Adele blamed a 2016 Grammys performance gone awry on misplaced crystals. Jennifer Lawrence, who is historically anti-crystal, removed some stones from her home, which subsequently flooded. And 30 years ago, Tina Turner turned to crystals as a cure for loneliness during a worldwide tour. "I don't know if it's psychological or something in the rock," she told People in 1987, "but it works."
The crystal category includes any substance with a lattice-like atomic structure, from salt to diamonds. Modern crystal therapy, widely considered a pseudoscience but practiced everywhere from American malls to Goan beaches, draws from traditions like the Hopi Native Americans' healing rituals and the Chinese use of jade.
Crystals are no longer confined to crunchy new age velvet-draped backrooms — they're fully commodified. Lingerie with little pockets for rose quartz exist alongside water bottles embedded with crystal wands. Chakrubs are sex toys created from quartz, amethyst, and obsidian that can help you vibrate on a higher level while satiating horniness. Crystals have also made their way into the beauty scene; a match made in consumerism heaven considering there's nothing millennial shoppers love more than beauty and crystals. ColourPop Cosmetics released its Crushed Crystal collection of crystal-infused make-up earlier this year, and it has flown off the virtual shelves.
"Right now, people are really into believing in positive energy, positive thoughts, all of that," says Jordynn Wynn, marketing manager for ColourPop Cosmetics. "Whether you believe in the actual energy of the crystal or not, even just carrying it around, people just like to be reminded of the positive thought. That's a big reason why we kicked off our crystal line, because everybody here is super obsessed with crystals and positive energy. We thought, 'What's a better place to have it than in your makeup?'"
Crystals are also undeniably aesthetically pleasing. See: the sparkling rings that surrounded models' eyes at Dries Van Noten's most recent show. Or the crystals that lit up faces at Raf Simons's first show for Dior (spring/summer 13).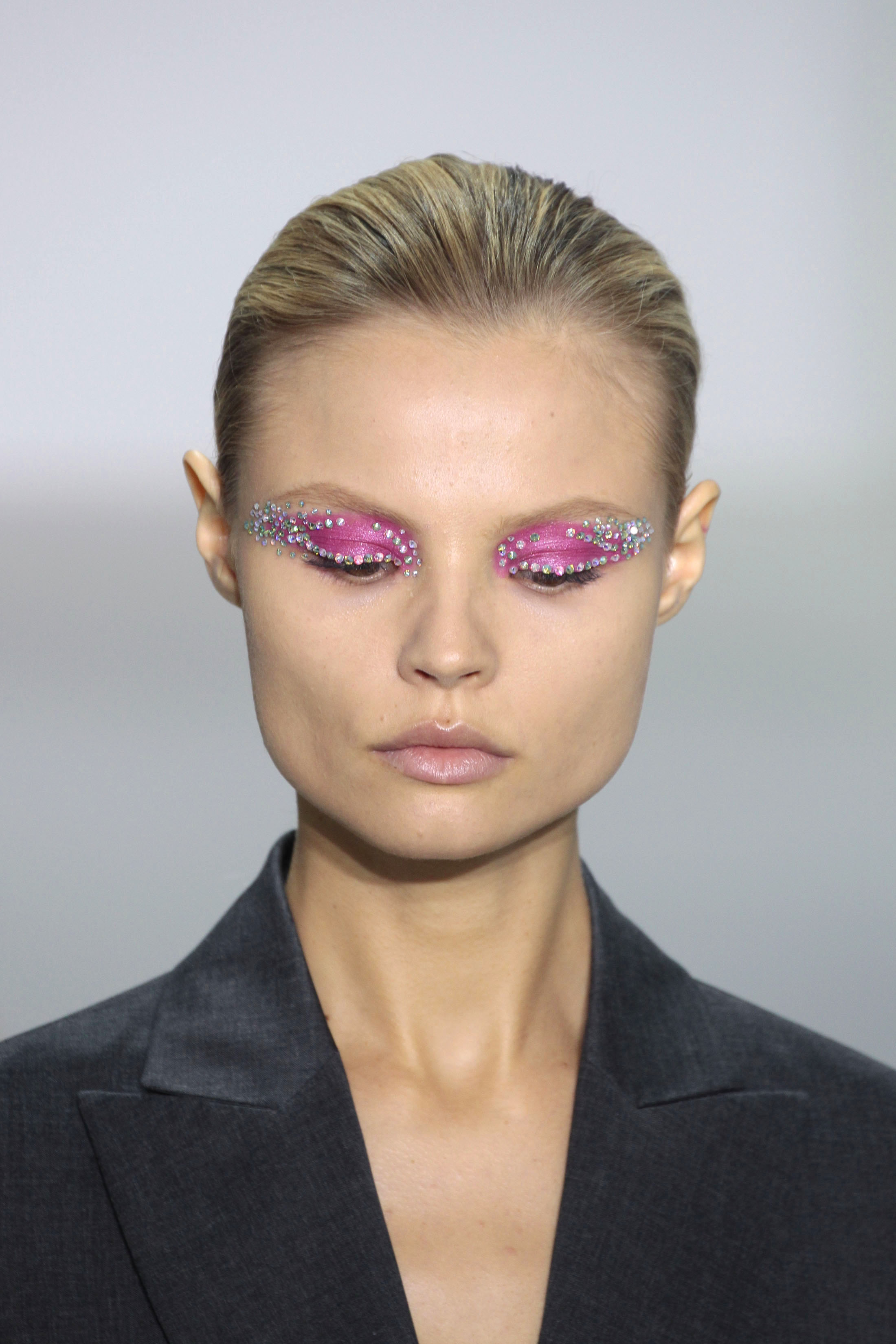 Instagram has no doubt helped support the crystals in beauty trend. Make-up artist Johannah Adams's stunning lip art interpretations of crystal geodes quickly went viral on the photo-sharing app. LA-based nail salon Nail Swag offers a service that combines crystal-adorned nail art with a tarot reading. Even Kim Kardashian has been swayed by the mystical power of metaphysical stones, visiting a crystal warehouse to get inspiration for her upcoming fragrance collection, and posting images of quartz on her Instagram.
Aside from it being the same shade as millennial pink, the benefits of rose quartz line up with our generation's focus on self-acceptance. Kora Organics founder and model Miranda Kerr carries rose quartz, a pink crystal known to attract love and enhance self-love, with her at all times. All of Kora's products are filtered through the stone. "I just feel like it's so powerful. And we all need more of that kind of self love and appreciation," she says. Perhaps Kerr also got this tip from Cleopatra, who supposedly bathed in rose quartz as part of her beauty regimen. Bri Luna of The Hoodwitch also counts rose quartz among her favorite crystals to work with. "For many who find themselves under the pressures of society's beauty standards and struggle with self-esteem or with a negative body image, rose quartz teaches us how to heal our hearts and be accepting of the parts of ourselves that we struggle with," she explains. "It calms and soothes, nurtures, while encouraging its wearer to see past 'flaws.'"
With the Goop-approved move toward crystals for therapeutic uses, it was only a matter of time before we began incorporating them into cosmetics. Which in fact is nothing new. Ancient Egyptians wore lapis lazuli for eternal protection, then mixed it into a paste to apply on the eyelids — aka the O.G. eyeshadow. "Folk medicine has been integrating various rocks and minerals into their beauty remedies — pearl for instance has a long tradition as a beautifier," explains Jessica Hundley, author of The New New Age Series: Crystals.
People are also being much more mindful of what they are consuming, and in turn are purchasing more natural ingredients and products. "I think in general there is a huge return of interest in plant and nature-based remedies," adds Hundley. "People are beginning to move away from harsh chemicals, and plastics, and they're seeking natural, sustainable products."
Then, there's the popularity of nature-based spiritual practices amongst millennials. More and more young people are exploring witchcraft and the occult. It's not only crystals; other "witchy" items and ingredients — such as Palo Santo, the "holy wood" used for spiritual cleansing — are becoming more present in the beauty and fashion industries.
"Everyone loves magic, and crystals are Earth's magic," says Luna. "Many holistic brands understand the healing properties of these gems and minerals in beauty and are adding them to increase the potency in their already soothing natural products. Organic ingredients plus crystals? It's like the best of both worlds and excellent for self-care rituals."
If you're curious about adding crystals into your beauty routine, it's as easy as dropping one into your favorite skin care product. In her book A Witch in Every Woman, Salem's Official Witch Laurie Cabot advises putting rose quartz in your moisturizer or keeping a charged crystal in your cosmetics bag. Luna recommends purchasing raw or tumbled stones to use in spray bottles infused with flower essences as a sort of DIY skincare elixir.
Crystals may not be supported by doctors or scientists, but they are undoubtedly a source of healing for many people, both in beauty and in life. A little positive thinking while applying eyeshadow is never going to hurt. After all, power is in the eye of the beholder.