five minutes with st. vincent during her busiest year ever
The multitasking musician discusses her forthcoming album 'Masseducation' inside her magical new Memphis-inspired art space.
Photography Erik Melvin
Annie Clark is sitting cross-legged in the center of a light blue room covered in clouds. The room looks like a tranquil reverie and Clark, in a long black dress patterned with red roses, is very much a part of it. It's not surprising since the Grammy award-winning musician and artist curated and designed the new House of Peroni pop-up in Nolita. Filled with custom risographs and dreamy set design, it's truly something unique to Clark's imagination, which is famously teeming with fantastical ideas.
This installation is one of many projects Clark has been immersed in this year. For starters, she directed and released her first horror anthology film, XX, in February. She is also directing a modern-day adaptation of The Picture Of Dorian Gray and preparing to release her fifth studio album as St. Vincent. Landing on October 13, the record is titled Masseduction, a name that plays with her fascination with portmanteau words. While her artistry has expanded from music to film, visual art, and more, she remains focused on whichever project is at hand. Right now it's a tie between her New York pop-up opening tonight and her record which is due out next week.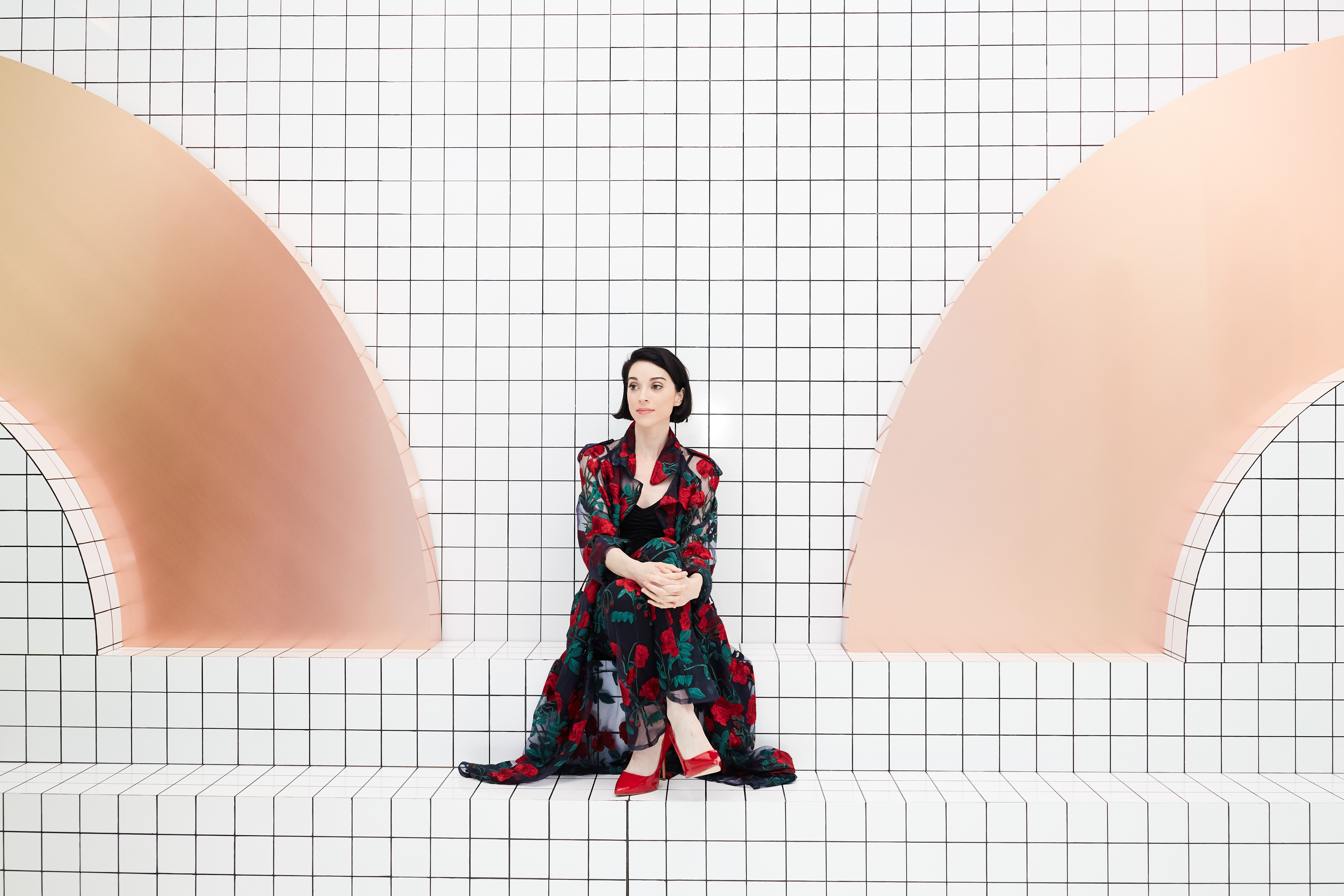 The three-day event we're at is filled with performances, panels, artwork, and design inspired by Milan's Memphis design movement that surfaced in 1981. "I'm a huge fan of Fellini and Memphis design, so I thought it was a unique opportunity for people I've worked with and admired to be in the same place," Clark notes. The singer enlisted "reverspective" artist Patrick Hughes, London-based artist Robert Montgomery, set designer and collaborator Lauren Machen, Talking Heads's David Byrne, and modern dance choreographer Annie-B Parson to help craft her vision for the space. In reference to Italian design, the installation features an array of geometric shapes and bold patterns that are inspired by Fellini's surrealist work, as well as opulent palace-like arches.
The NYC multimedia space is a perfect pairing with Clark's forthcoming record. Earlier this summer Clark made a commanding musical return with Masseduction's first single, "New York," a song that pays melancholy homage to her hometown. So it's only natural that her latest exhibition takes place in the city where she lives too. "['New York'] is a composite of everybody who has walked the same downtown streets I have and moved on to different cities or other planes of existence," Clark explains. The record provides cultural critiques on plastic surgery and advertising lingo ("Los Ageless") and a self-professed "banger" that is a multi-faceted look at anxiety and depression ("Pill"). "I was kind of using the language of advertising jingles [in "Pill"] to tell a harsh story about trying to find coping mechanisms for depression or anxiety," she comments, with a caveat: "But you can dance to it!"
It's not all doom and gloom for Clark. Masseduction offers glimmers of hope because, at her very core, Clark is optimistic. "I think we see hope personally in making things that reaffirm our humanity and speak to the reality of humanity and not some strange ideal," she says. "I think that things that remind us of our humanity remind us of empathy and that's what's gonna save us: more empathy."
The House of Peroni is open at 201 Mulberry Street in New York through October 8.