solange tells magazine "don't touch my hair" after they edit out her braids
An accompanying profile that quotes Solange on the meaning of braided hair for black women has now been publicly disowned by the interviewer.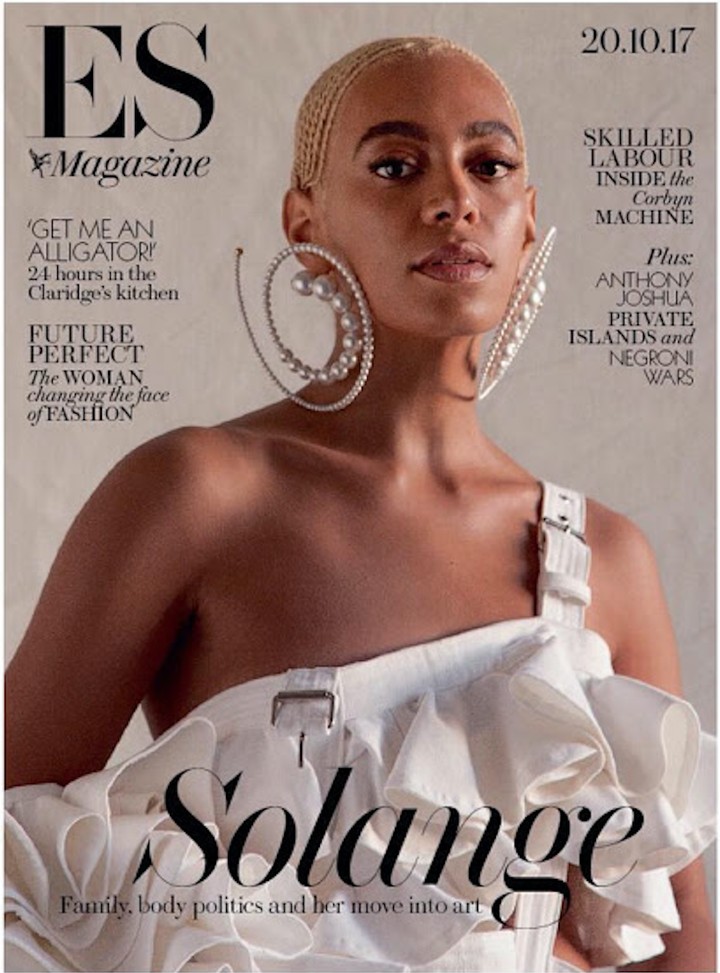 This article was originally published by i-D UK.
Solange's era-defining album A Seat At The Table just celebrated its one year anniversary. It has a very clear message, and one might assume that during the past 12 months, most people in the culture industries would have had a chance to listen to the lyrics, or perhaps read about them in the many interviews she has given.
A pretty clear message about the importance of black women's hair, the way it is fetishized by non-black people who touch it, and the way it expresses a vision of blackness and her soul as a black woman. It seems hard to fathom that this weekend ES Magazine shot Solange with a spectacular African-style braided crown, and then literally erased it from the cover shot.
Taking to Instagram after the cover was revealed, Solange posted the original image with the braided crown, captioning it "dtmh [Don't Touch My Hair] @eveningstandardmagazine". She also posted a series of Instagram stories about the issue, highlighting the missing braid, and posting a screenshot of the profile which reads, "Braiding is important to Knowles. It is an 'act of beauty, an act of convenience and an act of tradition — its own art form'," also noting her Creole heritage. Solange then posted a series of hair sculptures by Joanne Petit-Frére, who also created the style for the ES Magazine shoot. "Would you believe they photoshopped her crown on the cover?" Joanne captioned a picture of the original image.
One commenter on Solange's post suggested, "You should have expected that. They have regulations on how they edit the covers. You would have been zoomed out and it would have looked too small." Certainly there may have been a practical decision taken, but one without cultural sensitivity for an artist whose most famous work is about taking pride in your blackness against a culture of whitewashing, erasure, and violence. "Shame on you @eveningstandardmagazine," another commenter wrote, adding "when they want you to be black, but not too black. Smh," with another adding, "You can't just crop away people's culture just because YOU can't appreciate it," and simply, "Why would they touch her hair?"

Beyond the crown-cropping issue, the journalist who interviewed Solange has also disowned the profile's text. Posting on Twitter, Angelica Bastien wrote, "I am publicly disowning the Solange piece London Evening Standard published today. The entire piece was a fiasco despite my efforts. I told my editors to take my name off of the byline because they distorted my work and reporting in ways that made me very uncomfortable."
Clearly, however, Solange still wears the crown. As i-D's Frankie Dunn wrote when the video first dropped: "Her crown, her halo, her beautiful natural hair is hers."