palestinian model qaher harhash is breaking down the industry's biases
Meet the young model determined to increase the visibility of Palestinians, via the catwalk.
|
12 December 2017, 2:55pm
Foto: Ben Merav Loulou
This article was originally published by i-D Netherlands.
Although the fashion industry is increasingly acknowledging the power of diversity, it can still be limiting. We are finally seeing more models of color on catwalks and in magazines, there is still little space for models of Arabic, who also now face border restrictions that hamper an international career, especially in America.
However, there are some hopeful exceptions. With his Israeli passport, 19-year-old Palestinian Qaher Harhash, unlike many others of his origin, is able to pass through the country's barriers. With his rare position, Qaher has made it his mission to use the catwalk as a way to increase the visibility of Palestinians globally. After growing up in East Jerusalem, Qaher — deemed the "First Palestinian Male Model" — recently relocated to Frankfurt to pursue his dream.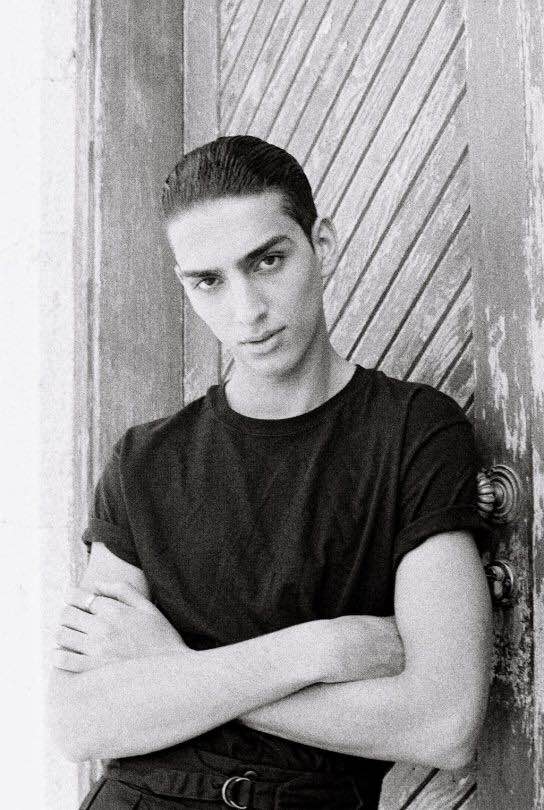 Hi Qaher, how does it feel to be called the "First Palestinian male model"?
It's important to never forget your roots, especially as a Palestinian. I grew up in East Jerusalem. The western world often still looks down on the Middle East and our culture is portrayed as conservative in the media and the region is often associated with political instability and unrest. People don't have the knowledge yet to understand what our culture means, because we mostly focus on the negative aspects. I hope that with that title I will show another side of Palestine. Also, there are far too few Arabic models. It's time for change.
What was it like growing up in East Jerusalem?
My mother raised us on her own and sent me to an international American school. I kind of grew up in a bubble -- the school acted as an escape from reality in East Jerusalem. Most Palestinians in Jerusalem grow up in Arab communities where there is a lot of poverty and general frustration about the conflict. We are stigmatized and regarded as terrorists. Due to the conflict in my country, I was often rejected at Israeli modeling agencies, as they found it too controversial to work with me, being a Palestinian model.
How did you enter the modeling world?
When I was young, my sister watched a lot of fashion shows, which sparked my interest in it. Tyson Beckford in particular inspired me. He had something unique. When I was 16, I sent photos to various modeling agencies in Tel Aviv. Initially I was rejected by all of them when I mentioned that I was Palestinian. They were afraid that clients would pull out. I was discriminated against due to my ethnicity and felt desperate. It was so unfair. But then one agency, Roberto Models Agency, made an exception. They actually underscored my Palestinian origins, which made me feel like I had an important story to tell.
Did you have role models in fashion?
I don't really know of any other male Arab models. Gigi Hadid is a role model for me, she is half Palestinian and a top model. There have been a lot of discussions lately about the representation of different ethnicities in the fashion industry, and bit by bit some progress is being made. But it's time that Arab models were also included in that diversity. Why are there no top models with an Arabic or Middle Eastern appearance?
What is your aspiration as a model?
I want to use the catwalk to share my political messages. Of course the situation is very complex and you have to shine light on both sides. The Arab-Israeli conflict is a rather laden subject, I am very aware of that. But as a model I want people to see a positive side to Palestinian identity. I've notice that many people are willing to listen to me. I met people in Tel Aviv who listened to me and changed their opinions. The power is in dialogue.