five acts proving that east asia is a mecca for pop music
Bored of big names, behemoth labels and Billboard 100 "chart bangers"? Venture to East Asia: the home of ultra-cool and progressive popular music.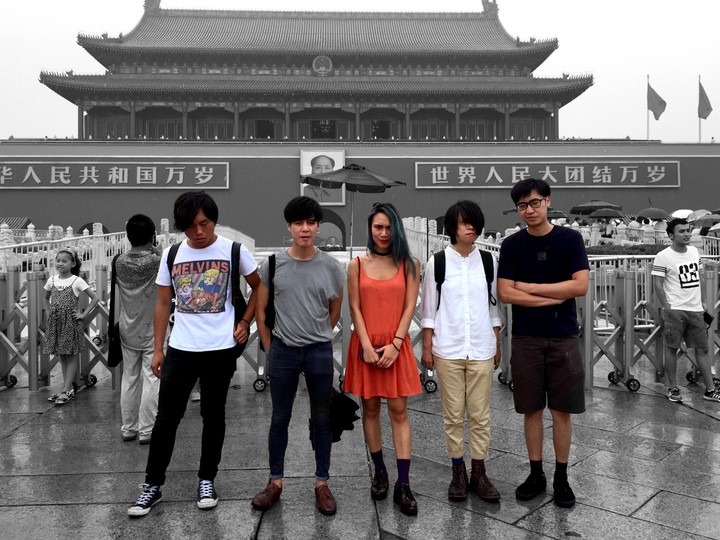 David Boring
Let's admit it: whether it's mainstream pop, indie electro bands, guitar-twanging folk or thundering techno, there's a never-ending pool of English-speaking artists that we can dip into at our leisure; we're spoiled for choice. Perhaps today's top 40 line-up is even too insular, in desperate need of some new acts from further afield to switch things up a little.
So why, after all these years, are we still waiting on a brilliant pop act -- or a prolific musician, period -- to break through into the mainstream from the East? After all, we've been shown that Korea and Japan in particular are hotbeds for exciting new pop and hip-hop talent; successful in their own countries, these acts have been selling out nationwide tours and garnering social media followings that rival Katy Perry's and Gaga's for a while now.
We reckon if anybody can do it, this collection of fresh pop artists can. Ahead of Hong Kong's coolest outdoor music shindig Clockenflap next month, here are some brilliant music acts flourishing across east Asia that you'll be hearing a hell of a lot more from in future.
Wednesday Campanella, Japan
Billed by the Japanese media as the saviours of contemporary J-Pop, Wednesday Campanella are one of the most eclectic, genre-bending acts breaking in east Asia right now. Back in February they released their first record on a major label. Titled Superman, it purveys everything that makes pop music worth listening to: gleefully sweet vocal inflections, playful lyrics and a production style so punchy that it knocks you off your feet.
They may be finally having their mainstream moment, but it's taken some time to get there. The band first formed back in 2012, releasing EPs and mini albums so intriguing that it secured them a coveted spot at a SXSW showcase. On top of their sparkling pop sound, Wednesday Campanella's popularity has been fuelled by the ultra-cool status of the group's lead singer: the fun, free-spirited Kom_I. Known for her spectacular fashion sense and fire IG, she's one of the genre's most recognisable faces. We're convinced that Kom_I and co have more than enough potential to make it overseas. Think PC Music, sans the irony.
Dean, South Korea
The golden boy of millennial K-Pop, Dean is an international star in his own right, almost singlehandedly flying the flag for Seoul's RnB scene on western shores. Opting to sing in English rather than his mother tongue, he might sound like a fresh-faced Bieber or Timberlake, but unlike those tabloid-followed, omnipresent icons of Americana, he doesn't carry any of fame's ridiculous baggage. Somewhat ironically though, his name stems from one of the country's most prolific matinee idols: the Golden Age actor James Dean.
Since breaking onto the scene in 2015, Dean's sold over 4.5 million records in South Korea alone, making him one of the country's hottest stars on home soil too. Toying with a never-ending list of high-profile collaborators like Anderson .Paak and The Internet's Syd, as well as releasing an acclaimed EP titled 130 mood: TRBL that grabbed a top three spot in the Billboard World Albums chart, critics and K-Pop fans are waiting anxiously to see what this twenty-something pop star might do next. Bieber-style world domination? It's certainly possible.
Acrush, China
In China's proudly manufactured pop scene, you might struggle to find a band that comes together organically. But often, the product of these X Factor-style set ups can be something crazy innovative and wildly interesting. Take ACRUSH, for example: a rhythmic electro-pop quintet that take the idea of a "boy band" and spin it on its head. The twist? This handsome group is actually made up of five androgynous women.
The group prefer to be ambiguous with their gender, though, using the term "meishaonian", roughly translating to "handsome youths", to describe themselves. It's certainly a forward-thinking move in a deeply conservative country: to play with the idea of gender in such an open way, even when tied to a multi-million dollar business. But their Simon Cowell-esque fruition seems to have paid off: the group have garnered well over a million fans on Weibo since their stratospheric rise to fame, and, judging by their silence, must be working on new music following the release of their debut single Action back in May. No news is good news, right?
Izumi Makura, Japan
Fukuoka-hailing Izumi Makura creates a brilliant breed of dreamy, gentle rap music, as if her lyrics have been torn from the pages of a teenager's diary. She made her first mark on the east Asian music scene back in 2012, when she released her EP Sotsugyou to, Sore made no Utouto. A success with fans and critics, it spawned the fan favourite single, Balloon, which is still one of her most loved tracks to date. Just a year later, she'd release her full length debut My Room, My Stage -- a record that tapped into her bedroom songwriter aesthetic perfectly -- before going on to drop a short verse on Lorde's Royals in tandem with a gorgeous illustrated video.
Famed for her elusive personality, you'll struggle to find a biography of this rapper -- in Japanese or English -- online. Not only that, but she doesn't like showing her face. Type her name into Google Images, and all you'll really get is a collection of her scrapbook-ish illustrations; the aesthetic that she's stuck with for all album covers and music videos since she first burst onto the J-Pop scene. Five years on, and her fans -- rightly so -- are still hanging on to every wise word of her music.
David Boring, Hong Kong
Okay, we admit it. This post-punk, noise band from Hong Kong's underground music scene can barely be considered pop, but they seem to put on one hell of a good show. First forming in 2013 and taking their name from the eponymous character of the famous early noughties American graphic novel, the band have toured Hong Kong and Japan with their riotous rock catalogue, while badass front-woman Lajuan has been leaving audiences shook. We can't quite figure them out, which is certainly part of what makes the so intriguing. "We don't set out to entertain. Instead join us for a complete self-indulgent celebration of new age sufferings" the band's bio reads. Perhaps they straddle the strange middle ground between sardonic and sadistic rock?
While K-Pop, C-Pop and J-Pop seem to having their moment in east Asia's music scene, it's exciting to see an angsty, badly behaved indie band break free from the shackles of underground notoriety and get noticed. The band are set to play to an ill-prepared crowd at Clockenflap later in the year -- one that'll definitely be left standing awestruck, with mouths agape.
Wednesday Campanella, Dean and David Boring play Clockenflap in Hong Kong, 17-19 November