the true stories behind bill murray's random interactions with strangers
"No one will ever believe you."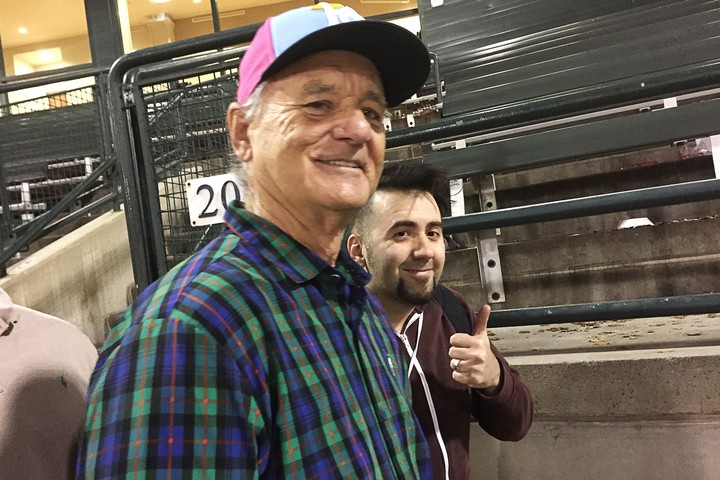 You're not alone if you've repeatedly asked yourself: what's up with all those Bill Murray stories? The ones where he interacts with random strangers, crashes their parties, does their dishes? The stories have made him somewhat of a myth in movie culture. He pops up in random places with random people. Nobody knows where or when the next one will happen. We only know that, in most of these stories, Murray is reported to whisper the line, "No one will ever believe you."

A new documentary The Bill Murray Stories: Life Lessons Learned From a Mythical Man tracks down the witnesses. They explain what happened and then speculate. What's the deeper meaning behind these interactions? Is it performance art? Is it a statement on celebrity culture? Is it some kind of long-term life project? While the doc doesn't crack the mystery (Murray didn't participate in the film), it does underline the life lessons gifted by the actor. Live in the moment, his interactions say. Unplug, stop scrolling, stop swiping, engage, connect with a stranger. So as a reminder of Murray's urban legend, here are 10 stories detailed in the film that you 100% wish happened to you.
1. When Bill Murray crashed a couple's wedding photo shoot…
The setting is Charleston, South Carolina. A wedding shoot is in session. "I get ready to photograph," says the photographer in the doc, "and as I look through the lens I see this guy… and it's Bill Murray, slapping his belly." Murray was making the couple laugh from across the street. They asked him to stay for the picture and he did. It was totally spontaneous. In the click of a shutter, he's caught next to the couple, leaning against the wall, with that classic Murray straight-out-of-bed look. Completely deadpan, no smile — because he doesn't have to. Why? Because in the words of GZA, he's "Bill Groundhog-Day-Ghostbustin'-ass Murray".
2. When Bill Murray read poetry to construction workers…
"It made no sense to us for Bill Murray to be on a construction site," recalls one worker about the actor's 2009 appearance. Murray turned up at the site where burly builders were at work on the new Poet's House, a national poetry library in NYC. He clears his throat and reads to the huddle of hardhats: "I dwell on possibility…" Silence. Puzzled faces. Phones pointed at Murray, no one sure what to make of it. Then Murray lightens the mood, inviting guys to read their own poetry. "Come on, don't be shy," he beckons. Though his appearance is surprising, it's not that surprising, him being a lifelong fan of poetry an all. He even once shared his favorites with Oprah.
3. When Bill Murray did the washing up at a house party in Scotland…
After a day golfing in Scotland, Bill went to a bar and was approached by a Norwegian anthropology student. The student invited him to a St Andrews house party, and guess what, Murray accepted. At the party, one reveler recalled Murray being horrified by the state of the kitchen. He told the girls it was messy, then rolled up his sleeves and did the dishes himself like the housemate you always dreamed of.
4. When Bill Murray gave away a World Series ticket to a total stranger…
Right before a big World Series game, Murray spots a Chicago Cubs fan in need of a ticket. And guess what: he has one spare. And guess what: it's front row. And guess what: it's right next to him. "He turns around and says, here, here's a ticket," the lucky fan later said. "He kind of shuttled me into the door." The pure joy on the face of the Cubs fan, cozying up to Murray during the game, says it all. Again there are questions. Why did Murray have a spare ticket? How did he not have a guest? Was it planned? Will Bill Murray ever stop being the best dude ever?
5. When Bill Murray tended the bar SXSW…
Bill Murray walks into a bar… Wait. This is not a joke. This actually happened. In 2010 the actor was in Austin during SXSW and popped into the Shangri-La bar, where he got chatting to the bartender. "I'm going to see GZA. Wanna come?" Murray asked him. But the place quickly got busy and Murray left, the bartender staying behind. Two hours later he was back and spoke to the same guy. The guy asked Murray if he wanted to bartend (as you would), and so Murray, thrilled, hopped behind the bar and started pouring tequila shots. But here's the thing: no matter what people ordered, he gave them tequila. You want a beer, huh? Here, have some tequila. "I found myself bartending with a Ghostbuster," the guy later recounted.
6. When Bill Murray shot a Wes Anderson-style slow-mo scene with fans…
In 2011, a low budget horror crew were working on a commercial shoot with Murray. They were huge fans, obviously, but instead of asking for an autograph they floated another idea: to walk down a corridor, in a Wes Anderson-style slow-motion scene. Murray was up for it, of course. The end result — a video that soon went viral — shows Murray sternly striding with the fans to a 60s rock soundtrack. Even once out of shot he apparently still didn't break his stride. "This was an homage to Wes Anderson and Bill," one guy later wrote. "He knew exactly what we were going for when we asked him."
7. When Bill Murray sang Elvis at a private karaoke party…
Remember that scene from Lost In Translation, when Murray sings Elvis Costello? Yeah? Well, life imitates art, as they say. In 2011, at Karaoke One in New York City, a group of people — again random strangers to Murray — spotted the actor outside and invited him to join their private room. He agreed, because he's Bill Murray, and spent the rest of the night buying everyone drinks and singing duets of Marie's The Name, by the other Elvis. "Bill Murray just walked in," one person remembers. "He just showed up and had a good time." Simple as that, huh.
8. When Bill Murray serenaded an old lady on her 94th birthday…
It happened after a basketball game Murray attended at Baylor University. The grandson of a woman celebrating her 94th birthday only asked if they could take a picture. Murray's response? "Don't you think we should sing her happy birthday?" The grandson later said on Facebook: "He didn't have to do that. He genuinely wanted to make my Grandmother feel special. He is truly a class act." No matter what your age, I think we can all agree this is the best birthday present ever.
9. When Bill Murray crashed a kickball game in NYC…
"It's Bill Murray," you can hear one girl say in the video recording of this sighting. "Oh you are kidding me?" another says. In the shaky footage, sure enough there's Bill in blue shorts and a black beanie, lurking in midfield, casually waiting for the ball. Again, it was so simple that no one could have expected or predicted it. He turned up, saw they were playing and asked to join in. "Oh sure, you can play," came the girl's response, the game exponentially improving in that very instant. It's not every day you get to thwack a ball and yell: "Bill Murray, go long!"
The Bill Murray Stories: Life Lessons Learned From A Mythical Man screens at the London Film Festival this month.
This article originally appeared on i-D UK.