thoughts on the return of the cowboy boot
Hello old friend.
|
09 October 2018, 10:08am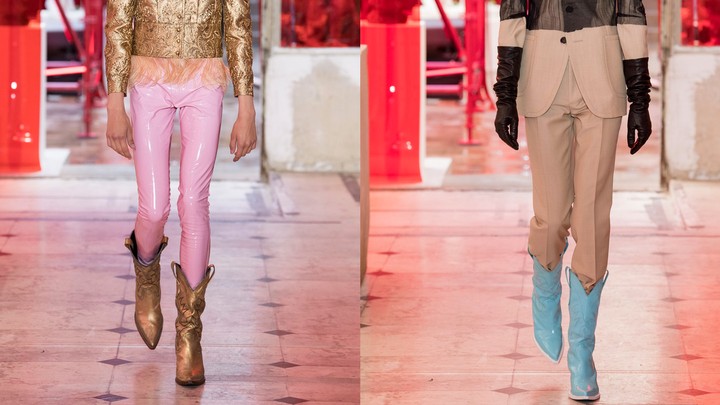 Maison Margiela spring/summer 19. Photography Mitchell Sams.
Picture this: the fashion landscape is a barren desert of creativity. Every so often tumbleweed blows by, carrying yet another drop of dad trainers. Or a dust cloud of the latest blank T-shirt streetwear collab capsule collection. It's a spaghetti western without the fun and theatricality of the protagonists -- rootin' tootin' outlaws ready to defend their honor and celebrate victory with a bottle of moonshine. And what do the heroes always wear? Cowboy boots of course.
Okay, fine, sightly tenuous extended western metaphor aside -- cowboy boots are back, baby. This season they appeared in the collections of Calvin Klein, Margiela, Ralph Lauren, Isabel Marant, Off-White, Paul Smith, and Golden Goose, as well as on the feet of influencers papped at NYFW and on the catwalk queen of Instagram herself, Kendall Jenner.
Even for those not brave enough to take on the full silhouette of the classic cowboy boot (cowards), the western trend has infiltrated a wide array of footwear and outfits. Ganni, Chloe, Jeffrey Campbell, and Alexa Chung presented decidedly western-esque ankle boots, while Riccardo Tisci broke out the cow-print a la Jessie from Toy Story in his debut collection for Burberry. But what does our harkening back to a time of lawlessness, statement hats and fringed chaps mean for the discourse? Why are we suddenly into the cowboy boot all over again?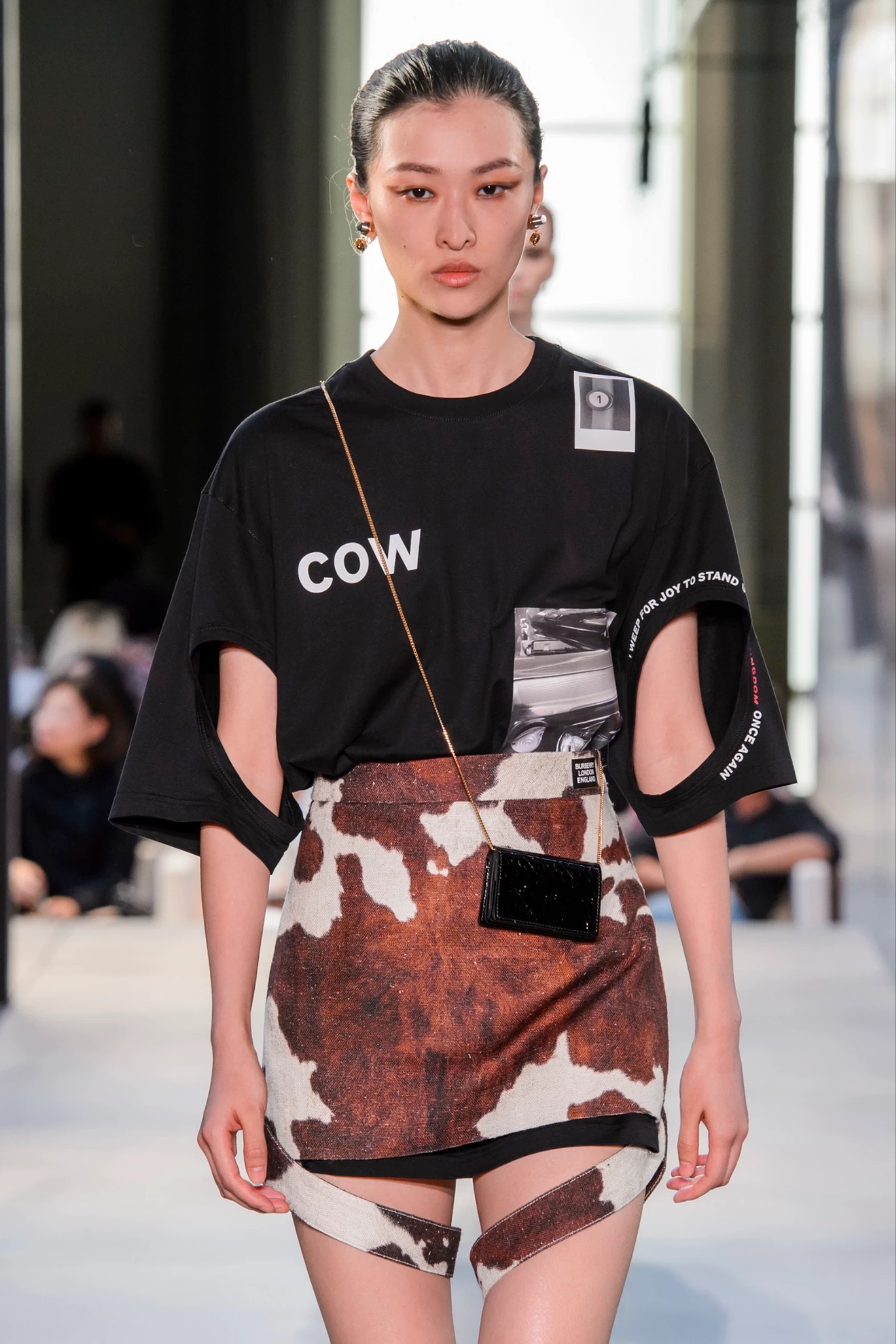 After last season's deluge of prairie style dresses, fringing at Isabel Marant and rodeo-chic bolo ties at Dior Cruise, perhaps cowboy boots were the logical next step? Luxury fashion is on some sort of collective mission to get us all to go west, and at this rate, we'll all be wearing spurs and stetsons by A/W20 (they did appear in Louis Vuitton's Cruise 2019 collection, after all).
But, if you ask me, it's much more likely that cowboy boots are just the latest item to be resurrected in our insatiable thirst for all things noughties, following in the time honored tradition of the return of Ugg boots and Juicy Couture tracksuits. Who among us, after all, will ever forget the iconic images of Mary-Kate Olsen -- before she was one half of the silent, minimalist fashion moguls behind The Row -- on her way to lectures at NYU and looking the epitome of 2006 in leggings, an oversized cardi and a pair of bejeweled black cowboy boots. Or Mary Kate the same year, making cowboy boots FROW worthy at NYFW, paired with a green hoodie because, well, the noughties were that kind of era. Soon, everyone from a very early, still very countrified Taylor Swift to "Umbrella"-era Rihanna and Britney Spears were rocking the cowboy boot.
Cowboy boots were a staple of 2000s Young Hollywood just as much as Alexander McQueen skull scarves and too-long bootcut jeans worn with stilettos. So seeing them do full circle and return to Young Hollywood -- Millie Bobbie Brown wore a very Elvis, gleaming white pair to the MTV Awards in August -- feels like the return of an old friend that's been gone far too long.
It's true that we're experiencing a noughties fashion revival -- aside from the aforementioned Ugg and Juicy Couture resurrections, we're also experiencing fleeting love affairs with flip-phones and Dior saddle bags -- but the cowboy boot's return to prevalence could be less to do with noughties style and more to do with noughties music. More specifically, it could all be down to Lady Gaga. Admittedly it's been two years (an eternity in our 2018 internet era) since Gaga debuted her controversial western reinvention with Joanne, and she had a hard time getting many people outside her hardcore Little Monsters to embrace the whole millennial pink Stetson vibe, but then things changed. Then A Star Is Born happened.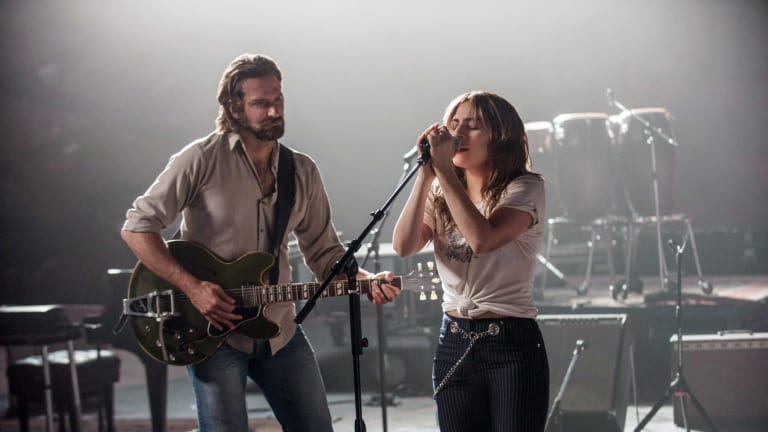 Released just days ago, Gaga and Bradley Cooper's magnum opus charts the rise (and fall) of two country-adjacent stars. In less than a week the film has destroyed the internet with one key change, garnered rave reviews and is currently rated an impressive 90% on Rotten Tomatoes. But more than the reviews and the millions of Spotify plays and the steady climb to a number one hit with "Shallow," A Star Is Born has achieved what many detractors would have thought impossible -- it's got us to collectively embrace the cowboy boot once again, in all its bejeweled, embossed, ridiculous glory.
It truly is Gaga's world, and we're all just living in it, playing " Shallow" on loop, buying cowboy boots. Yee-haw.
This article originally appeared on i-D UK.