5 young russian designers who aren't gosha
Expand your knowledge of Eastern European fashion.
Between Demna Gvasalia and Gosha Rubchinskiy alone, Eastern Europe's growing influence on fashion is undeniable. Gvasalia, who hails from Georgia, is still a critical darling at both Vetements and Balenciaga, and Rubchinskiy isn't going anywhere but up, having just finished his third show in Russia in January, following his Kaliningrad and St. Petersburg outings, plus a much talked about collab with Burberry.

Rubchinskiy in particular is defining Russian skate and streetwear. With his rise to the upper echelon of the world's streetwear brands, "Post-Soviet" style is everywhere. American designer Heron Preston uses Cyrillic writing throughout his namesake brand, and even Gucci's fall/winter 17 collection featured the hammer and sickle.

However, the reality of Russia's post-Soviet economy makes it challenging for young designers to develop and flourish at home. Extensive taxes on materials and the economic volatility of the Ruble make it difficult to birth and maintain a successful brand. Additionally, an extensive counterfeiting culture makes buying knock-offs easier and cheaper than supporting emerging labels.
But, designers persevere. Eastern Europe and Mercedes Benz Fashion Week Russia are definitely places to keep an eye on for rising talent. This season, as usual, shows took place next to the Red Square at the Manège, with the final day, Futurum Moscow, specifically dedicated to younger designers at the Museum of Moscow. These are the five Russian brands to keep your eyes open for this season.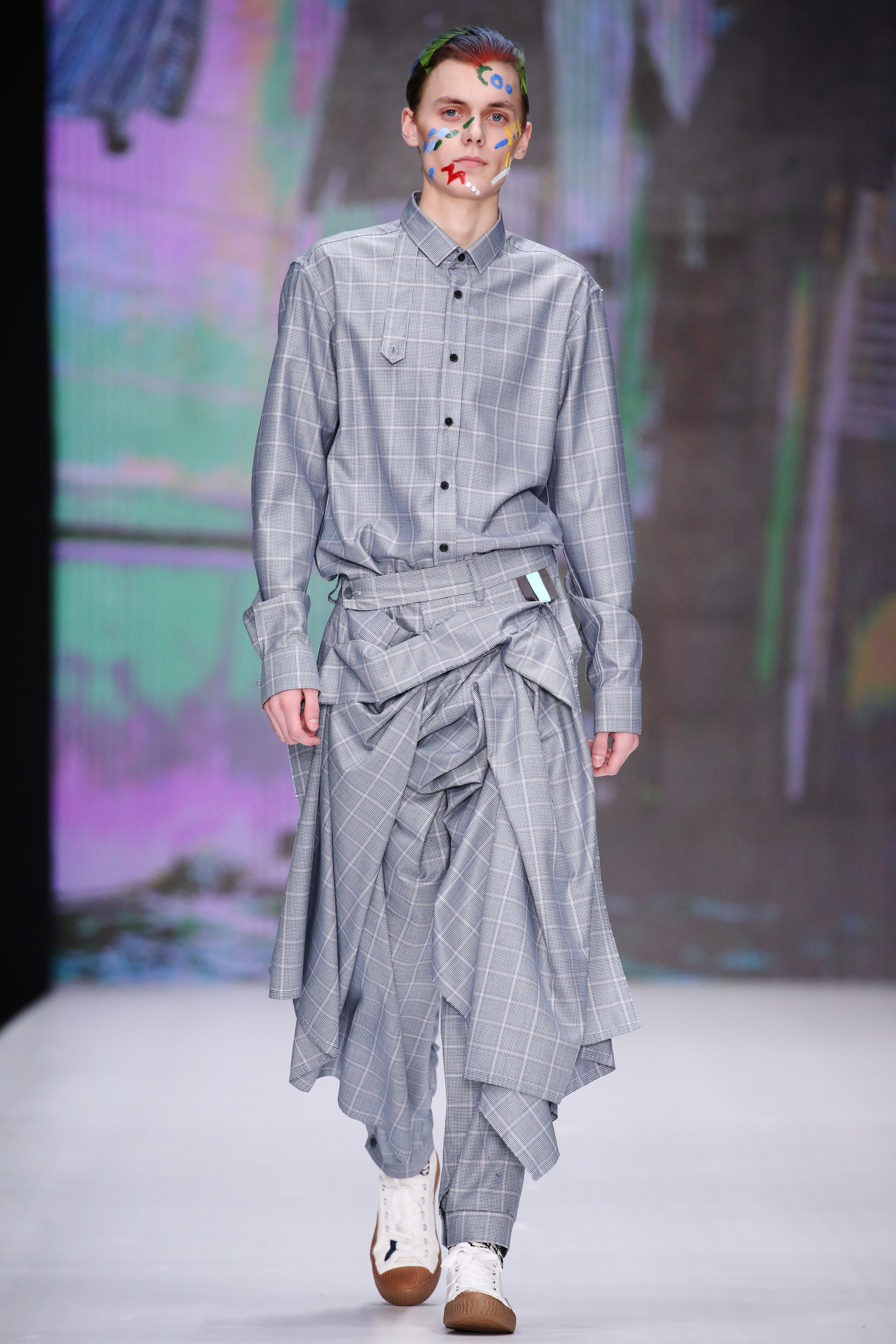 Artem Shumov
Saint-Petersburg born, Beijing-based designer Artem Shumov returned to MBFWR this season after having showed in London. His collection included streetwear-meets-menswear hybrid pieces, in addition to structured but non-traditional suiting in plaid patterns we saw in the streets during the New York, Paris, and Milan shows last month. Shumov points directly to his home in China for inspiration, particularly in the playful anime-like appliques, the hair and grooming, and the styling of this collection.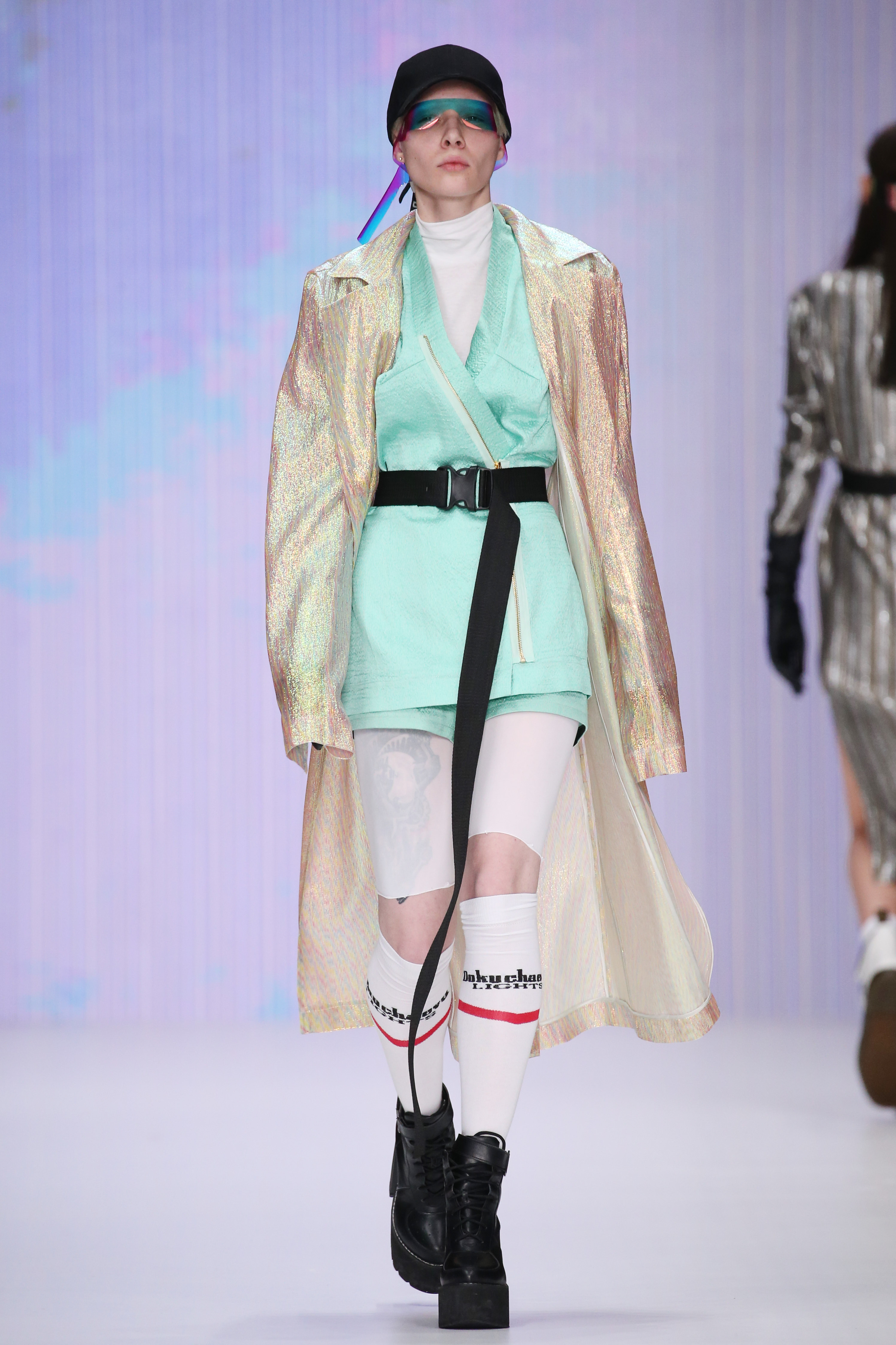 Anastasia Dokuchaeva
Only showing her second collection at Mercedes Benz Fashion Week Russia, Anastasia Dokuchaeva easily had one of the most complete offerings of the week. Dokuchaeva embraced the concept of uninhibited loud looks that Russian design is rooted in, but is obviously vested in completely abandoning the traditional. She kept things modern and fresh, with suits in exciting fabrics, dresses in vibrant prints, and brightly colored, unisex outerwear. Her iridescent, translucent accessories really set off an already impressive and fun collection, and solidified her spot as one of Moscow's must-watch. They also distinctly set her apart from everything we reference as "post-Soviet" style.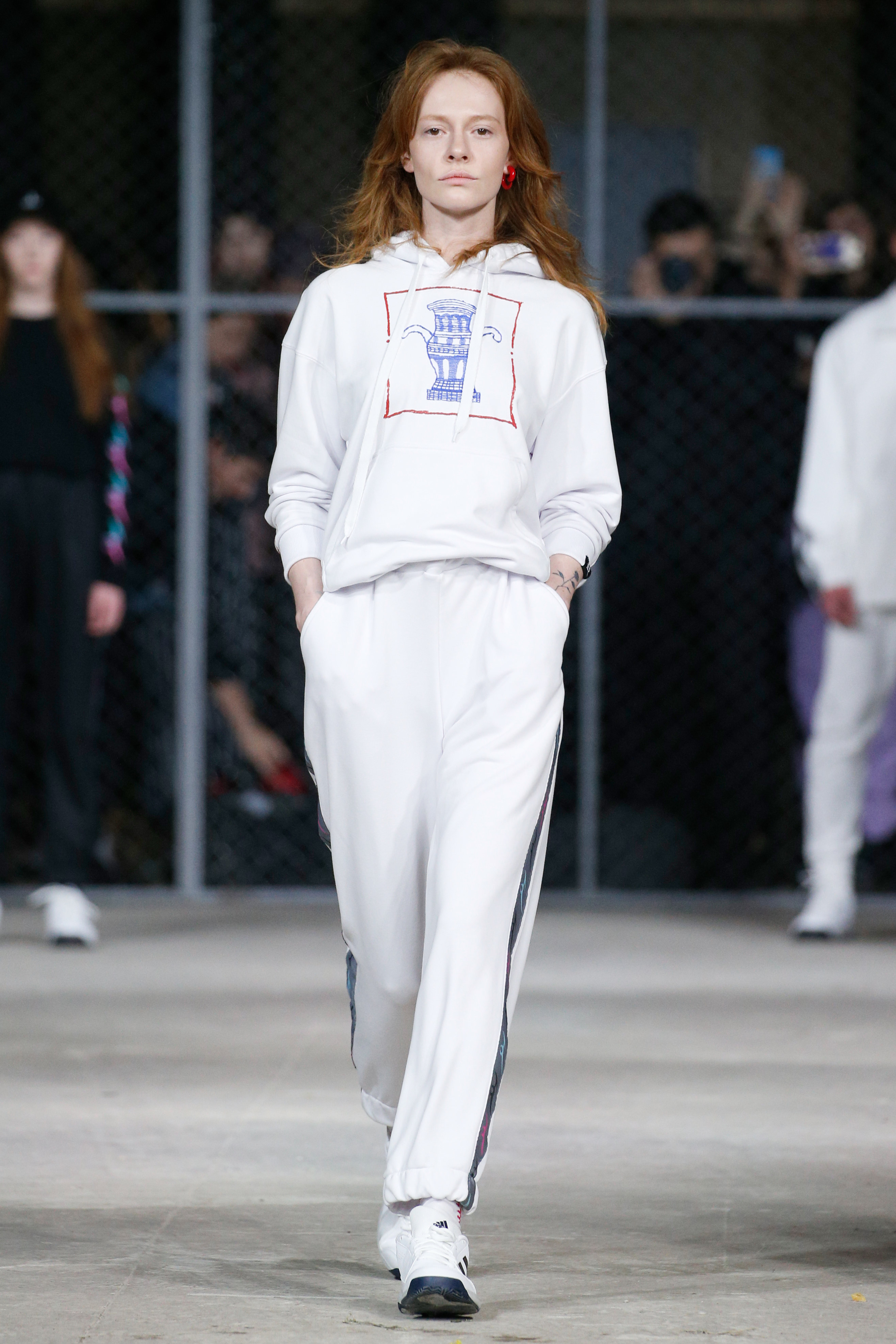 Volchok
With what was easily the most impressive streetwear collection of the week, Vasily Volchok presented on the final day of MBFW Russia at the Museum of Moscow, surrounded by a younger, less elite, cooler crowd: specifically who Volchok is made for. The brand furthers the influence and offers more affordable alternatives to everything we love about Gosha's streetwear. In addition to the design, Volchuk's show boasted effortlessly cool styling and expert casting.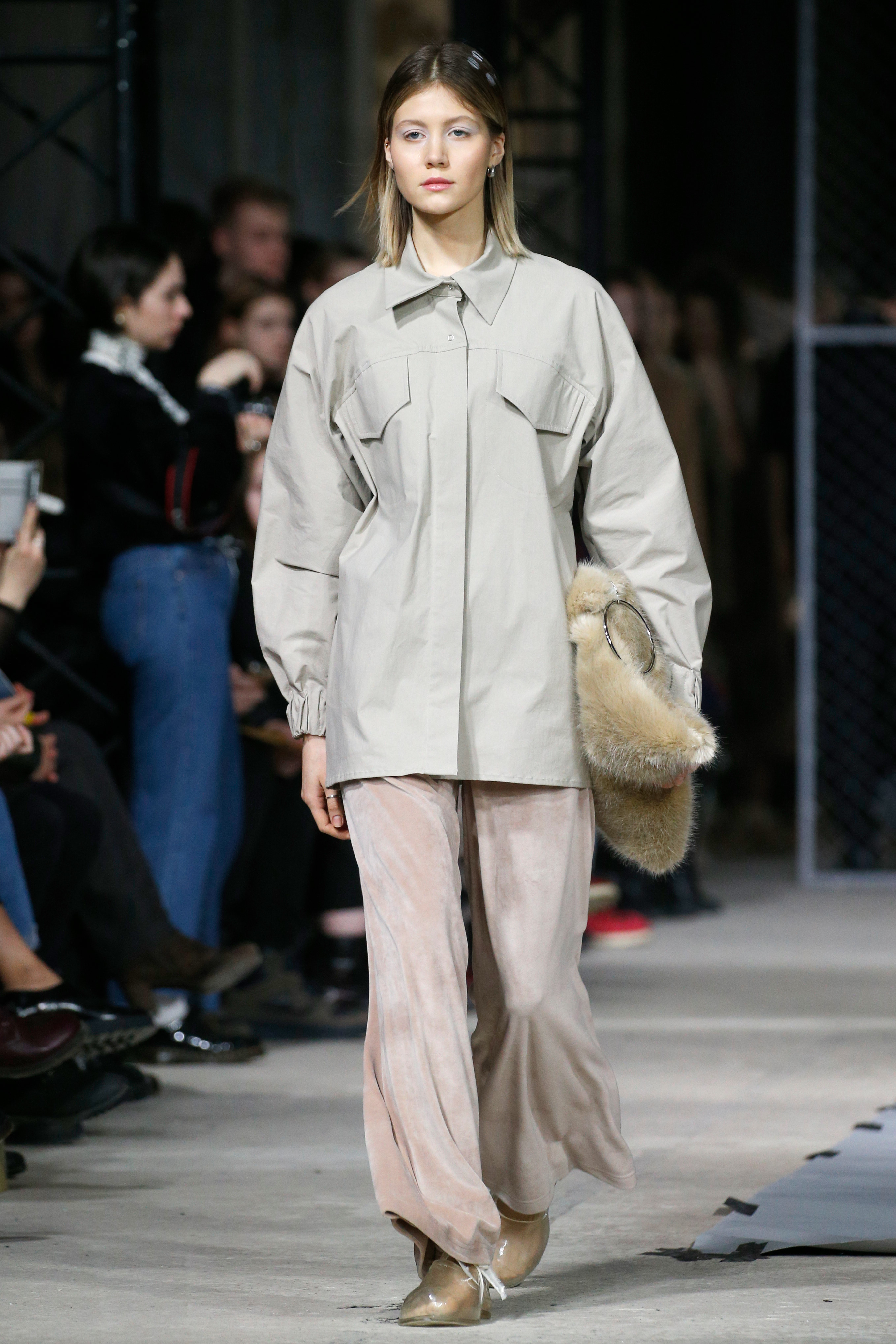 Otocyon
While maintaining a very neutral palette throughout, the team behind Otocyon fully embraced femininity with their newest collection, utilizing soft velvets, faux furs, and monochromatic prints. A brand that prides itself in "women for women," Otocyon started its show with an artist painting white paint on a canvas laid on the runway. In a time when gimmicky performances are taking over runways across the world, this is one of the few shows where the addition truly made sense, and didn't take from showcasing the undeniably minimal clothing. Otocyon also easily had the best beauty and hair combo of the entire week, the perfect compliment to a fresh, cohesive collection.
Fakoshima Eyewear
Quintessential cool kid brand, Fakoshima Eyewear, managed to showcase an exciting collection without conforming to the larger-than-life trend of tiny shades. Founded in Moscow in 2012 by Konstantin Shilyaev, Fakoshima has already seen international success. The first collection has been used by Anna Dello Russo in her editorials, and is carried by mega-retailers like Net-A-Porter. Utilizing transparent and mirrored frames, Fakoshima did not shy away from eye-catching colors and shapes for its unisex glasses. The edgy, cyber-punk accessories could easily outfit the cast of whatever 2018's equivalent to The Fifth Element is.
Tagged: