see the me too movement spreading globally in real time
Google has created Me Too Rising, an interactive visualisation of the movement worldwide.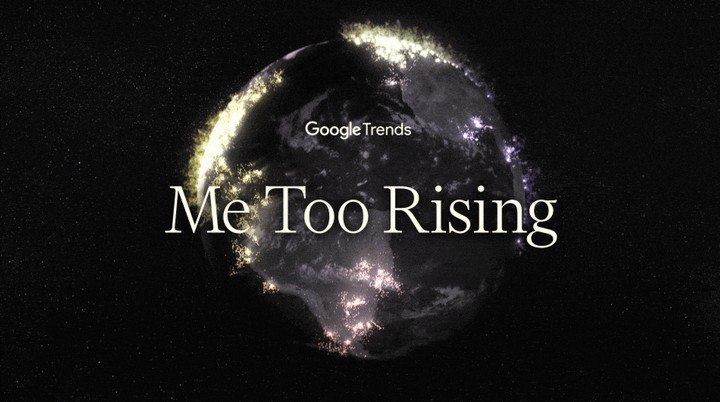 Something in society fundamentally shifted when the #MeToo movement took hold last year. Women the world over shared many and varied experiences of sexual harassment and abuse, they listened to each other and collectively demanded the world finally take note. It has changed the way we think about gender and power, our understanding of the insidious ways misogyny works and how deep it goes. The movement is everywhere, because these experiences women have had to endure for so long are sadly universal.
For Sexual Assault Awareness Month, using data drawn from Google Trends, the company has created an interactive map of the #MeToo movement as it's spread across the internet, starting back in October of last year when the New York Times and The New Yorker broke the story of allegations against Harvey Weinstein, for which they've been awarded Pulitzer Prizes. The Me Too Rising map lets you move around the globe to see what has been and is being said about the movement in the places that it's getting the most traction. #MeToo is trending in cities around the world -- from Benin City, Nigeria to Yokohama in Japan and Jyväskylä in Finland. It gives interesting insight into the way people are discussing #MeToo in different countries. Google's Public Policy and Government Relations Senior Counsel, Malika Saada Saar says, "This is not only a significant moment in history; it's a significant moment in internet history: Me Too marks a time when sexual assault survivors everywhere turned the internet into a platform for their voices and perspectives to be heard and respected."

Google explains, "This data represents global trends of people searching for the movement from the top 300 searching cities every day. (The cities most searching for "MeToo" are cities with the highest proportion of search interest in "MeToo", relative to all searches made in the city in the given time period -- October 1 2017 -- the present day)." Google has also provided resources for those who have suffered sexual assault.
The #MeToo movement was founded over a decade ago by Tarana Burke, senior Director of Girls for Gender Equity, who has been fighting tirelessly in support of victims of sexual violence for many years. It took off online when actress Alyssa Milano tweeted: "If all the women who have been sexually harassed or assaulted wrote 'Me too' as a status, we might give people a sense of the magnitude of the problem."
Now we have a sense of the magnitude, next we need real change -- from pay equality to stronger sexual harassment laws and major improvements in the way rape victims are supported.
This article originally appeared on i-D UK.