australian model otis giovanni is 18, unsigned and in demand
Meet the Australian model taking on the world and having the time of his life.
Otis Giovanni was born in Brisbane but spends most of his time these days on the polar opposite side of the globe. Coming from a French/Australian family, Otis feels at home in Paris where he's shot with Juergen Teller and been cast in shows by Alexander Wang and Hood By Air, to name a few. His Instagram page is evidence enough that there's something special about this kid, who's living large with his friends and family around the world. We caught up with Otis before he returned to Paris and asked him some burning questions about life and the future.
First up, how did you get into modelling?
When I was around 15 years old I began to try to take nice quality photos. I didn't mind being behind or in front of the camera and I would often meet up with friends after school or on weekends just to take pics. Kids from my school used to laugh at me for taking photography up as a hobby but I then started to get some attention from the photos and found myself receiving free shit and getting asked to shoot for money, so I thought might as well see where this can go.
You've recently spent time in Paris working with Juergen Teller for the Alexander Wang x Adidas originals campaign. How did that come about?
This was a really exciting time in my life. I was chilling at a friend's house in Brisbane and was checking through my emails when I saw that a casting director had contacted me to ask for Polaroids and my availability for an Alexander Wang X Adidas campaign. I was so shocked, I never expected to receive a job like this so early into modelling. It was a huge confidence booster and I feel very lucky to have been a part of something so cool. Juergen Teller is definitely one of my favourite photographers to work with, he has such a relaxed and positive personality. I instantly felt comfortable when meeting him, which allowed me to work better. It was my first time in London and lots of people showed me love. I can't wait to go back.
Can you tell us about any other exciting projects you have worked on here or overseas?
The project I've enjoyed the most was modelling for Hood By Air's last ever campaign with my younger brother Benson. I enjoyed this shoot so much because a lot of my close friends in Paris were also models, and the fact that I got to be in lots of awesome magazines with my own little bro is the coolest thing ever. I'm very appreciative to have been cast for something like this. Imagine pulling up to a shoot and all the people that you hang with are there!
That actually sounds perfect. What are you most excited about right now.
I think the most exciting thing for me would have to be the spontaneity, you never know what your next job is gonna be. It's also very interesting because you get to meet likeminded people along the way and lots of interesting characters who I draw inspiration from. It's all so surreal - through work I've been able to meet a lot of people that I've liked since childhood.
Given that you've worked in Australia and Paris, how would you compare the youth culture and attitude of the cities?
Both countries definitely have their positives but France is my preference because fashion there is more established and the culture is much bigger. There is a lot of potential here in Australia though - I've met a lot of creative people who have something new to offer the fashion scene. The attitude of youth in Paris is very laid back, people are very experimental and open minded which is what I like. I also don't really get judged for my appearance over there, which gives me more confidence in day to day living. In Australia it's a little bit different and I tend to get lots of unusual stares on the street, which doesn't concern me too much but still. The thing I really enjoy about youth culture in Australia is that everyone is very supportive of one another. It's nice to see a community of people working together and collaborating.
Who are you influenced or inspired by?
Inspiration for me comes from a lot of things, it doesn't necessarily have to be people. It could come from a techno rave or even just an interesting infrastructure. I enjoy people who are authentic and unique - it doesn't matter if you have 400 followers, if I can see something interesting in you I'll take it. My main inspirations come from my friends who live in Paris, Kiev and Aarhus. They all have such interesting and unpredictable personalities, which is quite intriguing to me. Music is also a very big part of my life and a lot of my ideas are formed while listening to music. My favourite artists are Bladee, Ecco2k and Cortex.
What else are you interested in achieving in 2018?
I'm interested in creating and maintaining stability for myself - things like being disciplined and keeping on top of my finances. 2018 is a year for self improvement and productivity, so I really just want to be the best in whatever in endeavours I pursue. I'm still quite young so it's only natural that I will make mistakes, what's important is that I learn from them. I think this year is all about gaining knowledge and being open minded to different ways of thinking. I have some cool projects that I've been discussing with friends that are coming soon. Once I get back to Europe, I'll be able to put them into action which I'm very excited for.
I just want to see smiles on my friends faces everyday and I want all the people I love to be happy and full of joy because the people I care about really all deserve the best.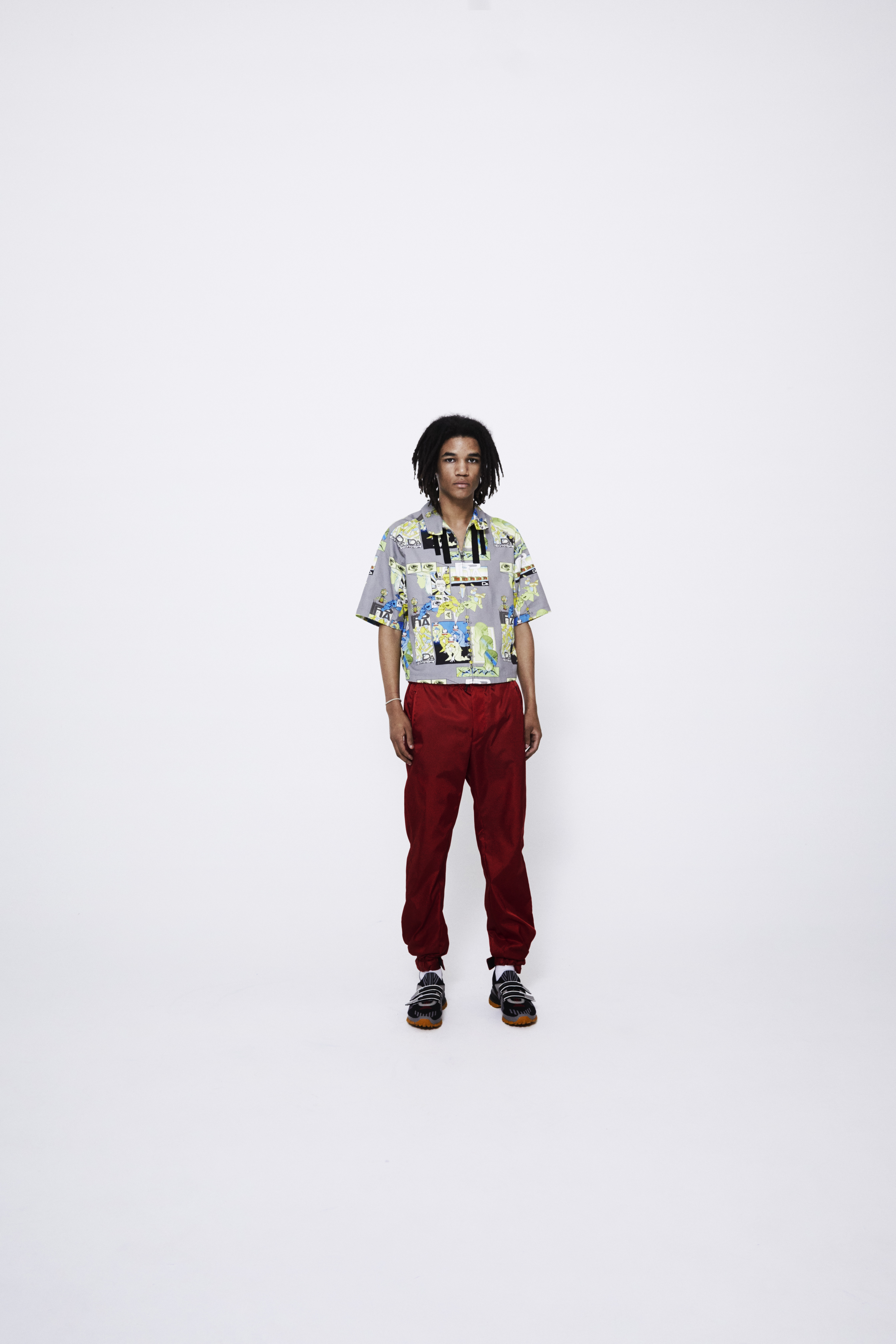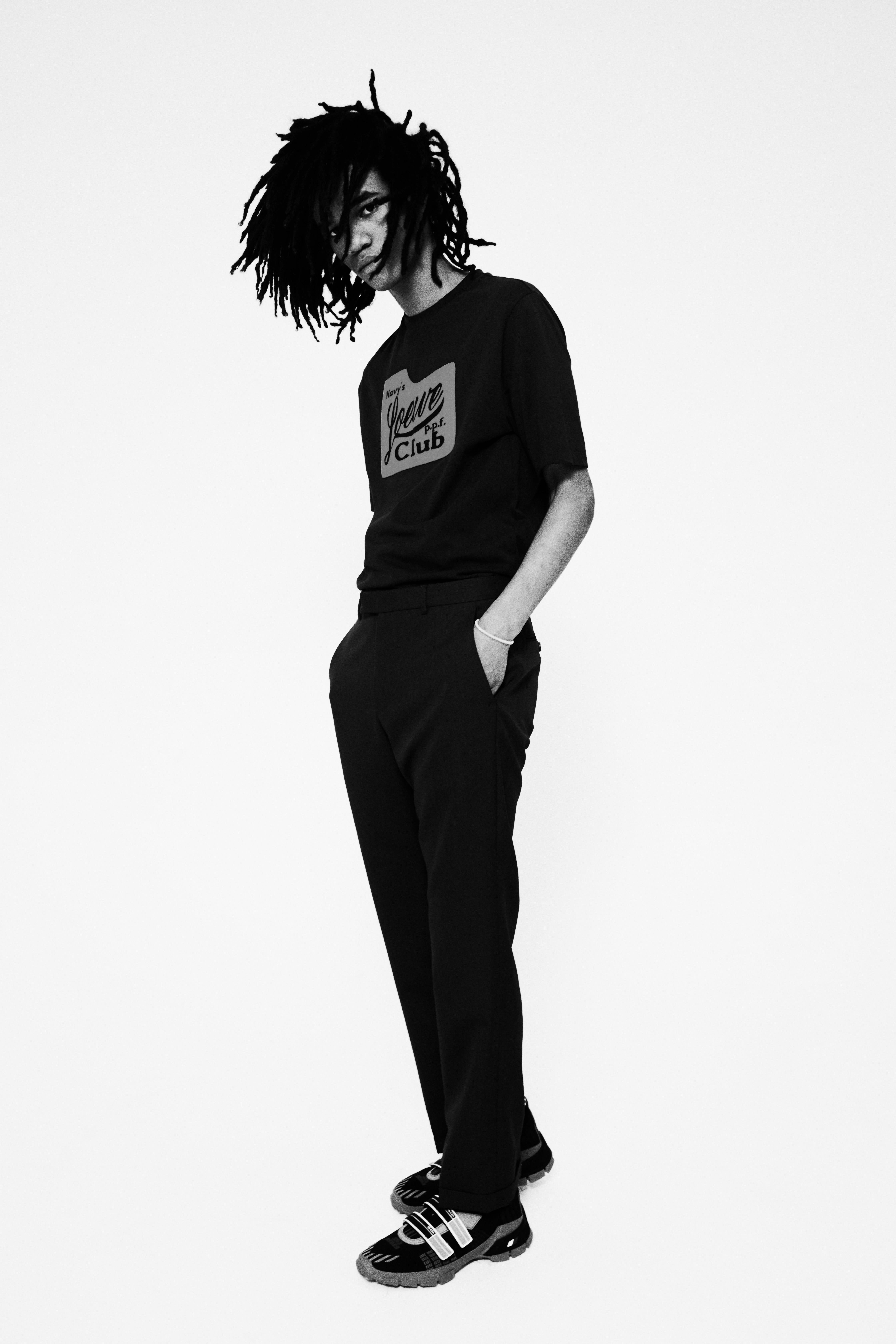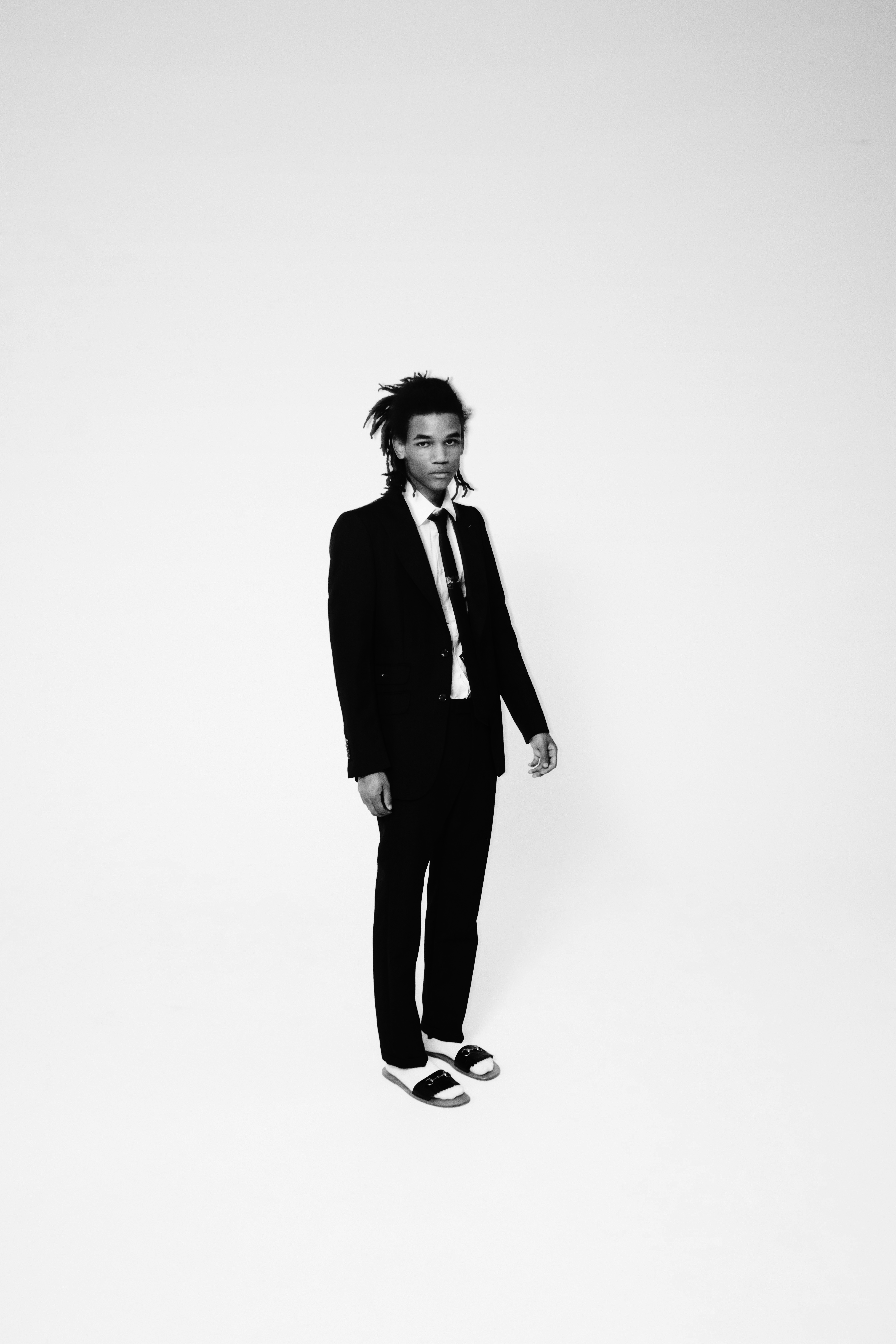 Credits
---
Photographer Bart Celestino
Stylist Charlotte Agnew
Hair Cain Ireland
Make-up Claire Thomson @ Company 1
Model Otis Giovanni @yslotis
Stylists assistant Vicki Liang
Shot at Sunstudios