the most hilarious, offensive catholic pop performances
In honor of the upcoming Met Gala, we ask "Why do pop stars love to dress up as nuns so much?"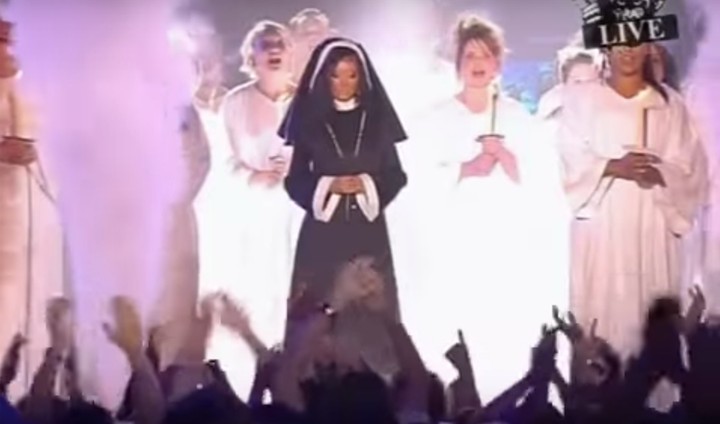 Screenshot via Youtube
We have Madonna to thank for the religious-controversy-in-pop template. The reinvented one has regularly served us Catholic realness since her debut, most infamously in "Like A Prayer," the video that saw her writhing with Black Jesus against a backdrop of burning crosses and a stigmata scene, and was condemned by the Vatican. Her greatest hits is called The Immaculate Collection, her daughter is called Lourdes, and in 2006 she mock-crucified herself on her Confessions tour stop in Rome, and invited the Pope to come see. "I dedicate this song to the Pope, because I'm a child of God," she said before singing "Like A Prayer" in 2008. Truly, no woman has done more to upset God since Mary Magdalene. No wonder she converted to Kabbalism.

Here, we present four of our favorite Catholic pop star moments. Madonna's desecration of marriage, Christina Aguilera's choral blasphemy, Gaga's original sin, and, errm, Nicki Minaj's exorcism. Noticeable absent from the list is Katy Perry, but she's never incorporated Catholic motifs into her shows — not to be outdone, she just killed a nun. "Katy Perry, please stop," were allegedly the nun's last words before she collapsed and died in court. Never have truer words been said.
Christina Aguilera at the MTV EMA's 2003 "Dirrty" was Christina's unholy paean to chaps, dubious extensions and being really bad, so it seemed perfect that for this performance she'd begin with an angelic children's choir sing the chorus, holding candles in white robes. Suddenly, out of nowhere (actually the floor), Christina appears, dressed as a nun and wearing an unholy amount of makeup and more tan than anyone has since been at an awards show. Christina descends the runway accompanied by her similarly religious friends, before, shock horror, she strips, revealing a truly foul ensemble of leather chaps and a horrible beige colored, ruffled bodysuit. Her head is a mass of matted dreads, which she tosses in a self-satisfied manner, not even bothering to mime to the song. This performance is true sacrilege, and obviously our favorite Christina moment of all time. We await her comeback like the angelic choir-people who gave their lives for her on the stage this evening.
Nicki Minaj at the 2012 Grammys.
This performance of "Roman Holiday" was so good that it actually prompted the President of the Catholic League, Bill Donohue, to ask if Nicki was possessed. The theatrics started on the red carpet, where she turned up in a red robe with a man dressed as the Pope as her date. On stage, we see her giving confession (or not), before being surrounded by dancing bishops intent on exorcising her Cockney-accented alter ego, Roman Zolanski. It's absolutely as insane as it sounds, and marks a high-point (or the lowest point, however you want to look at it) in Nicki's conceptual era. The performance ends with a demonic choir launching into "Come All Ye Faithful," Nicki being exorcised while flames swirl around her, and then she rises to heaven. It's in gloriously bad taste and will leave you quite confused.
Madonna at the MTV Awards 1984.
This list wouldn't even exist without Madonna Louise Ciccone, the first popstar to conflate Catholicism and sexuality, creating the heady template for all who followed her. This rendition of "Like A Virgin" sees her make a mockery of the holiest of vows, that between man and wife. Dressed in her now iconic lingerie/wedding dress mashup up, she descends from an enormous wedding cake to roll around the floor. People at the time were shocked and told her long term publicist Liz Rosenburg that her career was over, but obviously nothing could be further from the truth, as the performance launched Madonna into mega-stardom. She in fact didn't intend for it to be quite so outré — as she descended the 17 foot wedding cake, one of her white stilettos dropped off. "And, as I reached for the shoe, the dress went up. And the underpants were showing," she later said. We thank God for high heels once again.
Lady Gaga on X Factor 2011
Gaga, child of Madonna, in fact doesn't even emerge from the confession box until over one minute into this performance, that's how Catholic she is. When she does, she's wearing an enormous black lace shroud, being cradled by a headless corpse in a diamond necklace. She stands stock still in the middle of the stage while her overly muscled dancers vigorously do their thing around her, the spotlight filtered through a crucifix punctured by a heart. She then disappears back into her confession box to change into one of her customary body suits, emerging to do a lot of the leg pointing that became her trademark dance move. Peak GaGa.