you need to listen to morgan saint
She looks like she's stepped out of a Balenciaga campaign. She sounds like the soundtrack to your love life. She tells us how to get over a broken heart.
Morgan Saint can pull off a mullet. She can also pull off a giant orange jumpsuit and, more importantly, a debut EP that you remember. The concept EP, 17 Hero, could serve as a soundtrack to your cyclical love life: YOU is you, looking for love in all the wrong places. Just Friends occupies that grey area between fucking and fully committing. Glass House is the breaking point, a lament of loss and longing, while For God's Sake is the aftermath. For a song about broken hearts, it's in the same contradictorily uplifting vein as Robyn's Dancing on My Own: we're crushed and confused, but still cutting shapes in the corner of the party. New Regime sees Saint reconciling loneliness with proud independence, because despite what rom-coms have you believing, they're not mutually exclusive. And so the cycle starts again.
Morgan grew up in Long Island, a town a few hours east of New York. "I went to a small high school that lacked diversity," she explains. "I remember feeling like an alien." She channeled her isolation into hours behind the piano, turning melancholy into music. On graduation, she made tracks to the outsider's paradise down the road -- New York City baby -- where she wrote music while studying illustration, graphic design and photography at Parsons. Forget triple threat, she's in the quadruples.
This explains why her work is so visually arresting. Her press shots look like a Balenciaga campaign. The music video for YOU is all close ups and disjointed angles of bare skin and delicate fingertips. She doesn't really dance, per se, it's more graceful, considered movements cloaked in oversized powersuits and body stockings. On paper sounds a bit scattered, in practice it's the opposite -- a cohesive video that syncs well with her sound. Her sound: a hypnotically smooth voice gliding over minimalist beats and synths.
For Morgan, it's not just about the music. It's the visuals, the fashion, the feeling, the everything. "I have never felt the need to box myself in as a strictly musical artist. I am an artist. I am Morgan Saint." That she is.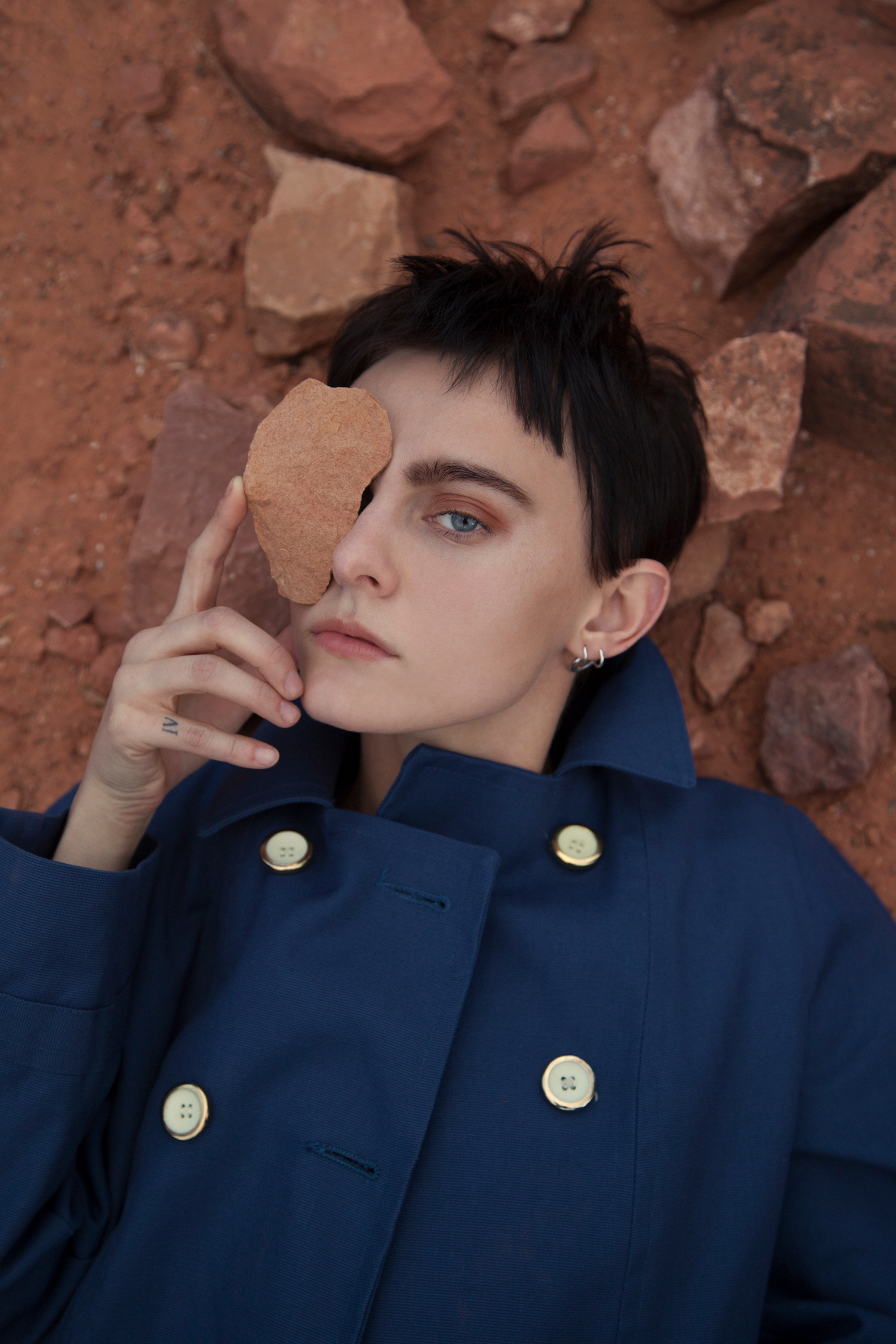 What's your earliest music memory?
Music was a part of my life as soon as my brain was able to comprehend sound.
How do you want your music to make people feel?
Alive.
If you could work with anyone, who would it be?
Ahh there are so many people whose work I admire and who I'd would love to collide thoughts and ideas with. I think it would be too difficult to pick just one!
Who do you want to design your tour outfits?
I want to design my tour outfits! I am actually currently designing some one of a kind pieces with my friend. I don't sew very well, so I sort of imagine up ideas and he helps me make them into something tangible. I know exactly what I like, and the only way I feel like I can really find that is to just figure out a way to get what I have in my mind made. Collaboration is key.
What does a Morgan Saint gig look and feel like?
Like a loving and inclusive safe space for people to be themselves. I want to take people away from reality and into my world for an hour. It looks and feels warm and honest. It hopefully makes people think and question everything.
Do you believe in horoscopes?
I totally believe in horoscopes. I am an Aries. I am hyper-focused and driven, and definitely an over-achiever (perhaps to a fault sometimes.) Aries are known for being passionate leaders, and I can definitely relate to that. Aries are known to sometimes channel their intensity into aggression, and that is not something that matches up to my personality. I am very intense, but I am also very gentle and can be shy at times. It is really cool to look up your exact birth chart. It's scary how accurate that shit is!
What's in store for 2018?
My only real goal is to continue to make work that is honest and thought provoking.
What's your favourite YouTube video?
So hard to pick just one, but here's one of my longtime favourites. I probably watched this video about a thousand times while learning to play the guitar.
How do you get over a broken heart?
I'm not even sure. Perhaps forcing yourself to get up every day and do something productive for yourself until your heart eventually doesn't feel so empty anymore? That's what has helped me at least. I think it just takes time.