central saint martins threw the ultimate school disco for fashion week
The institution's unorthodox fashion presentation was a revival of the spirit of Soho's legendary Limelight club.
|
26 February 2018, 10:13am
Photography Asia Werbel
Central Saint Martins' Granary Building. Fourth floor. The MA Fashion workroom. Designer Edwin Mohney is on all-fours trying to fit an inflatable paddling pool back into its box. It's the final morning of London Fashion Week, and a few days prior, 19 members of the MA Class of 2018 presented their collections to the press, marching everything from a technicoloured mirror jumpsuit to an indeterminable giant buttplug-slash-dummy-slash-condom down the catwalk.
But this morning, there's a few loose stitches to fix and a slightly odious smell of beer in the air. After that group of graduates presented their garments to the press, they joined their peers at Soho's Welsh Chapel to stage an unorthodox celebration of the entire year's work. In honour of their talents, CSM's MA fashion team had transformed the sacred former nightclub into the fashionable disco it used to be; a space to flaunt their collections once more.
In the mid-80s, you could wander into The Welsh Chapel -- formerly known as the Limelight -- and see club kids Boy George or Leigh Bowery on the dancefloor. Since then, Soho has transformed. What was once a breeding ground for performance art crowds is now a hotbed of Caffè Nero and Pret A Manger; creators, clubbers and designers priced out of a space they played a pivotal part in forming.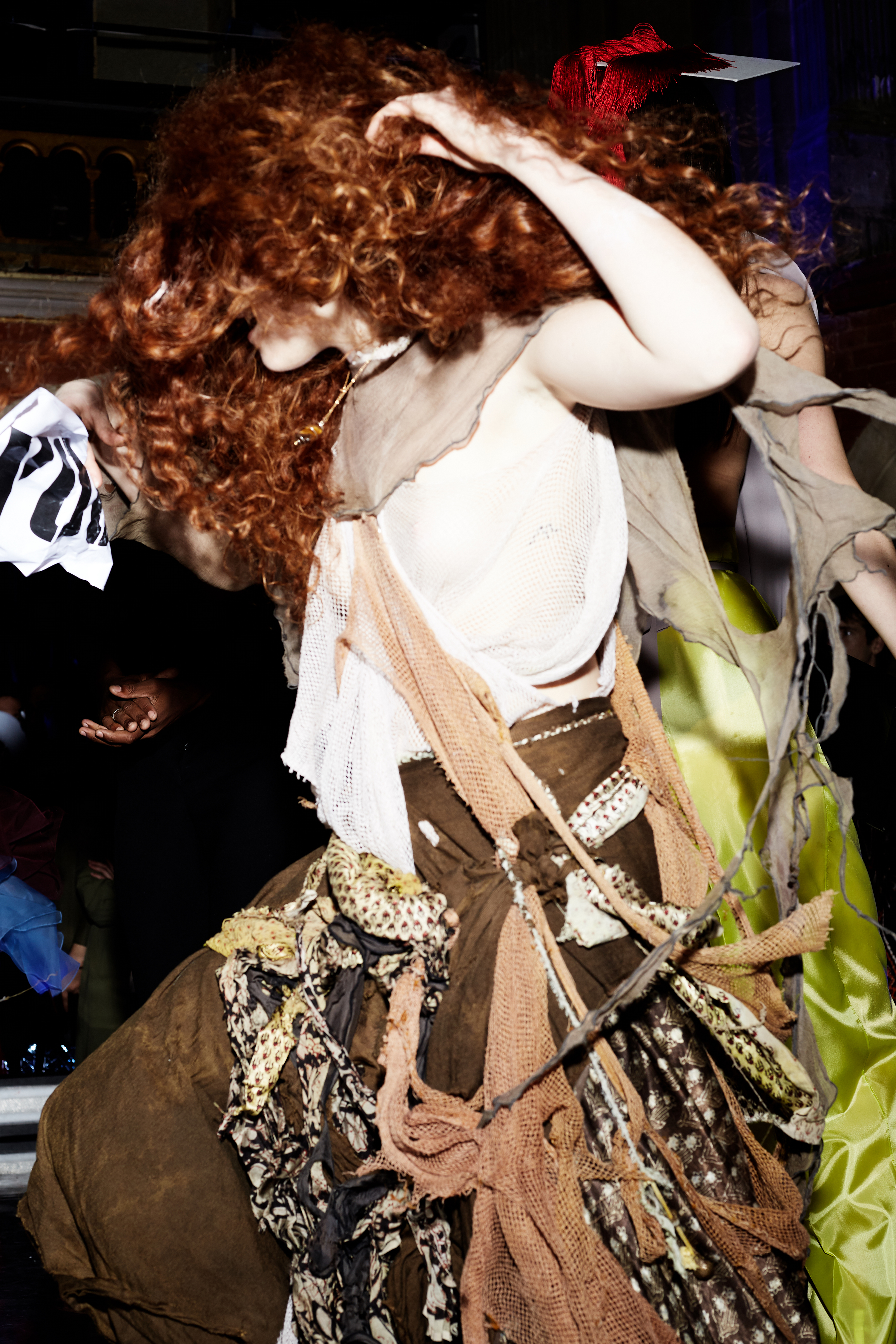 But with the help of the MA Fashion course director Fabio Piras, that dangerous and proud creative spirit was restored to the venue. The chapel lights were dimmed, DJ decks wheeled in and a mirrored dance floor was erected in its centre. For a weekend, it almost became the Limelight again, and this year's most exciting fashion graduates were its beguiling centerpiece.
The event, taking place over two days and split into five 90 minute showcases, saw 46 designers graduating from the Menswear, Womenswear, Knitwear and Fashion Textiles strands have their starmaking moment. Away from the formal constraints of time and room to move on the catwalk, models disguised as clubgoers donned the year's work. They were free to loosen up and dance for as long as they could, thanks to DJ sets from figures like queer club staple Larry B and fashion's it-boy of the moment Matty Bovan. With their musical lure on the setlist, the afternoon slots transformed the space into a throbbing Italo disco.
Taking the reins from the student themselves, who were working to the bone to wrap up their collections in time for their deadlines, Fabio enlisted set designer Simon Vincenzi to re-create the legendary spirit of the Limelight, with curator Alistair O'Neill lending a hand too.
Each model held a number that corresponded to an item in an auction-style catalogue created by zine queen Reba Maybury, meaning the collections could intertwine throughout each show, occupying whatever space felt most natural. Fabio found it fascinating, he tells me, to see "an inflatable paddling pool and a very classic coat next to each other".
"It was all about creating that situation, an absurd club," he adds. "Everybody could come in, look at the clothes and have a dance too!"
The group were keen to challenge the format of the catwalk, and create a more inclusive presentation of the year's work. "Everyone really deserved a place together," Edwin stresses, sitting in a semi-circle of constantly shifting students, half weighing in on the conversation while running off momentarily to attend to their collections.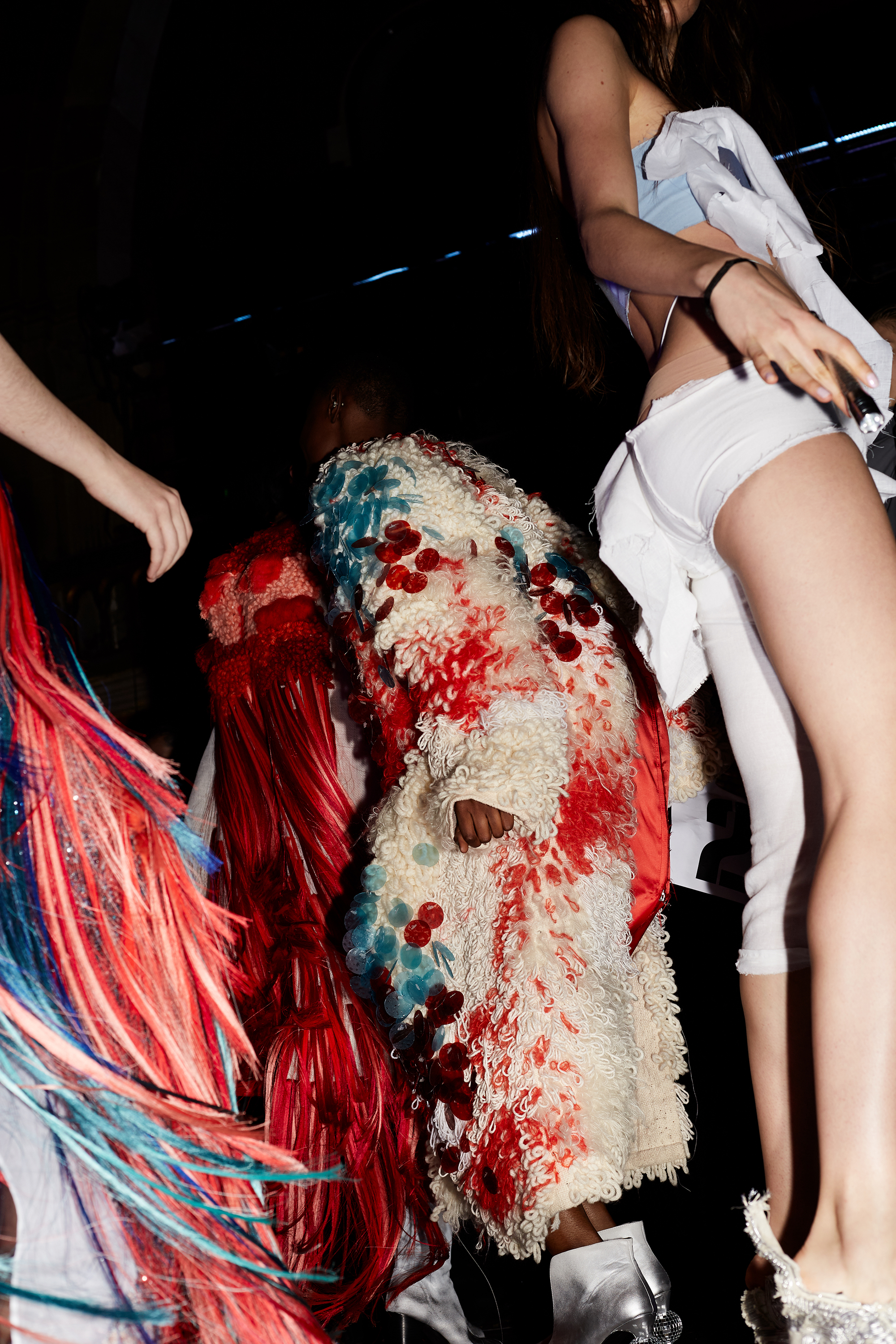 "It's been an incredibly strong year group. I could feel that, even from first year, " Rebecca Jeffs adds. Her MA work, which delved into the construction of feminine ideals and the way we impart gender onto inanimate objects, won her one of L'Oreal's Professional Creative Awards after the catwalk show. Plus, there was the added pressure of there being so many of them graduating in 2018. "We always knew that there were going to be loads [of student's work] that wouldn't get shown, so we had to make sure that they got to shine, too."
At CSM, which carries a reputation for birthing fashion icons like Galliano, Philo and McQueen, there's an expectation for its students to lead the cultural conversation and toy with new ideas. But for them to pioneer this somewhat challenging presentation format, the collections themselves needed to be some of the most provocative and inspired work the school's students had produced. I ask the group if there's any trait that ties them together; Liam Johnson offers one: "Everybody here is just really, really intense!"
Fabio has the more logical answer. "Last year, there was an enormous amount of applicants and we got a bit greedy," he admits. "We took on a lot of students, and so the editing of the show had to be harsh. It wasn't a case of anybody's collections being unfinished or not up to scratch. We just felt all of these students deserved another platform to show off their work."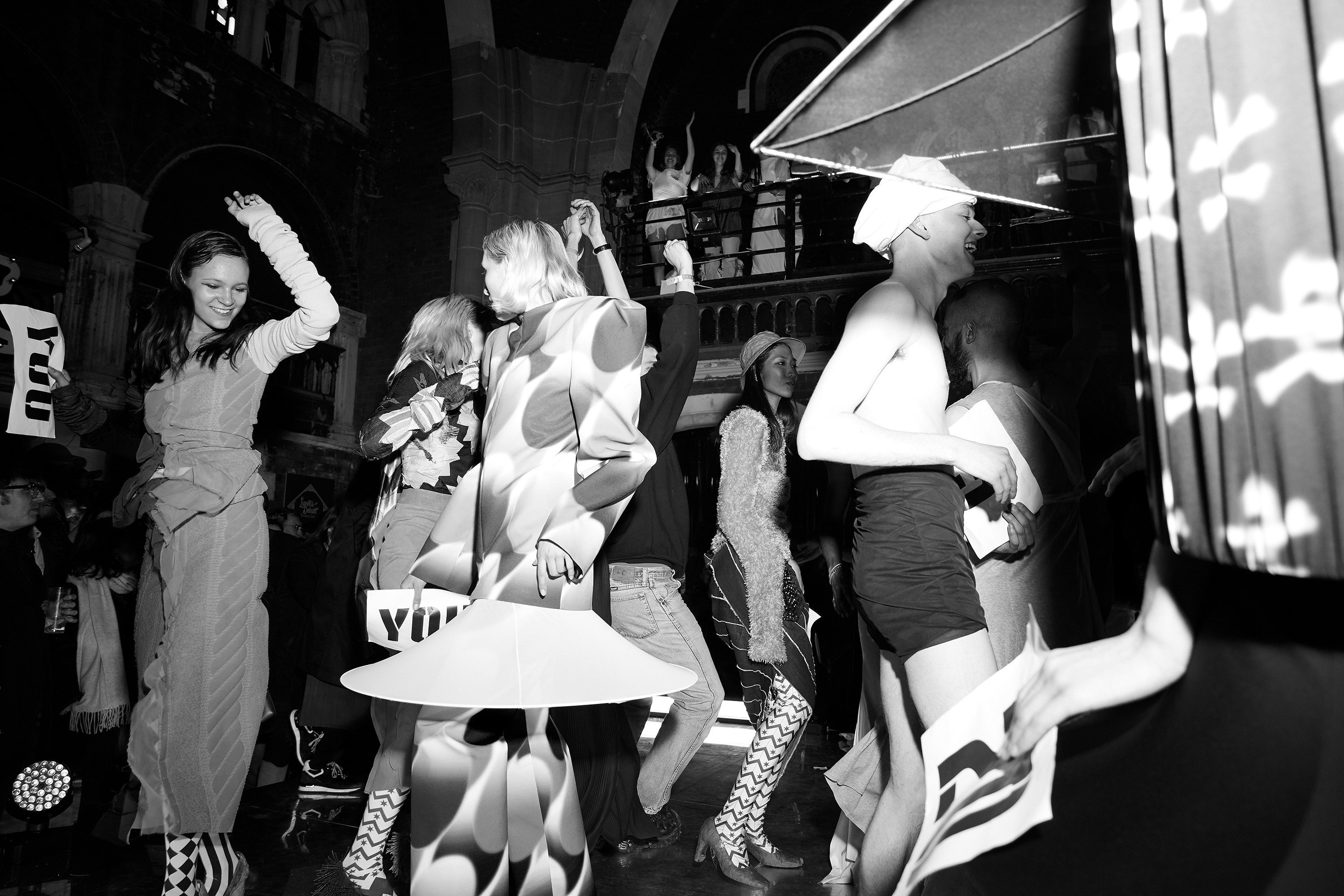 While presentations have a reputation for being stiff and lifeless, Fabio's concept considered the idea of what might happen when motion met these dramatic collections. With press and guests now given the opportunity to see the pieces up close, there simply wasn't room for last minute, temporary stitches.
The democratised aspect of Fabio's show allowed the students to jump in and offer helping hands and becoming models for their friends. "The diversity that we have within our student body -- of culture, age, ideas, inspirations -- all mixed together in a club environment … it felt like a social commentary," Mel Ashley, the school's Fashion Liaisons officer reminisces. "For once it wasn't formal, it felt interactive."
As the Saturday night drew to a close, the party animals pushed through. The designers left standing, fatigued by the pressure of getting their clothes out there in such a high octane setting, were finally allowed to lower their guard and have fun. "At that point, all of us were wearing our own stuff," James Nolan laughs, looking back on the evening he spent dressed in his angular, almost animal-print taffeta and calico creations. "You couldn't tell who were the models and who were the designers! It merged into one madness!"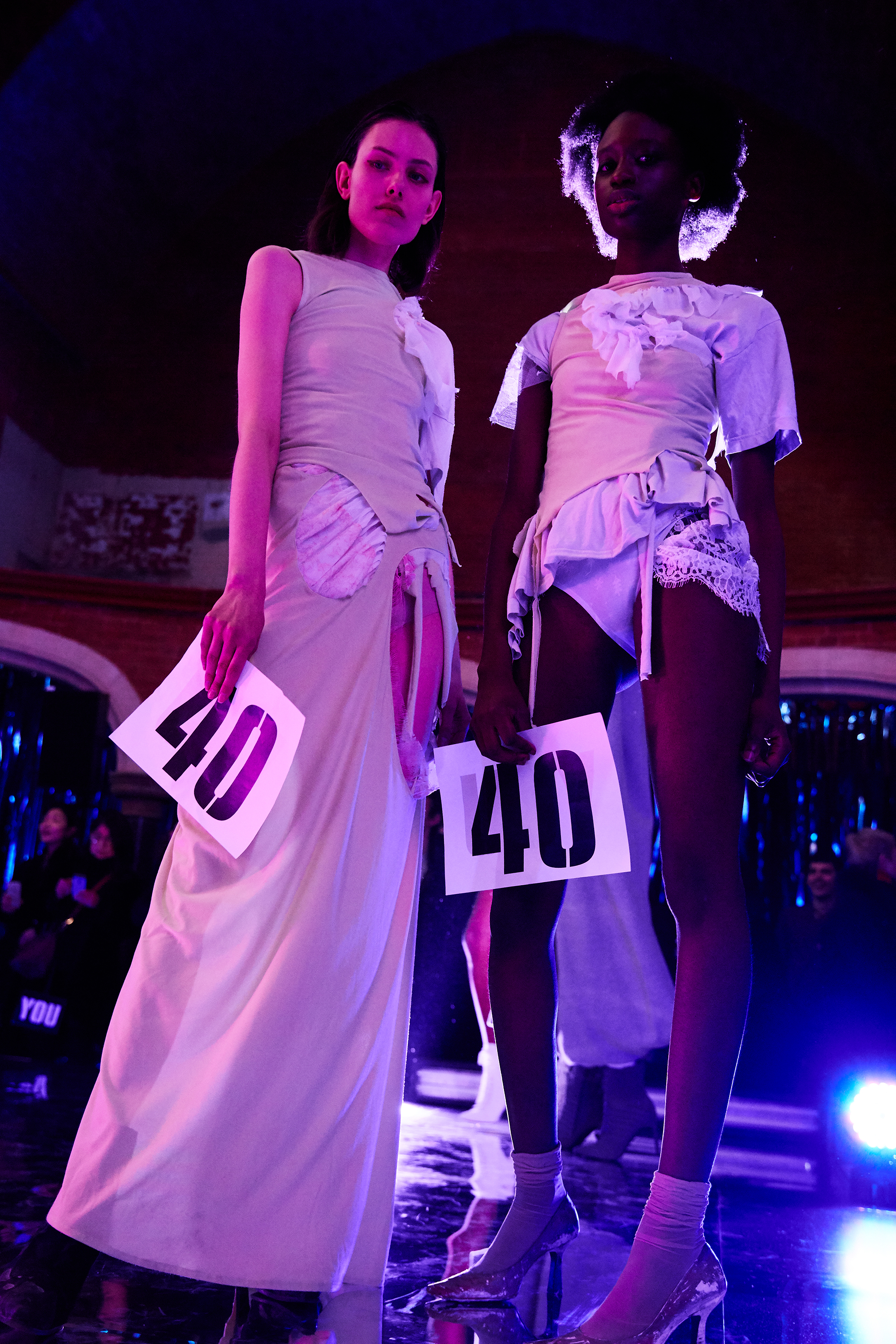 Back when London was a freer city, before the burden of gentrification had taken hold, it seemed like a much more exciting place to go out. While those fashion students who frequented the Limelight back in its heyday might have found inspiration in its campy, disco-ball beauty, today's graduates barely have the time -- or money -- to go clubbing. "We go to the pub!" Carmen Chan, one of the MA students laughs. "I guess we don't have much time to go out out anymore."
"It's cheaper to stay in the house and just, fuckin', get a crate of cans and get pissed up, instead of going out and spending a fiver on a drink!" Liam chimes in. "We have these parties at our own places where we just invite our friends over and get loose together."
The changing face of London as a city has shaped its new fashion generation in surprising ways. Instead of getting staler, their work seems invigorated by the environments they're forced to imagine rather than encounter face-on. Many, as this season showed us, tread the fine line between art and garment, like a loud and proud fuck-you to the looming demand for commerciality.
After months of creating these pieces, Fabio Piras' decision to bring his star pupils back to London's art and fashion heyday couldn't feel more appropriate. They say these things happen in 20 year cycles. Perhaps two decades down the line, a Central Saint Martins' fashion student will bring a new blow-up rubber creation to the Welsh Chapel dancefloor, and we'll remember, once again, this fateful moment that reignited it all.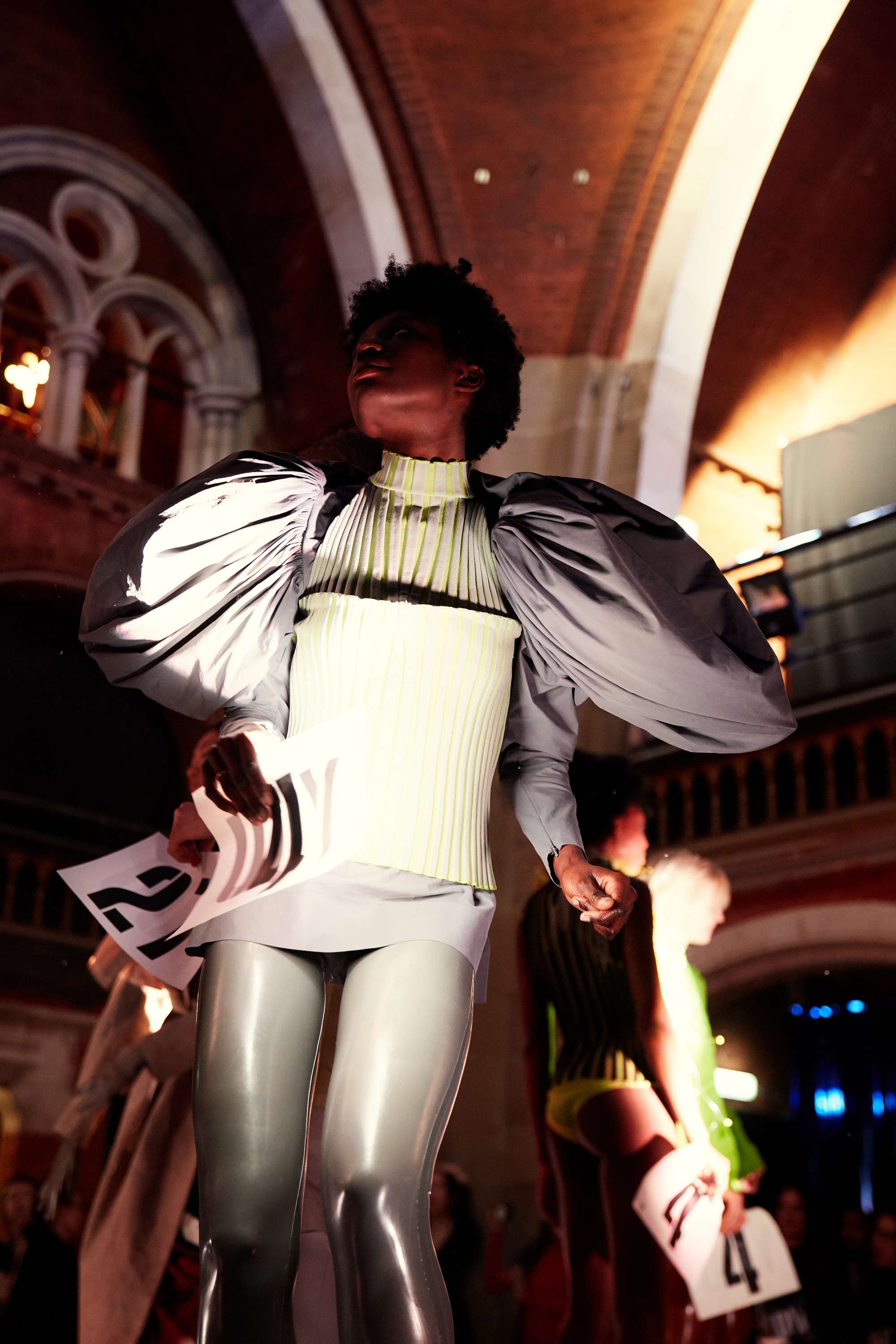 Credits
---
Photography Photography Asia Werbel
Hair by L'Oreal Professionnel
Make-up The London School Media Make up using Skyn Iceland
Music Julie Verhoeven, Jeffrey Hinton, Max Allen, Princess Julia, Larry B, Matty Bovan and Reba Maybury
With thanks to Black Cow Vodka, Lavazza and Lurvill's Delight.