9 otherworldly fashion items from the 'david bowie is' exhibit
We scoured the Brooklyn Museum for the Starman's most stunning stage looks, from that iconic Union Jack coat by Alexander McQueen to scrappy tees by the Deth Killers of Bushwick.
Over five years ago, UK-based curators Geoffrey Marsh and Victoria Broackes set out to create a museum retrospective of the inimitable David Bowie — an exhibition that highlighted his five-decade-long career in music, film, fashion, and beyond. Granted full access to his archives by the Starman himself, they created an impressive curated collection of sight and sound which came to be known as David Bowie Is.
David Bowie Is originated in Bowie's native London and is now on the 11th and final stop of its world tour: NYC, a city Bowie called home for over 20 years. An immersive environment is created through tour mood boards, hand-written lyrics, illustrated self-portraits, film footage, recorded live performance, and even the original character notes for Ziggy Stardust. The New York rendition of the exhibit also captures his time spent in The Empire State: Footage of Bowie on the set of Julian Schnabel's Basquiat is shown alongside a portrait John Lennon drew of Bowie while they were together in the studio. And of course, there are plenty of interstellar stage costumes by labels from Alexander McQueen to the Deth Killers of Bushwick. Here's i-D's subjective guide to the seven coolest fashion pieces in David Bowie Is.
Space Suit worn on Dick Clark's Salute to the Seventies , 1979
In 1979, as part of his Space Oddity performance on Dick Clark's Salute to the Seventies, David Bowie wore a Willie Brown-designed jumpsuit with Le Corbusier-inspired line drawings while in character as Major Tom.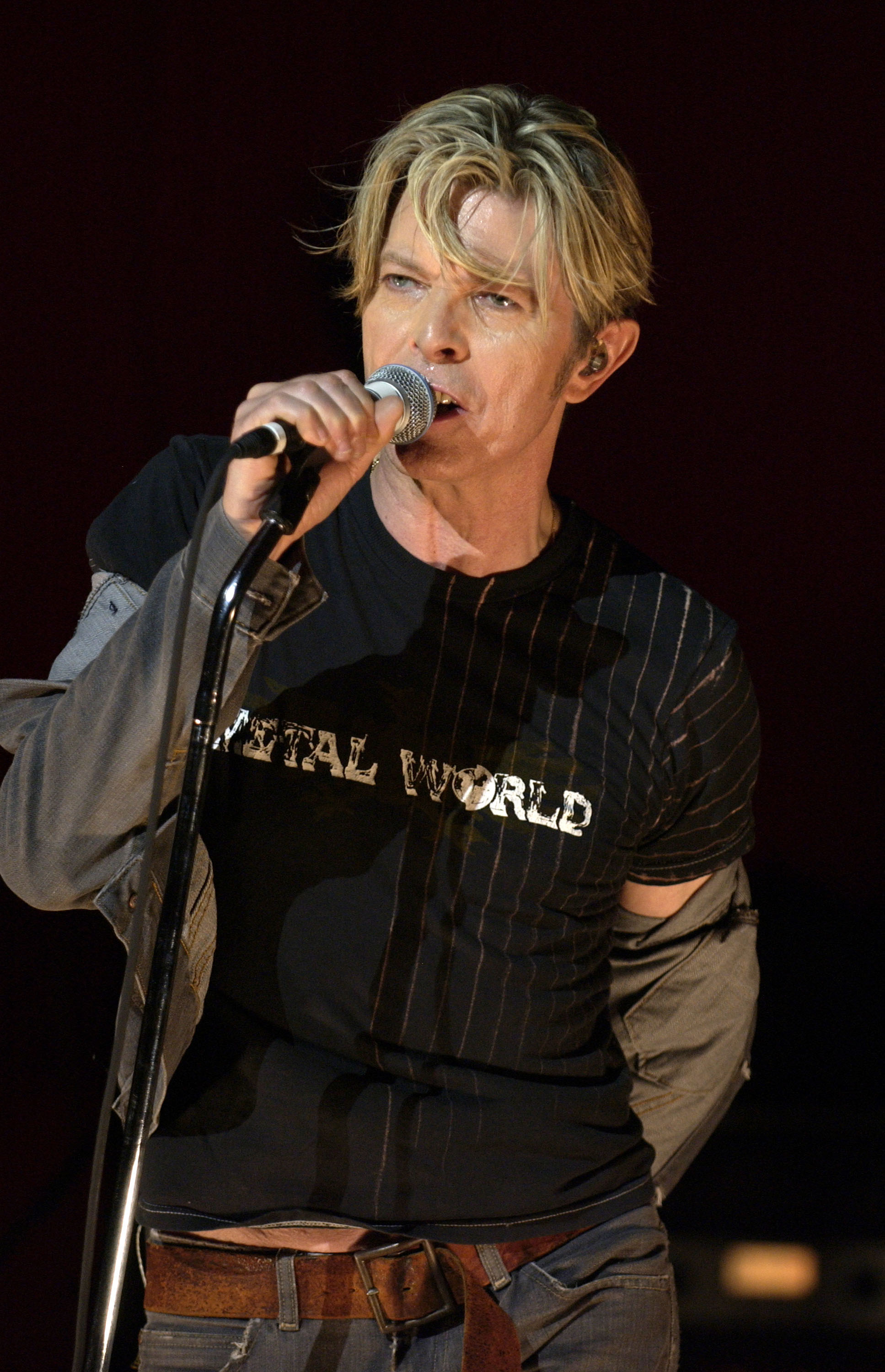 I.C.R. (Innercity Raiders) vs. Deth Killers of Bushwick wardrobe mood board for A Reality Tour, 2003
Bowie's wardrobe mood board for A Reality tour included a diverse array of influences – from elegant outlines to rougher street aesthetics. Scrappy t-shirts and a distressed tailcoat were crafted for Bowie by I.C.R. vs Deth Killers of Bushwick, a cult Brooklyn motorcycle brand.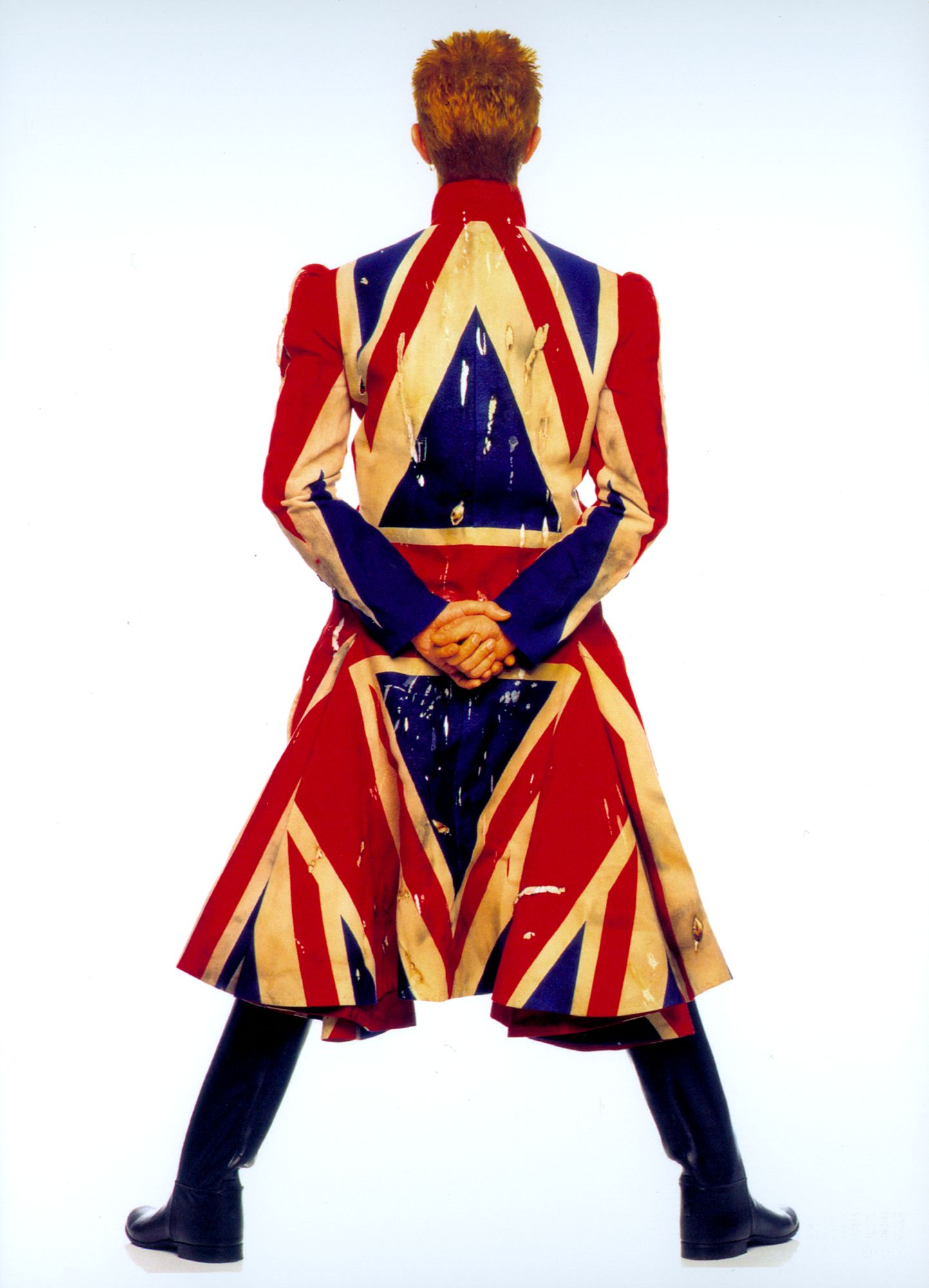 Union Jack coat designed by Alexander McQueen, commissioned by Bowie for his Earthling Tour, 1997
Bowie commissioned Alexander McQueen, then a recent graduate of London's Central Saint Martins College of Art and Design, to co-design a Union Jack coat for his 1997 Earthling tour. The piece was inspired by a similar jacket worn by The Who's Peter Townshend, and by Gavin Turk's painting Indoor Flag (1995)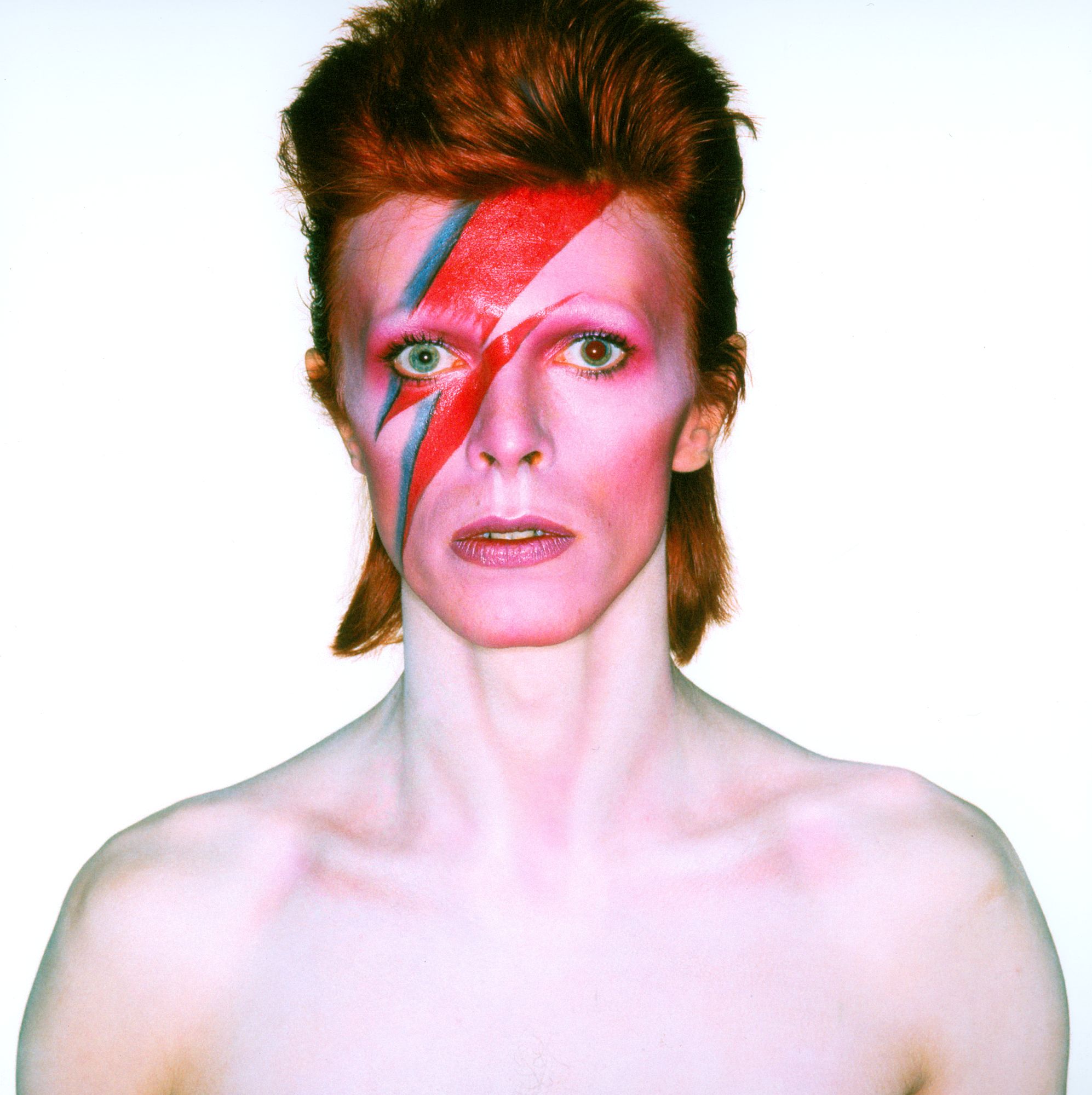 Original dye transfer print for Aladdin Sane album cover and Aladdin Sane session photographs, taken by Brian Duffy in 1973
Bowie's iconic lightning bolt, drawn by makeup artist Pierre La Roche, can be seen in these photos taken by Brian Duffy. The flash symbolized "a disturbed character touched by artistic genius." Although Bowie never performed in this makeup, he did wear it on a mask for the Diamond Dogs tour and had it displayed on multiple jackets and jumpsuits.
Bowie's "Tokyo Pop" bodysuit, custom designed by Kansai Yamamoto for the Aladdin Sane Tour
Greatly influenced by Japanese culture and performance art, such as Kabuki theater, Bowie described Yamamoto's designs as "everything I wanted... outrageous, provocative, and unbelievably hot to wear under the lights".
Brooks Van Horn costume house/Mark Ravitz skirt suit, miniature pipe, sketches, and toy poodle television, worn by Bowie on Saturday Night Live, 1979
The skirt suit and toy poodle was one of three outfits Bowie wore during his appearance on Saturday Night Live in 1979. This outfit was a sharp contrast to the simple and unambiguous masculinity that was found in some of Bowie's 1970s stage costumes, and exemplified Bowie's elaborate staging and blurring of gender norms.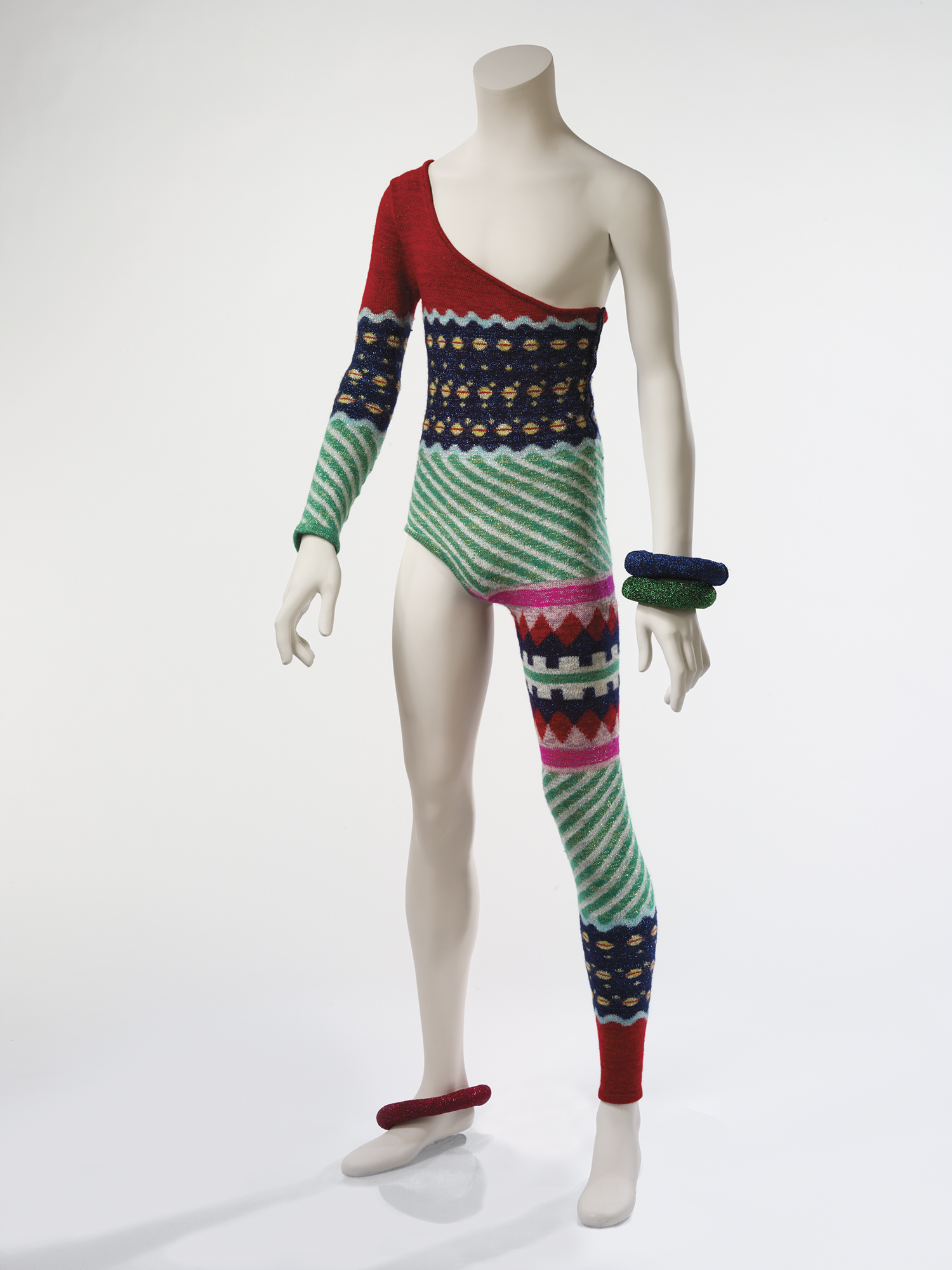 Asymmetric knitted bodysuit designed by Kansai Yamamoto 1973 for the Aladdin Sane Tour
Bowie, noted for costumes that defied gender expectations of the time, collaborated again with Kansai Yamamoto on the iconic asymmetrical leotard that was worn during the Aladdin Sane Tour.
Freddie Burretti Quilted Jumpsuit
In 1972, a young designer called Freddie Burretti made this quilted jumpsuit for Bowie's first appearance on the Top of the Pops. Burretti met Bowie at a gay nightclub in London, and the then-19-year-old is often credited as being Bowie's first designer.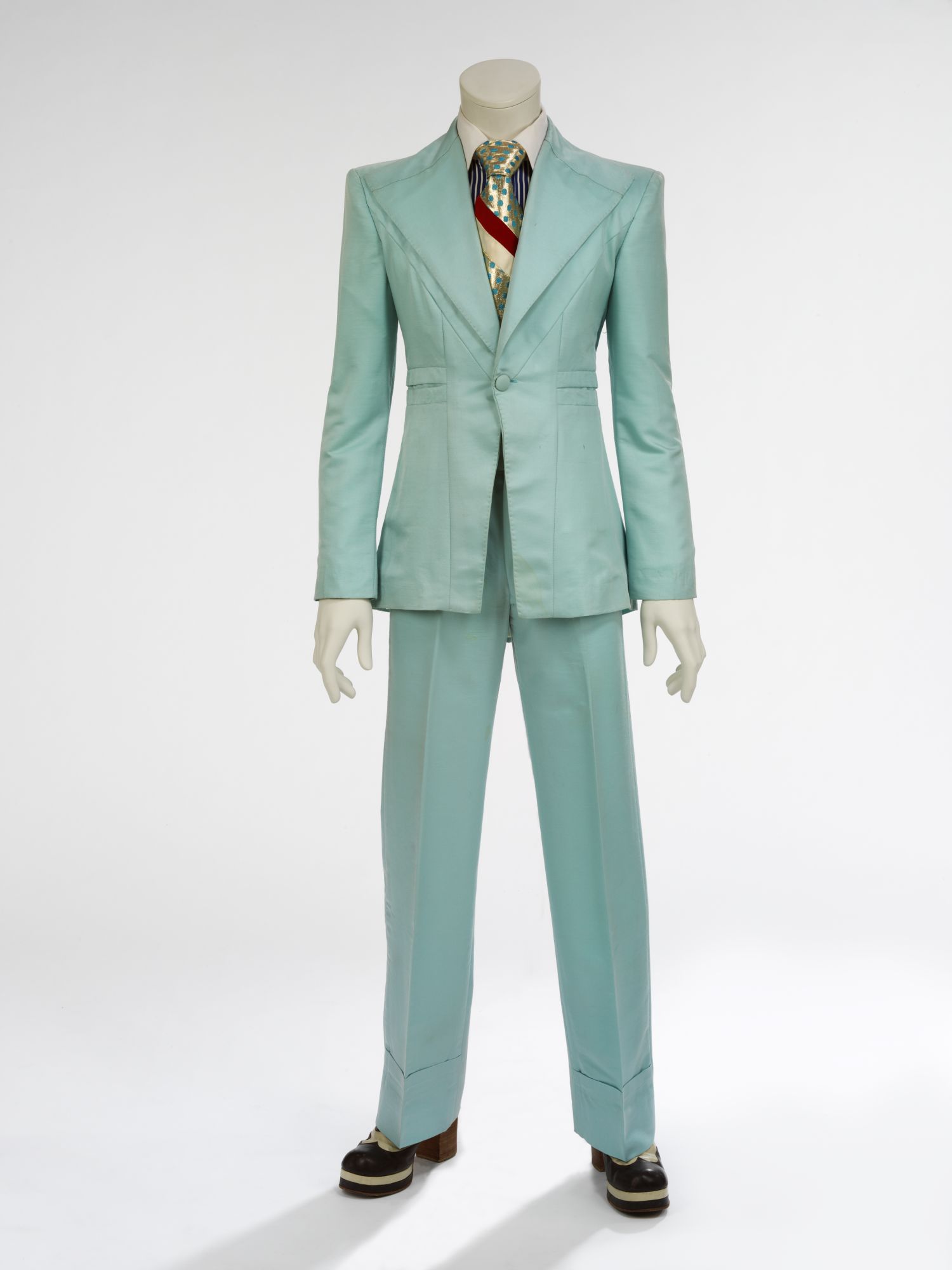 Freddie Burretti Ice-Blue suit for Bowie's "Life on Mars" video
Burretti also made Bowie's stunning "Life on Mars" suit, in the same striking aqua color as the Starman's eyeshadow.