14 female designers reimagine iconic nike kicks
Nike's '1 Reimagined' collection turns the Air Force 1 into a minimalist platform slide, and the Air Jordan 1 into a surrealist work of wearable art. Get a first look at the trippy women's kicks, modeled by Kelsey Lu and Abra!
|
18 January 2018, 10:55pm
Imagery courtesy of Nike
The women behind Nike's latest collection were given five weeks and the briefest of briefs: "Make some cool shit." Today the brand unveiled the final result of the "1 Reimagined" project: 10 fresh AF takes on Nike's iconic Air Force 1 and Air Jordan 1. The collection is the latest evidence of Nike's commitment to female sneakerheads both on the street and behind-the-scenes. In October, the brand made 25-year-old Aleali May the second woman to collaborate with Jordan Brand, and the first ever to design a pair for dudes (after getting approval from His Airness himself). This is hardly a newfound wokeness either: Nike's famous Swoosh symbol was designed by a woman four decades ago.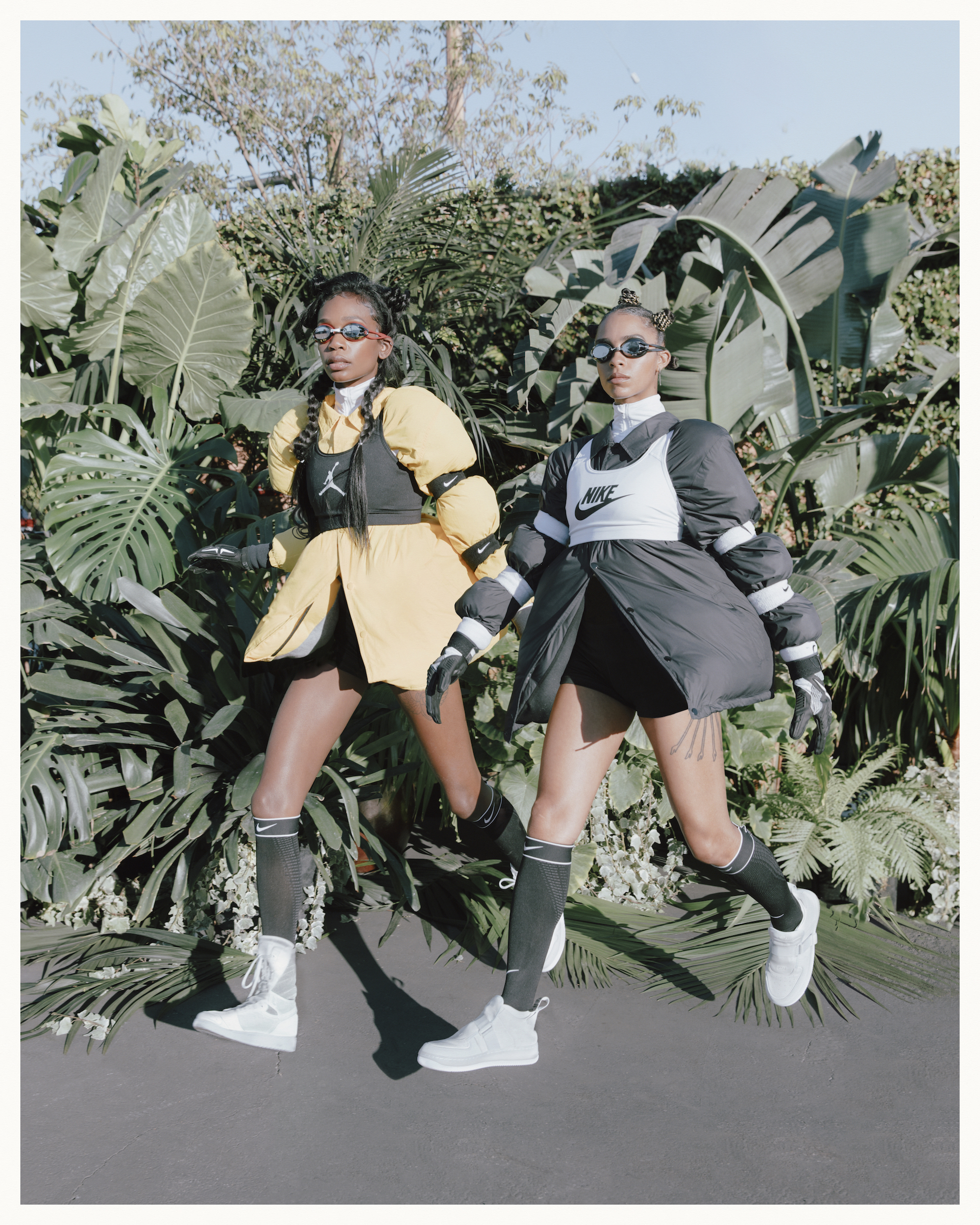 This time, Nike tapped 14 longtime design staffers: 10 designers, two material designers, and two color designers. Their reimagined kicks pay tribute to Nike's female fans and DIY-friendly heritage. Marie Crow, Materials Design Director at Nike, told i-D that "the Air Force 1 and Air Jordan 1 are the most fantastic shoes to work on because they are blank canvases." She's not the only one to think so: NIKEiD has been offering customization services since 2012, while the world/internet is full of Nike diehards putting their own spin on iconic styles. Artist Alexandra Hackett, a.k.a. Mini Swoosh, is a longtime fan of the Air Force 1.
So how did the all-star female team interpret "cool shit"? The directive might be simple, but the new designs are ingenious and borderline surreal. An Air Force 1 has had the Swoosh symbol unpicked and reattached, creating a "floating" effect with the original outline still visible. Other styles feature bold platform soles or asymmetrical tongues. One has been cheekily converted into a minimalist slip-on with subtle perforation. Each sneaker was given a personality: the slide is a v. chill "sage," while the "explorer" combines reflective utility layering and on-trend elastic laces. The collection drops on February 7 at select New York City retail locations, making fashion week a success before it's even started.