lorde stitched a feminist poem into her grammys gown
The Best Album nominee may not have performed but she did make a statement.
|
30 January 2018, 11:27am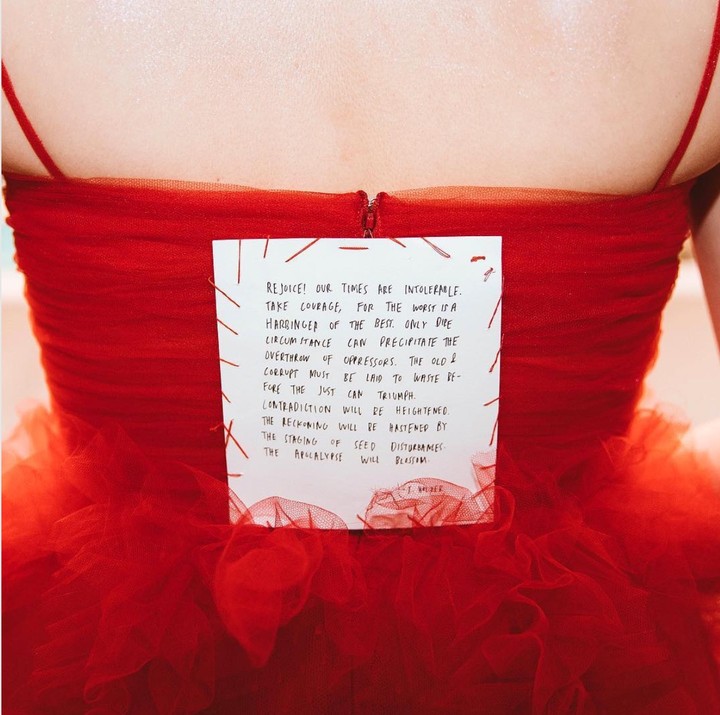 Image via
Despite her Melodrama album being hung in the Louvre by a dedicated fan, as well its nomination for Album of the Year at the 60th Grammy Awards, Lorde was apparently the only artist in the category not offered a solo performance on the night. Of the other Best Album nominees, Jay-Z declined a solo gig, while the others - Kendrick Lamar, Childish Gambino and Bruno Mars (with Cardi B) - all took to the stage. At a ceremony where attendees carried white roses and wore black clothes in support of the #TimesUp movement, Lorde's omission was somewhat confounding and contributed in no small part to the #GrammysSoMale social media response.
In typical fashion however, the 21-year-old musician had it covered and kept it cool. In what she described as her "version of a white rose," Lorde wore a piece of card with a handwritten poem - an excerpt from Jenny Holzer's 1977 Inflammatory Essays - sewn with cotton into the back of her red Valentino gown.
The original neo-conceptualist work was a series of 100-word long pieces written in the 1970s confronting issues of sexuality, violence and abuse of power. Add to this her matching red flask and little brother +1 and we have to admit she kind of made up for the absence of a performance.