10 points to gryffindior! this insta is bringing high fashion to hogwarts
Rachel Bernstein's account @gryffindior imagines our favourite witches and wizards in decidedly more fashionable clothes. What's next? Celinyverine? Lord Vetemorts?
|
01 February 2018, 8:33am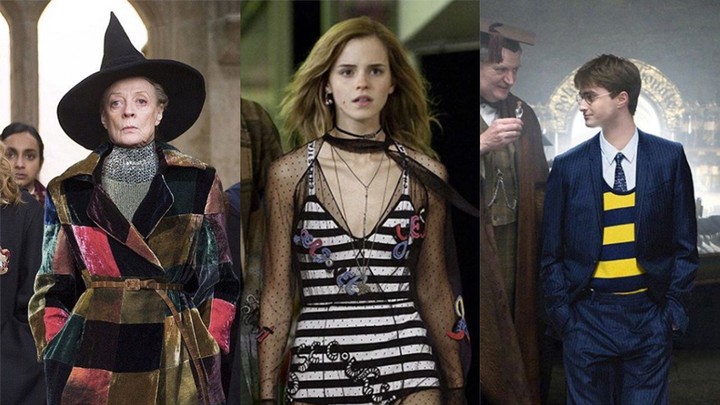 Images via Instagram
There are some people who think that children's books should be just for childhood, and that we should move on from them as adults, to embrace more grown up, mature, refined and chic things. These people are wrong.
Harry Potter, of course, is ageless and can be enjoyed whether you're a tiny 10-year-old harbouring a small belief that you'll receive a Hogwarts letter on your next birthday, or a jaded millennial scrolling through fashion Instagram accounts. If there was ever any evidence that Harry Potter is suitable for adults (chic adults at that) it's the Instagram account @gryffindior, a new phenomenon dedicated to reimagining our favourite Hogwarts characters wearing, well, Dior, naturally.
The account is a sideline and passion project of Rachel Bernstein, a 25-year-old New Yorker who by day is a busy art director at Moda Operandi, and by night is just your average Harry Potter superfan. "I needed a way to up my Photoshop skills and knew creating a fun project for myself would help make the idea of it more enjoyable," Rachel tells i-D.
Since then her 3am lightbulb moment has evolved into a feed filled with lewks that even Fleur Delacour (in Rachel's opinion, the most stylish character in the Harry Potter universe) would envy. "I grew up reading Harry Potter by night and fashion magazines by day," Rachel says. "And at their core both succeed in the notion of fantasy. Harry Potter has such strong, complex characters that make it easy to dress in these incredibly detailed Dior looks."
In just under a month she's reimagined Dumbledore in some iconic autumn/winter 17 shades, Padma Patil in a cherry red jacket from autumn/winter 16, and Hermione in a fringed number from spring/summer 18. "I've been a huge fan of everything that Maria Grazia Chiuri has done with the house," Rachel says of her more modern magical fits. "Her looks are empowering and work perfectly for a badass like Hermione. I have a few more great looks coming soon, on unexpected characters -- I'm excited to get more familiar faces on the feed."
Given that Rachel already has some ideas for the other Hogwarts houses -- Ravenclaws in Gucci, Hufflepuffs fighting each other over the latest from Stella McCartney and Slytherins in Saint Laurent, natch -- obviously we can expect some suitably goth Draco Malfoy Hedi Slimane inspired posts soon. Although it would be cool to see some Death Eaters in Dior...