the australian festival experience is changing for the better
We're finally beginning to say goodbye to festivals that force us to suspend our values.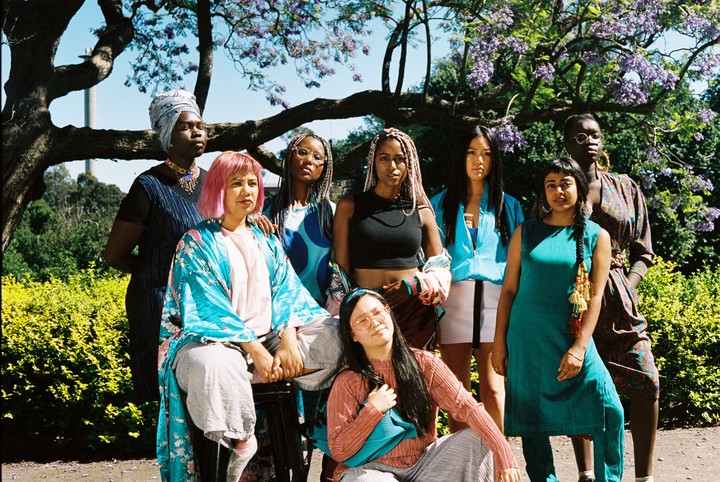 Festivals are interesting anthropological artefacts. They can tell us a lot about society: the amount of disposable income available to sections of society, the kind of experiences people are prepared to spend money on and, interestingly, what music promoters think we want. On a micro scale, you can also tell a lot about a person from the types of festival they are inclined to attend. And while the allure of the festival is great, in order to enjoy the experience once you're there, it's often necessary to suspend not only your sense of smell and attachment to personal space, but also your entire value system. Increasingly line ups are getting called out for being cis white bro dominated spaces with organisers generally responding with vague sentiments about meritocracy and trying their best to be inclusive. If there are black artists on the line-up, you have to sit through incredible sets with white men yelling the n-word along with the lyrics or endure white women trying their best to pull off some kind of hot racist Pocahontas situation. Often, even when there are people of colour on the lineup, the white gaze makes their involvement still seem somewhat exploitative - a definite cultural conundrum.
The mainstream festival landscape is shifting however, with organisers increasingly seeming to recognising the value of elevating people, women and non-binary artists. Meredith has had a 'No Dickhead' policy for quite some time and last year year Splendour had a space for attendees to spend time with traditional owners while SBS Viceland hosted a Young and Black panel with local and international Indigenous peoples. Tom Tilley might still be wandering around Splendour hoping to be recognised but, more and more, people like VICE's Anashinabe presenter Sarain Fox are there too.
But while it's definitely possible to point to instances of improvement in terms of equality and acceptance at festivals, cynically speaking, the gained capital associated with being woke has to be taken into account. And as we've seen, performative wokeness can backfire in hilarious and brutal fashion. Pepsi's failed attempt last year signifies that efforts to be perceived as woke can be misguided and exploitative. Redbull, on the other hand, did it better. In 1998 they moved into the world of music with Redbull Music and Redbull Music Academy. Last year their festival in New York centred around black artists like Solange Knowles and Juliana Huxtable. Also abroad, events like Afropunk, that are explicit in their values and intolerance for bigotry, demonstrate that these events can be successful and that there is a market for not catering exclusively to dickheads. In Australia huge touring festivals have been on the decline for quite some time leaving space for boutique festivals to emerge and succeed in their wake. The gaze of these festivals is shifting as well, going beyond mere entertainment and becoming community building events. Black, people of colour, queer and trans folks are not only on the stage but curating and leading the stages. The emergence of organisations such as Listen and events such as Melbourne's Transgenre, Cool Room, Cocoa Butter Club and Hannah Bronte's black and femme led performance night Fempress as well as publications like Daisy Caterrall's zine Real DJs reveals a new dawn on the horizon and it feels good.
This year, Sugar Mountain festival will host a space called FUTURE CULTURE; a collaboration with BE, curated by Grace Dlabik and it's an example of the future that is possible. The January 20th Melbourne event is explicitly centred on culture, expression, imagination, curiosity, autonomy and feminism. It is a celebration of women, femmes, queer and trans people of the diaspora and a return to the matriarchy. Grace, a woman of colour herself, has spent years cultivating relationships with and elevating the people of colour around her in Melbourne and the event is sure to attract, celebrate and benefit the people from the communities who are being centred. With immersive experiences spanning a panel, art, DJ sets all featuring women, trans and femme people of colour, it's initiatives like this that provide promise for the future of festivals.
For many femmes, women, queers, trans people and people of colour music, events and parties offer a sanctuary. This is not a new phenomenon as Vogue balls and underground parties tell us. They are places where we can be safe, be celebrated and places to revive what has been lost in the process of colonisation, heteronormativity, cisnormativity and white supremacy. They are places to subvert the power structures that exist in the rest of the world. They create spaces that can heal from oppressive structures. They are places where people can strip the costumes they might wear in the world and reveal who they really are. They are a version of the world as we wish it was.
Watch the video featuring many of the amazing people involved in FUTURE CULTURE including Anu Kumar, YJ, Atong Atem, Mz Rizk, Karima Baadilla, Nynno Bel-Air, Grace Dlabik (curator), Tiyami Tosha, Pauline Vetuna, Nicole Esq, Miss Blanks, Jo Kalute, Ruth Ruach, DJ Dee Luscious, Wahe (from Kandere), Milan Ring, Marisa Santosa, Seri Davis, Thando, Grace Lillian Lee, Nayuka Gorrie, Hannah Bronte and Soju Gang.
FUTURE CULTURE acknowledges the Traditional Owners, and pays its respects to Elders past, present and emerging, understanding that the sovereignty of Aboriginal people has never been ceded.
See the website for details and tickets.
Credits
---
Text Nayuka Gorrie Photography Lydia Rui Videography Georgia R Haynes Music featured in video Kaiit