a singular vision from a-cold-wall* for autumn/winter 18
A-COLD-WALL*'s Samuel Ross steps out of the shadow of his mentors.
|
09 January 2018, 12:04pm
How easy it would be for A-COLD-WALL*'s Samuel Ross to submit to the thirst of the streetwear cognoscenti. The lucrative scene, shaped so strongly by his former mentor Virgil Abloh, seems dominated by designers releasing several incarnations of the same sell-out pieces in an endless cycle -- business coming first, fresh ideas second. Yet, A-COLD-WALL* manages to prioritise conceptual design and experimentation over anything else.
For his autumn/winter 18 collection, National Gallery ROOM-1*, Ross deconstructs two landmarks and juxtaposing environments -- classical art galleries and construction site -- and fuses them together, to find inspiration in their mutual colour schemes and shapes. Attempting to mix the formality of Britain's art bourgeoisie with the easily exploited aesthetic of its working class could have yielded distasteful results, but Ross excels at being implicit.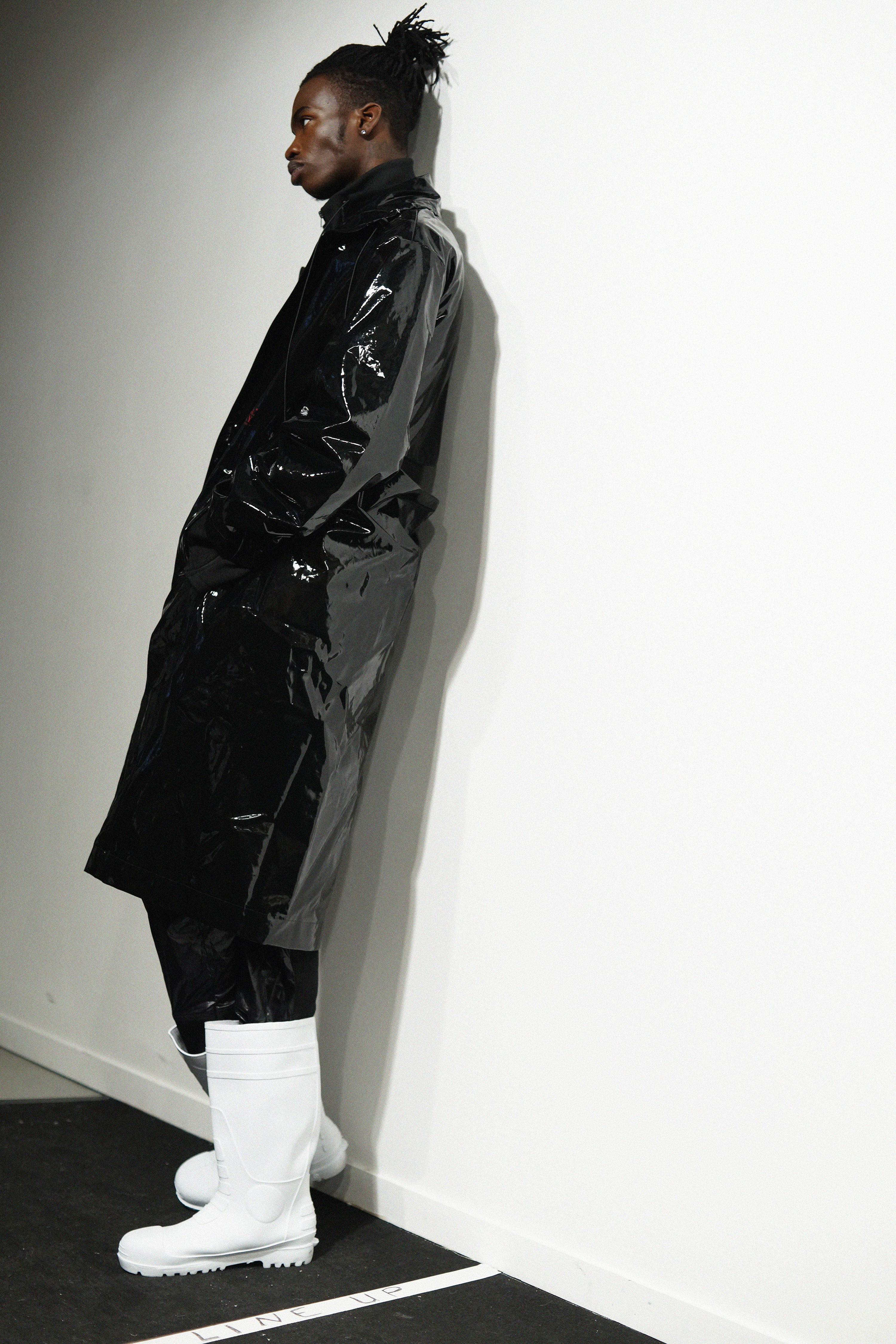 There's an ingenuity to the way he makes abstract, yet practical streetwear. Here, overcoats are given a sporty and youthful twist. Workman's trousers are transformed: made in shades of off-white, black and cream, they're tailored a little more tightly, given poppered seams and clear panels across the shin; some have those panels removed altogether. The heavy knitwear pieces are distressed, cut and restitched -- some painted to appear singed in a trompe l'oeil style, as if they've lived in the rough-and-tough environment they're inspired by. There's even a beanie with a zip-top, that slides down into a branded snood. You can't knock Ross' loyalty to his concept! And the industrial, pre-scuffed work boots? A staple element of every look that hits the runway, they might just be a hypebeast's new must-have.
But it's the technical pieces, synonymous with the ACW* brand, that are the most considered and creative. They encapsulate what makes Ross' collections so inspired and unpredictable. The designer calls many of the pieces here "deconstructable", suggesting that wearers have the option to switch up, remove and add elements of their outfits whenever they like. The detachable rain hoods are the most ubiquitous on the runway, but there's a collection of clip on bags and bibs that the show's stylist, Yi Ng, has managed to flex perfectly.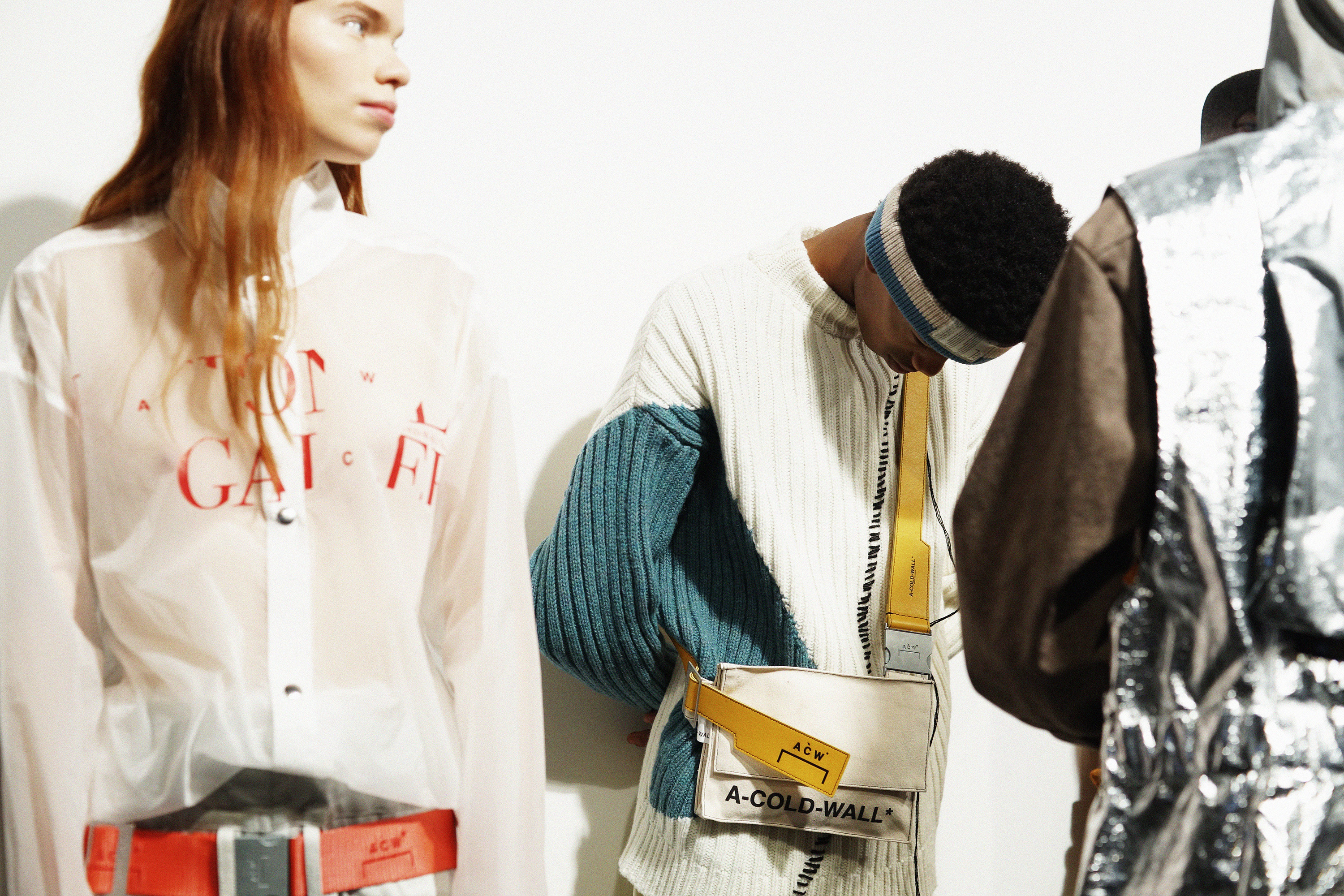 Padded utility vests, bomber jackets and nylon track pants are part of the line-up, the latter (as is ACW* tradition now) accentuated by elasticated toggles around the knees. A distinctive split-seam fisherman's jacket has zips across the arms' upper stitching. When the model walks, it almost resembles a strengthened shoulder pad, or a dinner suit jacket worn to a bougie art gallery opening.
An ambiguous, camel-coloured piece is a particular highlight. With a ruffled, elasticated waist, a pleated front and a zip for a split seam, it could be a jacket or it could be a dress. Either way, it represents a kind of elegance rarely found in streetwear, one that A-COLD-WALL* can toy with and execute so well. Abloh's architectural touch is there -- even subtly -- but A-COLD-WALL* continue to prove they have the power to create something tectonic and singular, all on their own.
This article originally appeared on i-D UK.