Get lost in Ceramics TikTok, the new 'strangely satisfying' internet trend
The escape provided by this online community of artists is a new, warm and cuddly moment to sink our teeth into.
|
03 November 2020, 12:00pm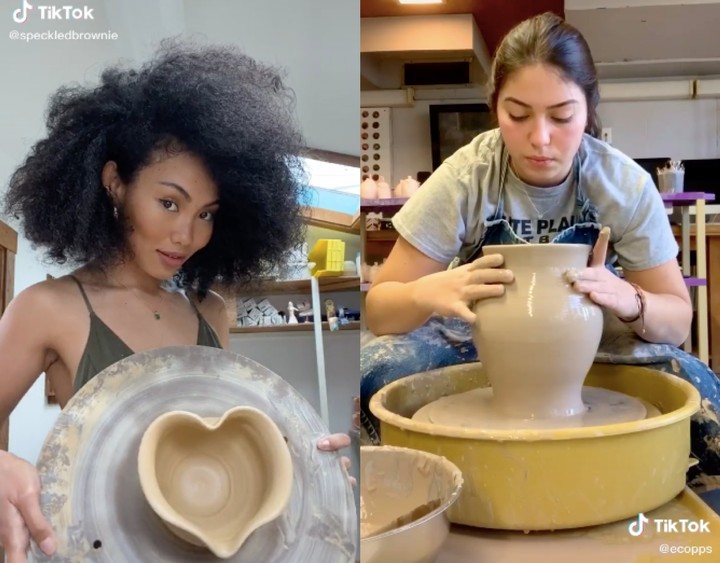 Photos courtesy of @speckledbrownie and @ecopps.
Our world is absolutely horrendous. With an ongoing pandemic, an anxiety-inducing election and layoffs hitting us left and right, it's no surprise that mental health concerns are on the rise. As someone who came up on 2016's explosive "strangely satisfying" Instagram posts, but who could never get into ASMR, I've been wooed by the soothing power of ceramics TikTok. On this cozy corner of the app, creatives, most often women, play with mud and laugh and dance with the camera. They teach us their craft in a way that's incredibly pleasant, and that makes me feel comforted. Even though I don't know these women, personally, we spend hours together, them at their wheel, chatting through new designs, while I lay in bed and scroll from video to video, finding myself calmer with each one.
One of the first videos that sucked me deep into ceramics TikTok was made by Lisa Asano. The 25-year-old artist, based in San Francisco, regularly films herself dancing through her studio, slamming clay onto her station and getting to work with a huge smile on her face. "I instantly fell in love with this medium of art since I love being creative, from photography to acting and everything in between," Lisa says With 15k followers on Instagram, and 332k and counting on TikTok, she's found a warm and welcoming space on social media. On the latter app, she offers tutorials to other artists, films herself — literally glowing — at her wheel and even talks about race.
Gone are the days of slime videos and perfectly sliced materials. Instead, we have the women of ceramics TikTok guiding us to a space where, for a few minutes, nothing matters but the dirt spinning on the wheel. The transition makes sense considering the time we're living in. People are burnt out, with the American Psychological Association tracking our stress levels through the Stress in America Press Room — yes, things are that bad — and reporting that we're in the midst of a major mental health crisis. For Gen Z, which makes up the majority of TikTok's user-base, there's also heartbreak over the loss of life-defining, coming-of-age events like proms and graduations that they, simply, can't experience right now, at least not in the same way as their older peers.
As such, many of us are reaching for anything that can make us feel better. From the explosion of dalgona coffee to the rise and fall of tie-dye in quarantine, we're diving into new trends with the hopes of just a small distraction from our daily lives. This uptick in crafting translates both online and off, and TikTok is an alternative for those of us who don't want to actually get our hands dirty, or who are too anxious about Covid-19 to actually step into a pottery studio. Ceramics TikTok is a new, warm and cuddly moment to sink our teeth into—or, rather, to scroll through on end.
"Ceramics is very soothing and therapeutic," Vivi Matsuda, the full-time artist behind MUD WITCH, a San Francisco-based pottery brand, tells me. "It brings you back to childhood, making mud pies with such freedom and no qualms about getting dirty from hands to face." Since quarantine began in March, Vivi's posted Reels that feature her bright and colourful designs and encourage users to slow down and sit with the art for a moment. "I think we all need a little of that right now. We need a way to feel free even if we can't leave the house. We need to occupy our brains with something comforting and soothing," she says.
Elaina, an 18-year-old artist who lives in New York, started doing ceramics in high school. Now a freshman in college, she's begun to expand her art to a new audience on TikTok. Since March, she's hit 300k followers. "The first time I posted a video on TikTok it was because I was proud of what I had made, and I kinda wanted to share that experience with anyone who enjoyed art," she explains. "After I was experimenting with different videos a lot of people found it interesting, and I had fun doing it, so I kept going."
Whether people are over-stressed or just plain bored, they're definitely looking for a distraction right now. "Most people find it satisfying and calming when I do basic videos, like making a vase for example. But when I make videos or experiments such as the Hydroflask one, people find it more fun and interesting." Either way, Elaina says, "it's really cool to see people comment on my work."
In quarantine, artists are also missing their usual communities; with help from TikTok and Reels, they're able to find it again. "I wanted to share more of my creativity on another platform and also thought TikTok was such an authentic and artistic community to be a part of that I didn't want to be left out of all the fun," Lisa says, about why she first started posting videos online. Especially for people of color, who have been uniquely going through it in the last six months, there's an extra benefit to offering such an intimate introduction to the art. "I'm especially happy to see more BIPOC [on TikTok] being encouraged and influenced to start throwing because I don't see a lot of BIPOC in the ceramics community," Lisa adds.
But, for some artists, they feel as calmed by TikTok as their viewers feel calmed by their work. "For most of my life, my anxiety stopped me from living the life I've wanted, but posting on TikTok and receiving encouraging comments helped me fight against my anxiety," Lisa says. "Pushing myself to share my love for creativity to this platform, without being afraid of what others think, opened many doors for opportunities outside the TikTok realm as well."
While watching ceramics TikToks, I can feel my anxiety decreasing: I feel less stressed, less focused on what's coming in the next hour or day or week and I'm thinking about nothing more than the person creating something right in front of me. It's a gentle break from the larger turmoil that makes up our daily lives.
"People really love the videos," Matsuda says. "They say they are really relaxing and calming. You can really get lost in them." And who among us doesn't want to get a little lost right now?
Tagged: