Rico Nasty is freaking out right now, and she isn't afraid to be honest about it
The rapper tells us about releasing her debut 'Nightmare Vacation', and the unspeakable pressure that came with it.
|
24 December 2020, 9:00am
Courtesy of Rico Nasty
On the eve of her debut album's release day, Rico Nasty is comparing her life to the successful 2002 supernatural horror film, The Ring. Specifically, "the part where she gets told like 'you have 72 hours to live', except I literally only have 24!" she cries. Following killer mixtapes like Tacobella and Anger Management, the Maryland rapper's first album was hotly-anticipated. And she was feeling the heat of that expectation.
For example, take the cover image for Nightmare Vacation: a surreal shot of Rico sailing through a thunderous and bright sky, perched on top of a floating bed. "So many people are looking at the visuals and saying, 'Yeah, this is like Lana Del Rey's Paradise era,' and I'm like "No, this is my suicidal depression! Like, what are you talking about?"
Though 2019 was Rico's breakout year in many ways -- one that saw her take over TikTok, make XXL's Freshman Class, perform at New York Fashion Week, and get hand-picked by Rihanna to feature in i-D's special edition Rihannazine -- she personally characterises it as a historic low.
"I came into the game thinking like, 'Everything's going to be easy, everything's going to be handed to me, everything's going to be fun.' And I quickly learned there's so much that you have to fight for," Rico explains, citing struggles with her sense of identity after being signed to a major label. "I've talked before about not really having a place, because they signed me making a certain type of music, but you move forward. I just felt like I had shown people that I could do too many things too fast. And it kind of put me in a position where people didn't know what to do with me."
But Rico is carving out her own space in an increasingly genreless industry, and Nightmare Vacation is simply the beginning of that chameleonic showcase. Here, she tells i-D about her alarmingly prescient debut album, dealing with the pressure to conform, and, what else, her enduring love for Beyoncé's B'Day.
First off, tell me why this album is called Nightmare Vacation.
I'm obsessed with really good things and really bad things. I feel like in order to go through something really, really good you have to go through something really, really bad.
How are you feeling pre-release?
I'm a Taurus, so I'm really big on trying to create scenarios in my head, and I'm just like, "Please don't do this to yourself, bro." I'm really big on not giving a fuck and things not mattering. I don't care. But like… [whispers] I care! And I have not cared about something in a long time, and I'm kind of afraid that me caring is going to fuck it up.
I've dropped more projects than most female rappers' entire fucking catalogs. But I'm about to drop the first album. What if I used all my cool juices on the mixtape? I'm like, squeezing the last end of the toothpaste out of the tube.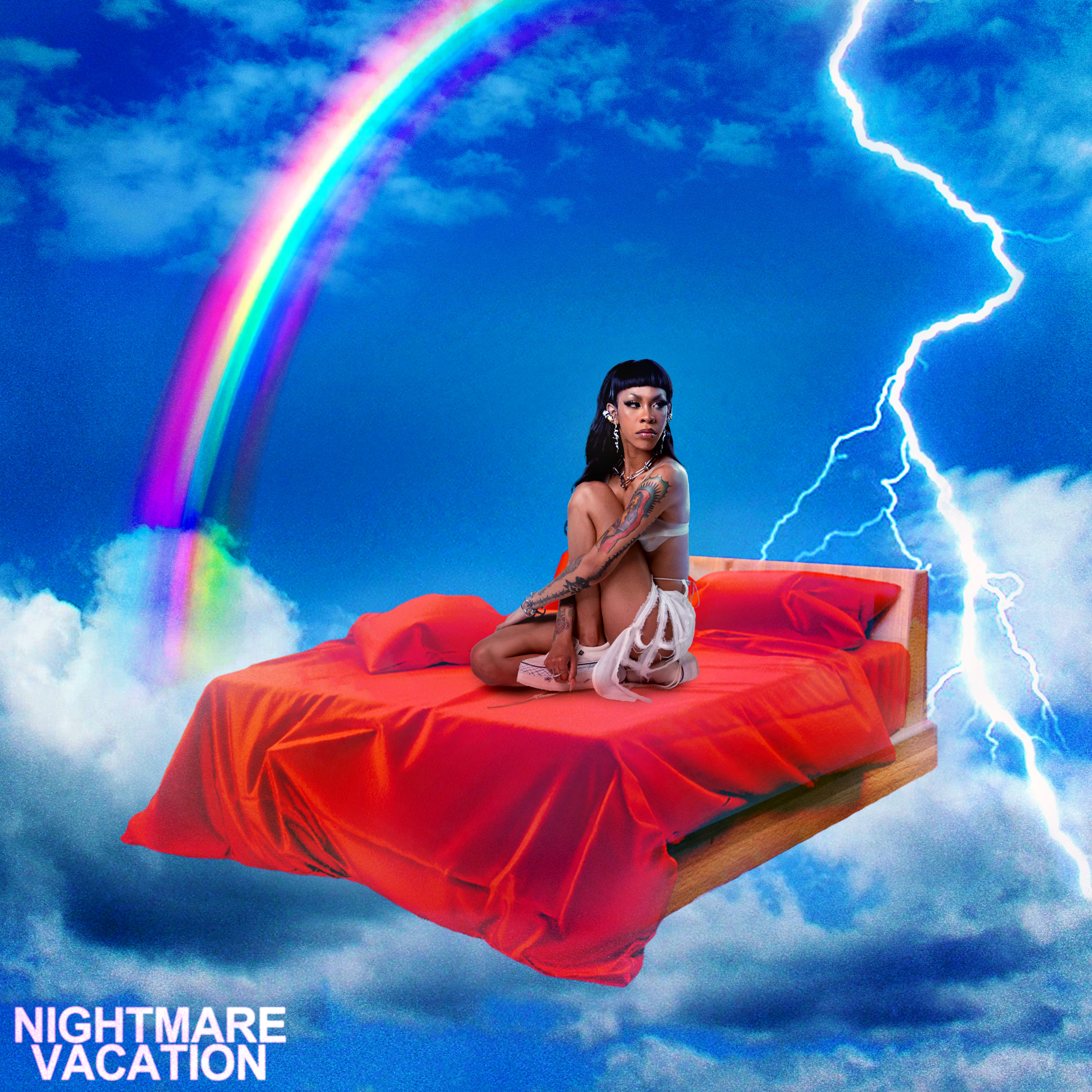 I think a lot of creatives have these types of anxieties, but it's funny to hear them coming from you because you're such a confident person.
I mean, yeah, I am confident, so it's pretty weird for me too. Because now I'm thinking very negatively, and it's making the anxiety real. Will I get a gold medal when I wake up tomorrow or something? Confetti? Like, will people look at me differently? Do I go from this type of celebrity to that type of celebrity? Does this mean that people at the airport won't give me a hard time? Does this mean that my family will have financial stability for generations to come? I don't know! There's so much pressure, oh my God. I didn't even feel this much pressure when I was in labour. I had the baby, I wasn't scared like this.
You said in your album trailer that you'd made this album as a kind of "soundtrack to getting back on your shit". Do you have an artist or an album that did that for you?
Fucking Beyoncé's B'Day! She timed it perfectly, it was like everybody was going through a break up when that album came out. Fucking "Irreplaceable". I resonate with that album so much because my mom was going through her divorce my father during that time. And my dad was such an asshole. But yeah, I was probably like 10 or 11 and she helped me really feel like… "You know, I wish you would break my heart. I wish you fucking would."
So would you say that Nightmare Vacation is like your B'Day?
Oh my god. No! No, no! I had an interview a couple months ago where I was like, "This is like my Yeezus." What the fuck do I be talking about? What do I mean? I don't know.
But you want it to be a pump-up album in the same way?
I feel like I want this one to be the one that's like despite whatever is going on, you're like "I have to listen to this." For 10 seconds, I'm gonna blast it and go crazy and then just get out of my car and say, "Okay, nothing happened! It's alright."
You mentioned in your Genius video for "IPHONE" that you wanted your fans to "say goodbye to the old Rico" in terms of your previous eras. Who was she and who are you now?
Honestly, I can't even stand by that statement. I think that so many people told me something was wrong with me, or made me feel like I wasn't good enough that I ran from just who I am.
You're never supposed to compare yourself to other artists, but I feel like oftentimes when you are a female artist you get compared without even wanting to, and you sound like a bitch if you politely tell people that you're simply not in the same lane. For a lot of my career, people shit-talk me because I'm not on the charts like other female rappers are, or featuring on every big song. That's not what makes a legend, dummy! A legend is somebody who walks in their own fucking path, they do what they want to do, and they don't give a fuck. And also, that's not very punk rock of you either.
You know what drives me crazy every year? When the fucking award shows come around, and my fans are like, "Why aren't you nominated?" Like, I don't know! And now you're putting this thing in my head that I should be there, and that I deserved to be there.
That's a really outdated measure of success as well. Especially when you're doing something different, like you are, because you can't really expect to get that recognition from those sort of traditional structures.
I'm sincerely asking here, am I going to get to the BMAs, or the AMAs, or the MTV VMAs -- am I going to get up there, and perform "Smack A Bitch"? Please, tell me what a clean version of that song sounds like! And I will get back to you later.