Prada, Prada everywhere, from D.C. to Milan: what's in fashion?
Your one-stop-shop for this week's fashion news to know.
Courtesy of Prada
"But wait, isn't it fashion week? Can that much else have taken place in fashion over the past seven days apart from that??" Yes, it is, and yes, of course! While you've been busy keeping up to date with all the latest menswear collections by way of our helpful and informative show reviews, there's been an avalanche of top-tier fashion happenings, many of which may have passed you by. From Prada menswear basking in the spotlight at Milan Fashion Week to Prada and Miu Miu womenswear stealing the thunder at the presidential inauguration, here's what's in fashion.
The inauguration was the ultimate fashion show
It's currently Paris Fashion Week, but you'd be forgiven for thinking the event was taking place in Washington D.C. this week. Oh yes, the inauguration. It was full of so much …. FASHION! As in, actual catwalk fash-un. What was striking was the number of European fashion houses present. We witnessed J-Lo (and, ahem, Melania) in Chanel tweeds, Lady Gaga in Schiaparelli (haute couture, nonetheless), Amanda Gorman in Prada, Ella Emhoff in Miu Miu. For such a momentous occasion for American symbolism, it was an interesting choice of labels — though they are fabulous, none of them are American. Thankfully, Madam Vice President chose two African-American designers —Pyer Moss for the night before, Christopher John Rogers for the day of — who are both dedicated to celebrating Black culture and history within their work. The message was clear. For her, fashion is a conduit for the values of equality that the Biden-Harris campaign place at its core. After four years of blinged-out costumes and pretty apathetic sartorial choices from the former First Family — they really don't care, do you? — this was a fashion statement with a deeper cultural resonance. Let's hope the next four years will be filled with more of them. OA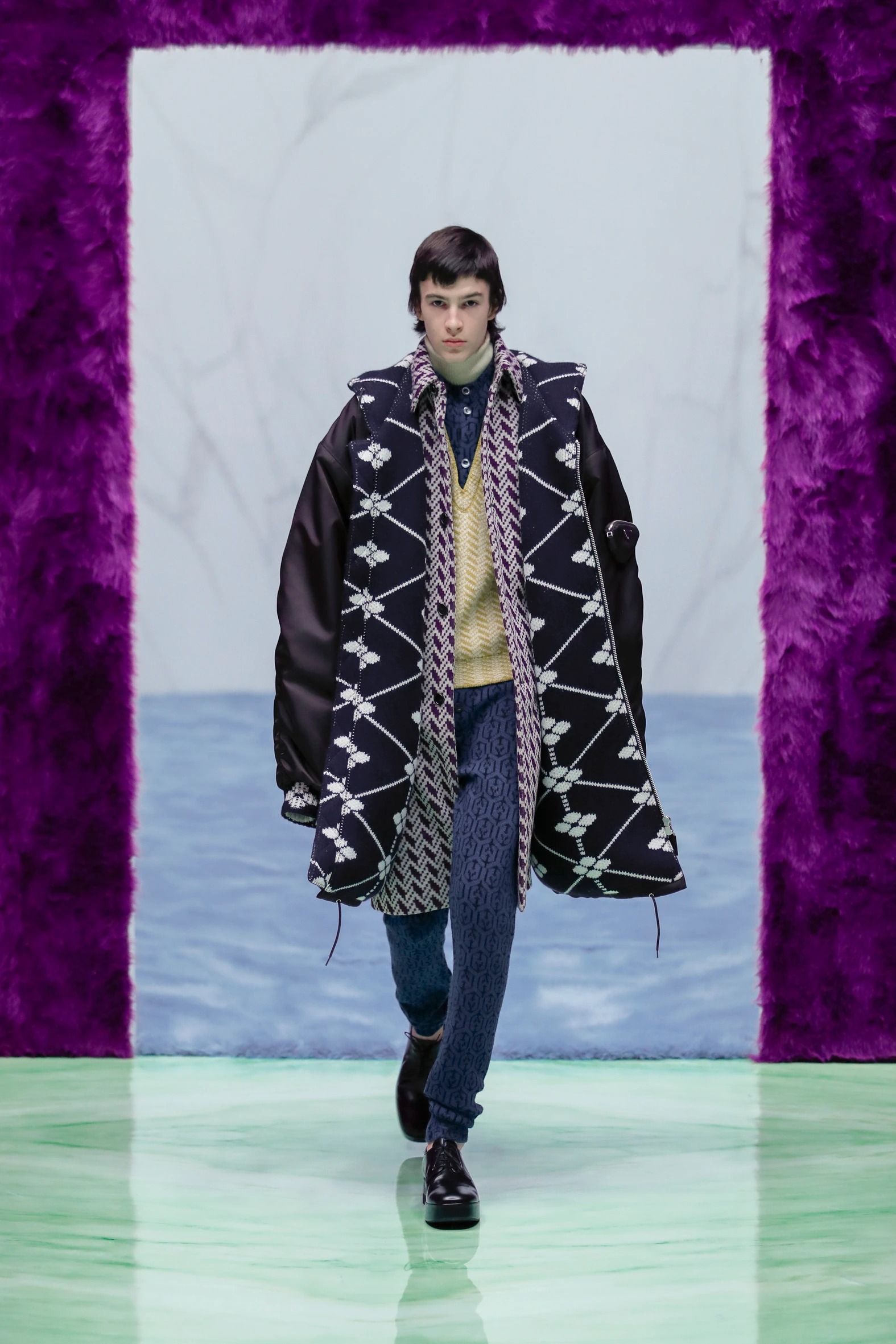 Miuccia Prada and Raf Simons made their collaborative menswear debut
Just before Prada's triumph at the inauguration, Miuccia Prada and Raf Simons presented their first co-designed menswear collection in Milan. The key takeaway? We may not be able to touch each other right now, human contact feeling strange given we're all so aware of that two-metre distance — but that inherent need for touch and connection can be satisfied by tactility and texture, layers upon layers of comforting Prada knits and protective outerwear. Oh, and Long Johns. Lots and lots of Long Johns, knitted in Prada's signature ugly-chic colour combos and wallpaper patterns. By some kind of fashion kismet, Bernie Sanders was supporting an eerily similar pair of mittens at the inauguration — proof that Miuccia and Raf are fashion's ultimate oracles. You can read our review here. OA
Moschino gave us a tongue-in-cheek parody of fashion's obsession with artists
Jeremy Scott is fashion's reigning King of Kitsch, so it should come as no surprise that his AW21 menswear collection for Moschino is brimming with plenty of cartoonish irony. It's all about Old Hollywood styling and Post-Impressionist painting — and in a world dominated by an onslaught of bleak news, who can blame the American designer for switching the station from CNN to TCM? There was a wink to mid-century Tinseltown legends, such as Humphrey Bogart and Dana Andrews, but what makes it Moschino-fied is the humorous, almost camp brushstrokes. Not just a nod to our newfound lockdown hobbies, it felt like a tongue-in-cheek parody of fashion's obsession with the oh-so-serious art world. Is there a fashion house that hasn't collaborated with an artist at this point? Not Jeremy. This is all fashion, baby! Not to mention fun: something we could all do with a bit more of right now. OA
Reference Festival just brought Berlin back into fashion
Berlin, Berlin! It is a city that was once (unfairly) overlooked on the global fashion circuit (other than for the odd cheeky weekender at Berghain or Cocktail D'amore), but in the last couple of years, a handful of the German capital's impeccably chic movers and shakers have been working tirelessly to elevate its status to that of its British and French counterparts. Leading the pack has been Reference Studios, the holistic communications agency founded by Mumi Haiati. After staging the first Reference Festival back in 2019, bringing top-tier art and fashion talents to Berlin in their droves for a jam-packed programme of IRL talks, screenings and even parties (remember those?!), it's now back for its sophomore iteration (albeit online this time). They've tapped Anne Imhof, Eliza Douglas, Mowalola, GmbH, Hans Ulrich Obrist, Honey Dijon… and that's just for starters. Glastonbury might be cancelled, but this festival won't disappoint. Now that you're done with Bridgerton, head here to find out how to tune in! MS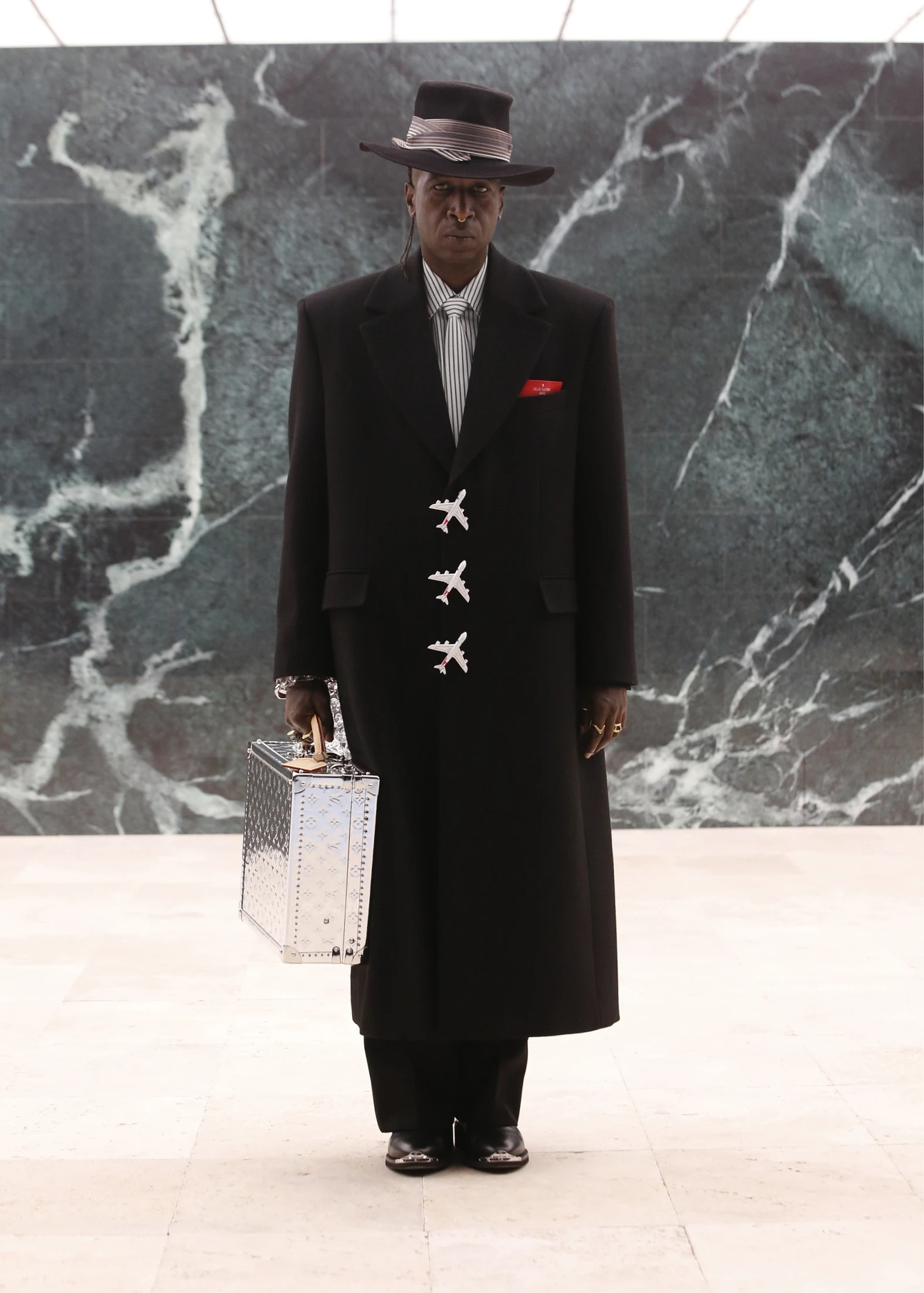 Virgil Abloh's AW21 Louis Vuitton collection was his most personal yet
What do clothes say about the person wearing them? It's a question that depends on your predisposed ideas about someone, and one that Virgil Abloh sought to answer with his AW21 menswear collection for Louis Vuitton. Inspired by James Baldwin's 1953 essay Stranger in the Village, the collection was all about fucking with sartorial archetypes and societal stereotypes, examining our unconscious biases in the process. It also felt like Virgil's most personal collection yet, drawing on the Kente cloth of his Ghanaian heritage and exploring his own feelings about being dismissed as a 'purist' fashion designer. As the show notes put it: "After the events of 2020, the collection proposes the notion that society has the opportunity to create a 'new normal' in which we free ourselves from the prejudice we create around people, ideas and art." In other words: keep the clothes, change the values. Find out more here. OA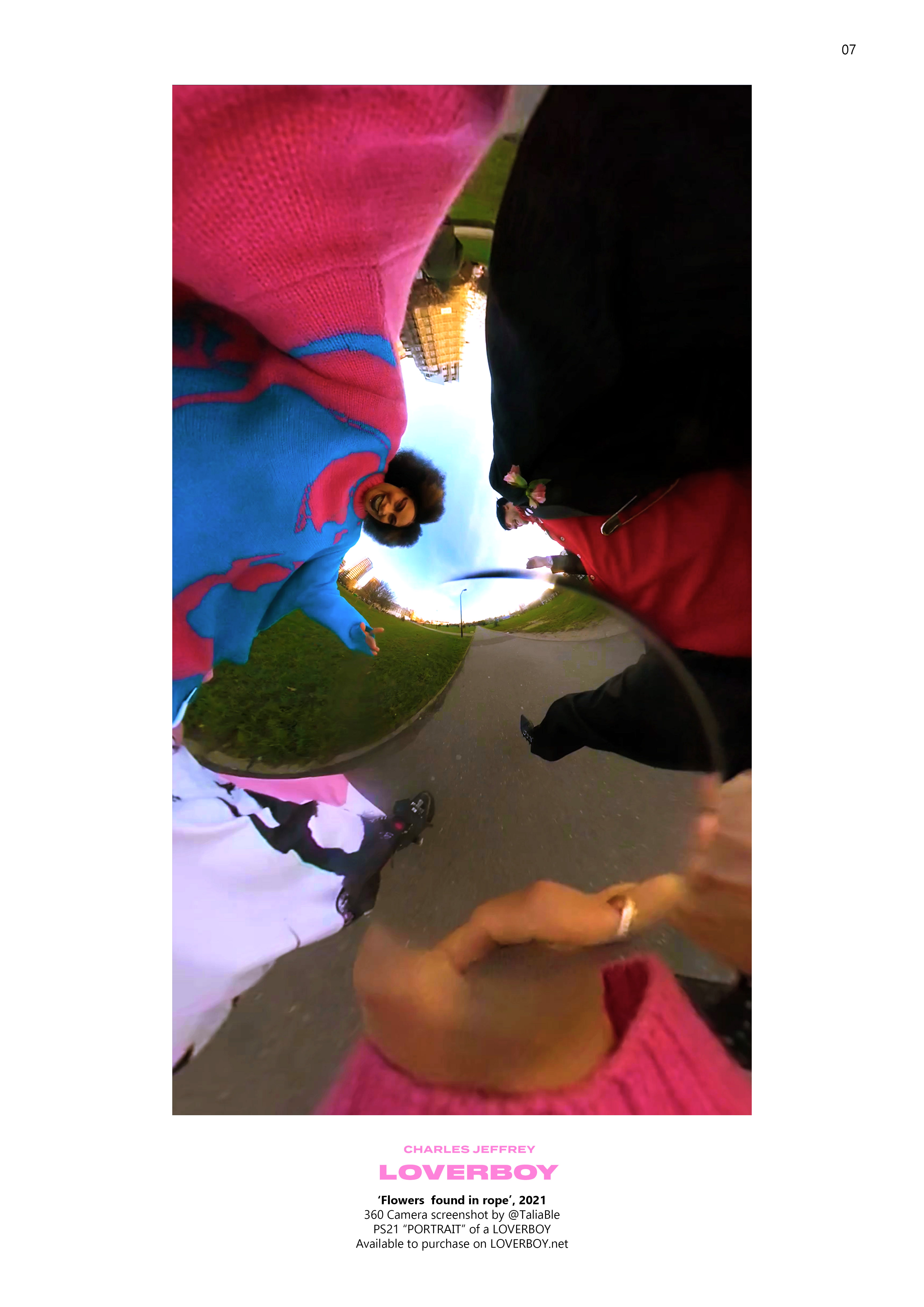 Charles Jeffrey's Pre-Spring 2021 collection is the wild dash of joy you need
Given that we're only a couple days on from the bluest of Blue Mondays, you could probably do with a little something to lift your spirits. Lucky for you, then, that London's favourite LOVERBOY has come to the rescue. That's right, Charles Jeffrey has come through with his Pre-Spring 2021 collection, which was first shared with the world back in June. Born out of the doldrums of lockdown, Charles Jeffrey's latest offering expresses two sides of a stream of consciousness, with portraits of the designer in a fabulously full beat, decorating everything from cotton tees and dresses to knit jumpers and bermuda shorts. But wait! There's more! The drop also comes along with a brand new video campaign! Once you've got your breath back, head over to the LOVERBOY website to discover more. MS
Matthew Williams has designed the perfect lockdown bag for Givenchy
Matthew Williams may still be settling into his gig as creative director of Givenchy — he will be presenting his second collection for the house in March — but the Californian designer is wasting no time in making his mark on its all-important accessories. This week, Givenchy revealed its brand new Matt-approved 'Antigona' handbag, which last year celebrated a decade as the house's signature purse. What's new about it? Matthew has introduced his beloved industrial hardware in the form of 4G padlocks, inspired by the "love locks" of Paris — the padlocks typically tied to the Pont des Arts bridge by infatuated lovers, the key to which they romantically toss into the River Seine. In 2021, however, it has an alternative connotation: it's the ultimate lockdown accessory. Get it? OA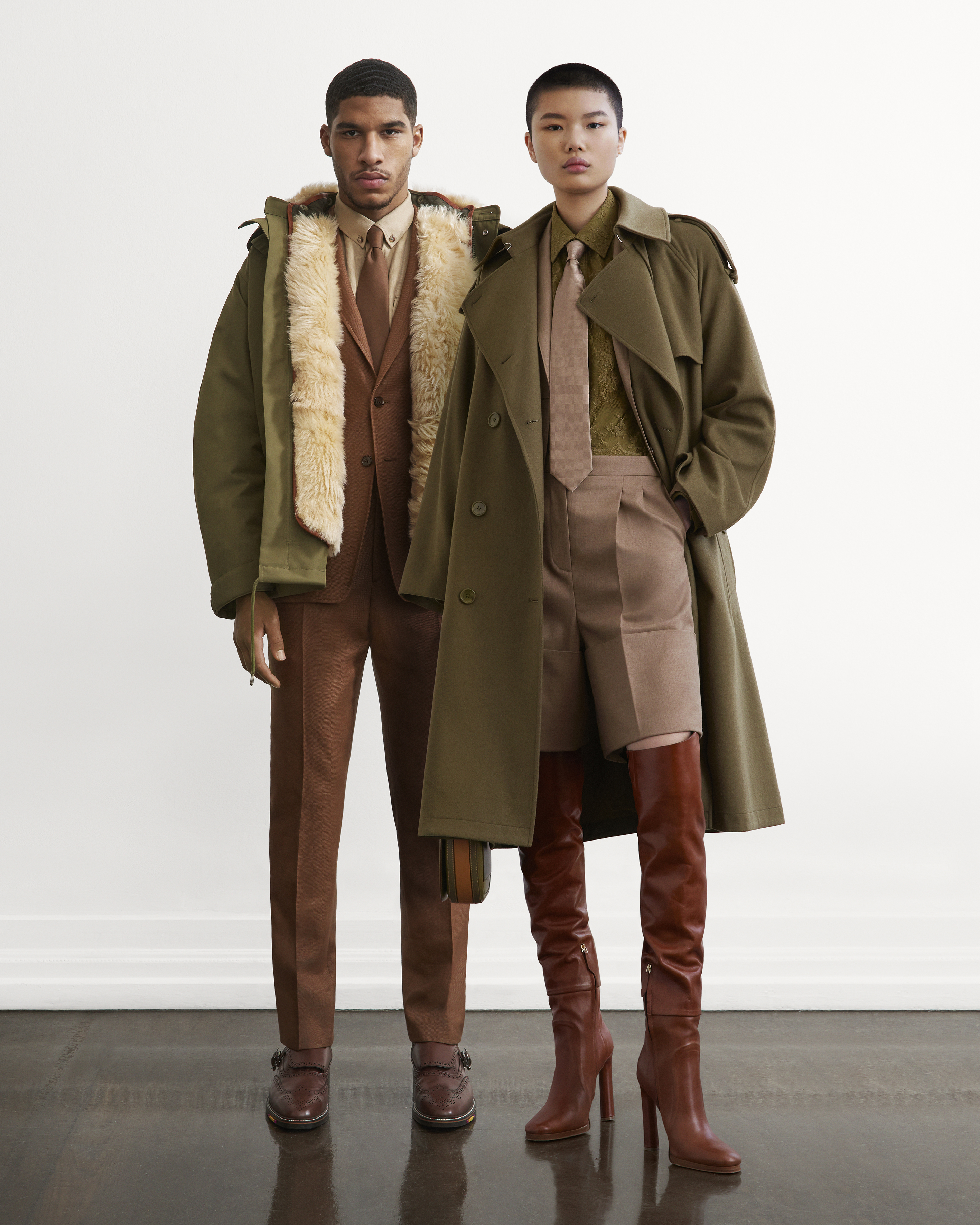 Burberry heads out into the wild for Pre-Fall 2021
If having to wait until London Fashion Week in February for a new Burberry has you positively famished, Riccardo Tisci's pre-fall 2021 collection is the sustenance you need to keep you going. This week, the British house released the collection's lookbook, described by the Italian creative director as his "uniform for the outdoors". A balance of Burberry's trademark quietly dapper outerwear, Stabilo-bright hues and bold, celebratory prints, it is a love letter to "all the contrasting elements of nature," as Riccardo put it; a fresh spin on "the rich heritage of traditional British dress codes." From the commando-ready camouflage trenches to prim quilted capes, this is just the gear to give you the oomph to get out into the Great Outdoors, which — if recent collections have shown us — is fashion's new favourite destination to get dressed up for. MS