Watch the trailer for Zendaya's Oscar-tipped new movie
'Malcolm & Marie', directed by Euphoria's Sam Levinson, comes to Netflix next month.
|
11 January 2021, 11:52am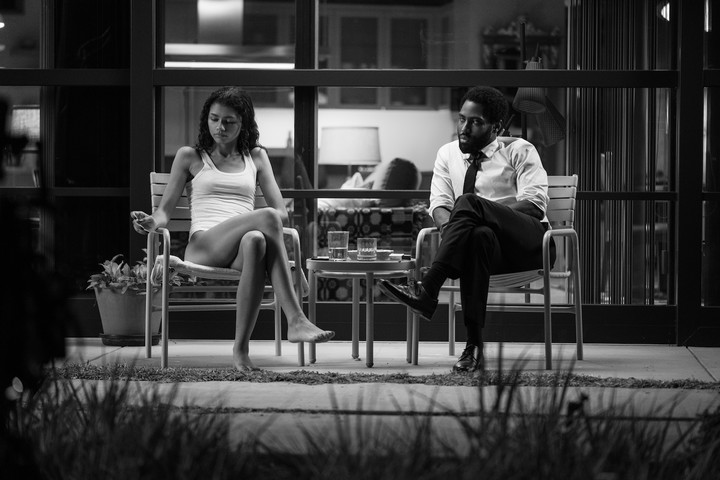 Image courtesy of Dominic Miller/Netflix
Zendaya was deep into the scripts of a new season of Euphoria when the panorama/panasonic/parallelogram unfolded, stopping much of the work on that iconic Gen Z TV show. We've been chomping at the bit to see more of it since its season finale aired in August 2019, and have (thankfully) been tided over with two specials — one with Rue that aired last month, and one with Jules, airing at the end of January — before the show returns later in 2021. In the meantime, though, Z and the show's creator Sam Levinson have joined forces on a totally different project: Malcolm & Marie. Shot this summer in California (Rona compliant, tyvm!), we finally have the first look at the trailer for the movie.
Set to debut on Netflix on 5 February, Malcolm & Marie follows a couple living in Los Angeles, a filmmaker and former actor, arguing after they return home from the former's well-received premiere. A mistake in his on-stage speech starts to unravel the couple's relationship: the reasons for being together; the ways in which inspiration and homage blur; how much each person depends on each other; and who, really, is the most dependent.
The trailer captures the film's stylish beauty, shot on black-and-white 35mm film, and what appear to be two knock-out performances from Zendaya and John David Washington — the latter who worked on the film while this summer's only blockbuster Tenet (in which he also stars) tried to revive moviegoing in the midst of a pandemic. It was a comparatively small movie -- just the two of them -- shot over the course of three weeks in LA's striking Caterpillar House. Sam Levinson started writing the script in April (under the consulting, watchful eye of Jeremy O. Harris, no less), and had wrapped and sold the project for a knockout $30 million by September. Now, according to insider gossip, it's gearing up for Oscar glory.
In a year devoid of domineering filmmaking, space has been made for more modest affairs, which Malcolm & Marie would fit into perfectly. Both of the lead performers have sent Oscar rumours swirling -- could it be another crazy year for Zendaya on the awards circuit post Euphoria?
Check out the trailer below to decide for yourself, and then tune in to Netflix on 5 February to experience the project in full.