How did Olivia Rodrigo hit number one?
In a week, she's gone from Disney Channel kid to record-breaking pop artist all thanks to 'drivers license'. No one's really sure how that happened.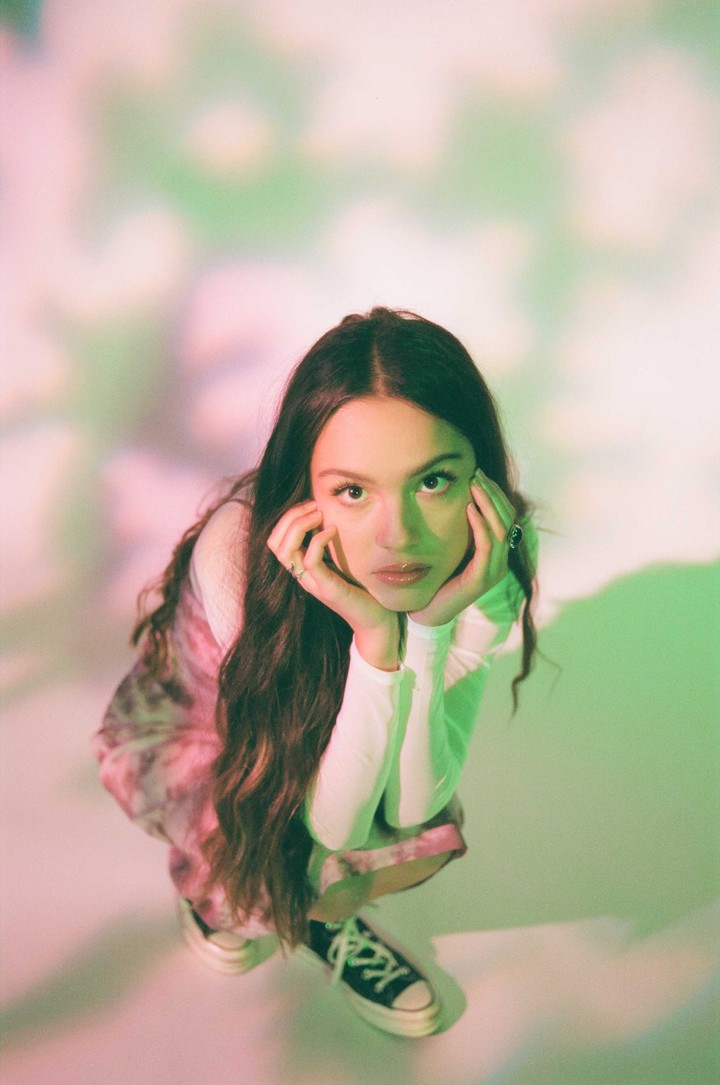 Image courtesy of Universal Music Group
There is no such thing as fate in a music industry that monitors every move that's made, like puppeteers to marionettes. Everything that you see, from Beyoncé-style 'surprise drops' to eye-watering first week album sales can be traced back to months, if not years of prior planning; of strategic placements and bundle deals, designed to shift copies at alarmingly fast rates.
But what happened this week was sort of unprecedented. A 17-year-old girl named Olivia Rodrigo released her debut single "drivers license" on Friday 8 January. By the 11 January, four days later, the song had broken the record for the most single-day streams for a non-holiday song on Spotify, racking up 15 million global streams and beating Ariana Grande's "thank u, next". It broke its own record, with 17 million, just a day later, and has just been revealed as this week's number one in the UK. Even Rihanna returning couldn't stop her from claiming the US top spot later this week.
"We've never seen anything like this," Spotify's Global Hits lead Becky Bass told Billboard, "where you have a newer artist that just comes out of the gate in such a dominant way, and just continues to grow."
Although this was Olivia Rodrigo's first standalone, she had released music as part of the soundtrack for a Disney+ spin-off of High School Musical, called High School Musical: the Musical: the Series. It was something of a cult internet hit, as much enjoyed for its entertainment value by teens as it was by older generations as meme fodder. It wasn't the conversation-spurring knockout that things like Euphoria or Normal People wound up being; rather a fine, minor note in a year of surprisingly fresh lockdown TV.
In that show, she played Nini Salazar-Roberts, whose character played Gabriella in their meta-HSM performance. She, too, had her Troy Bolton in the form of Ricky Bowen, played by Joshua Bassett. Rumours soon swirled of the pair being romantically tied off-screen too.
But late last year, their connection severed: "and that's on failed relationships" the caption on one of her super-popular TikToks read. Break-up confirmed. Brilliant pop music was already in the making.
Which brings us back to "drivers license", a song that has all of the old-school ingredients of a hit, but that typically wouldn't see this kind of success; at least not instantly, anyway. The song is thought to be an allusion to Olivia and Joshua's relationship falling apart, in which she gets her driver's license — something she and an old flame once talked about — and suddenly finds herself single, not able to make that long-anticipated drive to his house. Instead, she's driving through the suburbs wondering how she could ever love someone else, and lamenting the "blonde girl" who took her place.
It sounds like something Lorde would make if she actively wanted a hit (a testament to Olivia's honest songwriting having commercial viability too); or a sparkling Taylor Swift number from a few years back. It possesses the bitterness and borderline embarrassing sorrow someone feels after the person they used to really like decides to call it a day. The kind of stinging, raw emotion that listeners appreciate. Its producer, Dan Nigro, has worked similar magic with Conan Gray on his hit "Heather", and with Sky Ferreira on her debut album. He's straddled the world of indie and hit-making in a manner that, paired with Olivia, speaks directly to a generation who want their radio hits to feel like they're written in bedrooms.
But it also ties perfectly into that public relationship breakdown that we love to obsess over, watching it unfold in real time. It helps that Joshua has responded with a song of his own, titled "Lie Lie Lie", setting the whole situation up to resemble the kind of tête-a-tête we haven't seen since Eamon and Frankee; or Justin Timberlake's "Cry Me A River" and Britney's "Everytime".
Either way, this thought-defunct recipe for musical success is clearly more alive than ever. It's fuelled a significant part of the discourse surrounding the song: Who is Olivia Rodrigo? Who is the guy everyone says this song is about? Suddenly, the question is not so much whether or not the song is good, but rather, you want to know about the semantics of its creation and how it's spreading. That the song is uniquely great is something of a bonus.
Which brings this whole thing back to strategy. It could be that both Olivia and Joshua's teams are conspiring to create a pair of hits, but that doesn't explain why Olivia's, which dropped first and is arguably better, went so stratospheric so quickly. The only answer we have is the one that these things almost always come down to: a predominantly young, female-leaning fanbase, how dedicated they are and how much the song they're pushing wants to be heard by the wider world.
We know how stan armies work: hashtag campaigns and streaming parties; relentless pushes to the top, only to see songs and albums free fall the week after it debuts. But with Olivia Rodrigo, the only semblance of answer we have is that she had enough fans following her online to support the song organically; who genuinely loved it and gave it a gentle nudge forward into the real world. "I definitely think it's a perfect storm," Spotify's Becky also told Billboard. "When we were talking about the audience that she had prior to the release — that's a very young, female, engaged audience. So they really sort of sparked the flame. But now what you have is it travelling well beyond that audience."
The song has been a TikTok success, but so were "Old Town Road" and "Mood" and they took weeks to crack the top spot. And week one, number one debuts — particularly in the US — are rare, but not impossible: Ariana Grande is famously great at it. But no one can quite explain exactly how this 17-year-old from a Disney show was unknown to so many one day and breaking Ariana's years-long record the next. Perhaps, in this case, it is simply inexplicable; one of those weird moments where a song resonates with the right people. What we listen to, for once, defined not solely by the ever-present algorithm, but by word of mouth.
Tagged: