Is this the end of Wendy Williams' reign of chaos?
As her chat show comes to an end today, a chequered past has many wondering what Wendy's future holds.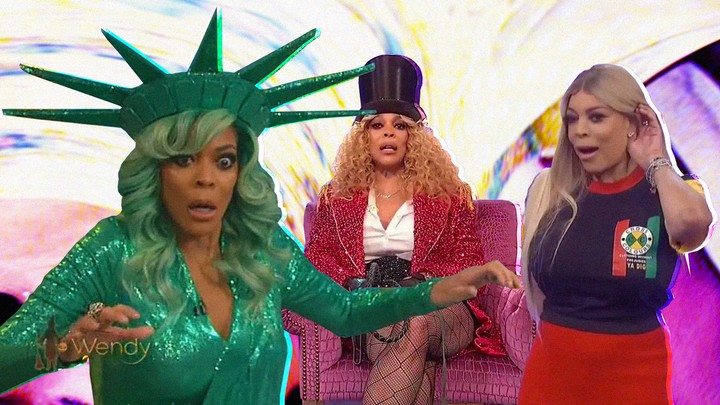 "Death to all of them!" Wendy Williams proclaimed last year on one broadcast of her eponymously-titled, now-cancelled talk show, to the collective gasp of her studio audience — and, later, private gasps of millions who would encounter the clip online. Uttered during the celebrity gossip-centred section of her show called "Hot Topics", Wendy was sharpening her figurative guillotine for members of Britney Spears' family, as vengeance for their varied and extensive roles in the singer's more-than-a-decade-long conservatorship.

The immediate virality of the soundbite was unsurprising — considering its spicy content, topical subject matter, and the infamy, power and camp delivery of its speaker. For almost 22 years, Wendy's stormy, unfiltered contributions to pop-cultural canon have been second to none. Her silly and frequently unhinged quips and takes have come to influence and define our day-to-day cyber speech and lexicon. "She's an icon, she's a legend, she is the moment" is just one of many Wendy-isms to make its way, both verbatim and constantly reformulated, into common online parlance. Hers is the much-shared face of the digital 'reaction' — used either to bolster accompanying captions or on its own to elicit a world of meaning; a kind of stan hieroglyphics built upon the brainworms of terminally too-online people. The deletion of one such popular 'reaction videos' Twitter account, which heavily featured Wendy in its viral clips, prompted one Twitter user to liken the account's suspension to "the modern burning of the Library of Alexandria". Her opinions, both the controversial and banal, are disembodied, decontextualised and disseminated to every corner of the internet, as soon as she's uttered them. To gays, they are gospel.
Part of the undeniable charm of Wendy's persona and performance is its camp gaiety and silliness — everything from her dainty, prissy, tit-shaking skip to her armchair, to exaggerated asides, raised eyebrows, tea-cup choreography, and limp-wristed greeting of 'How you doin?' seems designed to make her audience, wherever they may be, laugh. Her extensive and colourful wardrobe, usually worn as part-advertorial, is a fashion journey that has seen her both debut an unreleased Telfar shade and sport the on-trend creations of Christopher John Rogers. One is never entirely sure quite how in on the joke Wendy is, but through a series of nudges and winks, viewers are encouraged to take much of her melodramatic proclamations with a pinch of salt. It is perhaps this ability to both tell the joke and be its willing butt, that has acted as a saving grace, lending Wendy sufficient goodwill over the years.
She has, after all, survived many controversies and missteps. Her sit-down with Omarosa, and perhaps more famously a 2003 radio interview with the late Whitney Houston, are just two of a laundry list of interviews that produced dynasty levels of camp, catty, melodrama and back and forth. Feuds aside, her willingness to speak on topics where she possessed little knowledge nor had expended considerable thought, often landed her in hot water. In 2020, Wendy was heavily criticised after stating during a Hot Topics segment, where she suggested "gay men should stop wearing [women's] skirts and heels" because women no longer had a thing that was just for women; comments she apologised for tearfully. She has incurred the wrath of the Beyhive repeatedly, once infamously suggesting: "You know Beyoncé can't talk. She sounds like she has a fifth-grade education."
Over the years she has covered varying celebrities and their personal lives with scattergun enthusiasm and minimal empathy. To say that Wendy is not known for her tact is a gross understatement: it is her complete lack of tact in the face of celebrity suffering, and her investment in their interpersonal drama, that drives people to consume her reactions to their dirty laundry. But it's a double-edged sword, evident in how much sympathy the twittering masses have for Wendy when she finds herself the subject of suffering.
Of the many widely quoted and quote-tweeted moments produced by Wendy's existence in public life, what perhaps stands out about her "Death to all of them!" outburst is that the extremity of her rhetoric shocks not just her audience, but apparently shocks the queen shock-jockey herself. This moment forms a recent part of a frequently growing catalogue of unravellings — both public and private — that Wendy's considerable army of critics, fans and observers have been privy to over the course of her long career.
When Wendy collapsed during a Halloween taping of her show, dressed as the Statue of Liberty, live on air, the internet's reaction was swift and merciless. It spawned GIFs, clips and memes still regularly used by people across the internet today, with little sympathy for the implications it had on Wendy's publicly-known health struggles. When her husband's publicly flaunted infidelity forced her to address her relationship in her own gossip segment, many took a great deal of schadenfreude in watching Wendy, the ringleader of the pop-cultural coliseum, get a taste of her own medicine.
Wendy often embodied our worst, pettiest and most invasive instincts — she revelled publicly and indulged with great mirth in the drama and downfalls of celebrities, plastered their heartbreaks and trials across screens for all to consume, comment and speculate like a telenovela. She presided over some of the most gladiatorial aspects of our popular culture. Having conditioned her audience to treat any and all as fair game, Wendy now finds herself perhaps the fairest game of all.

Many detractors view Wendy's latter-day decline and recent show cancellation as a kind of karmic justice; ​​written in her own hand at least in part by her meddling interference with the stars. The cancellation of her show, against the backdrop of her health struggles and her allegations of murky financial impropriety, marks a sorry turn of events: the sudden silencing of a woman who acted as a flawed but glorious megaphone and rallying frequency for that most petty, silly and necessary of practices: gossiping; a scapegoat through which we lived our vicarious desires of nosey, spiteful, delicious messiness, brimming with comical hypocrisies and thoroughly human inconsistencies. Like Echo in Greek myths, without her show, Wendy now finds the words from her own mouth stifled, doomed only to live on in popular culture as a voice disembodied, parroted in the speech of others, and finally finds herself doomed to repeat the very platitudes about her own interpersonal struggles that she derided on the lips of others.
Wendy recently vowed that she would return to TV screens for her show in the Autumn, despite many sources and much rumour milling to the contrary. Her protestations, like much of what Wendy says, are perhaps best taken with a pinch of salt. For now, it seems unlikely — if not impossible — that her claims of a return bear some truth. One cannot count out the indefatigable Wendy Williams — her propensity for rebirth, for ascension to armchair-cum-throne.
Through the ravishes of public clashes, health and family scares, Wendy Williams' legacy has emerged as one of unfettered pettiness, of silly, melodramatic spectacle that embedded itself in meme immemorial, and consequently in the language of the internet itself and many of its most visible subcultures. A question may hang over her future — but her present ubiquity in popular culture is untouchable: Just how many people can claim to have been cursed out by Whitney Houston, name-dropped by Doja Cat and have birthed the incredible moniker Doola Peep?

Tagged: