Saint Laurent makes a splash in Paris with its SS22 show 
Anthony Vaccarello returned to the catwalk with a collection of sophisticated and sexy womenswear.
|
29 September 2021, 3:16pm
Paris is hellbent on sizzling again. In fact, it's causing a literal splash. At the Saint Laurent SS22 show last night, held directly under the glow of a twinkling Eiffel Tower, the French house made its comeback to IRL shows with a giant techno waterfall and awe-inducing light display that unapologetically declared: "Bonjour, bitches! We're back." It's a postcard-perfect scene we've all missed, equally as breathtaking as the Nordic glaciers, desert sand dunes, and windblown cliffs that provided the dramatic backdrops to Anthony Vaccarello's lockdown fashion films.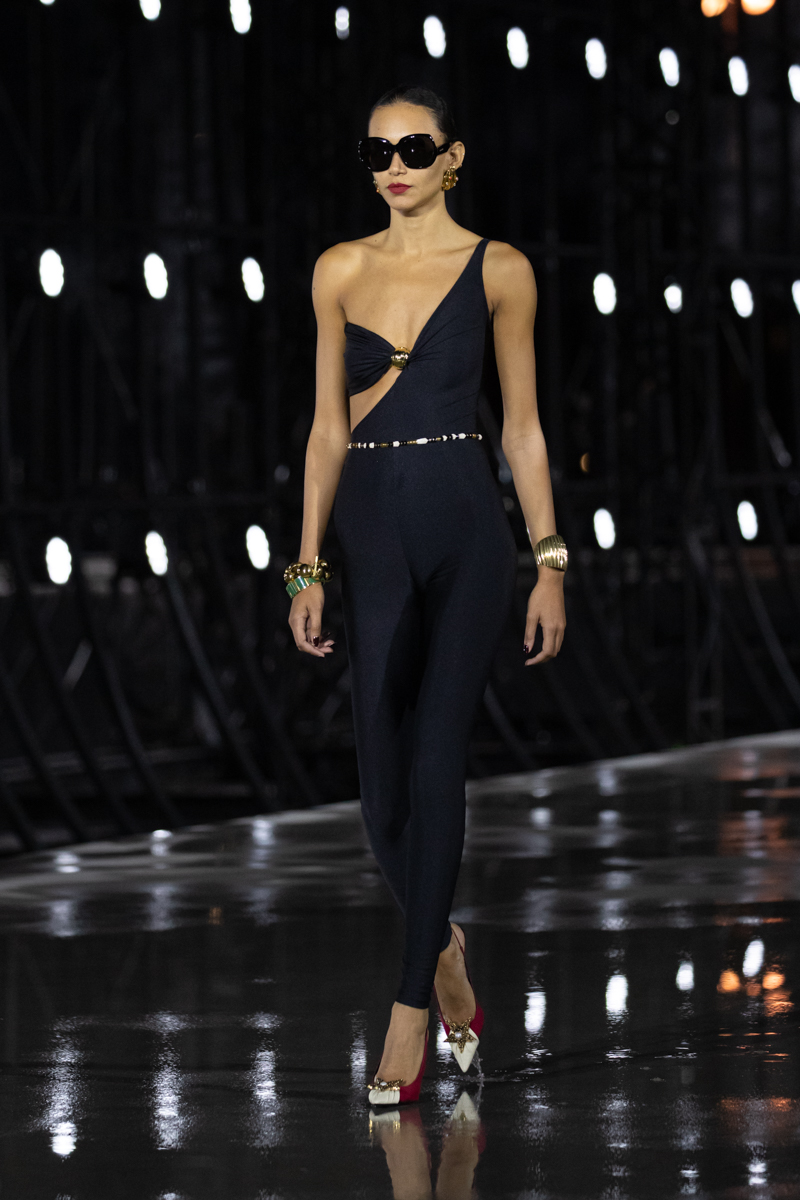 The clothes, too, were spectacular. They are the kind of clothes you only ever see at Saint Laurent: brazen and badass, monstrously chic and insatiably sexy. The highest heels, the most meticulous tailoring, the clingiest, stretchiest fabrics, and of course, the most skin on show. But perhaps because the rest of fashion is only just catching up to what Anthony has been honing at Saint Laurent for years, it felt especially prescient to witness it in-person again.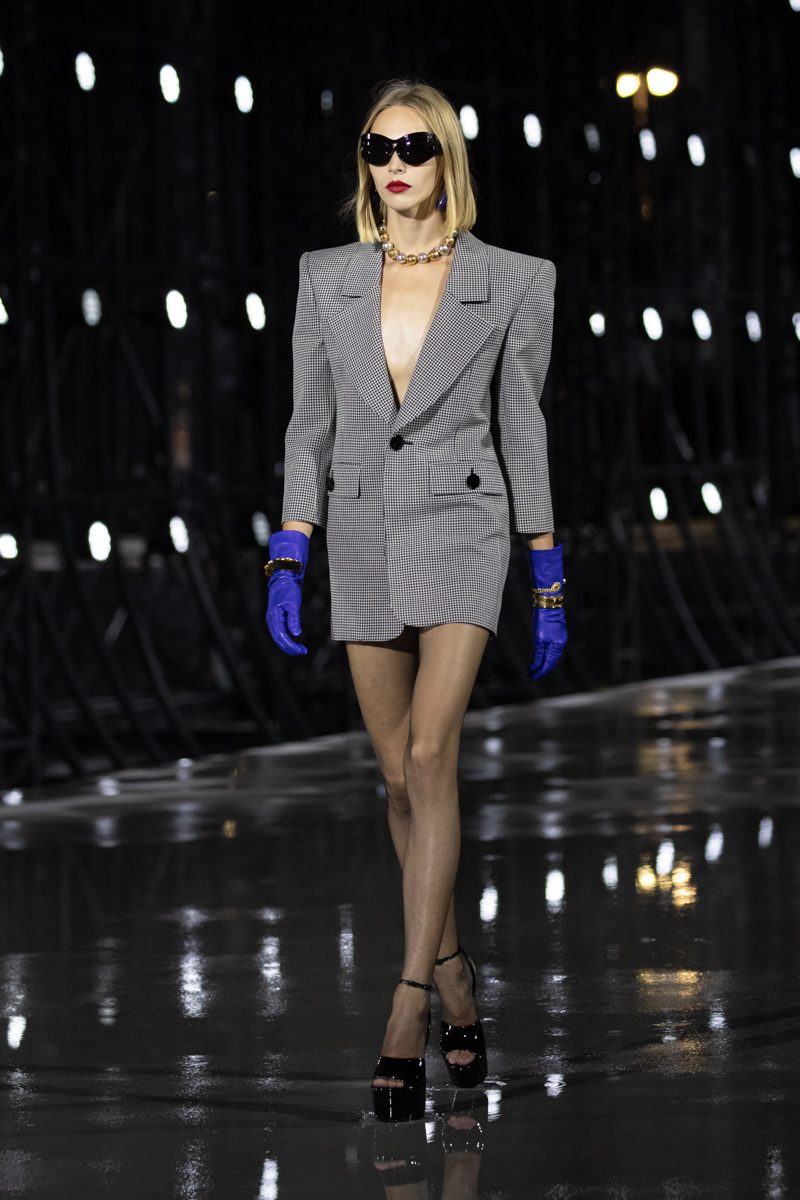 This is Saint Laurent, after all, the house of le smoking, arguably the steamiest precursor to gender-fluidity in catwalk history. Anthony knows he needs to show a young generation what it's all about, and just how vital Yves was in liberating women as they fought for sexual freedom and autonomy in the 60s. More than clothes, that also includes the women who were a part of the YSL story from the start. For this collection, the Belgian designer looked to Paloma Picasso, who in the late 60s became one of Yves's muses and collaborators, and who drew from her own style and began by making jewellery, belts and shoes for Saint Laurent.
Back then, Paloma shopped at flea markets and borrowed her mother's dresses from the 40s, pairing them with velvet turbans and strapped wedges in the style of Carmen Miranda. She was a woman who could make the low look high and the masc look femme, and vice versa. At the time, the 40s-inspired look was considered louche and lewd, embraced by a generation too young to remember the war — and perhaps today's equivalent is the bombastic sexuality of Y2K for a generation too young to remember the flaws of pre-woke culture. "For a long time, I [have] wanted to transpose this meeting between Paloma Picasso and Yves Saint Laurent, whose importance few realise in the designer's creative journey," Anthony explained. "It is a moment to which I am sensitive as a designer, because for me it is the defining moment when Saint Laurent's fashion creativity became a style."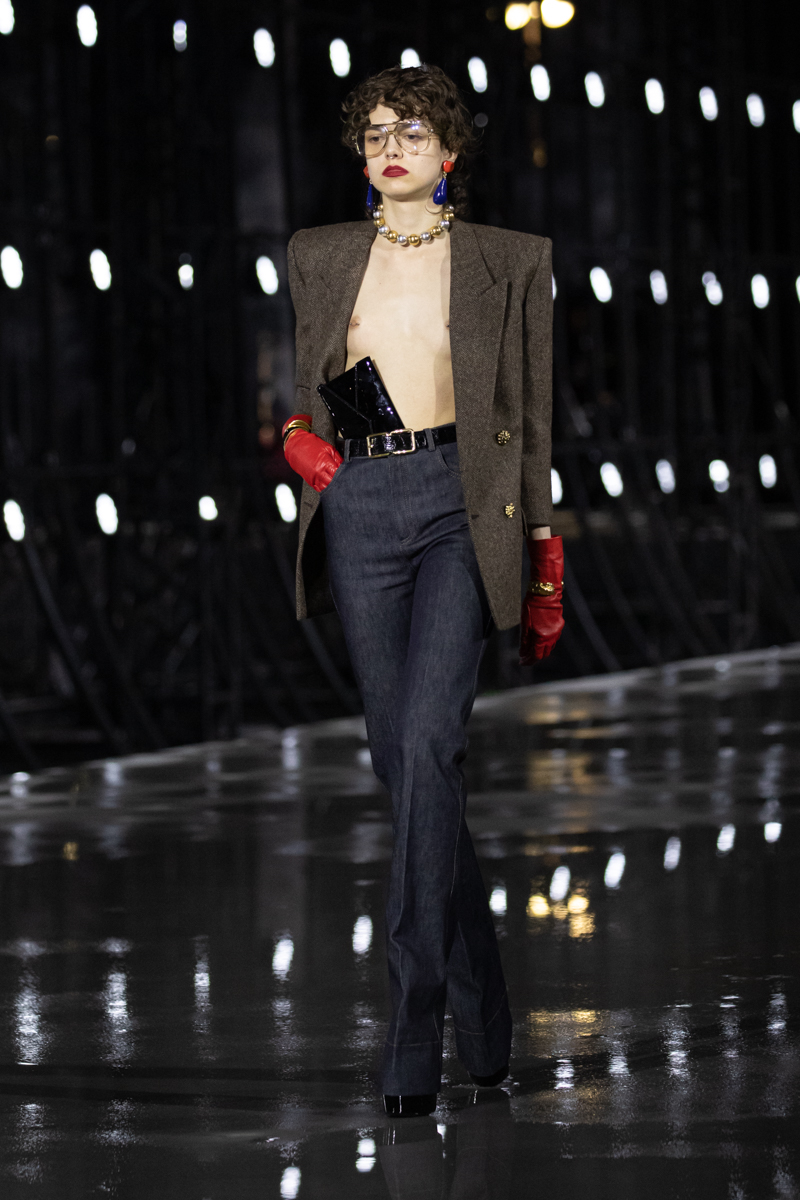 Indeed, Paloma's ability to cause a stir was what made her one of the best-dressed women in the world. Anthony took her scarlet-lipped androgyny and leaned into creating a collection for a woman who "scandalises as much as she attracts," as the show notes put it, and who is "effortlessly inventive in every aspect of her appearances, always projecting a studied nonchalance." Read into that what you will; it's meant to be mysterious, after all, but perhaps the most obvious example is that there are never any handbags at Saint Laurent. This time, there were a few croc-leather pochettes tucked into the waistbands of sky-high waisted trousers and crisp jeans (chez Saint Laurent, hands are either in pockets or holding the hand of a lover, as queen-parisienne Carine Roitfeld once put it).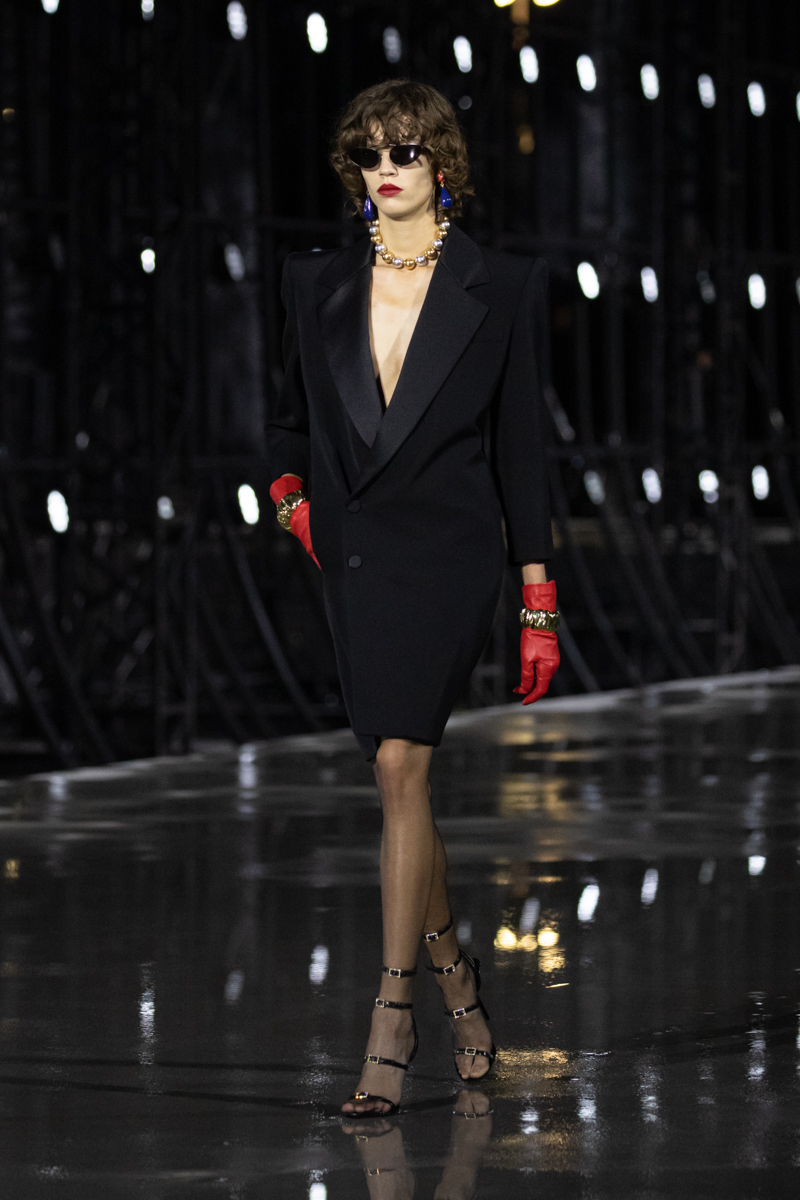 She's a woman who will happily accept the most outrageous Uber surcharge. But for those who interpret the sky-high heels and razor-sharp tailoring as discomfort, think again. Amidst the long-and-lean trousers and blazers were predominantly jersey and spandex bodysuits, tank tops and second-skin leggings. And what could be more 2021 than stretch fabrics? You could even argue it's closer to performance wear than haute couture, something that feels very much in the spirit of Yves, a couturier who once said he wished he could have designed the first pair of blue jeans. "They have expression, modesty, sex appeal, simplicity – all that I hope for in my clothes," Yves once wrote.
This felt like Anthony's way of reflecting on life after lockdown — we want to go out, but we have also grown to love staying in. It came across as sharpness, not hardness. During the last 18 months, where other houses struggled to make their shows translate to the new virtual reality, Saint Laurent did so effortlessly with its cinematic films — and again, often quite literally, the sky was the limit. But sometimes Paris and its deliciously ridiculous clichés, like the Eiffel Tower and red lipstick, is escapism in itself. Besides, we all want to feel something from a fashion show — and there's something subversively thrilling about a giant waterfall violently splashing the faces of the front row. Saint Laurent, Je t'aime.