Images courtesy of Louis Vuitton
Louis Vuitton SS22 was a voyage through the passage of time
Nicolas Ghesquière presented a joyful clash of references from across centuries of fashion history, resulting in something entirely new.
Images courtesy of Louis Vuitton
Nicolas Ghesquière's work for Louis Vuitton does away with so many conventions of design that it's hard to pin it down with the language we typically use to describe fashion collections. He designs freely, rarely referencing particular garment archetypes, and roaming centuries of sartorial history in his search for new ideas of beauty and new kinds of realism.
Typically the closing show of Paris Fashion Week, it invariably stands apart from the season's throughline trends. For SS22, that meant no nostalgic Y2K references; no obvious nods to post-pandemic sexiness and bodily liberation. Instead, Louis Vuitton is a house that exists entirely on its own terms. It is apt, then, that Nicolas described this collection as springing from somewhere "where time is of no consequence" — a bold statement, given how essential seasonality is to how we've traditionally understood fashion — as well as from the costumes he designed for Olivier Assayas' TV adaptation of his film Irma Vep.
The original 1996 film version features Maggie Cheung playing herself as she attempts to make a new version of one of the very first films, Les Vampires, from 1915. The complex, meta-textual plot boiled down to something simpler in Nicolas' mind — the idea of a vampire travelling through time "adapting to the dress codes of the time he lives in," he explained, "while maintaining an air of the past."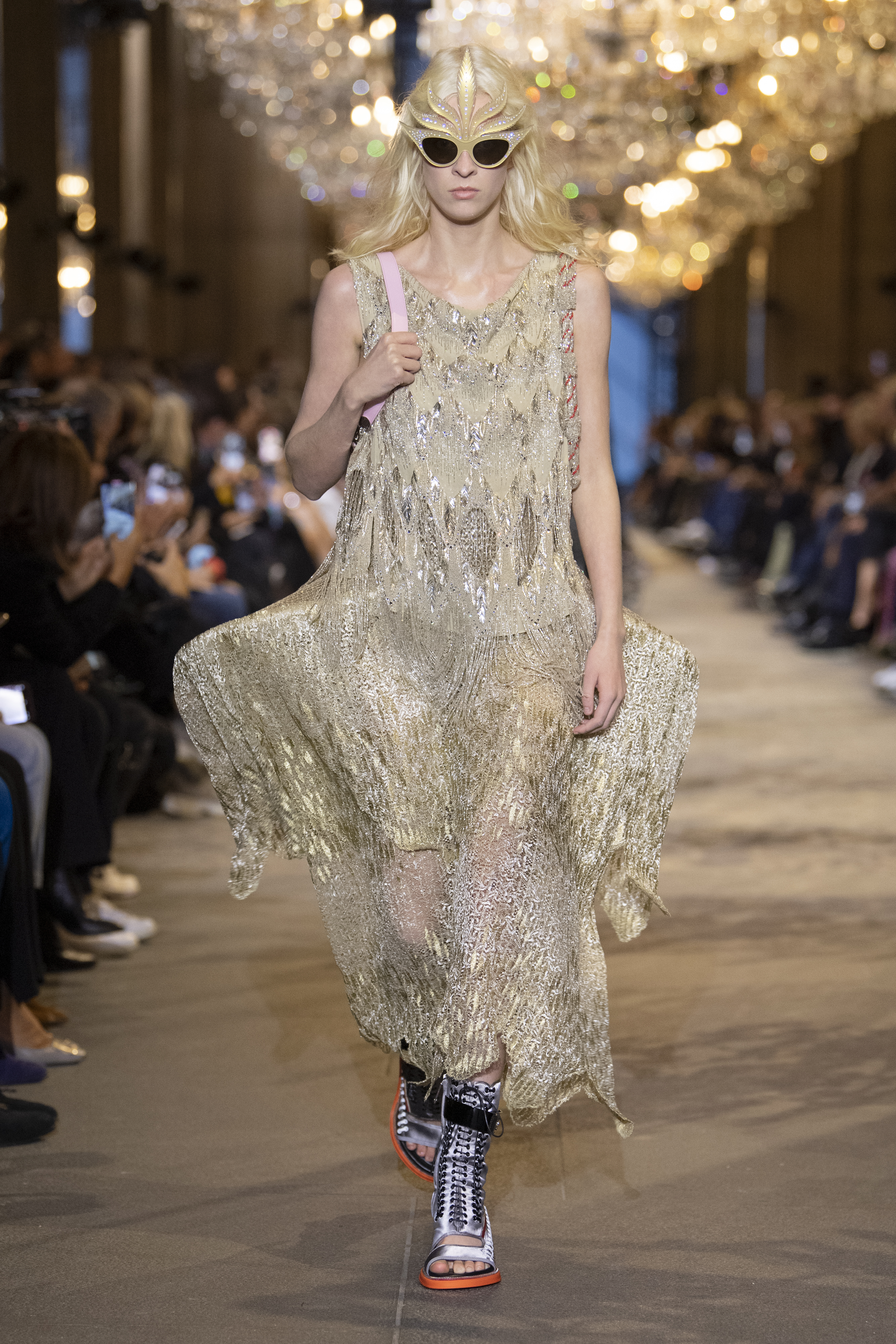 The setting for the show was a grand ball, held at dusk beneath the light of a thousand antique chandeliers lining the Louvre's Passage Richelieu, through which the original Mr. Vuitton would travel to meet Empress Eugenie, his client. The fact that this year marks what would have been the 200th birthday of the house's namesake founder also turned Nicolas' thoughts to the idea of "transmission" across the centuries, prompting him to bring together "a dress from 1920, jeans from the 1990s." It led to some intentionally askew yet fascinating juxtapositions: a heavy 19th-century dress silhouette was deconstructed to yield something altogether much lighter, more modern; denim tuxedos trailed off into half ballgowns; demi-couture embroidered and embellished tops were worn with jeans; khakis were paired with bustle-supported skirts and extravagant cascades of ruffles.
"An urban wardrobe that takes on a ceremonial guise," was how he described it, and the best looks were those that leaned into that most heavily. They flitted harmoniously between past and present, resolving the conflicts between different times and places to create something that felt real and covetable.
Halfway through the show, a protester burst onto the runway, holding aloft a sign that read "Overconsumption = Extinction", making it down to the end of the runway before being manhandled off. While their fair reminder of the harsh environmental impact of fashion weeks momentarily detracted from the clothes on show, it only stoked the drama of this already most spectacular of shows. This was a fitting end to the return of a normal-ish show schedule, going beyond a simple celebration of fashion's history to also reach for something more purposeful in its present. It was a reminder of the grand scale of the ideas that clothing can articulate, and of the fact that newness is possible.