The new Stephen King horror from Blumhouse sounds like an absolute trip
Get it? Trip? Because 'Christine' is a film about a possessed, murderous car? Sorry.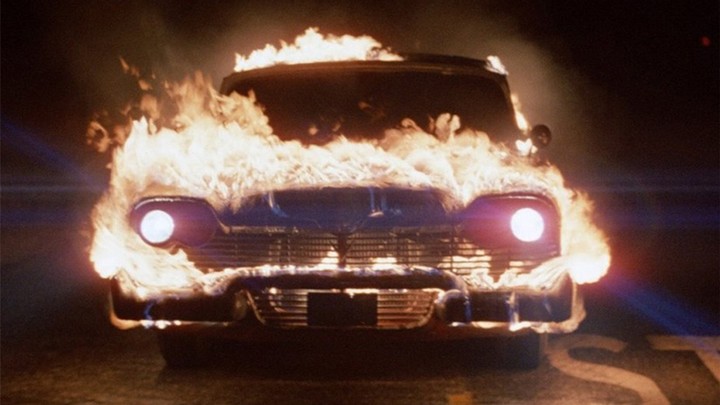 In terms of matches made in horror heaven, it doesn't get much better than the union of prolific author Stephen King (the twisted mind who gave the world The Shining, It, Carrie and Pet Sematary, to name but a few) and Blumhouse (the production company who has dominated the modern horror genre with future classics like Get Out, The Purge, Ma, Insidious and Us). Naturally, we're very excited for the pair's latest collaboration: an adaptation of Stephen King's 1983 novel Christine.
Sony Pictures and Blumhouse are set to release a new adaptation of the novel, with Bryan Fuller -- of moody queer-coded cannibalistic horror series Hannibal -- signed on to write and direct, and Jason Blum, Vincenzo Natali and Steven Hoban set to produce, Deadline reports.
Christine, for those unfamiliar with any Stephen King books that haven't had hugely popular blockbuster adaptations in the past few years (No judgement — they're incredibly long and our attention spans are short!), is a 1970s themed cautionary tale about a car with a murderous past and a mind of its own. The car in question (a 1958 Plymouth Fury named Christine) is purchased from a mysterious old man by unpopular nerd Arnie, who quickly develops an unhealthy obsession with his vehicle, and starts dressing like a 50s greaser himself.

That, in itself, is perhaps weird enough -- not to kink shame -- but things soon get weirder, when the old man who sold Christine to Arnie dies, and the car becomes possessed by his vengeful spirit. Later, when bullies deface Christine, the car promptly restores itself to perfect condition and seeks revenge by killing off the bullies one by one. A classic tale!
This isn't the first time Christine has nabbed herself a movie adaptation. It was first seen on screen in December of the same year it was published (they moved fast in the 80s) as an adaptation from veteran horror director John Carpenter. Although it received mixed reviews at the time, it's since become a cult classic, so expectations are high for the update.
While not much is known so far about Blumhouse's new Christine, Deadline reports that director Bryan Fuller intends to go full It and keep the film set in the 1970s time period it was initially set. With the announcement relatively fresh, there's no set release date yet, but let's hope things move fast. Get it? Sorry.
Tagged: