Kim Kardashian West was actually really fun on SNL
KKW killed it.
|
10 October 2021, 12:56pm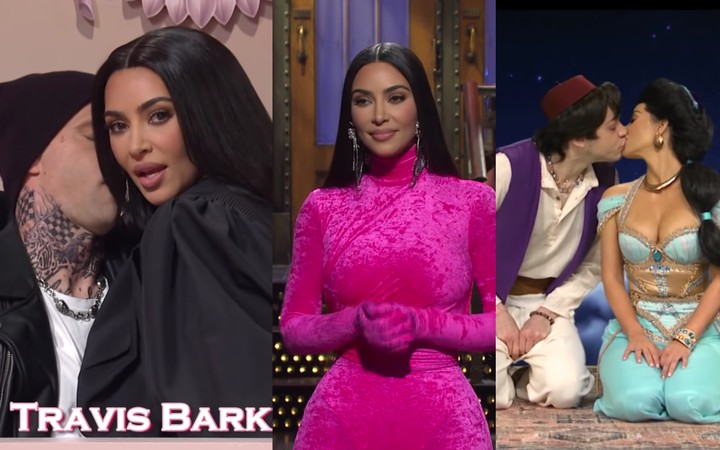 Images courtesy of NBC
Kim Kardashian West hosted Saturday Night Live for the first time last night, and well, there's no other way to put this…she was great?
Like, not just passable but actually really, really good. Her comic timing was brilliant, she was clearly really game for any sketch ideas that came along and more than ready to take the piss out of herself.
Oh, and she also kissed Pete Davidson. She really did take one for the team. Kris Jenner would be proud. You're doing amazing sweetie!
Any long-time viewer of the Kardashians will know that despite years of media reports to the contrary, America's First Family can actually be really funny, mostly riffing on common stereotypes surrounding them and their lives.
And there was plenty of nudge-nudge, wink-wink material on show. In Kim's host monologue she touched on the bizarre fact she was even hosting the show in the first place ("I'm surprised to see me here too"), her marriage to Kanye West ("when I divorced him it came down to one thing…his personality") and OJ jokes. Several of them! Looking post-modernism right in the eye.
The highlight of Kim's SNL tenure, however, was clearly the sketch The People's Kourt, where she impersonated her sister Kourtney, who found a new gig as a Judge Judy clone.
Kourtney's new beau Travis Barker appeared, played by SNL cast member Mikey Day, and has anyone written a joke as good as "will you drum All The Small Things on my ass when we get home?" No, no they have not.
Not only were there cameos from Khloe and musical guest Halsey as Kendall Jenner, but Kris Jenner struggling to read the auto-cue was perhaps the campest thing we've seen all year. The devil works hard, etc.
The gig can be seen as a big swing for KKW in the fallout of Keeping With The Kardashians ending last year. With the family's new Hulu reality show not yet premiered, it's nice to see that new avenues for her existence as a celebrity exist that are separate from appearing at Kanye's various album launches in head-to-toe Balmain and her wedding dress.
Good job, KKW. We didn't doubt you for a second.
Follow i-D on Instagram and TikTok for more TV and celeb news.
Tagged: