Images courtesy of Maison Margiela
Maison Margiela Artisanal 2021 reveals the alchemistic power of nature
In a feature film directed by Olivier Dahan, John Galliano presented intricately hand-wrought clothes that challenged the meaning of couture.
Images courtesy of Maison Margiela
If there's one thing that John Galliano has made a name for in his more than three decades at the height of the fashion industry, it's a sense of high drama. It's fitting, then, that for the presentation of his Artisanal 2021 collection for Maison Margiela, he didn't fiddle about with the five-to-ten minute short flicks that most houses create in the absence of physical shows. No, he went big, enlisting Olivier Dahan, the Oscar-winning director of La Vie en rose, to create A Folk Horror Tale, a brooding, romantic feature-length epic.
Of course, such dramatic scale is only appropriate for the dramatic nature of the times we've all been wading through of late. Thanks to the pandemic, "we've all been battered by the power of mother nature," John ponders in one of the film's intersecting interview segments, "and how humbling it's been." The supreme power of mother nature colours the visual narrative set in an isolated fishing community caught in the primordial battle between man and sea.
Where the power of mother nature made itself most pertinently felt, though, was in the clothing itself. Rather than a consequence of the film's weather-battered story, it would be more accurate to say that the plot was a consequence of the collection's weather-worn garments. Channeling the notion of neo-alchemy, described in the show notes as "the search for authenticity through scientific transmutations of shapes and textures of familiar garments, realised through harmonious dialogue with the natural elements", John bleached stiff, gauzy tarlatans by moonlight, and enzyme-washed denims and wools.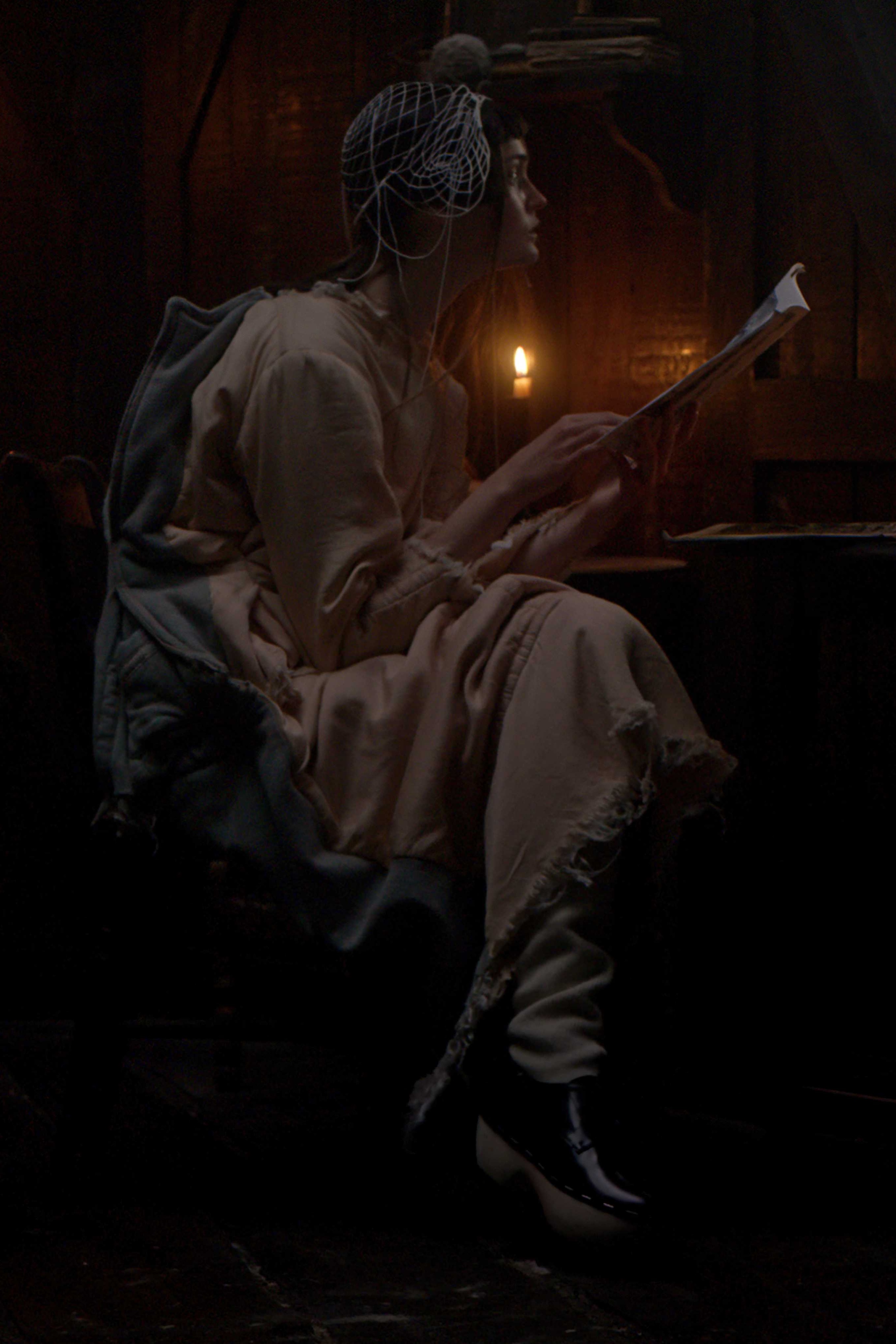 The latter technique -- Essorage, French for 'wringing out' -- is a new one for the house. It sees familiar pieces, perhaps the most impressive of all being Maison Margiela's iconic loden coat, graded up and shrunken down using finely tuned chemical washes to yield a uniquely rugged effect. A raw-edged sage wool overcoat, for example, "had to be graded up eight, nine times to allow for the fact that after its process, it would come back to" a normal size, John shares. The technique was also applied to vintage denim jackets and even t-shirts, two other mainstay sartorial tokens for the house.
For all its handwrought feel -- which extends to a gown and crown composed of artfully arranged mirror shards; sweaters patchworked from Delft Blue 'tiles' hand-knit by members of the Maison Margiela atelier team; and fisherman's guernseys darned with aged newspapers by artist Celia Pym -- there's an inimitable sense of precision to the art of undoing that John has long since finessed, just as Martin Margiela did before him. Those weathered loden coats, for example, are impeccably lined with silks printed with motifs from the film's narrative, and cut to give peeks of the fabric beneath, conveying a sense of the histories and stories carried through time by a single piece.
Indeed, the clothes on show here may not conform to dainty, prim vision of haute couture that so many of us envisage when we hear the term, but in that lies their greatest strength. Rather than foist a lofty vision of misguided aspiration onto the audience, here John Galliano and his team have alchemised the mighty power of nature and a humble respect for cloth into truly Artisanal clothes.