What happens when you cancel fashion week?
After the cancellation of this year's Tokyo Fashion Week due to COVID-19, Japan's designers were forced to rethink not just their shows — but the entire fashion industry.
HYKE at a previous Tokyo Fashion Week
On March 2nd came the announcement that, for the second time in history, Tokyo Fashion Week was to be cancelled. After the national and municipal authorities called for those in Tokyo to refrain from holding large-scale events, the decision on the part of Tokyo Fashion Week's organising committee seemed inevitable. In the end, all of the Autumn/Winter 2020 fashion weeks in Asia were either postponed or cancelled altogether.
From weeks before the final decision was announced, the designers who were busily preparing their collections were in a state of some anxiety, never knowing what news the next day would bring. Some brands planning to participate decided to slate their plans, and were forced to pay a cancellation fee. Every designer's worst-case scenario — where their new collection could be shown in an unsatisfactory manner — must have seemed to a very real possibility to every prospective participant. So, a few weeks later, how are the designers feeling about the situation now?
"I've been really feeling the necessity of sustainability, not just from a sales perspective, but on a more psychological level too," says Yoshiki Hanzawa. In the wake of the cancellation of the runway show, his brand PERMINUTE released its first ever video. PERMINUTE has also announced that starting this season, it will introduce an internally managed ordering system. "With the development of global capitalism, the fashion industry has grown so enormous, and I don't feel there's a need to go along with the pace it sets. I've come to think that I want to place more importance not just on having orders, but on interpersonal connections."
Designer Hideaki Shikama, founder of the brand Children of the Discordance whose collections are based around deadstock fabric, says: "If we come to a standstill then everyone comes to a standstill." From the outset, Shikama has steered his brand to avoid mass production, being firm about not taking any orders that overshoot their manufacturing capacity. "Luckily, thanks to the fact we make our stuff in the studio, our team that supports our one-off production methods, and our factory located near our studio, we haven't been greatly affected."
At the moment, this approach appears as something of a beacon for others. Japan is coming to a place where we need to rethink the current state of Japanese fashion, where brands have several bases spread across the country, each managing all the production stages. A real 'local production for local consumption' approach. Further, this crisis seems a valuable opportunity to rethink the merits and demerits of an approach to mass-production that generates such an excessive amount of waste.

In this situation where the future is so hard to predict, cancellations of orders and buyer hesitation are extremely likely. In some cases, owing to the restrictions in place overseas, factories are being temporarily shut down, and delayed deliveries of products and fabric are proving a grave structural problem for the fashion industry. From here on in, the effects this situation will have on all areas of the production cycle, from design and presentation and manufacture through to delivery to the shop and the very moment the buyer tries the product on will become ever more apparent. And yet there are some brands who see it as crucial not to stop producing.
Reiji Harimoto, who set up his own brand APOCRYPHA after working at Yohji Yamamoto as a men's pattern-maker says, "Exactly because we're are a completely new brand, this is the time to get our stuff out there, not to hold back." APOCRYPHA took the decision to reorganise the show it had planned, rethinking not only the venue and timing but the contents of the show itself, eventually putting on a live installation without an audience. "The mode of presentation is different, but the desire to make and put things out there that might make people feel a bit lighter and more positive about things hasn't changed."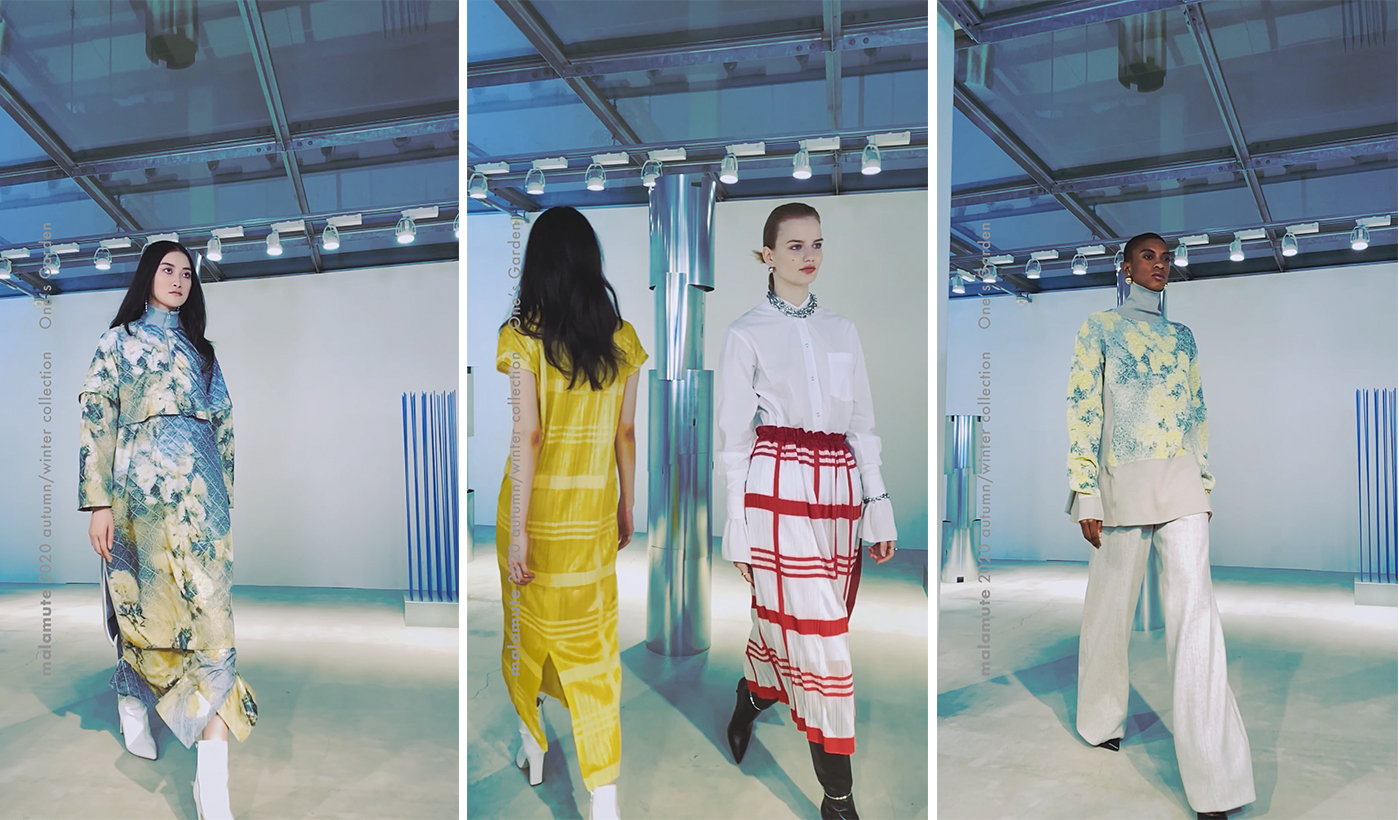 Malamute, a brand whose collection revolves around its range of intricate knitwear, and whose means of production have grown out of close collaboration with Japanese-based artisans and factories, revealed its new collection through Instagram stories. "We thought about how we could get across the movement and feeling of immediacy that you get with a runway show, in a way where the spectators didn't need to be in the same location," said designer Mari Odaka.
To reiterate, the cancellation of this season's Tokyo Fashion Week was inevitable. Practically speaking, it would have been impossible to implement measures that would guarantee the safety of all those involved in the event.
From an international perspective, Japan's level of hygiene awareness within public spaces is on the high side. I recall the time when a friend from overseas visited and was impressed by how the servers in the restaurants would disinfect the cover of the menu each time the customers finished their meal. At this time of the year, it's very common to see people wearing masks to fend off the spread of influenza. In fact, these acts are so woven into the fabric of our everyday life that they register as totally normal. The sight of someone wearing a mask doesn't lead us to question whether they've a serious illness. Needless to say, preventing the spread of an undetected virus is considered of crucial importance. It's understood that, while consulting the advice given by the government and experts, one has to think perpetually about the safety of yourself and those around you, and to act accordingly. All of those brands that have been staging exhibitions since the outbreak of the virus have been taking measures such as installing hand sanitiser dispensers in the venues, encouraging the wearing of masks, and imposing restrictions on the numbers of people admitted at one time.
This train of thought carries me to the other time when Tokyo Fashion Week was abandoned, after the Tōhoku earthquake and tsunami of March 2011. The destruction caused by the disaster broke all kinds of records. The nation's understanding of scale of the devastation, the numbers of those who'd lost their lives, the depth of the tsunami's claw marks, grew with each day that passed. All over Japan, people experienced a sense of crisis. The shops shut, people were asked to conserve electricity and take special safety precautions. Every neighbourhood across the nation was plunged into a state of chaos, and everybody felt it.
When foreign media broadcast pictures of people lining up to get onto the trains that had finally began running again, the outside world had a glimpse of the Japanese way of confronting, solemnly and silently, whatever hardship they face. For all of these reasons, the Tōhoku disaster remains a memory and a lived experience that cannot be forgotten by people, regardless of their individual circumstances.
"I was still a high-school student when 3/11 happened," says Hanzawa, who comes from Fukushima. "I feel that having all those dramatic changes to society happen just as I was starting to think about my future really shaped my attitude to life. The current situation might be different, but at least as concerns the sense of instability, it's similar. I think it'll give makers with new attitudes and ways of doing things the opportunity to emerge."
Back in 2011, fashion designers had no choice but to take difficult decisions: cancellations, postponements, altering the way their work was presented. It was not uncommon to hear people lamenting the powerlessness of the fashion industry. However, little by little, mindsets began to change. Culture must not stop evolving. Thus the designers started searching out new methods for contributing to the recovery attempts. Brands mintdesigns and ANREALAGE, under the joint title 'A New Hope', decided to stage a runway show they'd initially planned to cancel, so as to give a ray of hope to fashion lovers. They also intended to help in the reconstruction of factories that had been swept away by the tsunami in a badly affected area of Tōhoku. Many people felt from this effort the positive light of hope.
Of course, a pandemic is very different from the aftermath of a natural disaster, and maximal self-protection is key. And yet, is it not also important to have a technique for minimising stress and anxiety? In Tokyo, many of those who are doing their best to weather a situation that changes second by second find solace in going about their lives in a way that feels uniquely theirs. Nobody boasts about it in loud voices, but in this we can see the character of Japanese people and the teachings of 2011.
"The act of making decisions which could hurt someone deeply contradicts the concept of our brand," says Yusho Kobayashi, who was planning to stage his second installation at Tokyo Fashion Week since returning to Japan after graduating Central St Martins. "We decided to investigate various options for doing online shows, thinking that this was a good way of rebooting people's attitudes and expectations in these changing times."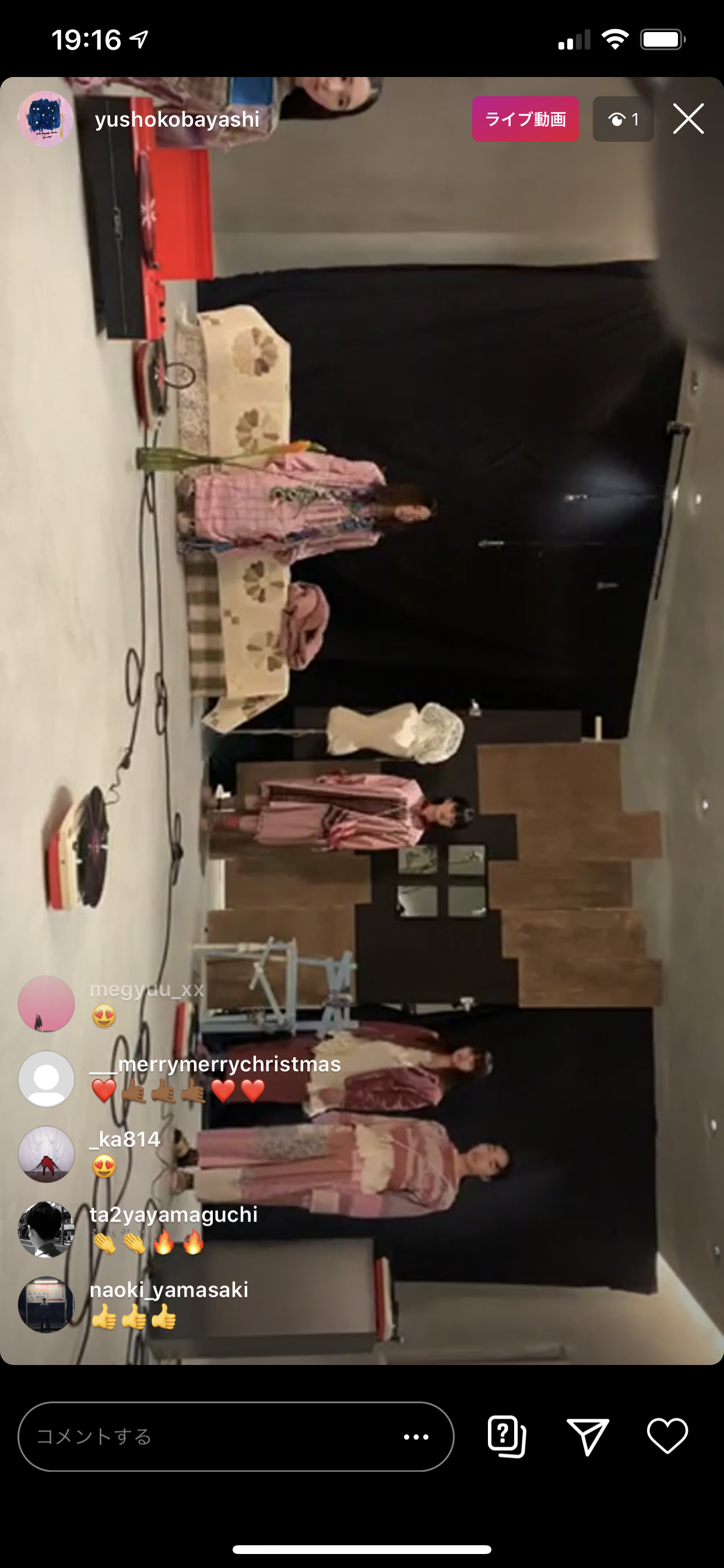 Opening five new Instagram accounts, the brand has broadcast footage of the show from six different angles, including those taken on an iPhone from the PA room and backstage. "It's being viewed on small screens, and it's not high quality footage or anything. I wanted it to have a DIY feel to it." Regarding the future of his brand, Kobayashi continues, "Fashion is art and culture, but it's also a part of our everyday lives. Our top priority is to find the right balance between dream and reality. Fashion is born of having a certain amount of mental space — it's a similar kind of impulse to buying flowers on your way home. That's also going to be true of what's sought from fashion in the future."
How will fashion change, once we have moved beyond this period of uncertainty? Keisuke Yoshida of KEISUKEYOSHIDA says, "I've always thought that fashion has the power to change people. Fashion designers create their vision from fresh ideas, which come to them through engaging in society. They're always trying to uncover the way that people and their attire will be in the near future. Given the state of society now, the 2021 Spring/Summer season will definitely be interesting."
There is no doubt that contemporary designers will take this experience and connect it to the future. And so we'll watch carefully and see what becomes of this cultural moment and the energy of those determined to overcome it.
---
Credits
Translation Polly Barton
This article was originally published on i-D Japan and has been edited and condensed for clarity.