How to get your artwork featured by Alexander McQueen
The iconic brand wants you to get creative in isolation.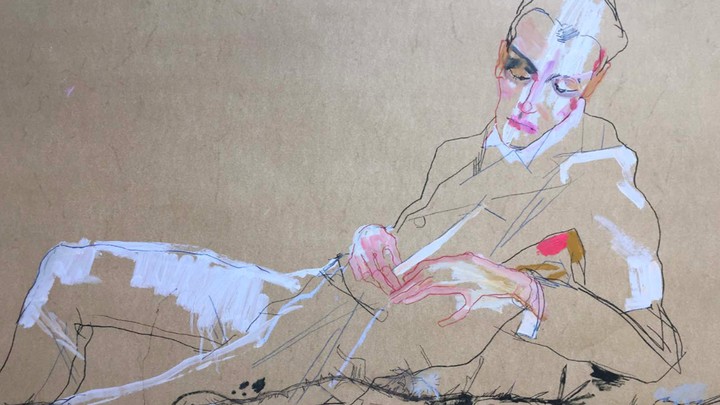 Illustration by Howard Tangye
So you've watched everything on Netflix, eaten all of your quarantine snacks and done every TikTok dance challenge in the book. What else is there to do to quell that creeping isolation dread and boredom? Well, thanks to Alexander McQueen, here's something a little more creatively fulfilling.
This week, the heritage brand is inviting their followers to get creative and recreate their favourite McQueen look from the most recent SS20 and AW20 collections. Anyone can get involved. All you need is a sketchbook and whatever your chosen materials are (charcoal, pencils, pastels or paints) to freely interpret whatever look is your fave.
And you'll be in good company. Also making a submission is the London-based artist Howard Tangye, known for his multimedia portraits and his work as head of BA Womenswear at Central Saint Martins. Howard will be appearing on the McQueen YouTube channel this Friday 24 April at 6pm GMT to take part in the challenge, and to share his expertise in a tutorial. Ah, like being back at uni before Miss Rona shut us all inside. Except better because you can watch it in your pants!
Howard will be recreating a look from the AW20 men's collection: an ivory tailored double-breasted wool overcoat, printed with black thistles and embroidered with silver bullion thread. But before you tune in to watch his artistic interpretation, why not get involved yourself?
Participants can post their final creations on Instagram with the hashtag #McQueenCreators, tagging @AlexanderMcQueen. A selection of the best and most creative interpretations will then be shared on the brand's Instagram feed. It might not quite be the same as Friday pints, but it's a very wholesome way to start off another weekend in quarantine. Good luck!
Tagged: