We spoke to the Depop sellers making bank off the coronavirus pandemic
Capitalism! Yikes! ¯\_(ツ)_/¯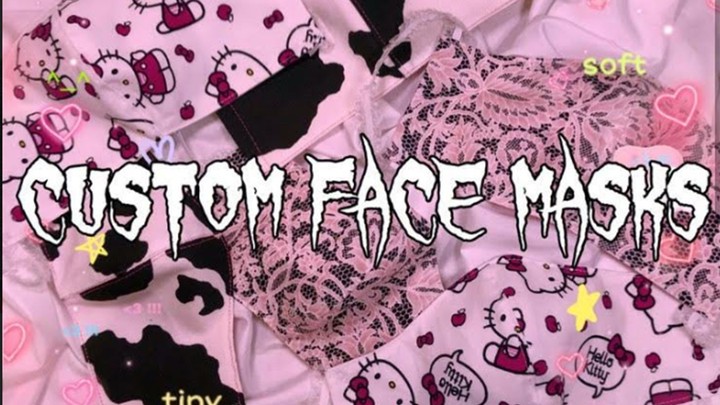 Chloe, a student based in Portsmouth, used to be part of an online community that collected Bath & Body Works PocketBacs -- minuscule hand sanitisers that came with their own cases, and could be clipped onto backpacks and bags. They were bright, colourful and impossible to find in the UK. "I would buy hand sanitisers all the time and brands from different shops or from specific eBay sellers," she says. When friends and family went abroad, she would ask them to bring some back. "At the peak of my collection, I had more than 150 hand sanitizers but, obviously, I never used them. So I decided to sell my brand new PocketBacs on to people who share my old passion."
When she started selling the products on Depop, halfway through 2019, her PocketBac empire didn't quite reach the heights she had imagined. But recently, her hand sanitisers have been in high demand. "I've had offers from people to buy every single one that I own!" Chloe says. Unsurprisingly, that upsurge has coincided with the explosion of a pandemic, and the panic-buying associated with it.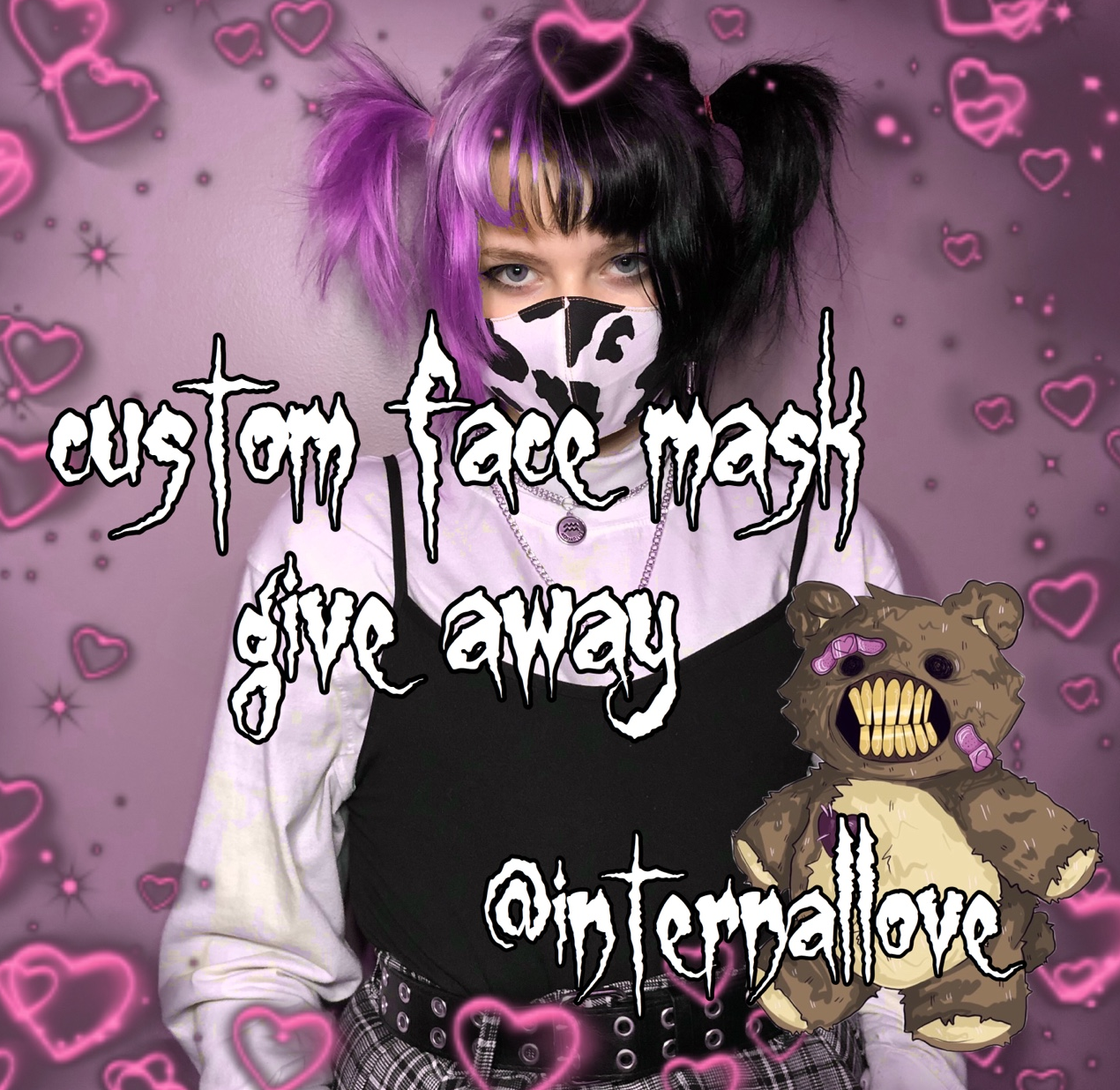 Enterprising sellers on Depop, eBay and other secondary marketplaces, like Facebook marketplace and even Instagram, are cashing in on fears around the spread of COVID-19, or coronavirus, since it broke out in the Wuhan province of China towards the end of 2019. These users have been selling custom made face masks, hand sanitiser and N95 masks (air filtration masks used most often by cyclists). On eBay, a handful of sellers have even been hawking mocked up textbooks about coronavirus, with the titles of real scientific papers, for as much as £67. For some of them -- like Chloe -- it's an unexpected surplus into a very passive source of income. For others, it's an active opportunity to capitalise on global fear to grow their businesses.
A market research firm called Helium 10, which works with sellers on Amazon, says that the words "N95 mask" have been searched for over 862,000 times in the last month. For December, that number was just 4,500. Surgical face masks have become increasingly in demand too, and news outlets around the world have reported severe shortages -- particularly in the US -- which could potentially affect doctors and care workers on the frontlines of treating coronavirus in hospitals.
Sophie, who's based in Canada, claims she began making masks to sell for two reasons: because people in her local community were starting to get worried about coronavirus, but also because she thought the disposable surgical masks she was seeing everywhere were wasteful. "I made a few for my friends, and I use cotton or canvas, and the fabrics are all from my local fabric shop," says Sophie. "I've probably already had 20 people asking for customs, and 20 other people buying ones I've made. I have a lot of interest in them, but it's not just because of the virus. Other companies like Dollskill also sell face masks, so it's fashion related too."
"I created these masks from scratch, using recycled materials like clothes I don't wear anymore," says Porscha, a designer based in London who already sells a lot of those clothes on Depop. Her friends and family encouraged her to reconstruct a mask she had already made before and see if anyone would be interested in buying a version. "The most recent masks that I've made were from an old Chanel bag that I never use anymore." These masks, it should be noted, are not confirmed to stop the spread of virus, nor are they, thanks to the nature of their homemade production and shipping, as sterile as the disposable ones you would find in a hospital.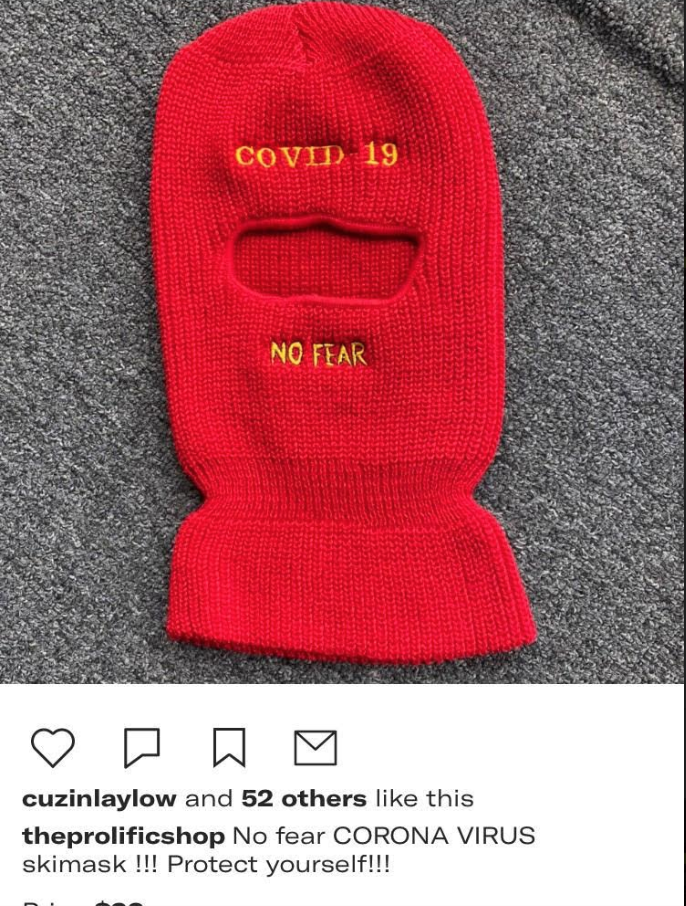 With certain sellers, it was just a case of following the trends. Marina, a seller who lives in Canada, has a stash of masks that she bought on a trip to Japan a few years ago, which she had forgotten about until she saw the headlines about shortages. "It's hard to know the true price for them, because everything is so inflated," she admits. "I just started selling them last week, but I think it'll be interesting to see how fashion changes if people start to wear masks all the time, or carry sanitiser everywhere."
It's hard to estimate how many of these products have sprung up in the last couple of months, and even harder still to tell whether we're witnessing the emergence of what (horrifyingly) could become a fully-fledged industry. On Depop, users are selling face masks and hand sanitiser, but they're also selling other items too, such as books on pandemics (two items for sale were the Stand by Stephen King, and Spillover by David Quammen). "I saw a rapper called Sheck Wes wear a ski mask on his Instagram, so I started making my own," says Juan, who's based in New York. "I got them from wholesale websites, and I embroider them myself." His latest, a bright red balaclava, says "COVID 19 - NO FEAR" above the eyes and mouth.
Some of the coronavirus cash-ins are obviously tongue-in-cheek -- such as one hand sanitiser which a user listed for £1,000 -- while other items, particularly when they're listed in bulk, are clearly exploitative. "I was on eBay and I noticed that some guy had sold over 5,000 hand sanitisers, but he's priced them at £12.99," says Louis, who lives in Yorkshire and admits he has been selling face masks himself. "The hand sanitiser was Cien, which is the Lidl branded line -- so I got into my car and drove down to Lidl, just to see if I could get any. But they were all sold out."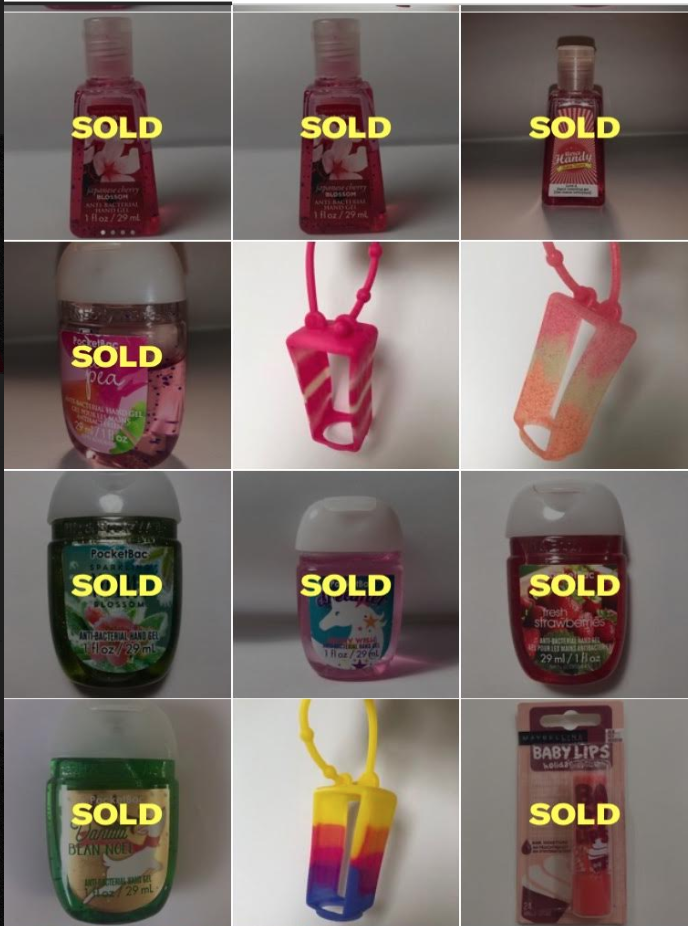 Sophie says that she hasn't received any negative feedback on her shop, but she also wasn't buying up a stock of masks from a supermarket to up-sell. But other sellers hit back at criticism with claims that they're simply responding to supply and demand. "Ever since I was younger, I used to resell streetwear from Supreme, Off-White, and all these other limited edition items," adds Louis. "I would buy those for £100 and resell it for £500. Anyone can go to the shop, and re-list an item -- it's nothing special." The difference of course, is that a Supreme cop is not a matter of life and death.
For now, ethically dubious as it might be, business for these Depop sellers is good. Misinformation around coronavirus -- particularly in the form of 'homemade cures' -- is spreading at a rate that's proving difficult to contain, and for many people, it's hard to know what they can do to protect themselves (if you're lost, the NHS and CDC have useful tips that don't involve magic mushrooms or garlic).
But the bubble may be about to burst. Increasingly, online marketplaces have taken steps to stop people being able to profit from these products on their platforms. For example, eBay recently made a statement that indicated they would remove any listings that mentioned coronavirus, and which were selling products like face masks, hand sanitisers and other disinfectants. On Facebook and Instagram, a temporary ban has come into effect, preventing advertisements selling masks and anything which claims that they're in short supply. On Depop now, listings which mention the word "coronavirus" don't show up in searches anymore, though there are still ways to find the items if you really want to.
"At Depop, we are doing everything we can to protect our community from listings with misleading claims and practices that attempt to exploit this public health emergency whilst ensuring trust within our marketplace," a spokesperson for the app said. "As a result, we have decided to block and remove any listings that sell masks, hand sanitizers/gels and disinfectant wipes as well as any listings that mention COVID-19, coronavirus, 2019nCoV in the title or description. Our community's safety is our number one priority, and we will continue to make necessary adjustments to our policies in line with any new developments of COVID-19."
But even as these listings are being taken down, it's near-inevitable that alternative methods will surface to advertise these products. "Due to coronavirus, dust masks are sold out everywhere else. These products are our best sellers right now," says Juan. "Of course, everyone trying to sell these products is trying to capitalise on the coronavirus."