You can now listen to your favourite Studio Ghibli soundtracks on vinyl
This would bring me the peace and serenity I need in my life.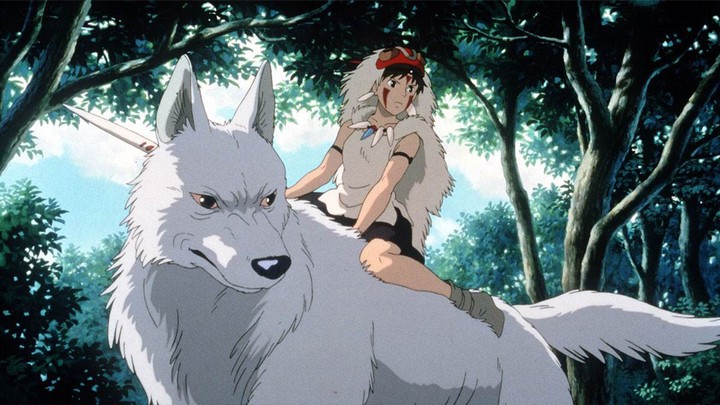 Still from Princess Mononoke
After the lockdown Spotify streaming numbers briefly plummeted, presumably because there's no longer a need to blast Dua Lipa on your commute twice a day to try to drown out the worrying intermittent coughs of the person sat beside you on the train. But look, just because you're not in the outside world doesn't mean you can't -- or shouldn't! -- enjoy some relaxing music to punctuate your endless quarantine days. Why not make things a little fancier to treat yourself? Why not go to vinyl?

Tempted? This will make your mind up. Studio Ghibli have just announced that they'll be releasing the soundtrack from one of the company's most iconic creations, Princess Mononoke, on vinyl. The environmentalist cult film was first released in 1997 -- scored by composer Joe Hisaishi, who also worked on the soundtracks for My Neighbour Totoro and Castle in the Sky -- but it has never been released as a standalone album. Now, it's getting not one but three (!) long-overdue special editions. The first, Symphonic Suite, was recorded with the Czech Philharmonic orchestra in 1998. The second part of the vinyl release, the full soundtracked score, was created recently with the Tokyo City Philharmonic, and features vocals by Yoshikazu Mera on the film's theme song. The release will also come with an 'image album', created and based on legend Hayao Miyazaki's personal notes when creating Princess Mononoke.
The bad news? You still have a little while longer to wait to get your hands on this (but let's be honest, we all have the time these days). All three albums are set to be released with remastered audio, new artwork and liner notes on 24 July. In the meantime, there are some other nice new things from Studio Ghibli to tide you over -- yesterday they dropped eight free wallpapers on their website, to be used as the background for your endless Zoom calls. So you can at least look kawaii while you spiral in front of your colleagues. Into it!