Photography Mitchell Sams.
Rodarte returns to New York with a Dracula-inspired romance
Bella Hadid opened the atmospheric AW20 show, among white roses and flickering candles at St. Bartholomew's Church.
|
12 February 2020, 9:30pm
Photography Mitchell Sams.
Having shown their last two seasons in their hometown of Los Angeles, Kate and Laura Mulleavy knew that Rodarte's return to New York Fashion Week would have to bring all the drama. And disappoint they did not, their signature ruffles and voluminous tulle gowns taking over the historic St. Bartholomew's Church uptown.
Upon entering the shadowy cathedral on Tuesday night, showgoers found heart-shaped Valentine's chocolate boxes stop their seats. The large gothic altar was framed in flickering candles, and the runway amply lined with white roses and their signature neon strip lights, providing the perfect setting for the romantic affair. But it was not without a tinge of darkness as the AW20 collection was inspired by Bram Stroker's Dracula, the 1992 film directed by Francis Ford Coppola.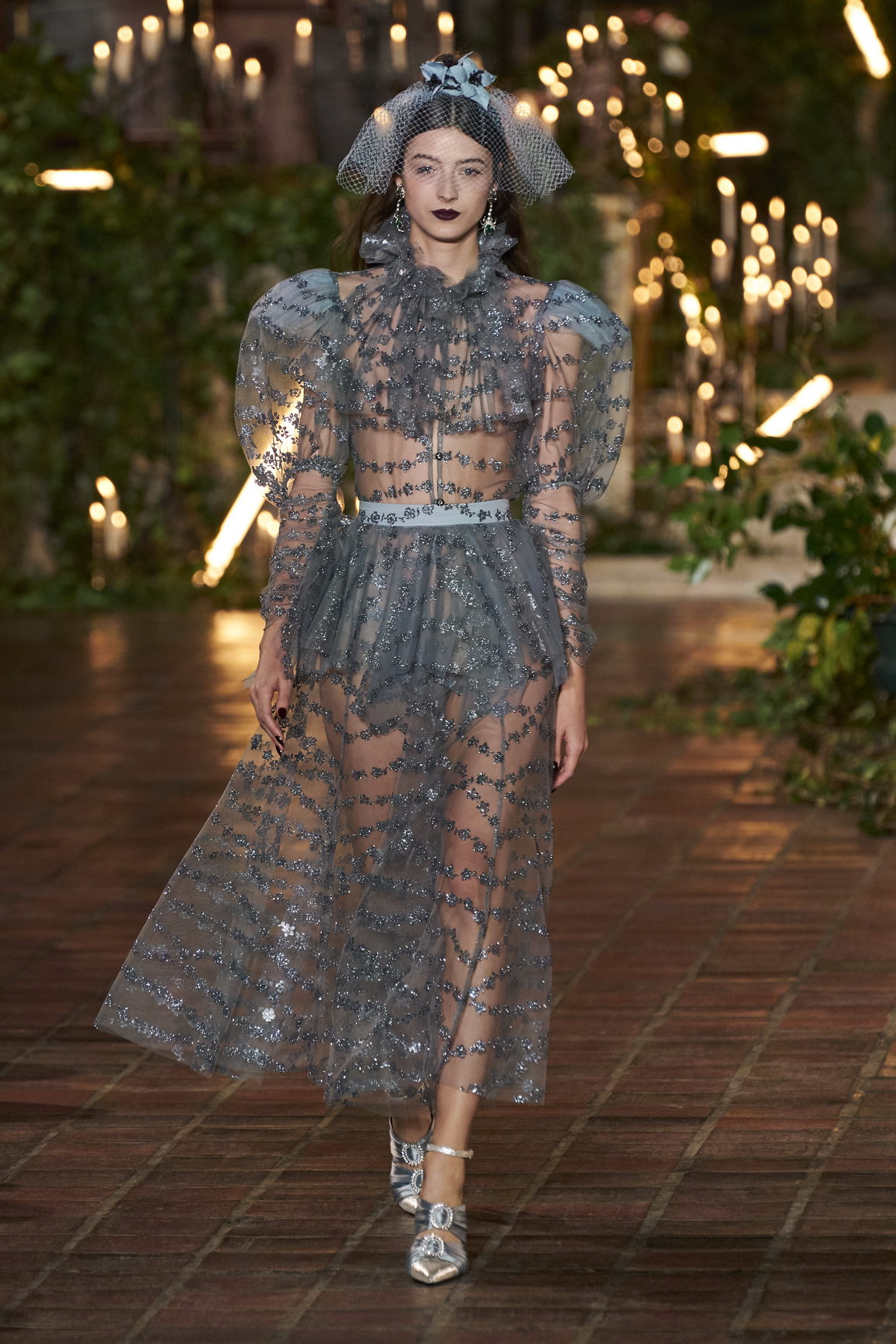 Our leading lady Bella Hadid opened the show in a red and white polka dot belted dress, her long curls and dark lips a nod to Winona Ryder's vampiric Mina Harker. The looks that followed were equally airy and feminine, with their capped shoulders and billowed sleeves, but there was a definite chill in the air. A series of sheer floral numbers were hauntingly followed by rich brocade separates and a plunging black velvet gown that signified a darker turn. Ruffled layers were now weighed down by blood drip beading and fringe, and the dresses that came after were accented with jewelled spider appliqués. There were black sequinned capes and cloak like hoods, but just as quickly as it began, the curse was broken. The dark palette was replaced with vibrant red and a series of watercolor silk gowns that seamlessly flowed down the runway.
An eerie floral bride—her veil accented with pale blue flowers and cascading into a lengthy silk train—closed the show by cementing herself front and center of the altar while the rest of the models filed out for the finale. Each look against the Romanesque church's stained glass windows was a sight to be seen in the early hours of the night. Dracula might have been slain, but the Rodarte woman is unapologetically alive and well.