Watch Timothée Chalamet in the first trailer for The French Dispatch
The first teaser for the new Wes Anderson film has dropped and we can confirm that that Chalamet reign just won't let up!
|
12 February 2020, 2:36pm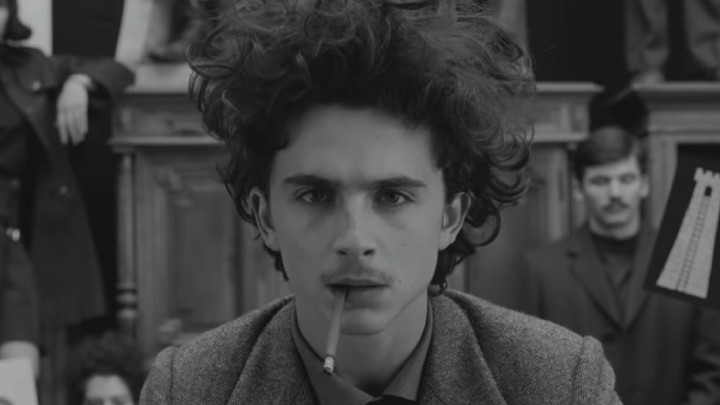 With his appearance at the Oscars this past weekend, the enduring love for Little Women and his imminent arrival in London for his UK theatre debut, the Timothée Chalamet standom is well and truly being fed in 2020. The Oscar-nominated i-D cover starhas been pretty much omnipresent for the past few months, which makes for a nice change after he spent a good six months in the middle of last year in relative hiding, working on movies like Dune and the new Wes Anderson film The French Dispatch. Finally, after we were drip fed some teasers in the form of a poster and some pretty photos, the new trailer for that latter film has just dropped. And we are, quite frankly, dead.
Set in an imaginary French city named Ennui-sur-Blasé (but that looks a lot like a 20th century Paris), The French Dispatch tells the story of a fictional American literary magazine preparing for the publication of its final issue. As well as taking us inside the makings of it, Wes' film also unpacks some of the stories that appear in its pages. The cast list is, as you'll have heard, ridiculous. Inside the magazine's French outpost, we meet the editorial staff, headed up by Bill Murray's Arthur Howitzer Jr., and his staff, played by the likes of Elisabeth Moss, Owen Wilson, Tilda Swinton and Fisher Stevens.
The tangential stories are where stars like Adrien Brody, Léa Seydoux, Willem Dafoe, and our own boy TC come in, alongside our other queen Saoirse Ronan! The cast list is gigantic, so fully expect anyone to pop up to say hello when the film hits cinemas on 24 July. The film already has a confirmed R rating in the USA for "graphic nudity, some sexual references and language". Someone -- and we don't know who -- is getting their bits out. If you're tearing your hair out trying to figure out who that might be, let this trailer tide you over in the meantime.